Fancy for Belle Fiore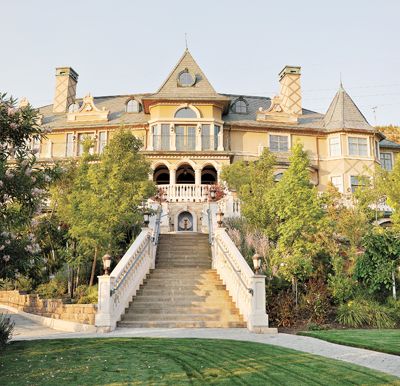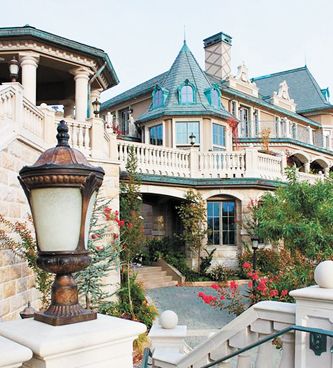 By Janet Eastman
Rubberneckers have been monitoring the construction of a massive chateau on an Ashland hillside for five years and whether if it's a house or a hotel.
Finally, by March, everyone will be invited onto the grounds of Belle Fiore Estate & Winery and discovered how the 19,000-square-foot structure is a combination of both a private residence and public spaces for wine tasting and weddings.
Edward Kerwin's 52-acre property off Dead Indian Memorial Road has been in the news lately because of Kerwin's lawsuit against the neighboring Ashland Gun Club. Not yet reported has been people's interest in his very visible vineyards that front a three-story chateau topped with pitched slate roofs and turrets, and wrapped by a series of tiered terraces, columned archways and limestone-like banisters.
Below the manicured landscape sits a separate building: a 20,000-square-foot winery with barrel rooms waiting to be filled with aging wine, a vaulted space for the public to taste and buy bottles priced from $17 to $29 and, on the second level, a ballroom larger than the one at Ashland Springs Hotel.
In mid-December, the area's wine producers and other guests were invited inside the buildings to taste Pinot Noir, Syrah and 14 wines of different labels made from grapes ripened on the property or purchased from growers.
"Wow," said Nora Lancaster of Kriselle Cellars when she entered the smaller tasting room within the chateau and gazed at the soaring ceiling to the indoor Juliet balcony and three arched windows framed by ornamental molding and trompe-l'oeil vines.
"What a beautiful property and a notable project," said Lancaster. "The attention to detail in both winemaking and property development is evident and impressive. Although we all do it a little differently, we are all in it together to bring attention to the beautiful wines being produced in Southern Oregon and the splendor of our area."
Kriselle Cellars opened its 3,000-square-foot tasting room with a Western lodge motif in White City in September and instantly catapulted the Upper Rogue wine region from sleepy to must-see. Tourism and wine industry experts can only speculate what Belle Fiore can do for the area.
Katharine Flanagan of the Ashland Visitor & Convention Bureau said: "It will put us on the map for pioneering a number of things. It's an expansion of the existing Bear Creek wineries, and it gives visitors more opportunities to connect to the land and the wine industry. All positive."
Since 2005, Southern Oregon's largest tasting room facility has been King Estate Winery's 7,000-square-foot visitor center outside Eugene, which also houses restaurants, conference space, private tasting rooms and outdoor dining terraces.
Although Belle Fiore can't compete with King Estate's wine output — 1,033 acres of vineyards producing 250,000 cases a year, solidly Oregon's largest producer — it can create a stir.
Before quietly hosting its first wedding in July, the online wedding site, The Knot, named Belle Fiore one of the top 10 places to get married in Oregon. And its wine, rarely poured at wine tasting events or seen on shelves, has won awards. The 2009 Monte Fiore Syrah ($29) and 2009 Monte Fiore Cabernet Franc ($28) were awarded medals at the 2012 West Coast Wine Competition, one of six judgings sponsored by Vineyard & Winery Management Magazine.
Also behind the scenes, newly hired Napa winemaker Kathe Kaigas and her small crew worked the 2012 harvest and crush using hundreds of thousands of dollars in winery equipment that arrived a day before it was needed.
When Belle Fiore opens to the public, looky-loos will be able to pass through two sets of gates to explore the winery's massive tasting room with stained-glass windows and the outdoor crush pad and decks with views of Pilot Rock, Mount Ashland and Pompadour Bluff.
Wedding parties and those booking other private events for up to 200 will be allowed up the hill to the chateau to gaze upon the grand foyer's dual staircase with bronze-painted Monte Fiore Vineyards crest plates incorporated into the wrought-iron handrails. They can also wander into the music room with a baby grand piano or a wood-paneled parlor with one of several fireplaces.
Footing the bill for all of this is Kerwin, who owns the Clinical Research Institute of Southern Oregon and founded the Allergy and Asthma Center of Southern Oregon, and his wife, Karen, who says on the website, www.bellefiorewinery.com, that growing up near orchards in Sacramento inspired her desire to plant a vineyard.
During the December tasting, guests sipped still-aging 2012 Sauvignon Blanc in wine glasses engraved with the ornate Belle Fiore crest and sampled appetizers topped with white raisins soaked in Chardonnay. Although gray outside, they stood underneath faux blue skies painted on sculpted ceilings.
"The wines we tried reflected dedication to quality. Each one had varietal qualities and beautiful attention to winemaking," said Laura Lotspeich of Trium Wines in Talent, who attended the preview party with her husband, Kurt. "Belle Fiore will fill a niche for folks looking for a grand venue for events and a very polished class act."
Story courtesy of Ashland Daily Tidings
BELLE FIORE WINERY
Address: 100 Belle Fiore Lane, Ashland
Hours: Opening soon (check website)
Phone: 541-621-2410
Website: www.bellefiorewine.com