Beaujolais Nouveau Uncorked at the Fête
It's not easy to imagine a million cases of a wine poised for release to the entire world on the same day every year. And yet, each year on the third Thursday in November, Beaujolais Nouveau makes its journey from France to eager and awaiting glasses everywhere. Always cause for celebration, Beaujolais Nouveau not only marks the end of the exhausting harvest season, it also exemplifies the gift of the first taste of this year's vintage.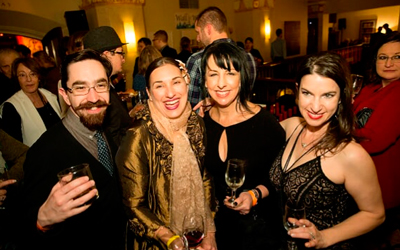 Beaujolais Nouveau, translated as "newly arrived Beaujolais," is the lightest and fruitiest style of Gamay Noir. Released as young as possible (often just weeks after bottling), it's not meant to be aged. The wines, intentionally approachable and affordably priced, are far from fancy. Producers make them in hopes they'll be imbibed young — typically by the following spring.
Beaujolais Nouveau, named for its large province of origin, which is situated in parts of both Burgundy and the Rhône. There are three distinct classifications of Beaujolais: Beaujolais AOC, Beaujolais Village AOC, and Beaujolais Cru, which drinks more like a fine Burgundy. There are currently 10 Crus producing wines of great complexity and depth, but one-third of the entire crop of the Beaujolais region is sold as Beaujolais Nouveau, a class unto itself.
Produced more in the style of white or rosé wine than a red, the grape must is pressed after only a few days of skin contact resulting in lower tannic and easy-drinking wines whose festive nature encourages slugging rather than sipping and critiquing.
Beaujolais shows a range of character, from light to full-bodied, and depending on the producer, the wines can age for one to 20 years — much like Oregon's own treasured Pinot Noir. And similar to Pinot Noir, expressions of Beaujolais might include a showcase of ripe red fruit: raspberries, tart cherries and cranberries; savory mushroom, forest floor and hints of smoke; as well as fragrant violets, baker's yeast and sometimes banana and bubblegum.
The high-acid, low-tannin wines — best when served slightly chilled — are ideally suited and relished with festive holiday meals.
Toasting the new vintage has become a long tradition at The Heathman Hotel in downtown Portland; it also serves a bit as a harbinger of the holiday season.
This year's 16th Annual Fête du Beaujolais Nouveau, Nov. 17, featured the culinary artistry and mastery of James Beard-winning Chef Vitaly Paley of Headwaters. Guests reveled in the first wines of the 2017 vintage as well as other treasured beauties from French and Oregon producers, including WillaKenzie Estate, Pacific Rim, Ruby Vineyard, Anne Amie, Furioso Vineyard, Georges Duboeuf, Terroirs Originels, M. Chapoutier and Piper-Heidsieck Champagne.
Chef Paley pulled out all the stops. In grand style, tables were piled high and long, including an impressive Eiffel Tower ice sculpture filled with prawns, and an extensive seafood display offering Hama Hama oysters on the half-shell, smoked Penn Cove mussels, poached prawns, Gerard & Dominique kippered salmon, salmon lox and smoked trout. Charcuterie and cheese stretched as far as the eye could see, foie gras and sweetbreads by Nicky Farms USA were plentiful, and decadent desserts were strategically positioned throughout the event to tempt you with macarons, chocolate mousse, sugar-spun puff pastry towers, truffles and other French delights by Pix Pâtisserie, St. Honoré Boulangerie, Petite Provence and Smitten Artisan Truffles.
Anne Amie and WillaKenzie clearly demonstrated how Oregon Gamay can be so highly sought after. With much greater complexity, these wineries produce wines more in the vein of Beaujolais Cru than Nouveau. And while Anne Amie's majestic Marilyn Brut Rosé of Pinot Noir always steals the show, the most pleasant surprise of the evening was discovering Ruby Vineyard's Pinot Noir Nouveau, bottled just five days ago.
Ruby Vineyard's Pinot Noir Nouveau is a little side-project the winery began a few years ago that has gained a wide fan base. This year, the production has grown to more than 80 cases — available both in the tasting room, as well as in New Seasons Market. When asked why Pinot Noir Nouveau, Ruby Vineyards' assistant winemaker, Andrew Kirkland, excitedly explains that it's about this first and early look at what the current vintage will taste like. Of Ruby's fun and zippy Pinot Noir.
"It's not a wine you drink by the glass, it's a wine you drink by the bottle," Kirkland said.
It's probably safe to say that more than a few bottles were imbibed the night of Fête du Beaujolais Nouveau.
Cheers to vintage 2017!