Bear Creek Rolling
Southernmost wine trail creates marketing video
There may not be many people across the country who have heard of Southern Oregon's Bear Creek Wine Trail; however, with the release of a new web video this fall, that may well change.
The Bear Creek Wine Trail is a tour route connecting 12 Southern Oregon wineries along the I-5 corridor between Ashland and Central Point. These wineries have banded together to offer a wine tasting "passport" good for 36 tastes at a bargain price of $25. More to the point, they've come together to tell the world about their region.
A collective approach to promotion has made it possible for these boutique wineries to take their marketing efforts to the next level with production of a video designed for the social media marketplace.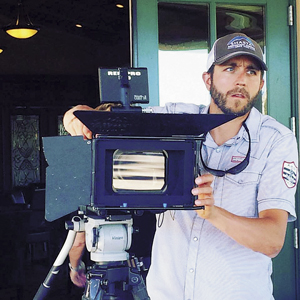 Mandy Valencia, the woman behind Warrior Media Social Marketing and Digital Consulting, posed the idea of video marketing to the Bear Creek wineries.
"[The video project] is designed specifically to attract Northern California wine lovers who typically drive to Southern Oregon for world-class theater at Ashland's Oregon Shakespeare Festival or a visit to Crater Lake," Valencia said.
"Within this demographic, baby boomers are the primary target audience since they are case buyers and often retired with lots of time to tour and taste," she continued. "It's kind of a step-by-step process, where the first step is getting the people who are closest to us to come up here, but the potential for getting our message out to the world is limitless with the Internet."
Eric Weisinger, president of the Bear Creek winery group, concurred.
"Ultimately, we aren't just focusing on Northern California," he said. "This is a video we feel we can use nationally. That's really the approach we're taking. This isn't just about introducing the Bear Creek Wine Trail to Northern California or even the West Coast. It's about introducing the Bear Creek Wine Trail to America."
The video is the collaboration of Valencia and Darren Campbell of Coldstream Collective. The two filmmakers bring considerable experience to the project, having had several films shown at the Ashland Independent Film Festival. As director of the Bear Creek project, Campbell provides quite a feast for the eyes using high-resolution RED camera technology.
To capture lush vineyard landscapes, Campbell uses sweeping aerial panoramas shot from a drone. The effect of these sequences is expansive. As new vistas open, the film conveys a welcoming sense that there's room here for everyone. Intimate scenes shot in the tasting room or winery, while completely different technically, suggest a similar sense of inclusion as industry personalities describe the Bear Creek region and why it's special.
Campbell provides close-ups of locally iconic figures, such as John Weisinger, who founded the oldest of the group's wineries in 1988. These scenes make you feel like you're in the room — or, better yet, that you want to be in the room; that is by design. The unscripted narratives are not the stuff of paid advertising, but rather an insight into the winemaker's personal experience that is engagingly humble while inspiring. There's a genuine feel to the piece, a sense that an authentic experience awaits.
The conspicuous absence of individual branding for each of the Bear Creek wineries is intentional.
"That's one of the biggest challenges you have with a video like this," Eric Weisinger said. "Had we wanted to have all 12 members get equal screen time, we would have ended up with a 15-minute video that everyone would have turned off after the first minute and a half. So the approach that we've taken, the philosophy for the organization, is that what's good for one of us is good for all of us."
Valencia agrees, "Is a tourist going to just visit one Bear Creek winery? Probably not. Are they going to visit all 12 on one trip? Not likely. But if they had a great experience at five or six, are they going to come back and visit the other six? Probably so."
Shooting the video will continue through harvest, but since harvest seems to happen earlier every year, it won't be long before the Bear Creek Wine Trail video goes viral.
Stay tuned into the Bear Creek Wine Trail's online presence (Facebook, Instagram, Twitter and www.bearcreekwineries.com) for the release date of the video.
MJ Daspit is a freelance writer and book author. She resides in the Rogue Valley.