Basement to Barrel
City couple realizes wine dream with Hazelfern
Hazelfern Cellars Grand Opening
Details: Hazelfern will feature three wines from their inaugural release, as well as one craft beer. Wines and beer will be paired with "adult" brunch-inspired bites from Chef Dustin Joseph of Biscuit & Pickles. Fee: $20. Date: Memorial Weekend, May 28-29 Hours: 10 a.m. to 4 p.m. Address:4008 N.E. Zimri Drive, Newberg, OR 97132 Website: www.hazelferncellars.com


Outside Newberg sits a 100-year-old house filled with a gang of gamblers willing to bet time, money and passion on a wine country venture. The Laing family, as they like to be called, is full of hope that hard work and determination will eventually pay off. What's at stake? Hazelfern Cellars, the Laings' new winery and burgeoning brand.

Bryan and Laura Laing, with daughters Adalyn and Ava — ages 4 and 2, respectively — moved from Portland to wine country acreage in hopes of allowing Bryan's passion for winemaking more room to thrive. From a dimly lit basement to the rolling green hills of Newberg, his hobby has transformed into a full-fledged career. Taking their name from the once-expansive Hazel Fern Farms — that during the early 1900s covered the Portland area — they are resurrecting the farming tradition with unbridled passion.

Greeted by the pelting spring rain and the sound of vibrant tunes pumping from the open barn, the tasting promised to be, at the very least, unique. Adding to the mix the elements of a gracious host in Laura, a seemingly endless wealth of wine knowledge in Bryan, not to mention a multicolored ribbon maze made for me by Adalyn and Ava, I suspected this tasting would a memorable one.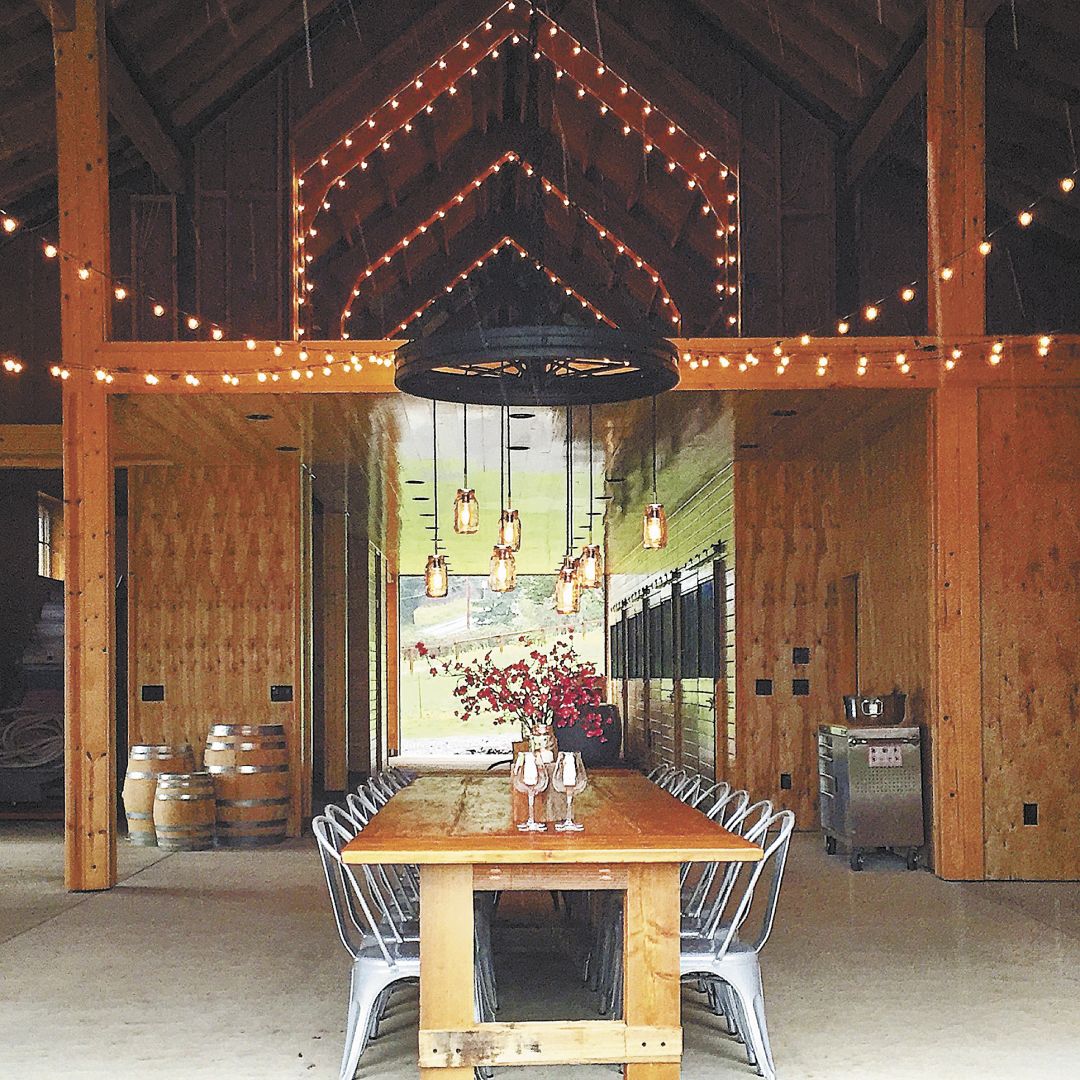 Offering me a glass of rosé, Laura and Bryan led me to what can only be described as a luxury barn fit for a winemaking king. Built as a potential equestrian care facility, the building never hosted an animal as the former owners' plans quickly changed, and they were off to the East Coast to start a new chapter. Meanwhile, the Laings were about to begin a new one of their own.
The handcrafted table, Edison-bulb chandelier and bar that frames the new tasting area testify how Bryan's creativity is not limited to wine. Passing by, with some hesitation, the gourmet cheese and sausage plate Laura put together, Bryan led me through the barn and toward the waiting wine. Sneaking his thief into the sleeping barrels, he stole samples of the evolving wine.
We wove our way through the maze of oak vessels. Bryan spoke about each barrel as if it were a part of him, all representing a different aspect of his own personality.
Tasting through the vast array of Pinot Noir clones, all aging in separate barrels, I discovered how each revealed unique nuances from the varying styles of wood and toast — these massive wooden beakers further anchored the mad scientist to the passionate winemaker. This was far more than just a simple exploration of wine. This was beyond an attraction to experiment with fermenting styles. This was the beginning of something new. This was a man with a vision who could not be, and will not be, restrained by the status quo.
As we sipped, conversed and dissected each wine, I realized how Bryan's lack of formal book and lab training had freed him to believe in a vision without limits. His unbridled approach to honing flavor profiles was not bound to an exact process. He did not buck the accepted trend; he simply didn't care for how things ought to be done — every sip proved his winemaking intuition was on track.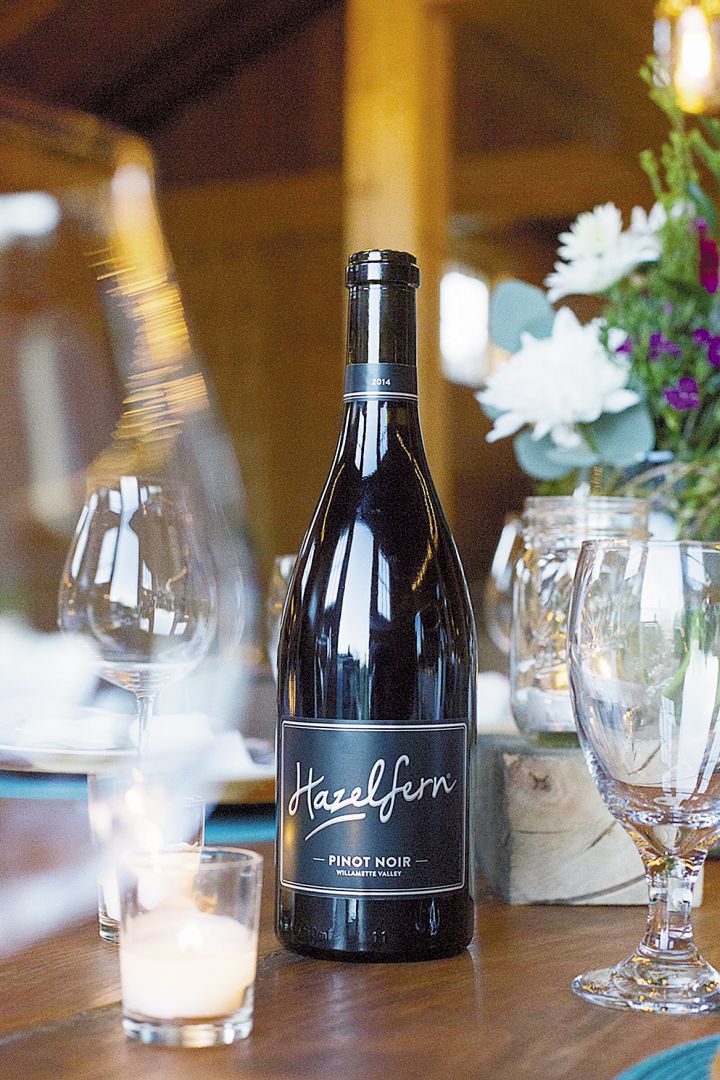 Quirky aspects like hanging CDs on the barrels — rather than marking them with vineyard names — brought an endearing element to the tasting experience. He explained that the barreled wines showed different characteristics reminding him of various artists. The "Hole" and "Nirvana" barrels sat next to each other — in an adolescent rage — waiting to mature. "U2" was soulful and mellow. However, the one that caught me off-guard — and that I am still craving as I write — was aptly named "Tupac." The 777 Dijon clone Pinot Noir in neutral oak was balanced and slightly bold, with layers of complexity, presenting a tapestry of acidity, body and fruit.
We wound down the tasting back in their kitchen of the century-old farmhouse. Meanwhile, the Cabernet Franc still lingered on my palate — causing me to recall my first wine tasting many years ago — and one sip of the Syrah had this writer trying his hardest to gather the facts and not become distracted by just how good all the wines were. Watching the genesis of something great and witnessing how humble, inviting and approachable the Laing family was, it was hard to not beg and plead to be the first on the wine club list.
Projecting a case production of 1,000 cases, the Laings' first vintage, 2014, features Pinot Noir sourced from vineyards such as La Chenaie, Tressler, Stormy Morning and Yamhill Springs. Their clean, crisp Chardonnay showcases fruit from the Hoot and Howl Vineyard, recently resurrected after dormant for several years; and their Cabernet Franc and Tempranillo hails from Walla Walla, rounding out the winery's portfolio.
If you'd like to try any of their wines, join the Laings this Memorial Weekend as Hazelfern Cellars opens its doors. I hope to be present, helping to celebrate the family's journey from city to vineyard to a successful business. Guests can expect music, two charming pig-tailed employees running around and a taste of what — after so many long hours, doubts and setbacks — has now become a beautiful, uncorked reality.
The wine gamble seems to be paying off.
From his first sip of wine to the last Scotch tasting, Ryan has loved the craft and the journey behind the bottle. As a contributor for Busted Wallet and Ask Men, he has found his niche showcasing the nuances behind the vices that make life a celebration.