Barrel of Possibilities
Oak programs a matter of personal taste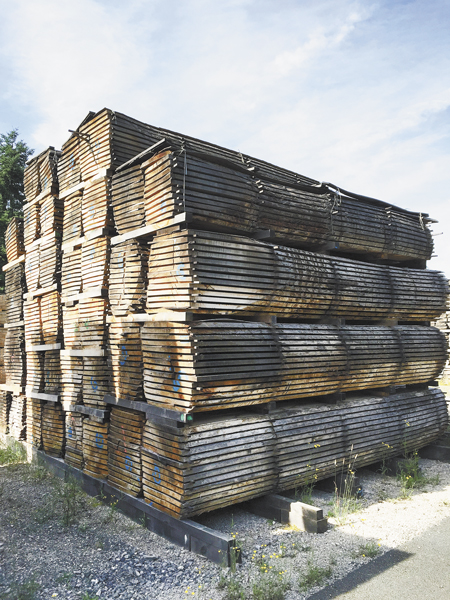 It's no secret: Winemakers take their barrels very seriously, which makes the following true story sound almost comical. When asked which is his most important tool in barrel selection? Steve
Girard, owner of Benton-Lane Winery, replies: "My cheese grater."
The longtime winemaker told the story about how his cooperage, the company that makes barrels, started sending him different barrels from what he'd selected. On his next barrel trip to Burgundy, he brought a cheese grater with him. Walking among the impressively tall stacks of drying staves, he rubbed them with his grater. He noted the aromatics, which he later compared to the barrels he was shipped. If they didn't match his descriptions, he returned the barrels.
Much like an artist's palette adds vibrancy and dimension to a canvas, a winemaker's choice of barrel has a significant impact on wine. And like the painter's range of color, there's a multitude of options in a cooperage. From the type of wood (oak, acacia, chestnut…) to the wood's origin (Oregon, France, Hungary, Russia…), to the grain, the toast, the size of vessel and whether the barrel is new, used or neutral, all these elements impart specific aromas, flavors and textures to a wine.
"Speaking to winemakers about barrels is like talking politics or religion," said Anne Amie Vineyards winemaker Thomas Houseman. "Conversation can quickly get heated, as each winemaker feels their particular view on barrels is the Holy Grail."
Each has an opinion on oak, toast, coopers, etc., that will likely vary greatly from one to the next. No one is necessarily right or wrong, but the decisions play greatly into what becomes a winemaker's signature style.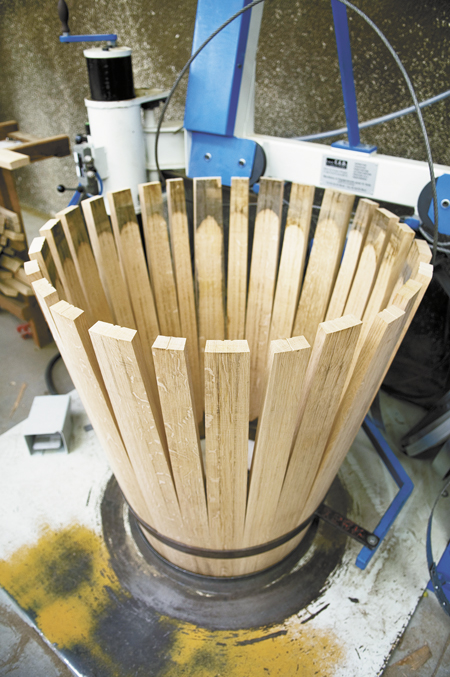 Nicholas Keeler is the North American sales director for Tonnellerie Allary, a French cooperage making barrels since 1953. Keeler understands each cooper has a distinct style and may work with different forests. His 11 years of experience selling barrels, along with his knowledge as a winemaker for Authentique, has shaped his preference for French oak, which he considers the most elegant and refined on the market.
Some believe forests exhibit their own personalities — akin to terroir. Coopers sourcing from prestigious French forests, such as Tronçais, Fontainebleau and Jupilles demand higher prices. Comparing French oak to American, the former is more porous and must be split by hand, along the grain. The latter is less porous and richer in tyloses, which seal the xylem vessels so it may be quarter-sawn. American oak from Minnesota, Missouri and Indiana fit the bill, while white oak from the Southeast is generally used for whiskey. Oregon white oak is its own species and can be used in wine barrels, but it does contain higher tannins, requiring longer seasoning.
Cody Parker, wine director of Melrose Vineyards, doesn't care to taste the wood in his wines.
"If the barrel can be tasted, the wine is generally out of balance," he said. "A well-balanced wine is one where all its components — fruit, acidity, structure and alcohol — neither overwhelm nor diminish [one] another. The success is in finesse and restraint, but how to get there is up to interpretation."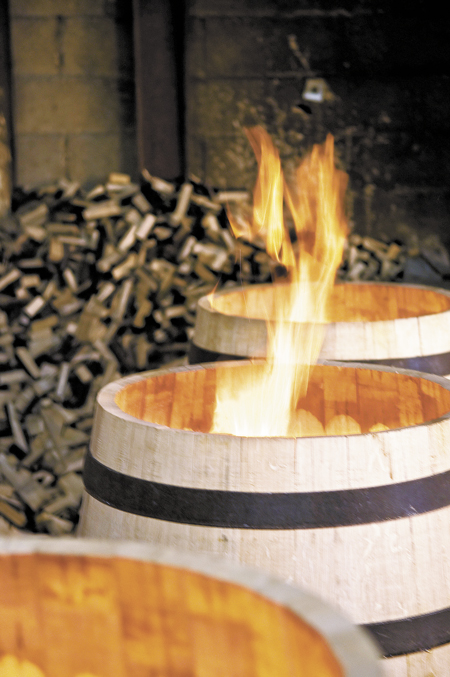 Parker emphasizes a wine should be about the fruit, not the oak program — which can translate into ego if not kept in check.
"Producers that think their [wine's] density balances with 200-percent new oak — sorry, Napa — miss the mark showcasing the fruit and terroir."
Houseman says it was not so long ago when people wanted, and even expected, to taste the barrel in a wine. In fact, if you examine highly reviewed and collectible wines, this is still often the case. Not all winemakers agree with that notion, but many have chased the scores.
While some Oregon Pinots from the early-, mid-, and even late-2000s taste heavily of oak, a new generation of winemakers is emerging, rebelling against oak, perhaps in response to the excesses of the past.
"It's never cool to like what your parents liked, and the millennials are looking at other styles," Houseman remarked. "Though I find myself somewhere in the middle."
It's all about style and decisions made in the cellar.
"Wines that are aged with a high percentage of the correct new oak may still be elegant and balanced. It depends both on the wine and the cooperage," Keeler said.
In fact, Bordeaux, Burgundy, Oregon, California and Washington all include producers who age certain wines in 100-percent new oak.
At Anne Amie, Houseman uses about 20-percent new oak in the cellar, and he is shifting from fire-bent barrels to water-bent versions. The process of soaking the staves before bending protects the wood from the flames, producing steam as it heats rather than allowing the wood to burn, or toast. Houseman believes this method helps fill out the wine, providing the desired body without overwhelming it.
Though French oak is still a dominant player in most Oregon cellars — and for good reason — one wood does not fit all. Local winemakers are looking globally for inspiration, incorporating techniques and styles common to other regions. Remy Drabkin of Remy Wines chose chestnut barrels to finish her Nebbiolo, producing more spice and mid-palate depth to the wine.
Chestnut barrels, now rare in the U.S., were commonly used in Europe before the chestnut blight of the 1950s wiped them out worldwide. Chad Stock of Minimus Wines has found that less aromatic varieties like Chardonnay, Vermentino or Pinot Blanc — and even lighter reds such as Pinot Noir, Cabernet Franc or Gamay Noir — respond well to this type of wood.
Because chestnut lacks the vanillin and lactone compounds of oak when it's toasted, it doesn't turn sweet the way oak can.
"The wood is decidedly nutty," Stock explained, "which sounds cliché, but it really has a dry sensation, similar to the skin of an almond or walnut."
Instead of making the wines rich and broad-textured like oak, they become more focused and fresh, with dusty fine tannins. Since chestnut is more porous than oak, the wine sees more oxygen through the walls of the barrel and ages a little faster — a technique, if used correctly, can become a strategic tool for early wine release.
Winemaker Herb Quady of Quady North feels excited about acacia; he uses it for aromatic varieties like Viognier.
"Fermenting in barrel always adds texture and creamy notes to white wines, but aromatic wines like Viognier tend to lose their profile in oak," he said. "Acacia is more subtle and promotes the desirable tropical notes in my wine."
Acacia is also commonly used in Grüner Veltliner and Sauvignon Blanc, which benefit from the high wood tannins that integrate into the wine, adding tension where it might show a natural tendency to be broad in texture. Acacia is known to add floral and spice characteristics, such as orange blossom and rose hip, as well as peach pit, clove, cinnamon and allspice.
Only a few cooperages currently make acacia barrels, but Quady is so happy with the results, he purchases more every year. Several other Oregon wineries, like Anne Amie, Leah Jorgensen Cellars, Montinore, Minimus and Raptor Ridge, have also discovered the benefits of acacia barrels.
Next time you walk into a cellar and notice a stack of barrels, remember, not all barrels are created equal, and the choice of barrels directly affects a winemaker's expression of taste. Today, many Oregon winemakers rely less on what is expected — breaking the rigid traditions of yesteryear — in favor of instinct, experimentation and embracing individuality, in large part, through their choice of barrels.
How It's Made
Making barrels at Tonnellerie Allary in France.
1. First, the log is either split or quarter-sewn, depending on the type of wood. 2. Next, the wood is air-dried for an average of 12 to 36 months. Rain and weather extract the tannins; the drier the wood, the less tannins it will have and the longer it will take for the wine to integrate with the oak. 3. The wood is then heated and shaped into curved staves, which are stacked inside a hoop, tightened with lasso, and another hoop is positioned on the bottom. The barrel is then pre-heated and shaped under fire to make the wood pliable before the hoops are pounded down to tighten the vessel. 4. Finally, the barrel is toasted using one of two techniques: (a) All fire (traditional Bordeaux style that shows more spice); or (b) Fire and water (which opens pores of the oak and softens the tannins).
Size Matters
Barrels come in a wide variety of shapes and sizes: The standard Burgundy barrel is 228 liters, but they can be as small as 1-liter (for hobby winemakers). A puncheon holds 500 liters; a demi-muid, 600; and oval-shaped foudres, 1,000 to 6,000 liters. Upright oak tanks can offer the most volume, ranging from 600 to 30,000 liters. Note: the larger the vessel, the less oak flavor is imparted on the wine.
Oregon Made
Oregon Barrel Works, located in McMinnville, is the only cooperage in the Pacific Northwest. Combining Old World traditions with New World innovations, they custom-craft barrels and puncheons from Oregon, French and Hungarian oak.