Awash with Wine
Immerse yourself with wine-soaked cheese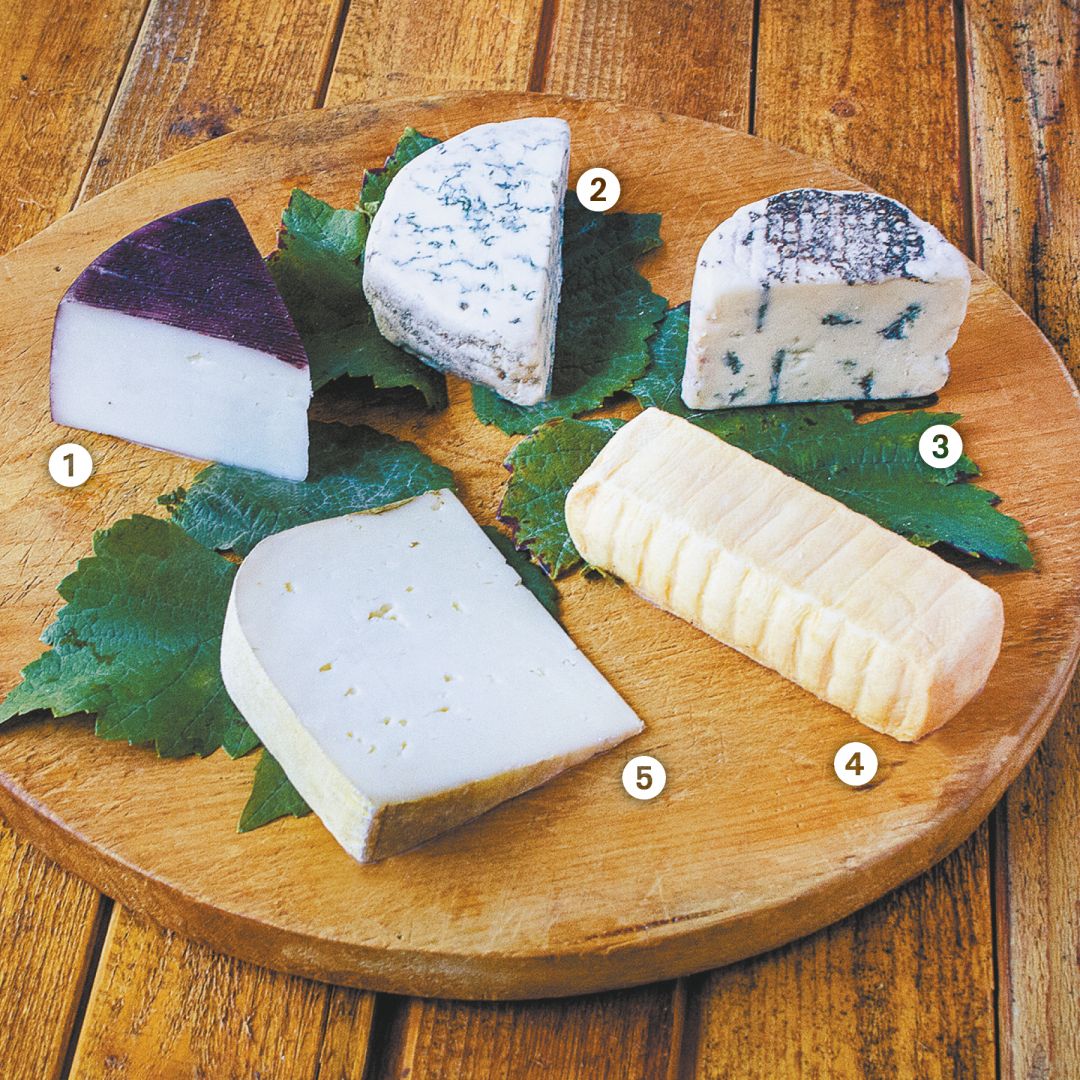 1 - Drunken Goat
Drunken Goat (Murcia al Vino) was the first wine-infused cheese to enter the market in the '90s. The semi-soft queso soaks for 72 hours in local Spanish wine made from Monastrell (Mourvèdre) grapes, before aging about two months. The result? A beautiful, purple-rinded treat that's mild and creamy with notes of dark fruit.
2 - Fourme au Moelleux
A new take on Fourme d'Ambert, an ancient French blue, Fourme au Moelleux is the creation of third-generation master cheesemaker/affineur Rodolphe Le Meunier. He injects the cheese with Vouvray, a sweet white wine from the Loire Valley, crafting a creamy, bold and dense taste experience infused with a fruity sweetness.
3 - Enraptured Blue
Made by Southern Oregon's Rogue Creamery as an exclusive to Whole Foods, Enraptured Blue offers a delightfully tangy flavor with the rich, buttery paste you've come to expect from the maestros of blue cheese. The red blend of Merlot, Syrah and Zinfandel cuts through it all, adding big, bold, fruity notes to this new organic cheese.
4 - Bachensteiner
A funky, pudgy brick of wine-washed goodness, Bachensteiner comes packaged in a notable gold foil that helps retain moisture and contain the assertive aroma. During its four-week aging, a secondary wash of Gewürztraminer imparts subtle fruity, spicy and delicately floral notes to complement the meaty, savory boldness of this Austrian favorite.
5 - Willow Creek
A Merlot leaf distinctively decorates Willow Creek, a gorgeous wine-washed wheel from Ancient Heritage Dairy, Portland's only urban creamery. A blend of unpasteurized cow and sheep milk creates the perfect buttery foundation for the wine's earthy, mushroomy flavors contrasted with an edge of black cherry.