AVA Unto Its Own
Red Hill Douglas County founder leaves legacy
In 2006, I was driving past exit 148 on I-5 in Southern Oregon, when my traveling companion told me there was an unusual vineyard in the nearby hills.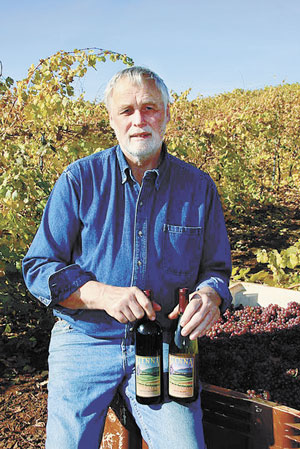 "What's so odd about it?" I asked, "other than the fact it's near Yoncalla?" He laughed and said, "The guy has about a dozen different grapes growing up there but lives in Alaska. I don't even know if he sells the fruit to anybody, which is weird given the fact he's a one-man AVA."
After that chance conversation, I vowed to interview the man, sure to be a real character, making for an intriguing story. Yet, I never had the chance. Two months ago, I searched for his contact information; I found his obituary instead.
His name was Wayne Hitchings and his property is a story unto its own, a unique piece of land telling a story of passion, determination and frontier spirit.
Born in Lynn, Massachusetts in 1945, Hitchings died in September at a hospital in Roseburg. In between, he led a life of exploration and adventure worthy of a Jack London story.
After graduating from high school, Hitchings was working for Bell Telephone in New England when he was drafted by the U.S. Army to Vietnam. His service eventually led him to Anchorage, where he worked as a missile tracking operator. A love of the outdoors kept him there after his tour ended.
In Alaska, Hitchings raised a family and built two successful businesses. In his spare time, he'd sail to the South Pacific, fly his plane over the North Slope and hunt wildlife with his camera. Hitchings was always on the lookout for a new adventure. In the early 1990s, he found a rather challenging one in Douglas County, Oregon.
Dr. Bill Larson, a friend of Hitchings, had purchased land in Southern Oregon so his mother could retire in a peaceful rural setting. The land turned out to be a bit more formidable to finance than anticipated, so Larson asked Hitchings if he was interested in joining the venture. He accepted.
While they decided what to do with the part of the property unoccupied by Larson's mother, Hitchings noticed a previous owner had planted seven acres of Pinot Noir and Gewürztraminer vines. As Glenda Dodson, Hitchings' widow, remembers it, he looked at Larson and remarked, "It looks like grapes grow good up here." Those fateful words, uttered in 1991, would drive Hitchings' life for the next 35 years.
Hitchings eventually bought out Larson and spent the next two decades acquiring adjoining properties and planting grapevines. Lots of vines. According to Jennifer Mattingly, Hitching's daughter, Red Hill Vineyard is now pushing 450 acres with its plantings of Pinot Noir, Baco Noir, Pinot Gris, Pinot Blanc, Chardonnay, Syrah, Tempranillo, Gewürztraminer and Riesling. He even grew Zinfandel, but before he died, he grafted those vines over to early Muscat.
From the outset, Hitchings suspected his property had unique features; he began researching to see if he was right. He already knew his vineyard was covered in red Jory soil, which alone was unique in the Umpqua Valley, so he began collecting temperature and rainfall data. The data confirmed his belief that his higher elevation vineyard (800 to 1,200 feet) was significantly wetter and cooler than those surrounding, so, in 2002, Hitchings compiled his results and petitioned the Alcohol and Tobacco Tax and Trade Bureau (TTB) to recognize his property as the Red Hill AVA.
Hitchings was proud of his vineyard and he viewed attaining AVA status as both an adventure and a stamp of approval on his work.
"He loved geology and science, and he also loved a challenge," said Mattingly. "He dug in and was anxious to show the world. I'm sure the fact there were so few single-vineyard AVAs in the U.S. also appealed to him. He never did anything half-way."
However, as soon as the application was made public, Hitchings' efforts triggered backlash.
The TTB received objection letters from wineries in the Willamette Valley, California, Australia and New Zealand. They cited a lack of historical record of winemaking in the proposed AVA and the possibility of consumers confusing the Umpqua Valley's Red Hill with areas like Red Hills in California's Lake County and the Red Hills of Dundee, both of which were about to be established as AVAs in their own right.
In early 2005, the TTB considered objections regarding historical record, uniqueness, boundaries, etc., and ruled in favor of Hitchings. To remedy consumer confusion, the TTB proposed the California region be called Red Hills Lake County AVA while Hitchings' AVA would be termed Red Hill Douglas County AVA. No further objections followed the TTB's proposed compromise. The name stood.
With the help of Guillermo Guitron, his vineyard manager of 19 years, Hitchings created a vast dry-farmed vineyard selling quality fruit to an average of five to seven wineries a year.
"It's a unique spot and the quality up there is fantastic," said Dyson DeMara of HillCrest Vineyard. "There are a few 'golden gardens' in the Umpqua Valley and Wayne's vineyard is one of them!"
I was surprised to discover how far back the "Red Hill" legacy extended. When I asked Dr. Greg Jones of Southern Oregon University if he knew anything about the original plot of vines planted there, he pointed me in the direction of his 2003 report, "Umpqua Valley AVA: A GPS and GIS Vineyards Mapping and Analysis of Varietal, Climate, Landscape, and Management Characteristics." There I discovered the Red Hill Vineyard was originally planted in the late 1960s, easily making it one of the oldest, continuously operating vineyards in the entire state.
When Hitchings' illness reached an advanced stage, the family decided to shut their Sienna Ridge Estate tasting room and stop making their own wines. Terry Brandborg of Brandborg Wines in Elkton made the Sienna Ridge wines for Hitchings from 2003 until 2012.
"Wayne will definitely be missed," Brandborg said. "He was a visionary and a bit of a cowboy. He was always earnest and straightforward, and I think a lot of people appreciated that about him. The quality of his fruit is appreciated by many in this area as well, and I know a few of our highest rated wines were made with Wayne's grapes."
Those esteemed Brandborg wines made me wonder. I had heard the Pinot Noir fruit from Red Hill Vineyard made incredibly interesting wines because of their smaller berry size and intense concentration. I'm embarrassed to admit, however, I had never tasted one.
I knew Thomas Monroe makes a single-vineyard Pinot Noir with Hitchings' fruit at Division Winemaking Company in S.E. Portland, so I called him.
"The fruit we worked with is from a small plot planted with Pommard and cuttings Wayne said he got from the Mirassou family in California," Monroe said. "The berries were always small, with a low juice-to-skin ratio. The vines are at a high elevation where it's nice and cool, and the resulting wines have the kind of fruitiness one might find in a Sonoma Pinot, but with searing acidity."
Monroe continued, "There is no arguing about the terroir of the land there. From the soil to the climate, it's about as unique as anything I've seen in Oregon. It definitely warrants its AVA distinction."
Hitchings' daughter will be managing the business now, and she has no plans to sell the vineyard or merely sell fruit to other wineries.
"I would love to see my father's vision expand but this has been a trying few weeks," confessed Mattingly. "For now I want to concentrate on learning what I need to know about growing the grapes. After that, I'd like to start making wines here again, so I don't want to let our Sienna Ridge Estate label go. In the past few years we've only produced Baco Noir and three sparkling wines that Chris Berg at Roots Wine Co. made for us, and those are really good, so I'd like to keep that going."
It's good to know Hitchings' unique vineyard and AVA will continue, and I'm especially happy his family will be the stewards of that "golden garden" in the Umpqua Valley. So much has changed in our local wine world of late that it's refreshing to have a touch of continuity for a change.
Michael Alberty is a wine writer based in Portland.