Autumn Extended
Cooking up a continued harvest in three courses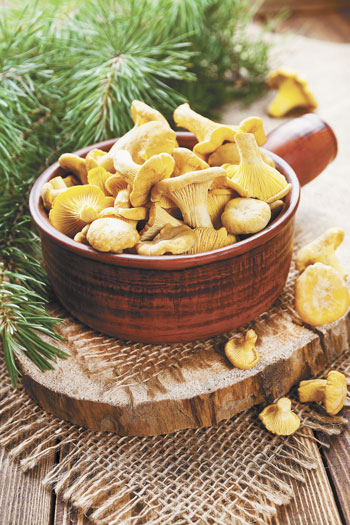 Cream of Cauliflower Soup with White Truffle Oil and Crispy Salami
Yields 4 servings
INGREDIENTS
1 tablespoon butter
1 cup yellow onion, minced
1 celery stalk, minced
2 tablespoons garlic cloves, minced
1 tablespoon thyme leaves
4 cups cauliflower florets, tough stems removed
4 cups vegetable or chicken stock
2 tablespoons cornstarch mixed with ¼ cup cold water
½ cup heavy cream
1 teaspoon salt
¼ teaspoon black pepper, freshly ground
2 slices salami, sliced thin
4 teaspoons white truffle oil
METHOD
- Place butter, onion, celery, garlic and thyme in 3-quart pot with tight-fitting lid. Cover and set over medium-low heat. Cook until vegetables soften, about 10 minutes, stirring occasionally.
- Meanwhile, heat sauté pan over medium-high heat and cook sliced salami until crisp. Drain on paper towel and set aside for garnish when serving.
- Next, uncover soup pot; add cauliflower and stock; bring to a boil. Immediately turn to a simmer and cook until cauliflower softens, about 15 minutes.
- Purée soup with immersion blender or by straining vegetables and puréeing in blender with some of the liquid and combine back into stock.
- Bring soup back to boil; add cornstarch and water mixture to thicken soup slightly.
- Add heavy cream; bring to a simmer.
- To serve: Ladle soup into heated bowl, drizzle with truffle oil; garnish with crisp salami and some freshly ground black pepper.
Pork Loin with Prosciutto, Apples, Walnuts and Sage
Yields 6 to 8 servings
INGREDIENTS
3 pounds boneless pork loin
½ yellow onion, minced
2 cups apples, diced
1 tablespoon fresh sage leaves, sliced thin
1 tablespoon butter, unsalted
6 ounces pork loin, cut into ½-inch pieces
1 egg white
¼ cup sour cream
¼ cup heavy cream
½ cup walnuts, slightly chopped
3 slices prosciutto, sliced thin
¼ teaspoon kosher salt
1/8 teaspoon black pepper, freshly ground
METHOD
- Pre-heat oven to 375° F.
- Slice pork loin lengthwise about ¾ the way through and open like a book. Cover pork loin with plastic wrap and pound the pork loin with a meat mallet to flatten.
- Meanwhile, in sauté pan over medium heat, melt butter and gently cook onion, apples and sage, until soft, about 5 to 7 minutes. Remove pan from heat and cool before adding to stuffing mixture in next step.
- Place diced pork, egg white, sour cream, heavy cream in food processor and blend until smooth; then add walnuts and apple/onion/sage mixture. Season stuffing mixture with salt and pepper; pulse machine 6 times or until blended. Do not overprocess.
- Remove plastic from pounded pork and season with salt and pepper.
- Lay prosciutto pieces out in a single layer to cover pork. Spread mousse mixture over prosciutto and roll pork so filling is on inside. Tie pork loin closed with butcher's twine; season outside with salt and pepper.
- Roast in pan with roasting rack in oven for approximately 35 to 40 minutes, or until internal temperature is 145°F.
- Remove pork from oven and allow roast to rest at least 10 minutes before cutting.
- Serve with chanterelle cream sauce (see recipe next).
Chanterelle Cream Sauce
Yield: 6 servings
INGREDIENTS
1 tablespoon butter, unsalted
1 tablespoon olive oil
¼ cup shallots, minced
2 cloves garlic, minced
1 pound chanterelle mushrooms, cleaned and sliced
¼ cup white wine, dry
1 cup chicken stock or broth
½ cup heavy cream
1 sprig thyme, fresh
* salt and pepper, to taste
METHOD
- Melt butter in pan over medium heat with olive oil. Cook garlic and shallots until translucent, about 2 minutes.
- Add chanterelles and cook until water released from mushrooms has evaporated and mushrooms are browned.
- Add white wine; reduce by half. Add chicken broth and thyme; continue cooking for 5 minutes. Add cream; reduce until thickened.
- Season with salt and pepper
Pumpkin Cheesecake with Gingersnap Crust
Yields 16 servings in ramekins
CRUST
1½ cups gingersnap cookies, ground
3 tablespoons light brown sugar
4 tablespoons salted butter, melted
FILLING
3 packages cream cheese (8-ounce each)
1 can puréed pumpkin (15-ounce)
3 eggs
1 egg yolk
¼ cup sour cream
1½ cups sugar
½ teaspoon ground cinnamon
1/8 teaspoon ground nutmeg
1/8 teaspoon ground cloves
1 teaspoon vanilla extract
METHOD
- Preheat oven to 350°F.
- For crust: In medium bowl, combine crumbs, sugar and melted butter. Press equal amounts (about 2 tablespoons) down flat in buttered 7-ounce ramekins. Set aside.
- For filling: Beat cream cheese until smooth. Add pumpkin purée, eggs, egg yolk, sour cream, sugar, spices and vanilla. Beat together until well combined.
- Pour into ramekins, filling 2/3 full. Spread out evenly and place on a sheetpan in oven. Fill sheetpan with warm water and bake for 20 to 25 minutes. Filling should be a little jiggly and golden brown.
- Remove from oven and let sit for 15 minutes. Cover with plastic wrap and refrigerate 1 hour, if you can wait that long — this recipe is delicious warm. Serve with whipped cream.
A longtime professional chef, Wendy offers classes and caters in wine country. She lives in Dayton on a 12-acre farm with her family and a barn full of animals.