August Rush
Summery start leads to quality, condensed harvest
When Oregon's winegrape harvest began last year during the final days of August, the most recent precedent winemakers had for such an early start was 1992.
This year, vineyard managers found themselves in familiar territory.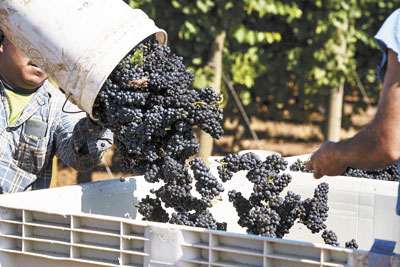 Once again, on the heels of a few blistering hot days during the final weeks of August, crews scrambled through vineyards running the length of Oregon, picking grapes that, once again, were the product of a warmer-than-usual summer.
"The main signature is that it was a warm vintage, though not quite as warm as 2015," said Greg Jones, the Southern Oregon University climatologist who specializes in the complex dynamic between climate and winegrapes.
Jones cited the relative lack of heat stress and "very early phenology" leading to earlier harvest dates, but also eased pressure on growers to pull the fruit.
"Growers have had some decent hang time," he said.
At Stoller Family Estate's vineyards in the hills above Dayton, they started picking fruit for sparkling on Aug. 20, followed by Pinot Noir — work that traditionally occurs in September.
"It's the earliest harvest for us," said Melissa Burr, Stoller's winemaker. "That's something we've been saying now for three years in a row."
Dundee-based Erath Winery began bringing in Umpqua Valley Pinot Noir Aug. 25.
"For the balance of our Oregon Pinot Noir sites and our upper tier estate and single-vineyard sites in the Willamette Valley, we began on Sept. 11 and finished Sept. 27," said Gary Horner. "I cannot recall finishing a vintage this early in my 28 years in the business."
Argyle's Allen Holstein, also a longtime member of the Oregon industry, started harvest around Aug. 23 and worked for about a month.
"We have enough spread in elevation that we could take our time and chase it up the hill," he said.
"Everything that I saw and everything that I heard from winemakers was positive," he added. "I reflect on the 'trilogy' of vintages — 2014, 2015 and now 2016 — in the pipeline and appreciate the additional spotlight they bring to the area."
Holstein and others observed how the succession of warm years is forcing winemakers to adapt to changing conditions.
"I think all growers and winemakers are on somewhat of a new learning curve, at least for Oregon," said Terry Brandborg, whose Brandborg Wines is based in Elkton in Southern Oregon's Umpqua Valley AVA.
"Here in the northern Umpqua, we all saw growing events start earlier, so when we figured in with earlier harvest dates, the time for berry development on the vine is not all that different from what we have seen in the past," he said.
"One thing that is very apparent is the shortening of the harvest cycle," bhe added. "We saw our first fruit come in Sept. 9 and our last fruit on Sept. 26, where in the past we could pretty much look forward to a 6-week window. That compression puts stress on all, no turn-around in fermenters and more hectic long hours."
Christine Collier of Willamette Valley Vineyards near Salem said their 300 acres produced lower yields but quality on par with or better than 2015.
"The resulting Pinot Noirs will be reflective of a warm-growing season with dark fruit flavors, higher alcohols and deep concentration," she said. "Chardonnay ripened later than Pinot Noir, resulting in slow ripening to create complex flavors at lower alcohol levels."
Also in the Willamette, Zena Crown Vineyard, one of several properties acquired in recent years by California-based Jackson Family Wines, observed the earliest bud break on record — no fooling — April 1.
"Overall, yields were at or slightly above normal, and the wines are both elegant as well as possess a great deal of complexity," said Shane Moore, winemaker for Zena Crown.
Given the sheer number of microclimates throughout Oregon's multiple AVAs, there were, of course, a range of harvest schedules. While some wineries cited their earliest-ever harvest this year, Sheridan's John Wrigley of J. Wrigley Wines had the luxury of waiting.
He has been producing wine from about 10 acres since 2011 at the western edge of the McMinnville AVA. Perched at 720 feet above sea level, his site benefits from the Van Duzer Corridor's cooling effect. During warmer seasons like this one, he says, that altitude offers advantages.
"We were able to harvest when we wanted to," he said. "That's an advantage of being at a higher elevation, because we could have longer hang-times."
Wrigley started bringing in Pinot Noir on Sept. 22 and finished with his Rieslings in early October.
The result, he said, was "exceptional fruit" packaged in smaller clusters of smaller berries — not as much as last year, he said, but better quality.