Atticus Unveiled
McMinnville hotel exudes panache, personality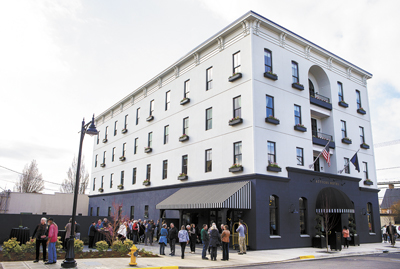 Oregon wine country's newest hotel, the Atticus, officially opened April 1. The 36-room luxury lifestyle hotel is set just off of historic Third Street in downtown McMinnville on the corner of Ford and Fourth streets. Fit with a hidden drawing room, original art and furnishings from local makers, plus a house restaurant in Bless Your Heart Burgers, Atticus looks to offer an immersive Willamette Valley experience for residents and tourists alike.
Looking at the four-story structure, it's tough to imagine the building's groundbreaking took place just last spring. However, an efficient year of construction led to an ahead-of-schedule opening. The building looks very much at home amid its historic surroundings, while classic features such as raised ceilings and an eye-catching cornice pay homage to McMinnville's rich architectural legacy.
"We've been chasing this dream for a long time, and it's been so exciting to finally open our doors to both guests and our community these past few weeks," said Erin Stephenson, hotel co-owner. "The excitement has been palpable, and the reception has been incredibly warm."
Inside, the hotel offers an immediate nod to the past with a display modeling a nutcase featured at the 1909 Alaska-Yukon-Pacific Exposition in Seattle. It's a wooden archway packed full of the Yamhill Valley's once-prized crop, the walnut, with a nod to the town's former nickname of "Walnut City." Details like this reside around every Atticus corner, combining to illustrate the rich agricultural backbone that's existed for some time in Yamhill County.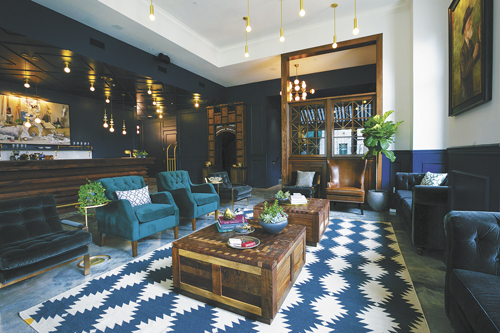 Rooms include fireplaces, custom Pendleton robes and paintings from area artists like Zach Hixson. Guests are encouraged to check out loaner items, ranging from Dutch-style bikes, Atari game consoles and Marshall Bluetooth stereo systems. No two units are exactly alike, wearing a number of varying layouts and individualized accents, like room-specific collections of locally curated books.
The list of Oregon companies Atticus collaborated with includes Ann Sacks, Schoolhouse Electric of Portland, Pendleton, Cedar & Moss, Oregon Mattress Company, Pigeon Toe Ceramics, Madison Furniture of Tigard. Area makers like MAC Sign Painting, Type A Press, Basile's Workshop, R. Stuart & Co. Wine, Flag & Wire, Velvet Monkey and Red Ridge Farms played their parts, too. The sourcing of local products and talent is part of a deliberate effort on behalf of hotel ownership to make Atticus feel like a product of and for McMinnville.
The restaurant brings a familiar culinary name to McMinnville in John Gorham. The chef and restaurateur opened beloved Portland tapas restaurant Toro Bravo in 2007. He's gone on to open a family of other eateries through his management firm, including Tasty n Sons, Plaza Del Torro and Shalom Y'all. This is the second installment of the Americana-themed restaurant, with the original Bless Your Heart located in downtown Portland's Pine Street Market. The restaurant and bar features burgers, fries, inventive cocktails, as well as brunch and room service menus.
While The Atticus follows an established bed-and-breakfast charm and relatively recent high-end options like The Allison Inn & Spa, it infuses a unique flare to Willamette Valley wine country. Offerings like the Luxury Bunkroom — fit with built-in bunkbeds and storage cubbies for up to six people — and the 1,500-square-foot Penthouse separate the independently owned and operated outfit from chain establishments.
The Valley is enjoying an exceptional amount of press as of late. Last year, Wine Enthusiast crowned the area its "Wine Region of the Year." Industry folks are gearing up for what promises to be yet another busy wine tourism season.
"The Willamette Valley is an amazing destination, and downtown McMinnville is nestled right in the heart of it," added Stephenson. "Our concierge team has been having a great time helping our guests plan itineraries that help them fully explore Oregon wine country."
The hotel is co-owned by Brian Shea and Ben Perle, in addition to Stephenson. The same three created and oversee Third Street Flats, also in McMinnville. Construction was carried out by R&H of Portland, the architect for this project was Nathan Cooprider, a McMinnville native, and the interior design was by Christina Tello of Tello Interiors. The lot the hotel rests on used to be the parking lot for the local paper and publisher of this monthly, the News-Register.