Assembly Required
Wine Symposium key to industry's advancenment
The fine line to fine wine is fraught. Realizing how nature largely calls the shots in the vineyard, Oregon winegrowers — eager to produce in a sustainable manner — have the support of several organizations offering guidance and certification. Some would prefer to believe wine made in the vineyard indicates little to no intervention, yet reality proves this an oversimplification. Winemaking skills certainly play a critical role. Once in bottle, wine's next challenge is marketing, selling and delivering. For those trying to balance it all, there is the Oregon Wine Symposium.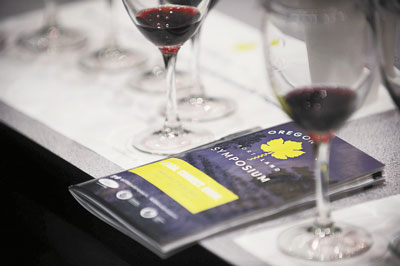 Initially held in Eugene in 2004, the symposium moved in 2012 to the Oregon Convention Center in Portland to accommodate the burgeoning industry. For two days, Feb. 21–22, about 1,200 registered attendees gathered to "Learn. Connect. Grow." The pace was brisk. Events adhered rigidly to the schedule. The flood of information and insight, while exhilarating, could easily overwhelm. Nevertheless, even the most experienced participants likely learned something new.
After sponsors Steve Thomson, chair of the Oregon Wine Board (OWB), and Matt Pihl, president of Pihl Excavating, welcomed the crowd, the deluge began.
Rob McMillan of Silicon Valley Bank assured the audience that "Oregon has made a brand of itself." He presented hard data to back his claim that "2016 was a great year." But the future is less certain. His worries included retiring baby boomers and the decrease in their wine spending. Meanwhile, millennials are gaining importance but without the purchasing power to make up the difference. "Oregon Pinot Noir is positioned perfectly for employed millennials," he maintained, "Young consumers trust in brands." Other challenges entail labor shortages, foreign competition and the popularity of craft beer.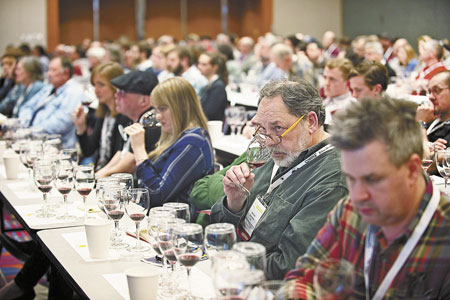 Next, Christian Miller of Full Glass Research and Wine Opinions added to the torrent of facts and impressions.
Trade show breaks doubled as networking time. Some 170 exhibitors covering most aspects of the wine trade — equipment, hardware, software, support services, organizations, publications and more — enticed with snacks, games and an array of giveaways while attendees mingled.
The first viticultural session on terroir was hosted by Leigh Bartholomew, director of viticulture at Results Partners. Dr. Kevin Pogue, professor of geology at Whitman College, who exhorted the crowd to not be "afraid of the T-word," listed and then debunked myths about terroir. An official definition, which includes identifiable physical and bio-environmental characteristics, also contains a cultural component. The latter encompasses area-wide practices evolved from collective knowledge. He also explained how vintage variation is considered "temporal terroir."
Since terroir is soil dependent, Pogue presented evidence that most AVAs (American Viticultural Areas) actually do not encompass a single soil. The one counter-example he offered was The Rocks District of Milton-Freewater, with 96 percent — the highest — of a single soil type, making wines grown in The Rocks easily identified in blind tastings.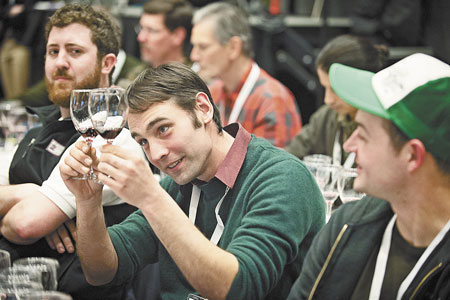 Dr. Cornelis (Kees) van Leeuwen, a professor at Bordeaux Sciences Agro, took the discussion even deeper. After listing all the components of terroir, he stated "we have to break down each factor into measurable effects." This would then facilitate managing terroir.
Lunch was accompanied by updates by the OWB and its sister organization, Oregon Winegrowers Association (OWA), followed by "Experimental Wine Trial Talks," in which participants readied themselves for side-by-side comparisons of wines made with phylloxerated vs. healthy Pinot Noir (Chehalem) and wines produced from hand-pruned vines vs. mechanically thinned (A to Z Wineworks).
After the second trade show break, an enology session on "Embracing Vintage Variation in the Winery" commenced, led by Michael Davies, executive winemaker at REX HILL/A to Z Wineworks and co-proprietor of Matzinger-Davies. During the talk, Steve Price of Price Research Services proposed tools for working with vintage variation and declared a nearly perfect correlation between bloom and harvest dates — in hot years such as 2015 and 2016, however, harvest was early. Price suggested delaying picking by thinning the canopy.

Winemakers Isabelle Meunier of Lavinea, Tony Rynders of Tendril and Davies each presented two wine samples during the vintage variation lesson. Rynders advised, "If you're not going to embrace vintage [variation], move to California" and advocated "adaptive winemaking."
Climatologist Dr. Greg Jones of Southern Oregon University began the second day with "Oregon's 2016 Vintage Overview and 2017 Forecast." He emphasized that the period between January 2016 and August 2016 was the hottest on record — the continental U.S. temperature was 2.9°F above normal, the second hottest in the 122 years records were kept. Currently, cool water stretching from Asia across to North America is resulting in temperatures closer to what is expected from a weak La Niña winter, with higher precipitation. Jones predicted the 2017 growing season in Oregon will be cooler, similar to 2012 and 2013, but not 2010 or 2011.
John Pratt presented the OWB research update. The greatest concern is Red Blotch, a virus that attacks vines, turning leaves red and leaf veins pink/red while reducing the sugar content of the fruit. In addition, in the wake of the announcement of expedited deportation of undocumented immigrants, Pratt discussed efforts to protect the work force while emphasizing their invaluable skills.
Chris Cook, founder of Capiche, a marketing strategy company in Southern Oregon, chaired the business session. The panel shared tasting room perspectives from the three different wineries. Steph Prange represented Naked Winery, which operates three locations in Oregon. Christine Collier of Willamette Valley Vineyards described continuing efforts to define the well-regarded brand and how studying Starbucks and Apple stores helped the winery benchmark its approach to customer service. Jen Allen of 2Hawk in Medford spoke of the extensive rebranding she and her husband, Ross, launched after purchasing the winery in March 2014. Capiche's Dr. Vicki Purslow summarized the results of a 2016 survey of Oregon tasting rooms, including the discovery that tasting room staff is rarely rewarded for collecting customer contact information, an important yet often-missed opportunity.
The awards ceremony luncheon allowed longtime colleagues to acknowledge the contributions of industry stars. Chehalem's Harry Peterson-Nedry accepted the Founders Award from Janie Brooks Heuck, noting "the greatest award is hugs from other people." Heuck happily accommodated.
The most eloquent, heartfelt presenter, Anna Matzinger, bestowed the Outstanding Industry Leadership Award upon her former colleague and good friend, Leigh Bartholomew, whom she praised for leading "from within" and using a "perspective of 'we'."
Chad Douglas of Chehalem honored Juan Ordaz and his family with the Willamette Valley Vineyard Excellence Award. Earl Jones of Abacela gave the corresponding award for Southern Oregon to Darin Cook whose mantra remains "a bad day outside is better than a good day inside."
Industry Partner Awards were presented to geologist Dr. Scott Burns of Portland State University by Dr. Greg Jones and to Leda Garside of ¡Salud! by Ellen Brittan. Brittan also presented the Departing Board Directors Awards to Dr. David Beck and Michael Donovan. The latter then acknowledged Southern Oregon's Larks Home Kitchen Cuisine with the Oregon Wine A-list Wine Program of the Year, which was accepted by food and beverage director Ava DeRosier.
Pat Dudley of Bethel Heights, David Adelsheim and Peterson-Nedry presented the Lifetime Achievement Award to Sue Horstmann, executive director of Oregon Pinot Camp and the Willamette Valley Wineries Association.
Dr. Patty Skinkis of Oregon State University chaired the joint viticulture and enology session, "The Low Down on High Yields." Ted Casteel of Bethel Heights mentioned that until the end of the 1980s, there was no crop thinning because growers wanted more, not less, yields. Toward the end of the '90s, protocols made a difference in difficult years. Currently, Skinkis is gathering research on these practices with a 10-year research program at various vineyards. The goal is to see if yields can be better managed and increased while still maintaining quality.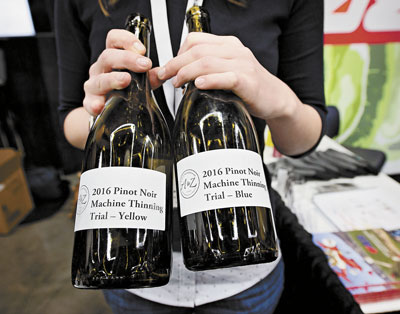 In the same session, Chad Douglas and Wynne Peterson-Nedry of Chehalem discussed two 2014 wines from Ribbon Ridge with different crop levels. The lower yield example showed deeper and richer with better balance compared to the fragrant but shorter higher yield one. Also from the 2014 vintage, Ken Wright's two contributions illustrated how lower yield resulted in better balance. The 2015 vintage samples from Adelsheim's Kelli Wagner and Gina Hennen further confirmed that more crop thinning led to a better outcome. Lest conclusions be drawn too hastily, Skinkis is discovering that sites and years impact quality to a greater extent than yield.
Accelerated by the pace of the sessions, the two days passed quickly. The breadth and depth of information left attendees with much to ponder. While all branches of the wine industry are facing new hurdles, they are being overcome by an indefatigable group committed to quality and to sharing insights.
Planning is already underway for the 2018 Oregon Wine Symposium, Feb. 20–21. Visit www.oregonwine.org for more information.
Neal Hulkower is a mathematician and an oenophile living in McMinnville. His wine writing has appeared in a wide range of academic and popular publications. Occasionally, he can be found pouring Pinot Noir at the top of the Dundee Hills.