The Walkable Wonder of Walla Walla
Spend a weekend walking, wining & drinking downtown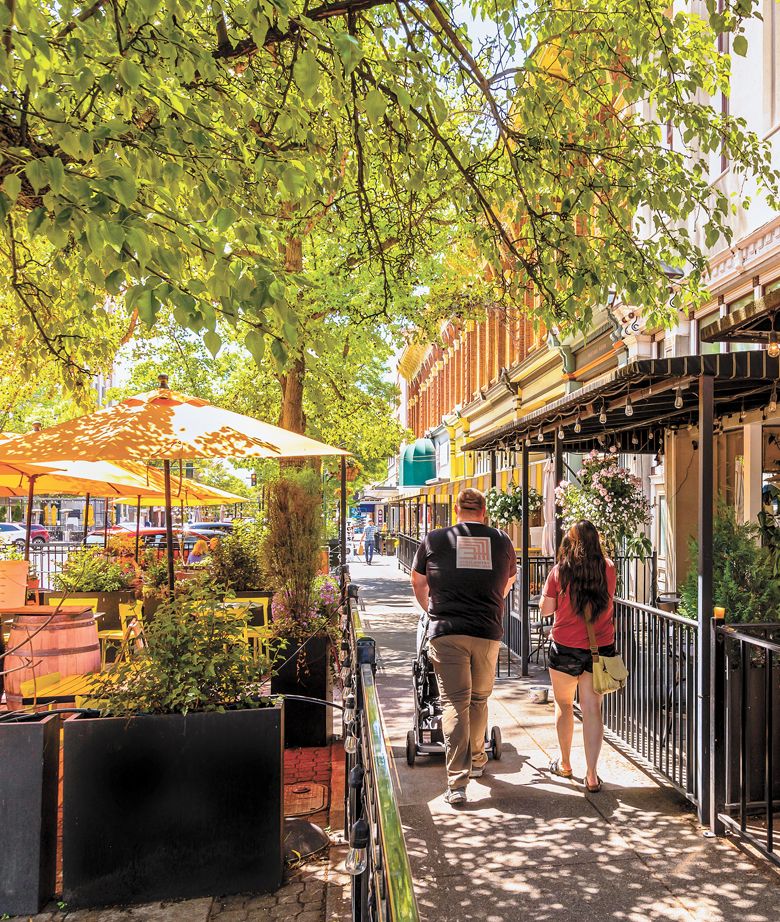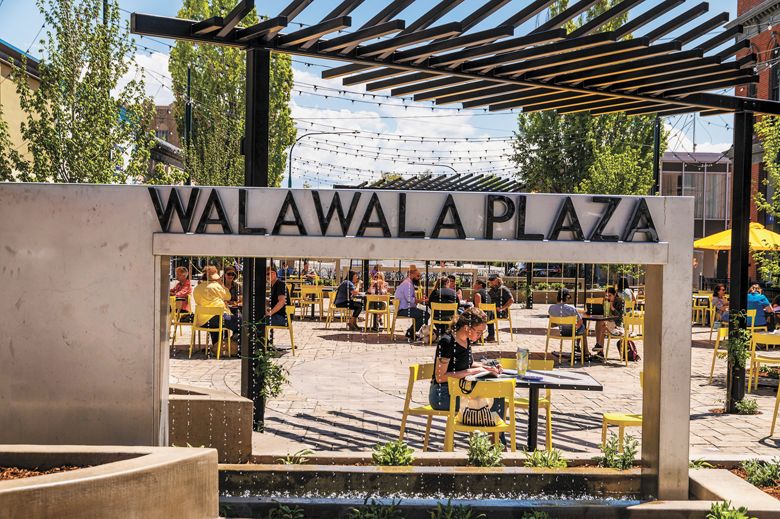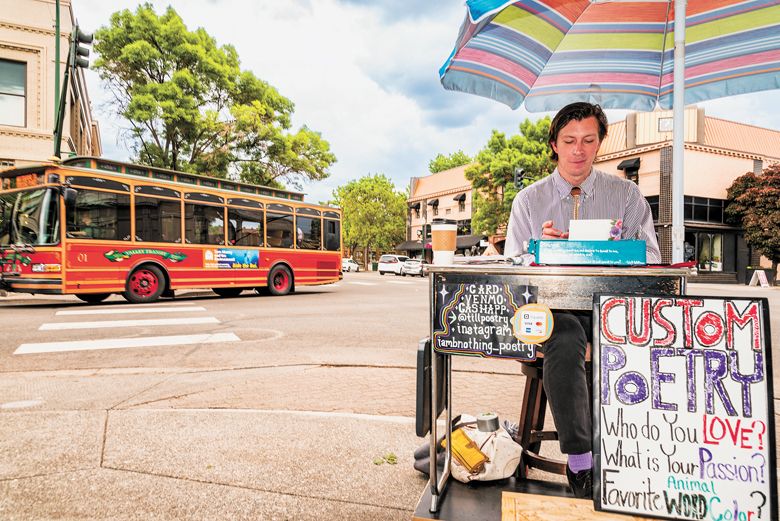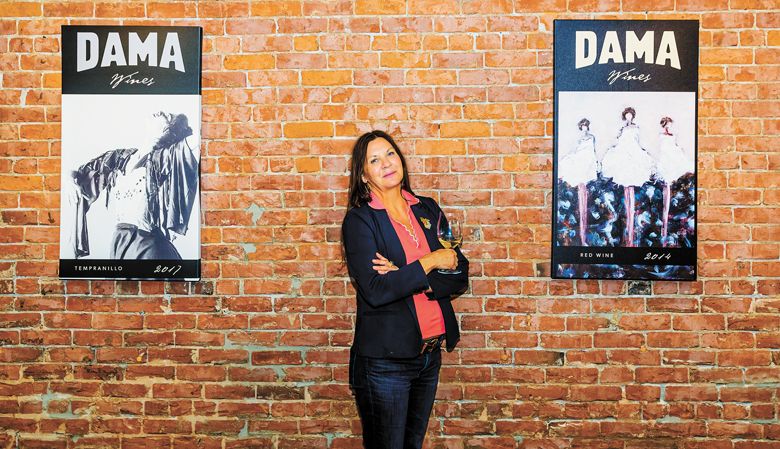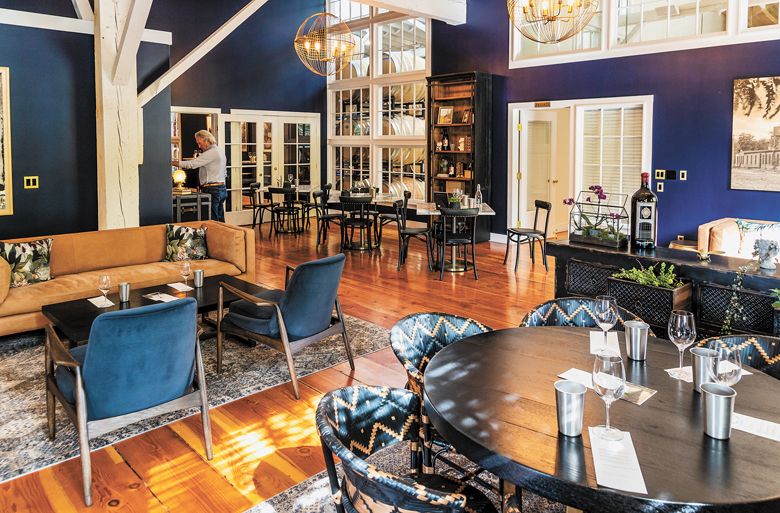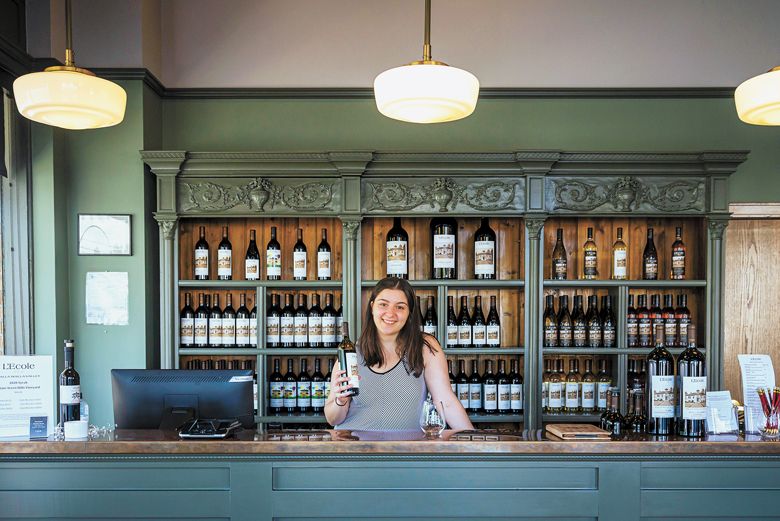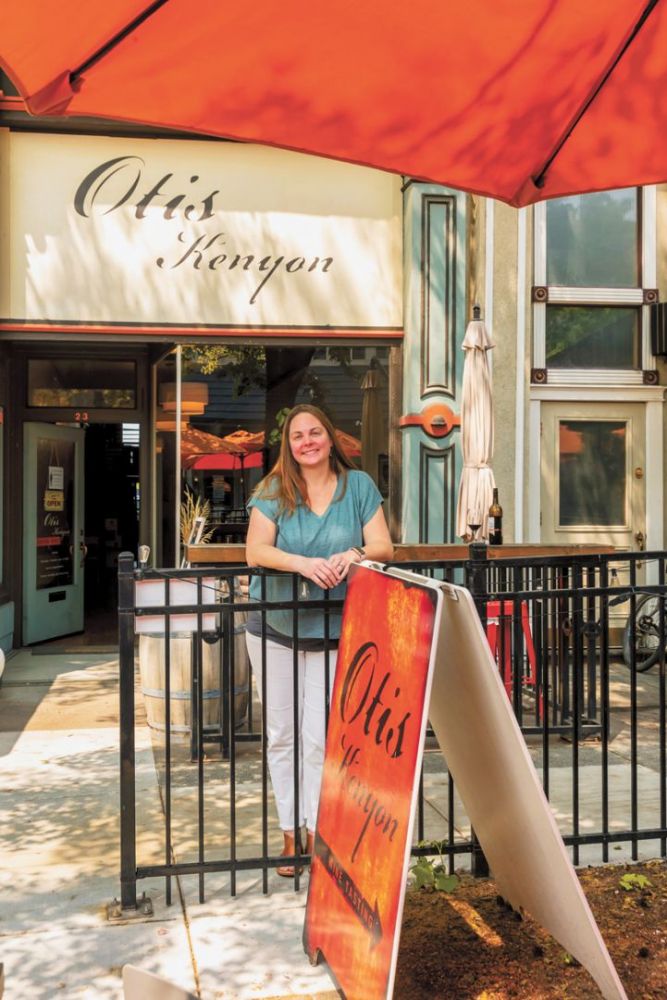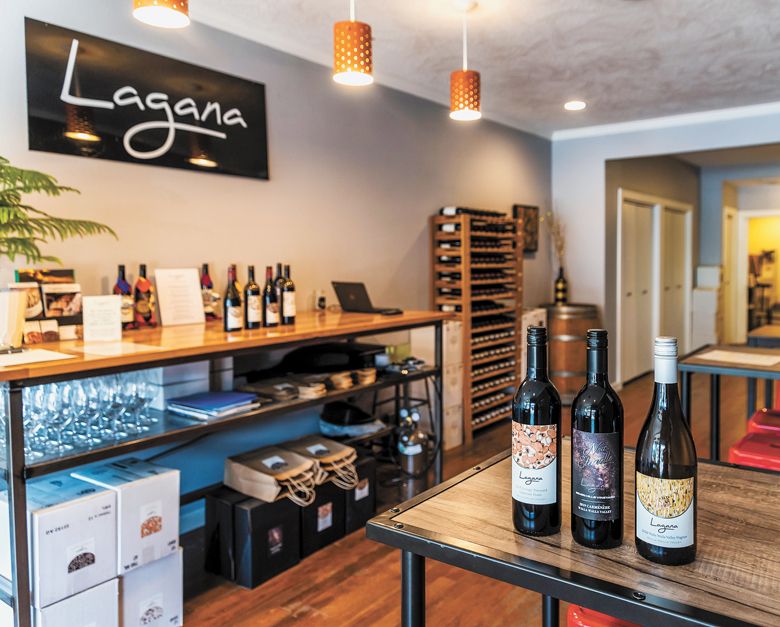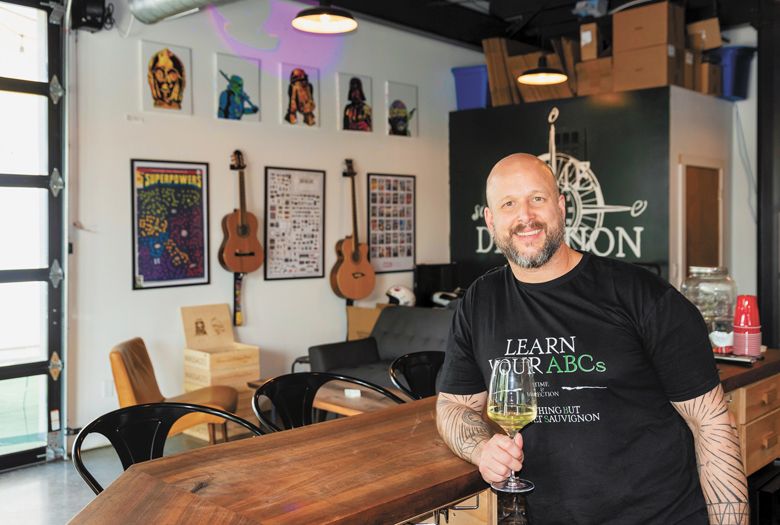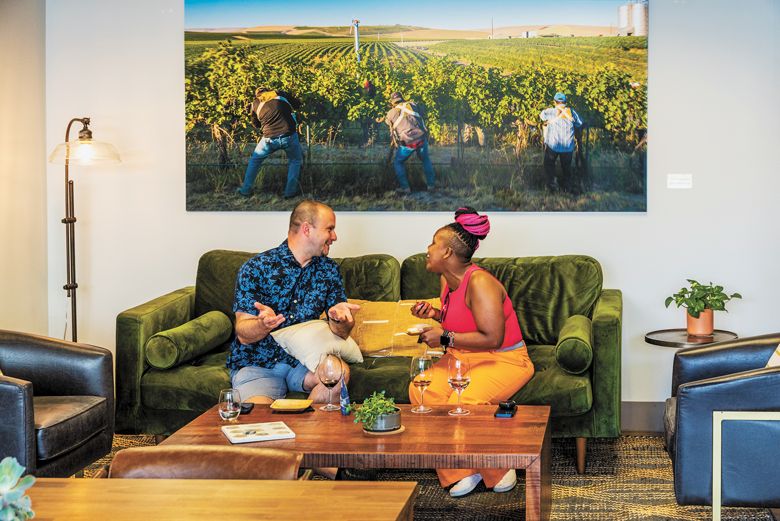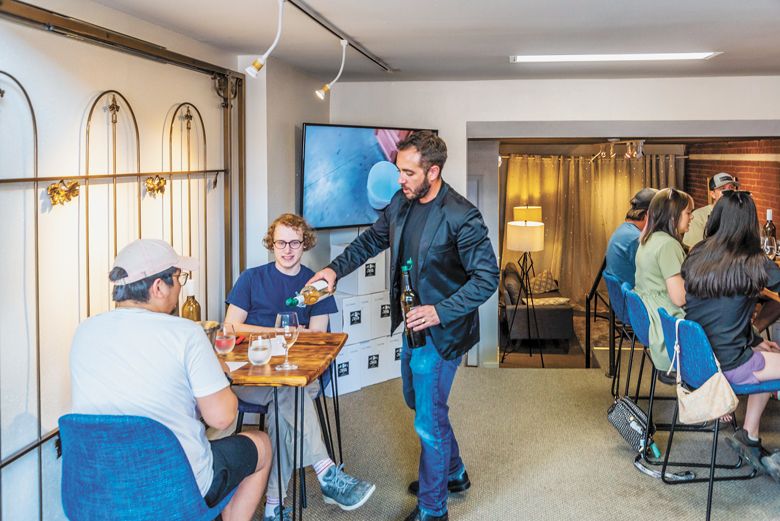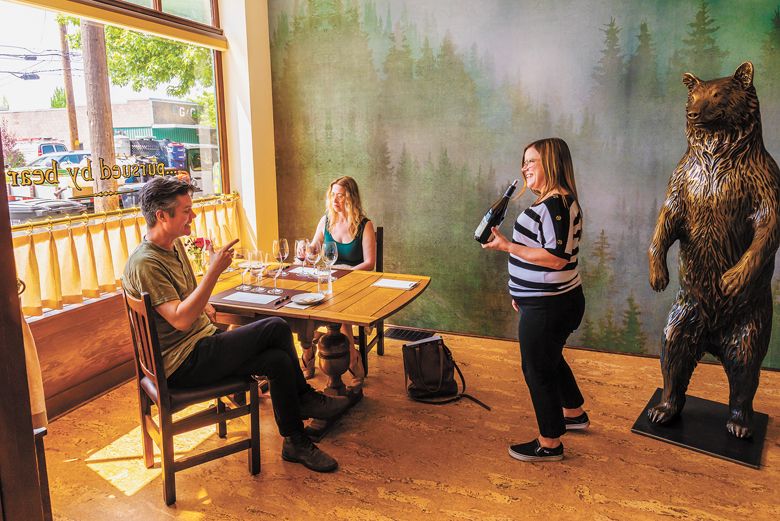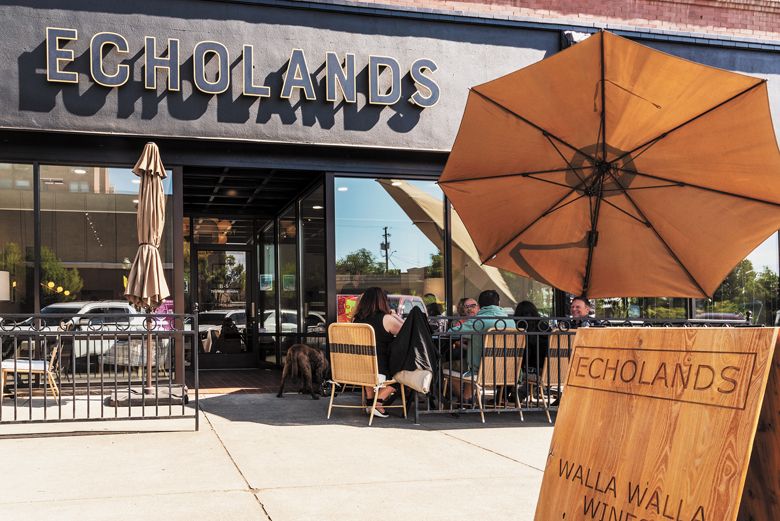 By Annelise Kelly
He caught my eye from a shady corner of Walla Walla's Main Street— a dark-haired fellow sitting at a table, with signage, and a blue manual typewriter inscribed with a quote from Walt Whitman. I walked a half a block past… but my curiosity made me turn around for a chat with Till Gwinn, typewriter poet. After a brief conversation, he offered to compose some verse for me. With only three prompts– my name, favorite color and an animal special to me– he tapped out an evocative, personal poem that mysteriously happened to intersect with some of my other unnamed passions.
Such are the gifts offered by the streets of Walla Walla.
In 1977, Leonetti Cellar opened as Walla Walla's first commercial winery. Today, there are 130 wineries operating in the region, and nearly 40 downtown tasting rooms encouraging visitors to stop and sample. An impressive and ambitious food scene has flourished with the explosion of wineries, resulting in a wealth of remarkable restaurants, peerless pastries, compelling coffee and gourmet groceries.
Considering how tasting rooms now dominate the heart of the attractive downtown, it´s hard to believe the Walla Walla Valley contained a mere 16 wineries in 1998.
Best of all, these riches are tightly concentrated in a walkable downtown core. After a beautiful drive (about four hours from Portland, Seattle or Boise), why not check into a convenient downtown hotel, leave your car keys on the dresser, and walk from coffee to pastries to tasting room to lunch to tasting room to another tasting room to ice cream to tasting room to dinner… you get the idea.
The pandemic certainly affected Walla Walla, but some of those marks are positive, such as the abundant outdoor seating areas converted from parking spots. Most notable is the public Walawála Plaza at S. First Avenue and E. Main Street where tables, chairs and umbrellas invite pedestrians to linger.
Nearly every restaurant and tasting room survived COVID. The city administration acting swiftly and decisively to approve "streeteries" and parklets, allowed tasting rooms and restaurants to rapidly expand outdoor seating. Their actions earned praise and gratitude from business owners.
The Euro-American settlement at Walla Walla, begun with forts and fur traders, eventually evolved into a town of 700 by 1860. Whitman Seminary (now Whitman College) was established in 1852. The town exploded after gold was discovered in nearby Idaho in 1861. It became the county seat the next year. With dryland wheat farming, orchards and railroads, it expanded into Washington Territory's largest city (population 3,500) by 1880.
Today, vineyards are gradually overtaking the orchards and canneries as the highest-profile agricultural endeavor. The enology and viticulture program paired with culinary arts studies at Walla Walla Community College help attract and retain talent from near and far.
A four-season climate exists a world away from the wine regions of Western Oregon. Snowy winters and hot, arid summers favor Cabernet Sauvignon, Syrah and Merlot, while Bordeaux style is the main influence in the region. However, mavericks abound— check the annual guide published by the Walla Walla Valley Wine Alliance listing over three dozen grape varieties in a handy table indicating which wineries make what. You will find just about anything here, even Pinot Noir and Chardonnay.
While wine tasting (both on foot downtown and by car at the dozens of wineries surrounding town) represents the major tourist draw, distilleries and breweries offer imbibing options, and the culinary scene alone is worth the drive. The new 5,000-seat Wine Country Amphitheater has presented touring acts like Bonnie Raitt and Jackson Browne. The area serves as a convenient jumping-off point for road biking, river recreation and hiking the Blue Mountains. In the summer, the water park at Veterans Memorial Pool is a great way to wear out your kids by bedtime.
Even the most ambitious and disciplined wine taster can visit only a fraction of the tasting rooms and restaurants in a weekend visit, so either strategize in advance, or just start walking and let serendipity guide you. Here are some highlights that merely scratch the surface of Walla Walla's wealth of options.
WINE TASTING ROOMS
Taste the origins of the Walla Walla wine scene at L'Ecole No 41, third-oldest winery in the area. With a new tasting room situated in a street-facing corner of the Marcus Whitman Hotel, the winery won best Bordeaux blend from Decanter in 2013 for their 2011 Estate Ferguson.
Lagana Cellars is one of several wineries proudly offering the somewhat obscure varietal Carménère. Sometimes called "the lost grape," it was eradicated in Bordeaux during the phylloxera plague of 1867. After replanting, it failed to thrive in subsequent decades in French vineyards, so it was abandoned. However, it secretly flourished in South America, where it was established in the mid-1800s, mistakenly thought to be Merlot. DNA testing in the 90s correctly identified it and, today, it represents a small percentage of the grapes grown in the Walla Walla Valley.
Seven Hills Winery is set a few blocks off the main drag and remains one of very few tasting rooms where wine is crafted on the premises. In a historic lumber mill built in 1904, enjoy a flight in the newly redecorated space, tidy and tailored in blue and white and overlooking the winemaking floor. If you spot a handsome pair of big, blond and friendly dogs, you can assume winemaker Bobby Richards is on the premises. He also crafts Carménère, describing it as "Cab Franc on steroids."
DAMA Wines, owned and operated by women since 2007, features a cozy, clubby interior with jewel-toned velvet chairs and exposed brick. Enjoy the street scene from the second-floor loft or the outdoor seating area. Winemaker and co-owner Mary Derby reproduces the work of female artists on her wine labels, and poster-sized renditions of the original label artwork serve as wall decor.
Otis Kenyon Wine offers a shady street-side seating area for people-watching. One interior wall is scrawled with slogans and signatures from past customers, erasing any notion of stuffiness or pretension. Note the fire-licked labels to discover a fascinating and lurid family story of tragedy, disgrace and redemption.
The quirky name of Pursued by Bear wine originates from one of Shakespeare's most famous and absurd stage directions, reflecting the theatrical leanings of movie-star owner and Yakima native Kyle MacLachlan. The artwork and decor nod repeatedly at both bears and Shakespeare.
Time & Direction Wines offers a cozy spot on a side street, the ultimate in unpretentiousness. The geek-chic decor includes Star Wars action figures, guitars and a keyboard, as well as a vintage arcade table where kids can play retro video games– no quarters required. Guests are welcome to enjoy takeout food at the outdoor tables shaded by large umbrellas.
Set course for Moonbase Cellars, where owner and winemaker Drew Pauk's passion for outer space beams from every label. A flight is sure to launch you into a good mood.
Echolands Winery has a quiet, spacious tasting room and outdoor seating a short stroll from the beaten path and on the way to several restaurants.
Two new tasting rooms will open soon: Dossier, co-owned by former Seattle Seahawk Sidney Rice; and Rasa Vineyards, co-owned by brothers Pinto and Billo Naravane. Not only is Billo the winemaker but also a Master of Wine.
Vital Wines is a nonprofit winery dedicated to improving healthcare access for vineyard workers and their families. It's raised nearly $100,000 for this grassroots cause.
RESTAURANTS
A classic French menu entices diners to Brasserie Four. Brandon Kubrock, general manager at Dossier, says his wine guests from France are loyal to Brasserie Four as their go-to dining spot. Try the moules frites (mussels and fries) for a taste of the motherland.
The Mexican menu with global flair keeps it lively at AK's Mercado. Enjoy tacos, burritos and margaritas in the colorful dining room or choose sidewalk seating.
TMACS is named after owner Tom Maccarone, a third-generation Walla Walla native. It has a cosmopolitan big-city vibe and a menu to match, ranging from house-made pasta to lamb chops to seared ahi. Enjoy the outdoor seating on a quiet side street.
Bacon & Eggs is a locals' favorite. The casual diner atmosphere feels sleek,with artsy touches, including local paintings for sale. Order the shrimp and grits with eggs for breakfast and spice them up with one of the fifty-plus hot sauces.
Graze may be a basic sandwich shop with a simple menu, but it's executed well, with extra flair. Try the turkey-roasted pear sandwich or the Vietnamese banh mi. Vegetarians can sub tofu for any meat on the menu.
Passatempo Taverna specializes in beautiful, rustic farm-to-table Italian cuisine and historic cocktails. Saffron Mediterranean Kitchen offers a constellation of dishes flanking the Mediterranean Sea, such as wood-grilled calamari, Greek loukaniko sausage, Turkish flatbread and paella. Hattaway's on Alder offers locavore cuisine through a southern lens, and Grandma's Kitchen serves authentic Mexican food made by a genuine abuela.
HOTELS
Book an in-town hotel to enjoy a carefree, car-free weekend in Walla Walla. The Finch is a sleekly updated motel at one end of the walking district. A couple of cruiser bikes are available for guests along with a bicycle repair station and lockers. Enjoy a glass of wine or a cup of tea around the outdoor fireplace or in the garden, furnished with a picnic table and Adirondack chairs.
At the other end of the pedestrian core, the Marcus Whitman Hotel anchors downtown. This elegant grande dame dates to 1928. With five on-site tasting rooms, a restaurant and the Vineyard Lounge, you won't have to walk far to enjoy the many tastes of Walla Walla.