Terroir + Tech
Wine industry embraces digital tools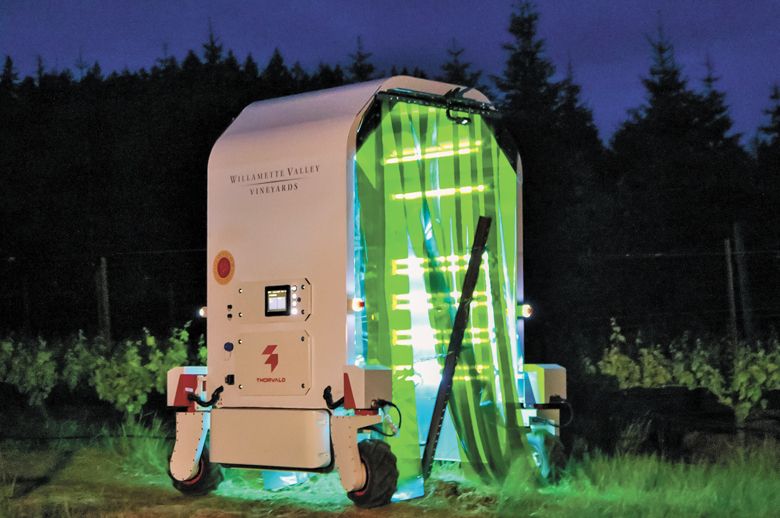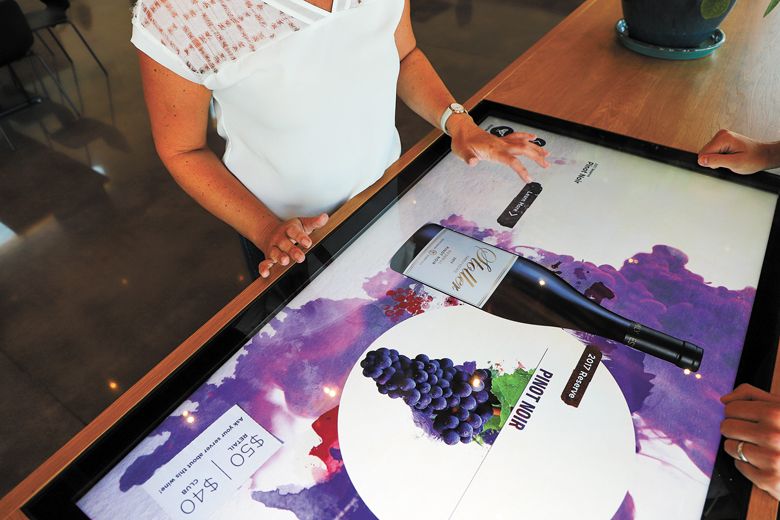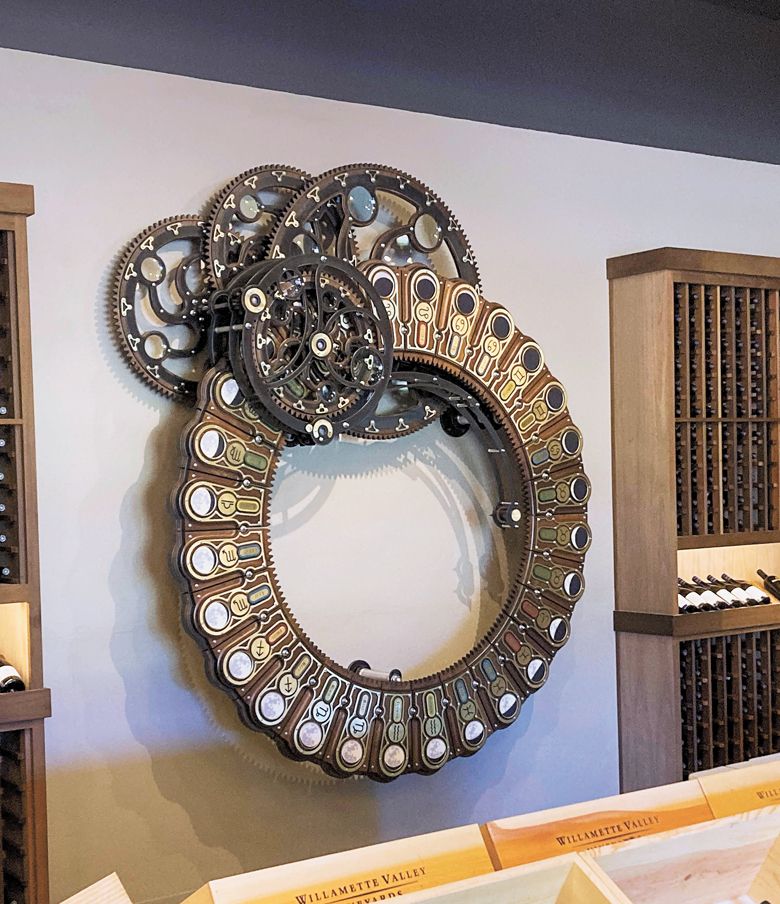 By Aakanksha Agarwal
Here in Oregon's wine country, history blends seamlessly with innovation. In over 1000 wineries and roots dating from the 1960s, traditions run deep. Environmental concerns are a lifestyle, with over 50 percent of vineyards certified sustainable. Yet, technology thrives— vineyards are satellite-monitored, and wine labels transform into digital portals. Picture yourself immersed in augmented reality at Stoller's Experience Center, where history, terroir and innovation come alive. Use your phone to scan QR codes on GC Wines' labels to unlock a wealth of wine knowledge. And the Starry Sky Room at Domaine Willamette? A celestial wonder meets sustainability. Here's toasting to the best of both worlds— the classic craft of winemaking intersects with the cutting-edge innovations of the digital age. Read about a corps of wineries honoring centuries-old traditions while embracing the promise of technology.
Digital Precision
At King Estate Winery, precision is paramount. Rather than combining grapes from different vineyards into large tanks, the winery takes a meticulous approach, fermenting individual vineyard blocks. This method allows winemaker, Brent Stone, to focus on the unique characteristics of each plot. To manage this complexity, he used Vintrace, a sophisticated digital system. The suite of software includes TankNet, which continuously monitors tank temperatures, ensuring ideal conditions for fermentation. Lab analyses are streamlined through automation and access to real-time data using a smartphone, thanks to a user-friendly mobile app. This integration of technology allows King Estate to produce extraordinary wines.
High-Tech Vineyard Mastery
Ross Allen, third-generation farmer and co-owner of Padigan, has an impressive background in California winemaking. Allen brought a piece of California's innovation when he moved to Oregon. He employs the Hortau soil moisture monitoring system, a rarity in Oregon's winegrowing industry. This advanced technology relies on cellular technology to send real-time updates to Allen's phone every 15 minutes. It supplies critical data on soil moisture levels, solar radiation, and canopy temperatures. Armed with this information, Allen can calibrate and tailor irrigation to the specific needs of each vine, resulting in grapes achieving their fullest potential without wasting water.
Futuristic Tastings
Step into the Stoller Family Estate Experience Center, where technology blends seamlessly with wine storytelling. Here, visitors can immerse themselves in augmented reality, interact with tasting tables, and be captivated by a massive immersive LED screen. The center offers an unforgettable wine-tasting experience, where history, terroir and innovation merge. For the adventurous, there's a journey into virtual reality (when circumstances permit), supplying a glimpse into the vineyard's evolution from its prehistoric origins to its modern-day splendor.
Embracing Tech for Transparency
GC Wines, under the guidance of John Grochau, exemplifies transparency. The winery introduced QR codes on its labels, starting with the Commuter Cuvee. Scanning the code unlocks further information about the wine, from its origins to the winemaking process. It's akin to having a sommelier in your pocket, contributing insights into your glass.
An Eco-Conscious Approach
Brooks Wine strives to craft exceptional wines while also remaining environmentally responsible. Their website, designed in partnership with 5Forests, generates minimal carbon emissions, offset by planting trees. It also features a "Perfect Palate Quiz," powered by Tastry, an AI-driven wine analysis tool. This quiz recommends wines tailored to individual taste preferences, ensuring each bottle is a perfect match. Moreover, Brooks' website prioritizes accessibility, going beyond compliance with accessibility standards to assure usability for all participating.
Sensor Symphony
Abacela has turned to a symphony of sensors to manage their vineyards. They've installed four weather stations, 35 temperature sensors, 30 soil moisture detectors and even a smoke monitoring sensor. These additional facts allow them to make data-driven decisions and optimize vineyard conditions. Additionally, their InnoVint's Foss system tracks every grape's journey from vineyard to bottle for traceability and quality control at every stage of production. It's proof of their commitment to precision.
Personalized Texting
Soter Vineyards' embrace of technology enhances customer interaction. They use Red Chirp, a web plugin, to text guests about orders, tastings and more. It's all about communicating to guests where they're most comfortable. On the backend, the winery uses Enolytics, an e-commerce platform that analyzes direct-to-consumer data, helping them identify club members at risk of leaving— crucial for wineries depending on customer retention.
A Pioneering UV-C Robot
During the pandemic, Willamette Valley Vineyards began HVAC system improvements that purified the air using UV-C light technology. Founder Jim Bernau simultaneously discovered that UV-C light effectively kills powdery mildew, a major threat to grapevines. In partnership with Saga Robotics, Cornell University and USDA scientists at Oregon State University, they developed the world's first autonomous electric-powered robot for use in a commercial vineyard. This UV-C robot eliminates the need for organic sulfur or fungicides, initiating a new era of sustainable grape cultivation.
A Biodynamic Clock and Starry Sky Room
Domaine Willamette embarked on a journey to demonstrate biodynamic practices. Founder & CEO, Jim Bernau, along with research & development manager, David Markel, created a one-of-a-kind biodynamic clock displaying time and lunar phases. This clock is based on the biodynamic calendar, developed by Maria Thun, which directs agricultural activities depending on celestial influences. Additionally, Domaine Willamette's Starry Sky Room in the cellar guarantees an immersive experience, explaining Oregon's unique growing conditions and sustainable farming through a digital presentation screen created by Planar Systems.
A Balancing Act
At Irvine & Roberts Vineyards, winemaker and vineyard manager Brian Gruber combines tradition and technology in producing excellent wines. They prioritize nutrition, water and crop load for their eco-friendly vineyard practices. Precise irrigation and predictive models secure ideal vine stress levels, discouraging excessive canopy growth while reducing disease pressure. Research by Dr. Patty Skinkis guides them in achieving the ideal balance in crop loads. This fusion of expertise and innovation results in world-class wines.