Tasty Tonics
Learn about herbal mixology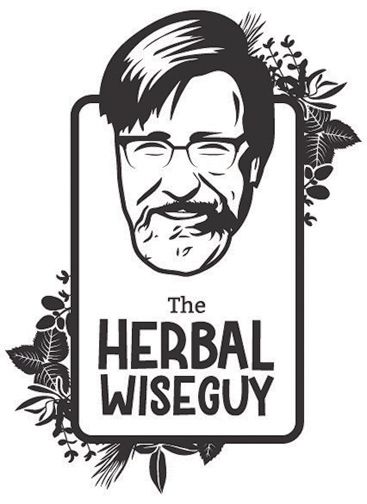 By Annelise Kelly
Floral aromas, bright acidity, complex flavors along with a beguiling mouthfeel.
These words describe Oregon's fine wines and also many of Dr. Glen Nagel's imaginative herbal beverages.I fir
st met Dr. Nagel and his magical elixirs at a quintessential Portland party. We were celebrating the June full moon at a backyard potluck. The wood-fired sauna was flanked by an herb garden and a pair of pet goats in a deluxe two-story pen. As guitar players traded licks around the fire pit, Nagel, self-described Naturopathic Fizzician, stood at the bar serving his Spring Spritzer– a shocking pink, lightly sweetened sparkling tea brewed from pink elderflowers. It was topped with a decadent coconut foam flavored with hawthorn flower, ginger and vanilla, and elegantly garnished with an emerald mint leaf and pastel-lilac sprig of elderflowers.
"I was raised as a suburban Chicago kid," says Nagel, "and always found myself drawn to the vacant fields behind our house. I was kind of a nature kid in a suburban world." He majored in botany and outdoor education– "it was like hiking and camping for credit"– graduating from "Northland College, a little liberal arts college on Lake Superior in Ashland, Wisconsin."
Remember Euell Gibbons, an outdoorsman and early health food advocate, who promoted wild foods during the 1960s and is known for Grape Nuts and "ever eat a pine tree" fame? Nagel devoured books like Gibbons' 1966 Stalking the Healthful Herbs. "He describes all these traditional uses so I started experimenting with herbs," recalls Nagel. This book of folksy wisdom "was far from a clinical model, sparking my interest in herbs. I just started experimenting on myself and my friends, making teas and other tinctures and potions. This eventually led me to study herbalism."
In the early '80s, he made his way to the Herb Pharm, which has been crafting herbal tinctures in Williams, Oregon, since 1979. "I was one of their first apprentices and guess what apprentices did? All the work. I learned from people who were cultivating plants and gardens, those making tinctures from what they grew and collected in the wild."
Soon afterward, Nagel migrated northward to Portland, working for Eclectic Institute (now Eclectic Herb), an herbal company founded in 1982 by a naturopathic physician. Later that decade, he studied to become a naturopathic physician at the National College of Naturopathic Medicine, or NCNM. Today, he's dean of Herbal Medicine at the American College of Healthcare Sciences, a Portland-based online school. As "The Herbal Wiseguy," he shares his passion for herbal elixirs with various communities.
"I'm teaching now mostly full-time, and I don't have a clinical practice," says Nagel, "but when I do these events, I have the opportunity to treat the group. I use these herbal drinks as a stepping stone, just like somebody might have a beer at the end of the day. They're using it to transform themselves, to feel different. I find herbs have this super powerful ability to do that."
Reflecting on his time in private practice, about 12 years, he muses "it's very hard to see how our world is going to get better when you only treat one person at a time. There just aren't enough naturopaths. In Portland, there are quite a few; but still, the nature of the problems we have are so big. I just started feeling like if I craft drinks for a hundred at an event, I'm going to open the minds of at least two or three people. That leads to self-discovery and education." He concluded that empowering people to support their own health is the best way to make a difference.
To make herbal self-care appealing, he considered that "anybody can make something taste horrible, so how do I use my skills and knowledge to make it both therapeutic and taste good? Fortunately, there's a long history of liqueurs, cordials and aperitifs using flavorful herbs and bitter herbs, creating unique combinations." One of his colleagues, Dr. Orna Izakson at NCNM, suggested Nagel teach a series of classes on this topic.
He introduced classes on herbal drinks and formulation, including bitters, cordials and hot toddies. "As a group, we made these beverages, and they were extremely fun and popular. We called it Herbal Mixology," says Nagel.
Usually alcohol-free and based on a decoction (brewed like tea) of an herb, his spritzers are perked up with citrus (or another acid), lightly sweetened and served carbonated and cold. Cordial is a sweetened, alcohol-based tincture. Bitters are unsweetened tinctures, and hot toddies are warm drinks with hot herbal tea or water flavored with diluted bitters or syrups spiked with alcohol.
A single event helped chart his course: Nagel brought shiso lemonade to a gathering at a senior residential facility. A member of the mint family, Shiso (Perilla frutescens), is recognized as a Japanese herb in the U.S. The resulting decoction is "a beautiful pink color. When the residents began talking and laughing more, the organizer asked, 'are you serving them alcohol?' because it looked like they were getting inebriated. The herbs I used have terpenes, and they're uplifting. And, of course, the shiso is filled with anthocyanin pigments, antioxidants with some medicinal value."
Nagel crafted a custom wedding cordial for a naturopathic student and friend. "I quizzed the couple about their relationship, hopes for the wedding and future life together. Based on their answers, I created an herbal formula with what I believed would support them. I turned it into a cordial (with alcohol), putting it into little one-ounce bottles with a nice little label and ribbon. Near the end of the wedding, everyone toasted the newlyweds with it. Once again, I saw the mood of the group lighten. I realized this could be a business: wedding elixirs. It just seemed really fascinating and these experiences led me to do things with groups."
He enjoys creating beverages both with and without alcohol, and says "my model is 'less alcohol, more fun,' because the herbs contribute the real fun part. If you think about going to a bar and having a craft cocktail, the fun part is all the stuff besides the alcohol: the flavor, the presentation, the lighting, the color."
Nagel uses numerous tricks to boost presentation. For example, adding acid alters the pH of some concoctions, such as steeped shiso or elderflowers, changing their color from dull to vivid pink. "It's herbal chemistry 101. When you acidify anthocyanin pigments, found in blackberries, raspberries and cherries, it changes the color."
Using a whipped cream dispenser, Nagel concocts foams to top his drinks, amping up their appearance, texture and flavor. The foam also supports garnishes beautifully, such as showers of flower petals or ribbons of citrus zest. While coconut milk or cream is a favorite base, he also relies on egg whites, aquafaba (the liquid from canned chickpeas) and even seaweed.
"My goal with drinks is to make them special," paying equal attention to the foams and garnishes as to the beverages themselves. "I've read a lot of the high-end bar books and try to borrow and adapt techniques while herbing them up."
With nature as his laboratory, Nagel continues to experiment, regularly making exciting discoveries. He recently distilled yarrow, and "it came out very, very aromatic and piney… with color like the Mediterranean Sea. It's just that beautiful. Distilleries could incorporate some of this herbal knowledge to make really innovative liquor. You see a lot of new distilleries opening up with basic spirits; gin, whiskey, vodka. Those are all great, but a yarrow liquor? That would be amazing."