Spirited Away
These Oregon-made ready-to-drink canned cocktails are perfect for summer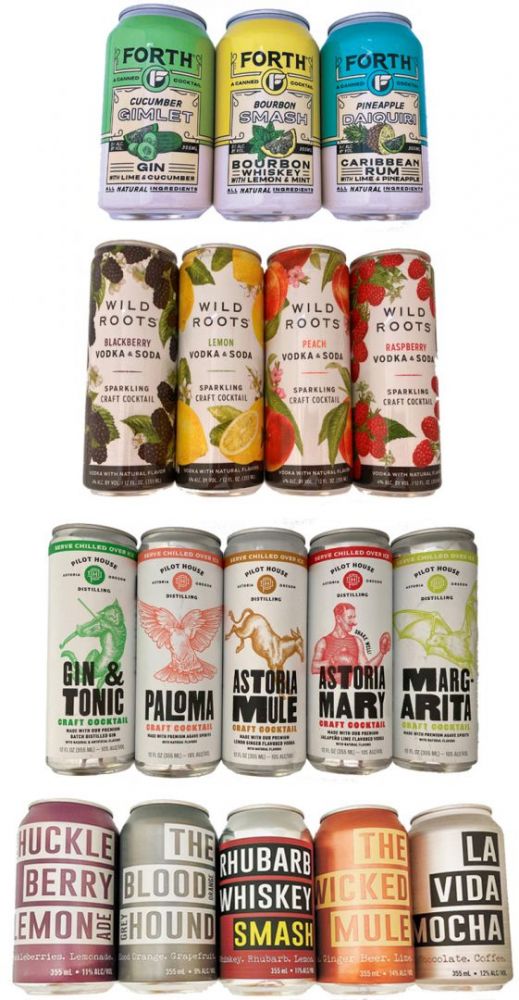 Forth Distilled Goods
Family-owned and crafted in Bend, Forth offers three flavors, all made using premium distilled spirits (whiskey, gin or rum) and natural ingredients. Ready to drink straight from the can or on the rocks, these carbonated beverages are thirst-quenching and a mere 5 percent alcohol, perfect for life's movable moments.
12 fl. oz. / 355 ml.
Favorite summer flavor: Pineapple daiquiri
$14/4-pack
www.drinkforth.com
Pilot House Distilling Craft Cocktails
Based in Astoria, Pilot House also has tasting rooms in Cannon Beach and Portland. They create an assortment of canned beverages using premium agave, gin or vodka, depending on the cocktail. No matter the flavor, each contains 10 percent alcohol. I followed their suggestion to serve chilled over ice and appreciated the serving size of two cocktails: fewer cans to recycle.
12 fl. oz. / 355 ml.
Favorite summer flavor: Paloma
$16/4-pack
www.pilothousedistilling.com
Wild Roots Vodka & Soda Sparkling Craft Cocktails
You may already be familiar with Wild Roots infused vodkas, but have you tried their Oregon-made canned cocktails? Crafted with Wild Roots' vodka, these hard seltzers contain real juice concentrates from fruit grown in the Northwest. Light, refreshing and carbonated, each can is only 4 percent alcohol– the lowest of the brands sampled. Be sure to visit their tasting room in Northeast Portland at 77 N.E. Grand Ave., Suite F, open Wednesday-Sunday and bottle shop, open daily, in Washington Square Mall.
12 fl. oz. / 355 ml.
Favorite summer flavor: Peach
$13/4-pack
www.wildrootsspirits.com
503 Distilling Cocktails
As the prefix number implies, these cocktails are produced in Oregon. With an impressive variety of unique flavors, 503 Distilling prepares small batch spirits in-house and purchases larger quantities as needed. These tasty cocktails vary in alcohol (11-14 percent) and contain two servings per can. When in Portland, drop by their cocktail lounge Thursday-Sunday at 4784 S.E. 17th Ave. They regularly host live music, drag bingo and trivia nights.
12 fl. oz. / 355 ml.
Favorite summer flavor: I'm Your Huckleberry Lemonade
$15/4-pack
www.503distilling.com