Southern Oregon's Big Secret
Spotlighting Pinot Noir from the lower half of the state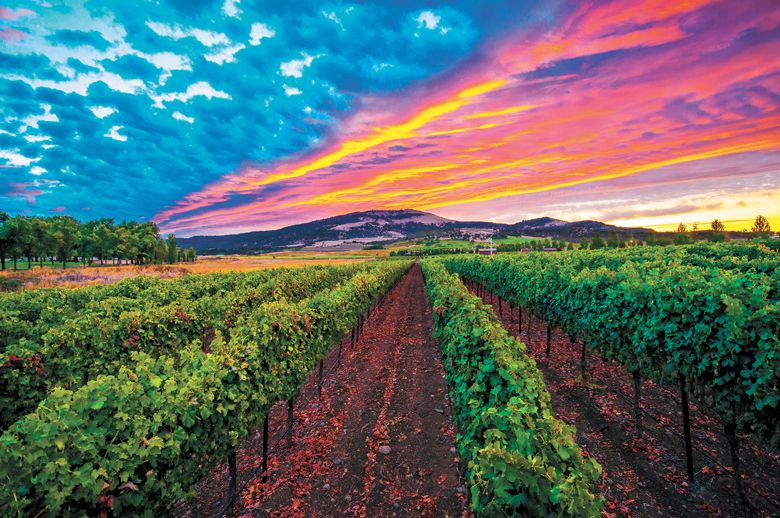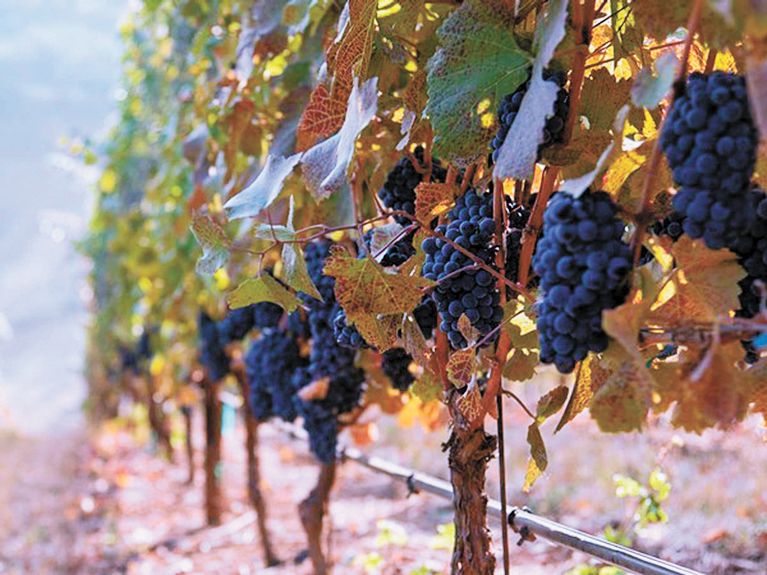 By Becky Garrison
While the Southern Oregon AVA, established in 2005, is better known for growing warmer-weather grapes, certain locations have ideal microclimates for Pinot Noir. Hillcrest Vineyard in Roseburg, Oregon's oldest estate winery and birthplace of Oregon Pinot Noir, first planted the variety in 1961. Other area winemakers have done the same, producing award-winning Pinot Noir distinct from their counterparts in the Willamette Valley.
Rogue Valley
DANCIN Vineyards, Medford
Founder Dan Marca recounts how, following the advice of Glen McGourty, viticulture and plant science advisor for Mendocino County, they chose to plant their first vineyard exclusively in Pinot Noir. "He informed me that DANCIN's location was similar to the Anderson Valley where world-class Pinot Noirs are produced." They crafted their first Pinot Noir in 2010, and now make between 10 and 15 different expressions.
"Adagio," a dance or musical term used to describe a transition, is the foundation of their Pinot Noir program. DANCIN's Adagio is made exclusively with the Wädenswil clone originally sourced from the Swiss town that shares its name. (Interestingly, it's near the hometown of Peter Britt, credited with planting the first vineyard in the Rogue Valley in 1859. One of the varietals was Franc Pinot, known today as Pinot Noir.) DANCIN's latest release is a 2021 Brise Oregon Pinot Noir, described as a ruby-hued wine that opens with blue fruit aromatics, red plum, cranberries and fresh linen.
Naumes Suncrest Winery, Talent
Co-owner Laura Naumes' family history extends over 70 years of cultivating fruit in the Rogue Valley. A decade ago, she noticed a rising number of flourishing vineyards in the valley, many planted in Pinot Noir grapes. "Around the same time, we had to uproot a small pear orchard, so my first thought was wouldn't it be fun to make a little bit of wine," she recalls.
After recognizing the sloping terrain of their hillside plot was perfect for Pinot Noir, the family planted a 6-acre vineyard. It quickly grew to 15. As Naumes reflects, "We were drawn to this grape varietal for its subtle and unique characteristics that also grow extremely well here." The vineyard now includes 40 acres of Pinot Noir grapevines of clones 115, 667, 777 and Wädenswil. Each Naumes Suncrest wine has a distinctive flavor profile based on the specific clone used.
Irvine & Roberts Vineyards, Ashland
For co-owner Dionne Irvine, growing Pinot Noir required listening intently to their land and the vines. "The plants will let you know if they are happy. By trial and error, we found that Pinot Noir spoke loudly about its ability to thrive and express itself beautifully at this site." Their vineyards are situated midway between Willamette Valley and the Napa/Sonoma area. At more than 2,100 feet in elevation, the cool nights and gentle morning sun help retain acids and allow for generous hangtime; creating balanced wines truly unique to this place.
The Irvine & Roberts 2021 Convergence Pinot Noir is comprised of five Pinot Noir clones and named after the meeting of the Cascade and Siskiyou mountain ranges that flank their vineyards. This vintage dances between ethereal aromatics and darker flavors; starting with aromas of rosehips, huckleberry and fresh cherries, then leading to savory elements of tarragon, pine forests and wet stone.
Foris Vineyards, Cave Junction
When asked why include Pinot Noir in the Foris portfolio, winemaker Stephanie Pao responds, "The grape is well suited to Oregon growing conditions. Southern Oregon is generally situated at higher altitudes than the northern part of the state; and depending on the region, it can experience warmer ripening. Timing of phenological events influences how fruit-forward (black or red, depending on the vintage) the wines will be. Often with lower natural acidity compared to the northern part of the state."
The Foris Vineyards 2021 Rogue Valley Pinot Noir, made with 100 percent estate fruit from the Cedar Ranch and Maple Ranch vineyards, is medium-bodied with a vibrant black cherry, pomegranate character combined with citrus and floral notes. This wine was awarded a double gold medal at this summer's Oregon Wine Experience.
Dwell Wines, Grants Pass
According to Dwell Wines' co-owner Brent Gee, Pinot Noir chose them. In 2019, when Brent and his wife Linda first pursued their dream of living on a vineyard and making wine, they Googled "vineyards for sale in Southern Oregon." The property they eventually purchased appeared in the results. It had 15 acres of young but mature Pinot Noir and Pinot Gris vines. Given that Oregon Pinot Noir is known among the best in the world, the couple seized an opportunity to contribute to that reputation. They feel Pinots from the south combine the nuances of Northern Oregon with the power and structure of those grown in California. "Southern Oregon Pinot Noir shows off the best of our state's mild growing season, with cool nights and long, warm, sunny summer days. This combination complements the delicate touch Pinot vines need to thrive," Gee states.
The Dwell 2021 Reserve Pinot Noir reflects aromatic cedar, dried dark red fruit leather, sassafras and Jeffrey pine. Flavors pop with black and Amarena cherries.
Umpqua Valley
Reustle Prayer Rock Vineyards, Roseburg
In 2002, Stephen and Gloria Reustle planted their first ten acres of vines, comprised of Pinot Noir, Tempranillo and Syrah. Their latest vintage, a 2021 Pinot Noir Reserve was produced from three clones (Wädenswil, plus clones 115 and 114). After aging in 74 percent new French oak, the wine is best described as light and perfumed. It was recently awarded gold at this year's San Francisco Chronicle Wine Competition, as well as chosen as an Oregon Wine Press Cellar Select wine.
Paul O'Brien Winery, Roseburg
According to Paul O'Brien co-founder and winemaker Scott Kelly, the Umpqua Valley maintains a beautiful tension between power and elegance uncommon in Pinot Noir. "Usually a region will trade one for the other. But to make a truly world-class wine, it must have that balance," Kelly opines. With distribution in 48 states, the winery impresses sommeliers and wine buyers "seeking the next big thing" embrace Pinot Noir from the region.
Their grapes are sourced from two sites in the Umpqua Valley, one near Elkton and another in the northern part of the appellation at high elevation. A blend of Dijon and Wädenswil clones, their wine is fermented with 25 percent whole clusters in concrete open-top fermenters and then aged for 10 months in 25 percent new French Oak. The Paul O'Brien 2021 Pinot Noir opens with bright cherry, crushed raspberry, blood orange and thyme. Integrated oak, silky tannins with depth and concentration are balanced by beautiful structure and lengthy acidity. No wonder it, too, was designated as an Oregon Wine Press Cellar Selects choice.
Brandborg Vineyard & Winery, Elkton
Founder Terry Brandborg feels his 1000-foot elevation estate vineyard, located a mere 25 miles from the coast produces distinctive Pinot. With very deep, old marine sedimentary soils, his grapes ripen roughly two weeks later than nearby vineyards. LIVE-certified, he holds the distinction of being the first in Elkton to plant 113, 115, 777 and Pommard clones. In Wine Enthusiast, Paul Gregutt describes Brandborg's 2006 Ferris Wheel Vineyard Estate Pinot as "elegant and seductive with a feminine grace." More recently, the 2021 Bench Lands Pinot Noir received a double gold medal at the 2023 Oregon Wine Experience.
Bradley Vineyards, Elkton
Winemaker Tyler Bradley considers Elkton the southern end of premium Pinot Noir country in Oregon. "Elkton has the perfect climate and conditions for Pinot, with some warmer days but, due to our proximity to the coast, drastically cooler nights and mornings," he observes. The Bradley Vineyards 2021 Flagship Pinot Noir stands as an excellent example of a robust, yet restrained Pinot with abundant finesse.
River's Edge Winery, Elkton
Bradley, also winemaker for River's Edge Winery, ages the wines somewhat longer, releasing a more developed product to the market. River's Edge wines can be cellared up to and beyond 10 years, a reflection of the high-quality fruit and traditional winemaking methods. In Wine Enthusiast, Gregutt summed up their mission: "The River's Edge lineup of Pinot Noirs, taken all together, may well represent the finest value Pinot portfolio in the state."