Rounding the Bend
High desert welcomes Walla Walla Wineries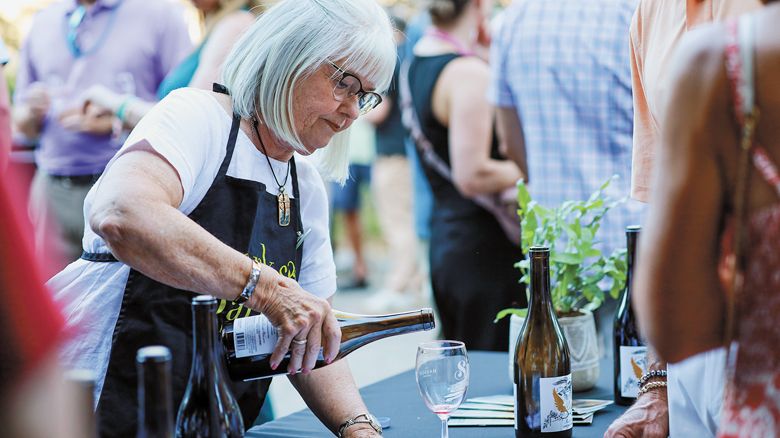 By Michele Francisco
Each year, the multi-day event Cork & Barrel invites wineries from different regions to gather in Bend. This year, 13 Walla Walla Valley-based wineries descend into this central Oregon town, all bringing samples to share with high desert wine lovers.
Between July 20-22, some of Washington's finest wines will be poured. Cork & Barrel begins with several winemakers' dinners. Two are sold out. However, tickets are still available for the Bledsoe Family Winery at Five Fusion restaurant and sushi bar. "Sip," an exciting wine tasting party, occurs the second night on the back deck and patio of the Riverhouse Convention Center. This evening includes small bites, live jazz and a silent auction.
The weekend culminates with a "Grand Cru" finale: an outside reception on the convention center terrace before moving inside, where guests enjoy a multi-course dinner paired with Walla Walla wines. With both silent and live auctions, plus a "Wall of Wine," you'll certainly find something you can't live without.
Not only is Cork & Barrel the largest wine affair in Central Oregon, it's also an important fundraising endeavor, supporting KIDS Center, the only children's abuse advocacy organization in the area. Each year, these wine events collectively fund approximately 20 percent of the nonprofit's annual operating budget. The impact of the money generated is significant– providing access to child-friendly evaluations, forensic interviews and mental health services for families and children, along with two full-time child abuse prevention education employees.
"Every dollar raised at Cork & Barrel directly benefits our ability to help children and families in Central Oregon whose lives have been impacted by abuse. We saw over 400 children for child abuse evaluations in 2022, a significant increase over previous years," explained Ginger Theis-Stevens, the KIDS Center Director of Development and Marketing. She continued, "We encourage all guests to raise a glass at Cork & Barrel 2023 to all the winery partners from the Walla Walla Valley who are essential to making Cork & Barrel a success."
Don't miss the opportunity to sample some of Walla Walla's premium wines, while savoring thoughtfully-prepared food pairings in the company of winemakers and fellow wine-lovers. And feel satisfied knowing you're contributing to help Bend's children heal from the trauma associated with child abuse.