Rose City Sippin'
PDX Urban Wineries hosts annual tasting event in the city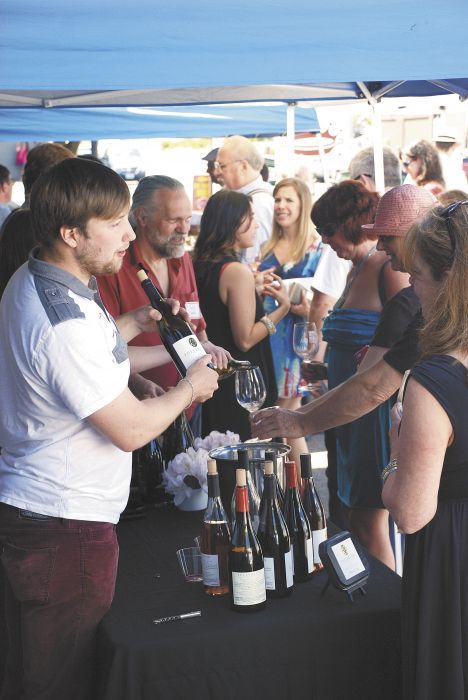 PDX Urban Wineries hosts annual tasting event in the city
By Jade Helm
Ask any Portland urban winemaker why he/she makes wine from a particular grape varietal and the answers will likely be: "It is what I like," "It is what I know," or "It is what my customers want."
For these city cellar dwellers, their business plan centers on personal choice. Not limited by an estate, they source fruit from many different Oregon and Washington vineyards and beyond. As a result, consumers are offered a wide range of wines and styles to participate in the most important part of wine buying: personal choice.
On June 8, guests gathered to taste the latest in Portland's wine scene at the PDX Urban Wine Experience, hosted at Refuge PDX.
Laurie Lewis, co-founder of Hip Chicks Do Wine and president of PDX Urban Wineries, has watched the event grow over the past four years.
"We see lots of new faces each year," Lewis said. "This event is a good introduction. People get attracted to their favorite wineries and become loyal customers."
With 12 wineries participating, the recent event offered consumers a wide variety of wines, conversations with owners and winemakers, and fantastic small plates provided by Crown Paella, as well as sampling and sales of local delicacies by Jacobsen Salt, Portland Creamery, Tabor Bread and Tabor Tavern.
Winemaking styles from around the globe were represented, including Division Winemaking Company's "Division Villages." The new product line features a Pinot Noir made using classic carbonic maceration, a technique most associated with Beaujolais Nouveau. Owners Tom and Kate Monroe say they wanted to produce an "approachable, ready-to-drink, summertime Pinot Noir that offered quality in the $20 range."
Scott Frank from Bow & Arrow uses the Loire Valley as a template. He produces more Gamay Noir than Pinot, and Frank refers to his "Air Guitar," a 50/50 blend of Cabernet Sauvignon and Cabernet Franc, as a "vin de soif," meaning "wine for thirst."
Chef-turned-winemaker Darryl Joannides continues to be inspired by his passion for and knowledge of Italian cuisine. "At Viola Cellars, we use Italian varietals and Italian winemaking techniques." Guests tasted two crisp whites, a Pinot Bianco and a blend of Sauvignon Blanc with Moscato called "Bianco d'Allegre."
Seven Bridges Winery, on the other hand, focuses on Bordeaux varietals. When asked how people respond to big reds in Pinot Noir country, owner Bob Switzer responded, "They are surprised and pleased at the variety." These wines are made to be aged and decanted. Among his samples was a 2010 Cabernet Sauvignon from Elerding Vineyard in Yakima — consumers should expect double or triple the $40 price tag for similar quality in other wine regions.
Fausse Piste poured their 2010 Syrah la Pyramide. Fruit from Columbia Valley was used in the traditional Northern Rhône style of co-fermenting Syrah with a small amount of Viognier. They also presented the label's 2012 Viognier.
Summertime sipping calls for crisp whites and rosés, and many wineries showcased theirs at the event. Anne Hubatch of Helioterra Wines poured her 2013 Pinot Blanc, which was harvested slightly early for refreshing acidity. Renee Neely, of Hip Chicks Do Wine, promoted her 2013 Müller-Thurgau, which she calls a "chill-it-and-kill-it wine for the patio."
Clay Pigeon's rosé, 50 percent Pinot Noir, 50 Syrah, also makes for sunny sipping. Owner Michael
Claypool explains, "Syrah adds structure and makes food pairing easier." The wine would be a fine complement to the gourmet grilled cheese at Cyril's, Clay Pigeon's restaurant.
Division offered a delicate Old World-style rosé of Pinot Noir; ENSO Winery's Pinot Gris Rosé was a surprisingly deep color — closer to a light Pinot Noir; and Jan-Marc Wine Cellars presented its Counting Clouds Rosé, a name inspired by actual events.
Among the Malbec, Mourvedre and Syrah offerings there was, of course, Pinot Noir. Fullerton Wines focuses on Oregon's most popular red and Chardonnay, too. Both 2013 Bull's Eye and 2012 Five Faces Pinot Noir reflect delicate flavors influenced from French oak.
Clay Pigeon also produces Pinot, using a small lot of 100-percent Pommard from Adam's Vineyard, planted in 1976 in the Chehalem Mountains. Vincent Wine Company makes vineyard designates, but was completely sold out of its current release; instead, owner Vincent Fritzsche poured library Pinots made from Ribbon Ridge and Zenith Vineyard fruit. Fritzsche promises great things for the upcoming fall release, including his first Pinot Blanc.
Even though PDX Urban Wine Experience is held once a year, there's no reason to wait. Travel between urban wineries is quick, convenient, and there are many wines to try. The Southeast Wine Collective even offers one-stop tasting with 10 wineries under one roof plus amazing appetizers.
For more about members of the PDX Urban Wineries, log on to www.pdxurbanwineries.com.
Jade Helm is the primary author of Tasting Pour, a blog about wine, cocktails and food. She is a Certified Specialist in Wine and has a WSET diploma in Wine and Spirits.