Rosé and Shine
Drink Pink celebrates 10 years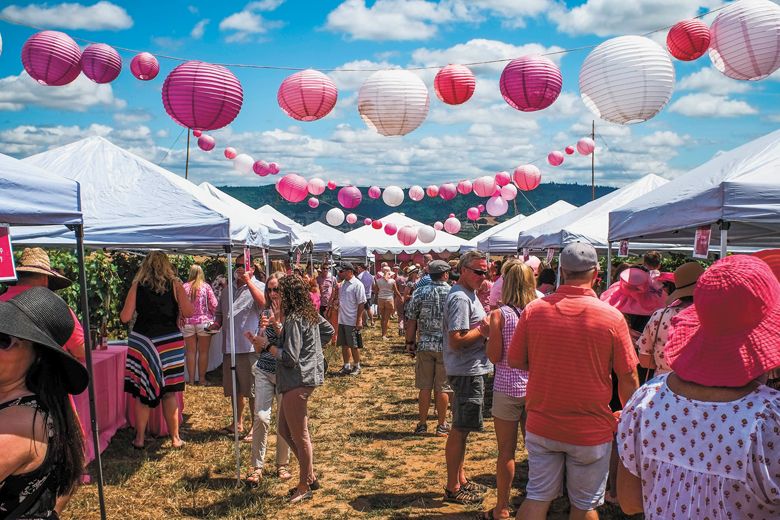 By Tamara Belgard Turner
Pink wines are quite beloved. Entire books have been devoted to them. On July 22, plan to drink rosé all day. Now in its tenth year, Drink Pink continues to dazzle enthusiasts with an event showcasing summer's most refreshing wine.
The versatility of rosé is unmatched, perfectly suited for your picnic or as an aperitif while watching the grass grow. Rosé wines pair beautifully with an array of foods and summer's lighter fare. Oregon producers have refined their winemaking craft, creating some of the region's most stunning wines.
In the last decade, rosé consumption experienced a dramatic rise in popularity, leading many Oregon wineries to sell out quickly. Drink Pink features potable pinks from 32 Willamette Valley wineries, some more well-known and others you might not have sampled. You'll have the opportunity to stock up on your favorites.
Rosé is simply a wine made from red grapes processed like their white counterparts. With an numerous winemaking styles, from saignée to direct press, skin contact to blending, no two bottles are alike. Ranging in color from light salmon to nearly red, flavors and aromas can be entirely different — from watermelon Jolly Ranchers and rhubarb pie, to citrus, strawberry and floral. At Drink Pink, find a number of unexpected, unique and captivating expressions of rosé. As temperatures rise, a glass of rosé becomes the wine of choice, so come discover new favorites.
This year features area craft and food vendors, along with local nonprofit With Courage. Ticket sales help support families in Yamhill County impacted by breast cancer through care packages, financial assistance, and online or in-person support.