Rachising Up Pinot Noir
Stems add more dimension to Willamette Valley's most produced wine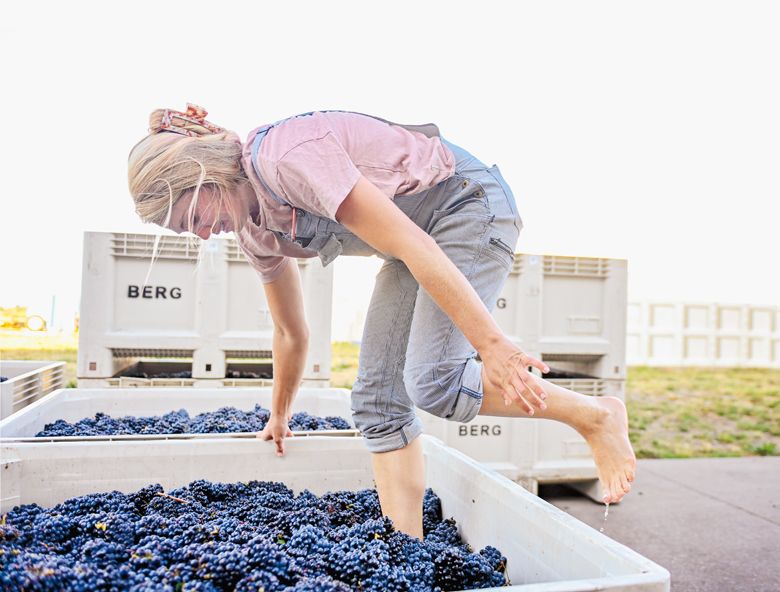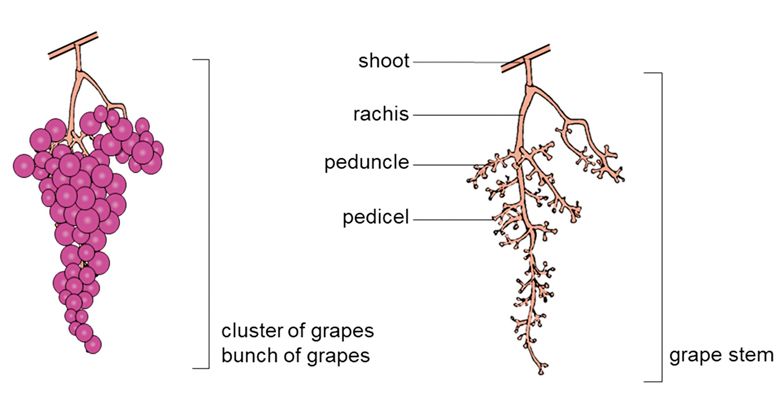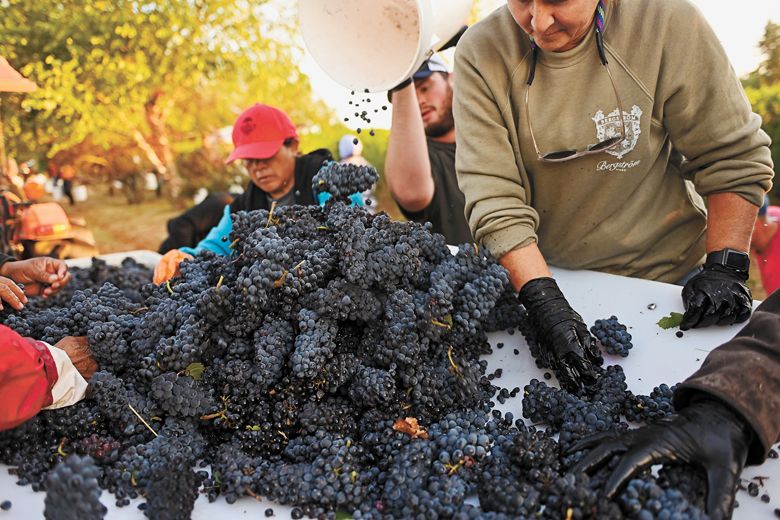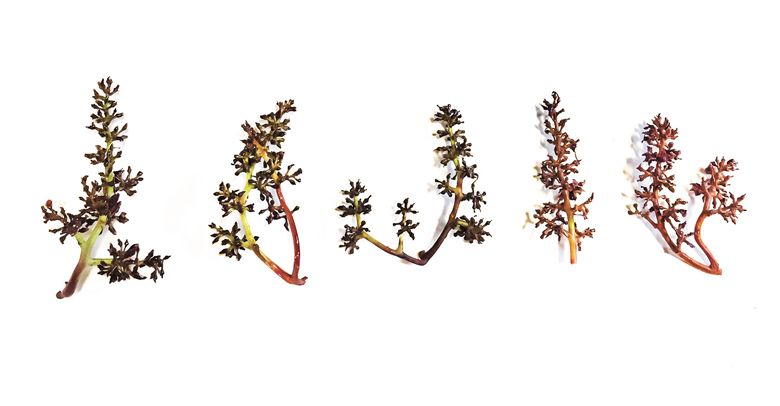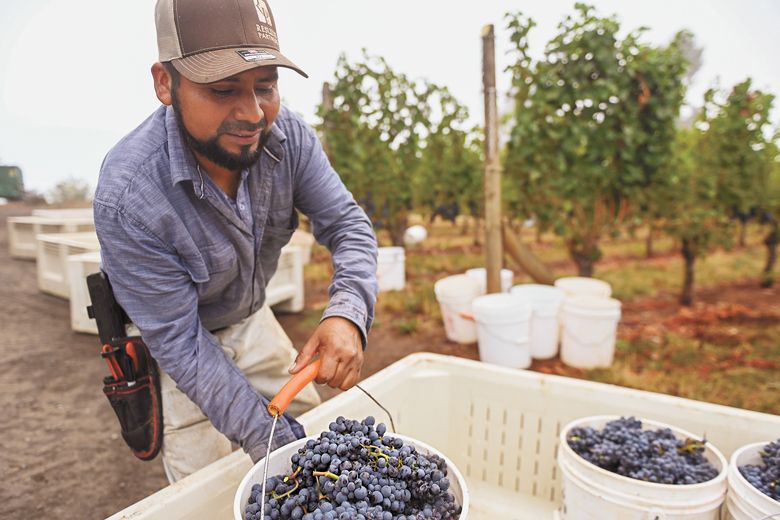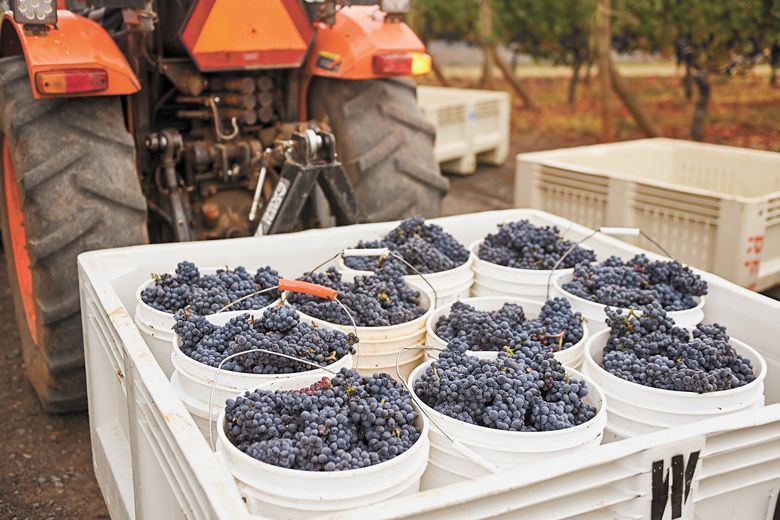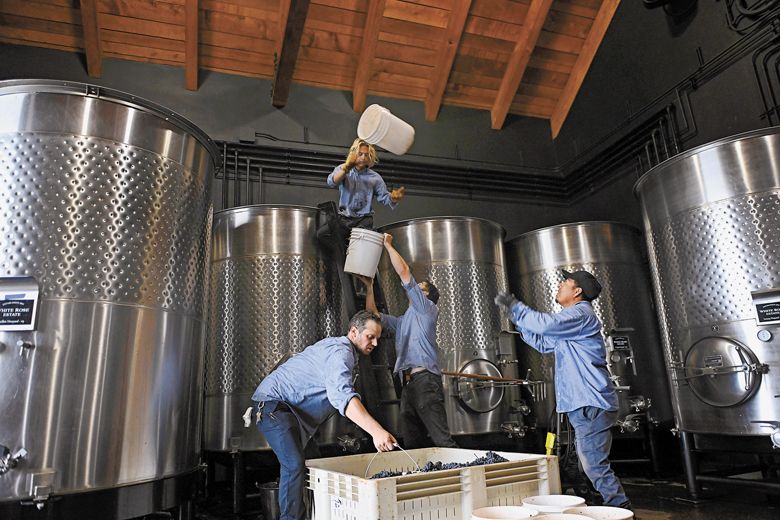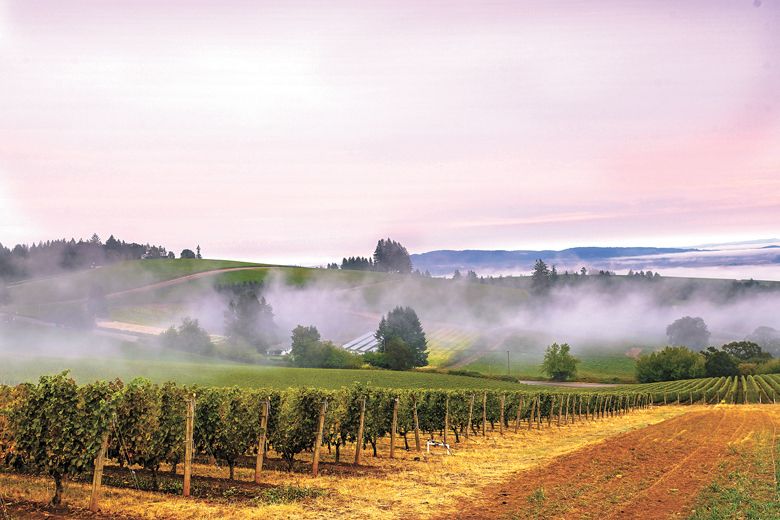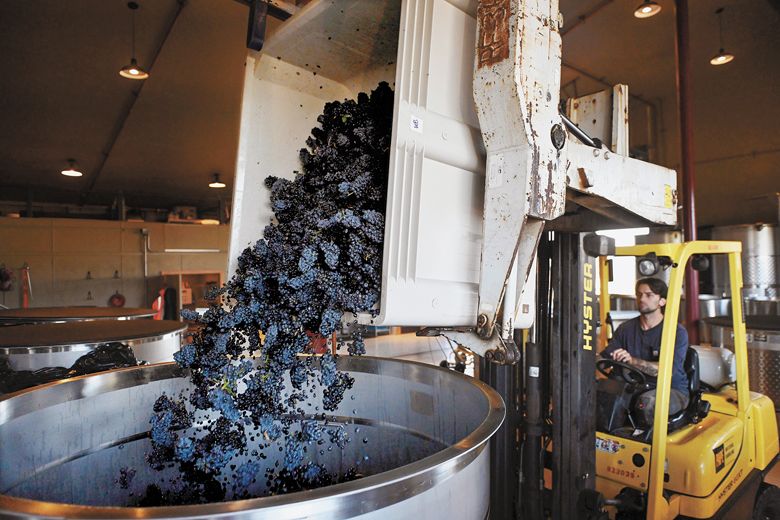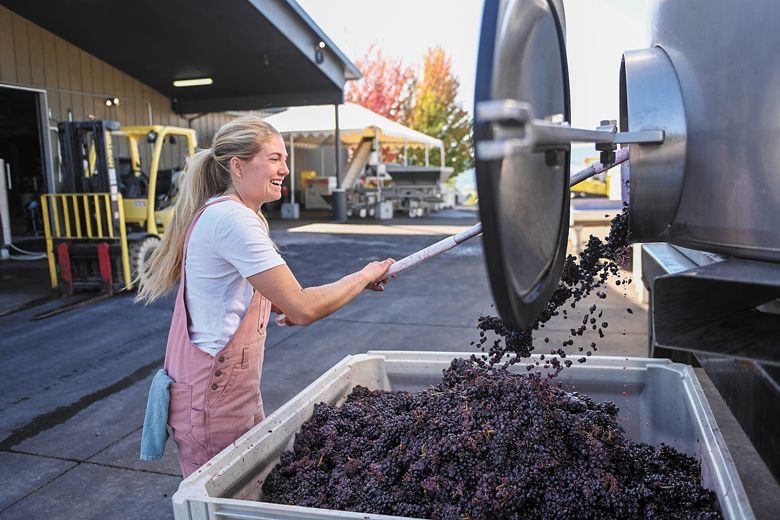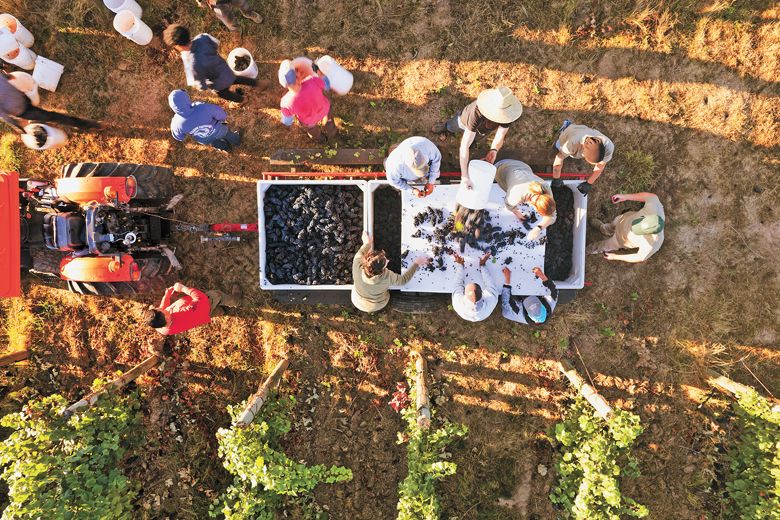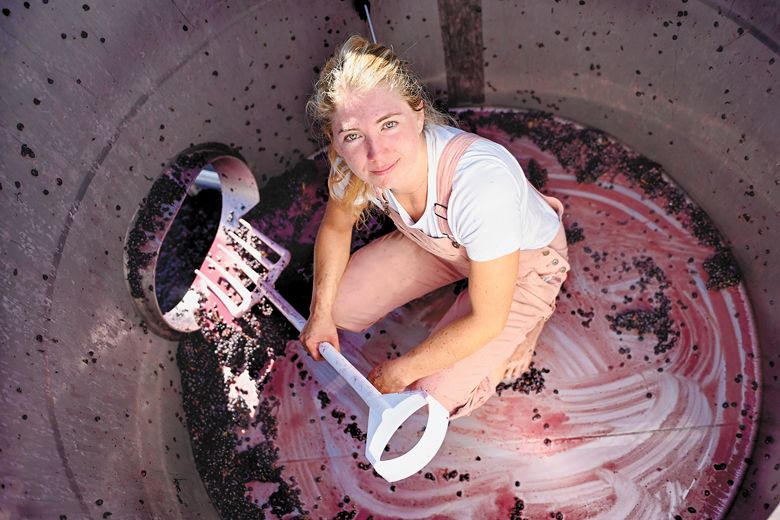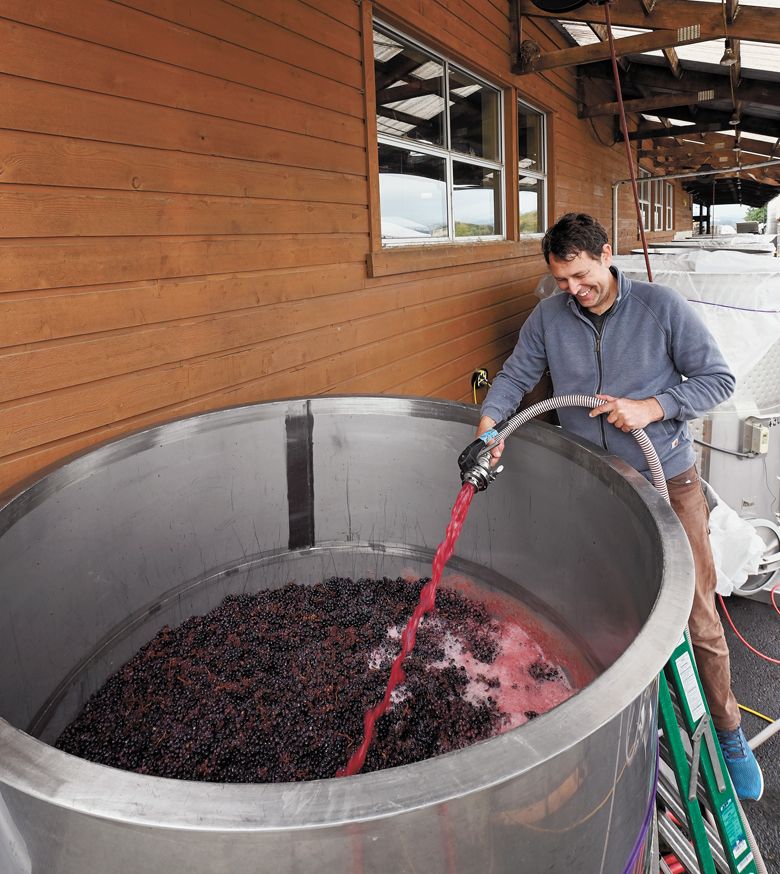 Story By Neal D. Hulkower
Photos by carolyn Wells-Kramer
Consider a grape stem as its skeletal structure. The rachis is the spine— connecting the cluster to the vine shoot. From it, the peduncle supports the pedicels, each connected to a single grape. With the advent of mechanized destemmer-crushers, whole-cluster fermentation, the standard method of producing wine for those unwilling to detach the grapes by hand, became less prevalent. However, an increasing number of Willamette Valley Pinot Noir producers have returned to the original method, fermenting with a portion (or all) whole clusters. One winemaker even reintroduces oxidized stems back into the tank. In the same way cooking an entire fish adds enhanced dimensions to the flavor of filets, whole-cluster fermentation contributes complexity to the finished product. Doing so complements and expands what the fruit alone supplies.
What Stems Add
Like the grapes they support, stems undergo a ripening cycle in which the chemistry changes. Most winemakers employing whole-cluster fermentation do so only when the stems harden, or lignify, reducing the methoxypyrazine compounds that add green notes to a wine. Lignified stems lend spice, floral, woodsy and other savory notes to the aroma and flavor, along with silky tannins. Despite raising the pH and lowering the total titratable acid, in other words, decreasing the intensity and quantity of acid, tasters report whole-cluster fermented wines taste fresher. Methyl salicylate, found in stems as well as grape skins, contributes green and minty notes and is likely the primary source. Stems have a high water content so the alcohol in the wine is slightly lower.
A Few Embracing Whole-Cluster Fermentation
Steve Doerner, retired from Cristom Vineyards in December 2022. As the winemaker emeritus, he is recognized as an early proponent of whole-cluster fermentation in the Willamette Valley. Doerner's interest in this approach was kindled in 1978 after joining Calera Wine Company. Josh Jensen, the owner of the California Pinot Noir producer, had spent time in Burgundy working with Jacques Seysses, founder of Domaine Dujac and advocate of whole-cluster fermentation. After Doerner started at Cristom in 1992, results of many positive trials eventually led him to aim for 50 percent whole-cluster for most vintages.
The first commercial release of Cristom's Whole-Cluster Series Pinot Noir is from the 2021 vintage. Last December, I sampled three bottlings, all with varying percentages of whole clusters used during fermentation. The zero percent whole-cluster showed cherry fruit with spice notes on the nose and a tight palate with fine tannins. Lovely floral aromas with some fruit in the background emerged from the 50 percent whole-cluster version. The palate, while still young, had hints of fruit and spice retronasally. The most complex, but also the most undeveloped? The 100 percent whole-cluster merely hinted at spice, fruit and flowers.
Doerner's success influenced others in the Valley. Doug Tunnell, owner and winemaker of Brick House, made his wines at Cristom in 1993 and appreciated what Doerner had achieved. Now he incorporates "nearly 100 percent in varying proportions from tank to tank." Unlike most area winemakers, Tunnell has used a significant amount of whole clusters in cool years when the stems don't ripen. "What I found with both the cool, wet and late 2010 and 2011 vintages were that what might otherwise be excessively light, one-dimensional Pinot Noirs improved with the structure, tannin and aromatic profile of 40 to 50 percent whole clusters in the tanks. I can't explain it in any enological detail but simply from my experience with the wines…" he reports.
In contrast, Ken Wright, proprietor and winemaker of Ken Wright Cellars and a friend of Doerner, avoids stems in cooler years but includes up to 25 percent in warm years to add freshness.
Brian O'Donnell, proprietor and winemaker of Belle Pente, also cites the work of Doerner (and some Burgundians) as his reason for experimenting with whole-cluster fermentation. His lovely 2019 Riona's Block Belle Pente Vineyard Pinot Noir was fermented with 40 percent whole-cluster, giving it a floral over fruity nose along with a richer palate.
Marcus Goodfellow of Goodfellow Family Cellars also felt inspired by the success of Cristom and a few producers in Burgundy. He now employs mostly 100 percent whole clusters in his Pinot Noirs. The youthful 2019 Heritage No. 15 Pinot Noir, fermented with around 80 percent whole-cluster, has delicate aromas of stem, flowers and fruit combined with a nicely balanced, well-structured palate.
Josh Bergström, director of winemaking at his signature winery, explains "after 23 years of experimentation, we have decided to ferment all of our Pinot noirs with whole clusters when possible." His 2021 Le Pré du Col Vineyard Pinot Noir from Ribbon Ridge was fermented with 100 percent whole clusters, like all his Pinots that year. It displayed pretty floral, sour cherry and earthy aromas with hints of mushroom. The palate, while young, led with sour cherry and was rich and creamy with cleansing acidity, obvious tannins and a pleasant texture.
I first learned of whole-cluster Pinot Noir fermentation in 2012 when I began working in the White Rose Estate tasting room. Since 2011, owner/producer Greg Sanders has used 100 percent whole-cluster fermentation for almost all Pinot Noir. From 2008, until his untimely death in 2018, Jesús Guillén was the winemaker. He credited Gary Andrus with teaching him the fundamentals of whole-cluster fermentation when he consulted at White Rose. Even in the cool, late 2011 vintage, when stems failed to ripen, all wines were fermented with 100 percent whole clusters. The 2011 White Rose Vineyard I sampled in August had an intricate harmonious bouquet with spice, dried dark cherry, green notes and a hint of forest floor. In contrast, the delicate silky-textured palate revealed elusive flavors of citrus and flowers while lingering long. An elegant example of a cool vintage Pinot.
Operations lead Greg Urmini reports White Rose no longer follows a rigid protocol, but instead "identifies vineyards that might benefit from whole-cluster fermentation in order to achieve our objectives. Our decision criteria for whole-cluster includes vineyard elevation, vine age, nobility of site capable of producing a complex wine. Whole-cluster fermentation allows these vineyards to better express their personalities through aromatics, texture and finish in the wines."
Guillén adopted 100 percent whole-cluster fermentation when he founded his own label, Guillén Family Wines. His widow, Yuliana Cisneros-Guillén, continues the practice. "Our wines are all whole-cluster, made the way Jesús taught me," confirms Anthony King, general manager of The Carlton Winemakers Studio, who now makes the wines. "Jesús was really talented at creating elegant, complex, balanced wines with lovely texture through thoughtful extraction at the end of fermentation," he adds.
This elegance shows in the nose and palate of the 2014 Guillén Family Wines Damián Winemaker's Cuvée, a predominantly woodsy bouquet inflected with notes of cherry, roses and spice. Surprising for such a warm vintage, the palate is refined with great texture and ample structure to support longer aging.
The 2019 Guillén Family Wines Pinot Noir from Domingo Vineyard, planted with cuttings taken from the White Rose Vineyard, has a nose perfumed with fresh herbs, cinnamon, faint floral notes and a suggestion of citrus. The youthful palate retains high acidity, silky tannins and a smooth texture.
Emerging brightness remains the dominant feature of the 2021 Guillén Family Wines Meredith Mitchell Vineyard Pinot Noir with cinnamon, earth, minty chewing gum and citrus aromas. Though immature, the wine is well-balanced with a citrus palate, smooth texture and medium finish.
The Carlton Winemakers Studio is home to 16 vintners. According to King, the majority of producers use a percentage of whole clusters in at least some of their Pinot. "I use whole-cluster on about half the wines I make these days. Some of my clients prefer pure fruit expressions while others like the complexity and texture of whole-cluster. Pinot Noirs from my Ratio brand are often 25-50 percent whole-cluster, with some vineyards fermented without whole-cluster and others in the 50-100 range," explains King.
Both the 2019 and 2021 Ratio Retina Pinot Noirs were still quite young. The 2019 showed more on the nose: dark fruit, cinnamon and floral notes, amidst an otherwise savory aroma. The palates were grippy with the older wine having a more pleasant mouthfeel and a hint of caramel. Each has the structure for a long life and promises to blossom into classic examples.
Todd Hansen, grower and wine peddler at Longplay Wine, uses fruit grown at his Lia's Vineyard in the Chehalem Mountains. He explains what influenced him to try whole-cluster fermentation: "I've been intrigued by whole-cluster since reading John Winthrop Haeger's North American Pinot Noir in 2004 or 2005… [which] detailed the fermentation practices and wines of about a hundred wineries. I loved the descriptions of the whole-cluster wines."
"In 2010, I began selling fruit to White Rose Estate and was fascinated by the beautiful wines crafted by the late Jesús Guillén. He would just put my fruit in his tank and let it rock…," continues Hansen. "Then, during the 2016 harvest, when making my wines with Jay Somers, at J. Christopher, Nicolas Potel paid a visit from Burgundy. He mentioned having a fancy de-stemmer at his winery but never using it because he loved whole-cluster so much. After that, I decided to try my hand at making a whole-cluster wine."
"In 2015, I sold some 828 clone Pinot Noir to Pam Walden, owner of Willful Wine, and assisted on her sorting line. She went 100 percent whole-cluster into the fermenter, which seemed very bold," says Hansen. "A year later, in partial payment for the fruit, she traded me two barrels of the finished wine. I called it 'Experience' and bottled it. It is a huge wine for a Pinot Noir! I love its grippy tannins and amazing bouquet and still have a couple cases available. I must say that it's still delicious."
"Starting in 2017, we did a fermenter of 100 percent whole-cluster Pinot Noir and bottled it up as 'Experience.' We've made 'Experience' every year since (except 2020, when we made a single bottling of Pinot Noir, but included our 100 percent whole-cluster fermenter in our 'Explicit Lyrics' Pinot Noir)."
During August, I tasted 'Experience' from the 2015 and 2017 to 2022 vintages, as well as 2021 'Superstition,' a blend of the rare Mariafeld clone fermented with 100 percent whole-cluster and destemmed clone 115. Each was, to varying degrees, still young. The 2017 includes two barrels of 100 percent whole-cluster fermented wine, one barrel of 50 percent, and one destemmed. The nose was initially bright, then turned serious with mint and earth. The beautifully textured palate echoed the mint and also showed fruit, graham cracker and plenty of acidity. The nicely structured 2018, made from four barrels of 100 percent whole-cluster fermented juice and two destemmed, was intensely minty aromatically and on the palate.
Other wineries in the Valley that add a percentage of whole clusters to a portion or all of their Pinot Noir fermentations include Abbott Claim, Archery Summit, Big Table Farm, Brooks Wine, Celestial Hill Vineyard, David Hill Vineyards & Winery, Domaine Divio, Domaine Drouhin Oregon, Dominio IV, EIEIO & Company, Flâneur Wines, Maysara Winery, Raptor Ridge Winery, REX HILL, Ribbon Ridge Winery, Seufert Winery, The Eyrie Vineyards, Willamette Valley Vineyards, Winderlea Vineyard and Winery and Winter's Hill Estate. This list is by no means exhaustive, so interested readers should inquire whether this method is used when out tasting.
A Novel Approach to Stem Inclusion
Rollin Soles, co-founder and winemaker of ROCO Winery, developed a method of capturing the goodness from the stems without the risk of greenness that may occur when not completely ripe. He explains: "I came up with the original plan during the 2011 vintage... My motivation was to extract the good things I like about 'whole-cluster' fermented Pinot Noir (spice flavor, middleweight tannin, forest floor accent), without the bad (greenness, mezcal aromas, broccoli, etc.).
Cold whole clusters of Pinot Noir are destemmed, then 're-stemmed' a week later! We basically add back as close to 100 percent of the stems as possible. The stems [under inert gas] first oxidize over seven days (they are not dried nor lignified)." He calls his approach the "thinking person's use of stems."
As an homage to his time in Australia where stems are called stalks, Soles labels the resulting wine "The Stalker." The 2017 edition was made from grapes from Wits' End and Marsh Estate Vineyards and aged in neutral oak to avoid any confusion from new barrels. The nose shows spice over red fruit initially with herbal freshness, chewing gum, clean mulch, wood and plummy dark chocolate cherry all emerging with air. The palate is plush, and elegant with a long spicy finish, excellent balance and great texture.
The youthful 2021 has very pretty aromas of flowers, spice and bright fruit. Though immature, the palate feels extremely harmonious, well-balanced, tightly integrated and complex. A textural delight.
Bottom Line
For an increasing number of winemakers in the Willamette Valley, "rachised" up Pinot Noir has become a regular part of their offerings. Each has addressed the challenges of dealing with stems that might not be sufficiently lignified to avoid greenness in the finished wine while others prefer to destem all the time.
Beautiful wines can be made with or without stem inclusion. However, if you are on a quest for wines with savory elements along with exquisite texture, search for those fermented with whole clusters or spiced up with oxidized stems.