Perfect the Pairing
Wineries and cheesemongers share their tips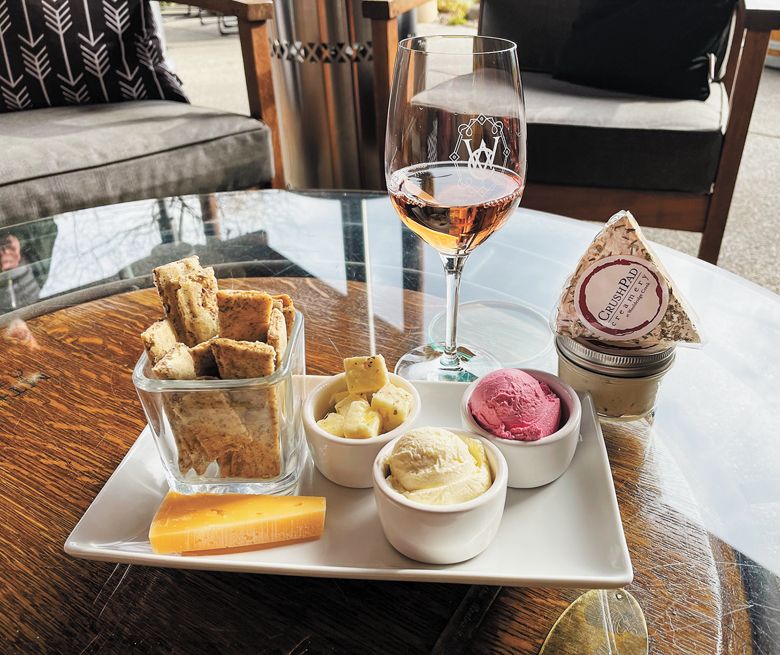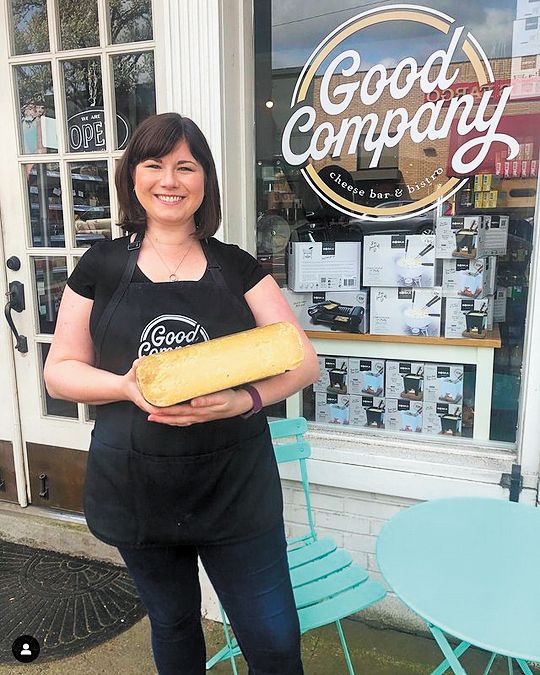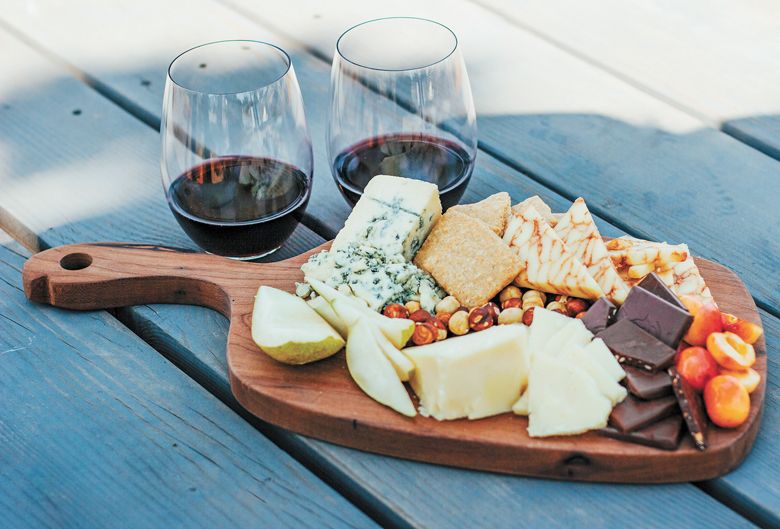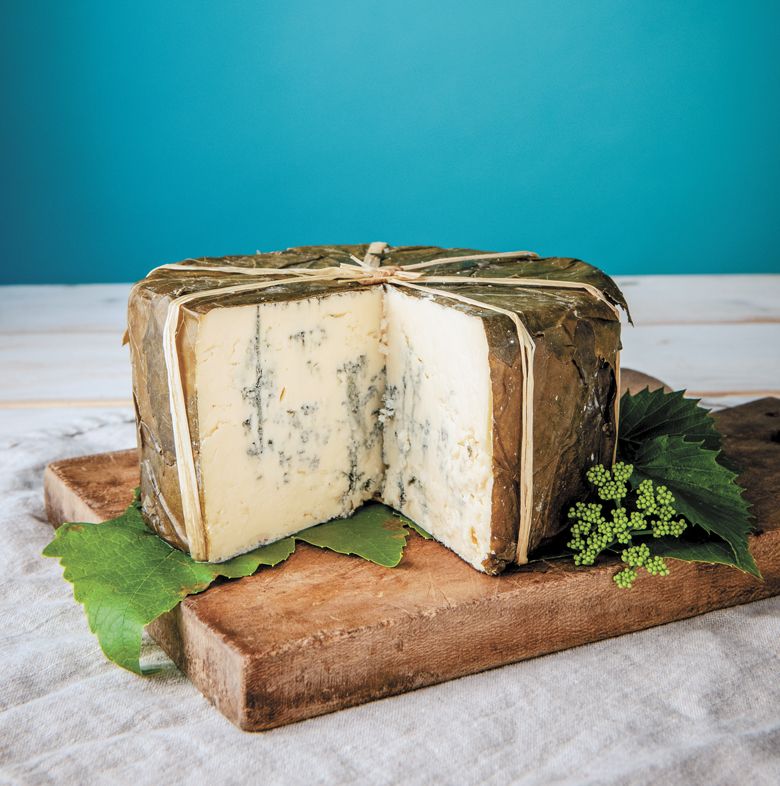 By Jessica Zimmer
Factors in good pairings include distribution and price point
As Oregon's wine and cheesemaking industries continue growing, wineries, creameries and retailers connect in more innovative ways. Virtual and in-person tastings, along with visits to production areas create a deeper appreciation of how our wines and cheeses complement one another.
Wooldridge Creek Winery & Creamery in Grants Pass makes both wine and cheese. Growing a dozen different varieties of grapes, the winery produces an impressive array of wines, including sparkling, blends and individual varietals. This assortment permits Stephen Grande, winemaker and general manager, the opportunity to explore many pairing options.
Aiyah Geier, Wooldridge's head cheesemaker, uses cow's milk from a local, organic dairy to make soft fromage blanc, several bloomy rinds (including a Camembert-Brie-style cheese), six aged and a feta-type cheese. Finding the venture successful, Wooldridge established its cheese club in 2020.
"Doing so opened a door to talk about pairings. The sparkling wines pair well with the soft cheeses, including an ash-coated bloomy log called Midnight Valley and their Fig & Hazelnut Fromage Blanc. The Black Garlic Fromage Blanc, which has a buttery, rich taste, goes well with our Chardonnay," said Geier.
It's important to pay attention to the distinct qualities in wine. Herbaceous notes explain why the Enchanted Forest, an aged bloomy rind cheese made with a variety of herbs, goes well with wines with herbal aromas. The Kalamata Olive Fromage Blanc pairs with Wooldridge's Merlot because the latter contains pyrazines, the interesting compound that causes the "green bell pepper" taste common among Bordeaux family grapes.
Grande and Geier are currently working on a master list of cheese and wine pairing suggestions. Their effort will allow wine club members and students in Wooldridge's pairing classes a better understanding of why certain combinations work so well together.
Growing up with a winemaker helps
Kristen Kidney, owner of Good Company, a cheese bar and bistro in Newberg, said her winemaker parent inspired her to remain in wine country.
Kidney's father, Steve Parker, is the owner of Trinity Vineyards in South Salem.
"Opening a cheese shop here allows me to supply wineries and tasting rooms with their cheese needs. Being nearby makes it possible to service those who don't have full kitchens but want to showcase pairings with specialty cheeses," said Kidney.
Remaining flexible allows Good Company to serve a range of customers: individual winemakers revealing new creations at one-time events, small-to-midsize wineries ordering cheese platters for tasting rooms and club pickups, and large wineries with annual harvest parties.
"The Willamette Valley is home to many excellent Pinot Noirs and Chardonnays. These are some of the cheese-friendliest wines around, as the wines' acidity levels are high. Creamy cheeses love acid," said Kidney.
Good Company stocks nearly 100 cheeses at any given time and frequently changes its selection.
"Not having a complete list can frustrate wineries that want that, but our procurable cheeses would be in the thousands. Not every cheese is available all the time, but so many others are," said Kidney.
She cautions against wineries buying cheeses at wholesale retailers. Easily-obtainable cheese isn't always the ideal match.
"When you offer a higher quality cheese that conveys the nuances of the wine, that's better than the cheese just being OK. You want to communicate that you take your wine seriously. Pairing a $75 wine with a low-quality cheese doesn't do that," said Kidney.
The challenge of finding cheeses that work
There are nearly 25 creameries in Oregon. This number presents opportunities as well as obstacles for cheese retailers and wineries. "Ranchers raise cattle in Eastern Oregon. You need more moisture for dairy cows," said Mélodie Picard, owner of The Oregon Cheese Cave in Phoenix. Therefore, most creameries are located in the southern and western parts of the state.
Oregon wineries that want to work with neighboring creameries can also explore Washington.
"There are a lot of creameries in Washington state because they're at a higher latitude. They get more rain," said Picard.
Picard recommends earthy, crystally Washington state cheddars as perfect choices for bold red wines, including Cabernet and Syrah. Funkier cheeses, like blue, tend to go well with dry and sweet rosés. The primary problems that wineries face in getting and keeping the right cheese are availability, budget and versatility.
"Wineries would love to have cheese available where winemakers already shop or that they can easily get delivered. They want cheeses at a price point they can afford that also go well with many of their wines. You can't always find all three of these qualities in one or even two cheeses," said Picard.
She recommends wineries work with a cheese retailer or distributor on a consistent basis. This ensures the cheese will be affordable and readily on hand for pairings.
"I plan to host a restaurant industry night in September and hope tasting room managers will attend. This (will) allow wineries to get ready for the harvest season. Another way to get a sense of possible combinations is to visit restaurants that reshape their menus for tasting seasons. See what they offer on their cheese plates. Then ask a retailer or distributor which of your favorites may be available," said Picard.
Pairing wines with vegan cheese is yet another way to showcase products. The choice welcomes health and diet-conscious consumers.
Vtopian Artisan Cheeses in Portland makes cashew milk cheeses that pair well with reds and heavier-bodied whites, including Viognier and Chardonnay.
"The earthier flavors in these wines go well with nuts and also bring out the taste of the nuts," said Picard.
Taking risks can pay benefits
Wineries can achieve exceptional outcomes when they work together with nearby creameries. For example, wineries that pair one of their wines with Rogue River Blue, made by Rogue Creamery in Central Point, can boast their wine is an ideal match for the 2019 World Champion Cheese.
One of Rogue's current partners is Troon Vineyards in Grants Pass. Troon provides the creamery with biodynamically-farmed grape leaves to wrap the Rogue River Blue. The creamery plans to host a harvest dinner soon at Troon's tasting room. Rogue has also partnered with Brooks Wine. Brooks began showcasing Rogue's cheeses to their wine club members and online purchasers in the fall of 2020.
"During the early days of the pandemic, virtual tastings presented a unique way for wineries and creameries to work together. Although many wineries and consumers have gone back to in-person events, we learned a great deal," said Marguerite Merritt, marketing manager for Rogue Creamery.
Rogue Creamery employs several techniques to help its cheeses remain consistent. Yet its cheeses tend to subtly reflect what the grazing animal was eating when it was milked.
Winemakers who want to try new cheeses should consult with creameries before placing large orders. Taking an adventurous step, like requesting a high-quality artisan blue cheese, rather than a gouda or cheddar, can produce a pairing more layered and intriguing.
"We love doing exchanges. When a winery ships us a selection of bottles, we can ship them an array of cheeses. Then we can discuss favorite matches, helping to create bonds," said Merritt.
Wineries wanting to collaborate with creameries on offering wine and cheese boxes should discuss coordinating mailings.
"Wine and cheese collaborations require shipping from the two respective businesses, in different boxes. Timing is important. You also need documentation of the partnership in both boxes. That demonstrates the ties between the businesses," said Merritt.
Merritt has been excited to engage with Oregon wineries. She loves seeing how many wines pair well with Rogue's blue cheeses.
"Our blue cheeses pair with a wide range of wines, (including) Troon Vineyard's Kubli Bench Amber wine, Cowhorn Reserve Syrah from Cowhorn Vineyard & Garden in Applegate Valley (and) a Tawny or Ruby Port. Our style is much more versatile for pairing than the average blue cheese," said Merritt.
Merritt added working with wineries on cheese pairings remains one of her passions.
"I started as a certified sommelier and wine buyer in the Midwest. Over a decade ago, I was convinced that Oregon (wines), and particularly those from Southern Oregon, were the next big thing. Now I've been vindicated. I'm proud to be in Oregon and able to get a first-hand look at the wines being released," said Merritt.