Mighty Tight Cluster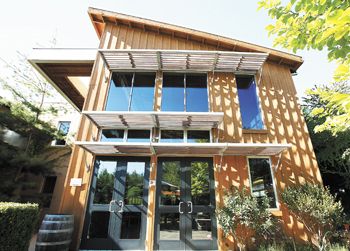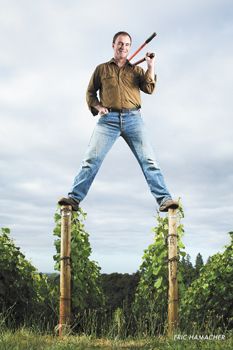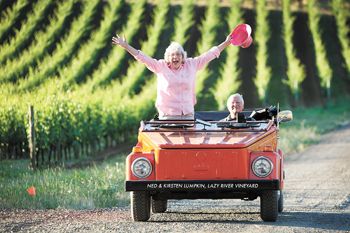 By Karl Klooster
In late 2001, three avidly wine-involved individuals began laying plans to create a winemaking facility the likes of which the industry had not seen before. In 2002, that facility, Carlton Winemakers Studio, began operating at the north end of the town from which it took its name.
The founders and partners were Ned and Kirsten Lumpkin, owners of Lazy River Vineyard; Eric Hamacher, a talented young UC Davis graduate; and Hamacher's wife, Luisa Ponzi, of the pioneering Ponzi wine family.
Hamacher had honed his skills at California's Mondavi, Chalone and Etude before coming to Oregon and starting his own winery in 1995. And Ponzi took over the winemaking reins at her family's winery in 1993.
The Lumpkins' long success in construction allowed them to pursue a wine dream with the planting of a 36-acre vineyard in the Yamhill Carlton AVA. Hamacher began serving as their winemaker since release of their first Lazy River vintage in 2002.
CWS founders envisioned a state-of-the-art winemaking facility in which several wineries could operate side by side. They would share not only space and equipment, but also tasting room, cellar and facility management personnel and facilities.
Building an entirely new structure from the ground up also afforded them the opportunity to incorporate energy saving and environmentally friendly elements, making CWS an early industry leader in green technology.
The goal was to bring together a collaborative group. Although each winery remained its own licensed, bonded entity, owners and winemakers shared experience and knowledge, thus augmenting everyone's wine expertise.
A decade has now passed since that plan was set in motion, and the partners can look back with considerable satisfaction at the results. The studio's innovative approach can claim both long-tenured tenants and talented alumni who greatly benefited from their time in residence.
The partners realized from the outset that some wineries would remain as tenants long term, while others, owing to individual needs and circumstances, would eventually move on.
CWS wineries that have since built their own facilities include Penner-Ash Wine Cellars, Soter Vineyards, Scott Paul Wines and Domaine Meriwether. All have come to be counted among the most respected names in the Oregon wine industry.
Other former tenants include J. Daan Wine Cellars and Ribbon Ridge Vineyards, both now using other facilities; Bryce Vineyard, closed because of its owner's death; and Resonance Vineyards, which has reverted to strictly growing.
Currently, CWS boasts 15 tenants.
Three of them took up residence at the outset back in 2002 — the owners' Hamacher Wines and Lazy River Vineyard, along with Andrew Rich Vintner, the studio's largest producer at 5,000 cases annually. The other 12 are Dukes Family, Retour, Brittan, Ayoub, Omero, Utopia, Bachelder, Wahle, KK, Merriman, Montebruno and Blakeslee.
This is a full house for the Carlton Winemakers Studio, but that is about to change.
Having outgrown the facility, Brittan Vineyards is in the process of building its own winery. Since Robert Brittan serves as the winemaker for Blakeslee Vineyard Estates, it is tagging along — Ayoub Wines is also planning a move.
Reflecting the very personal nature of the business, Brittan's wife, Ellen, became general manager at the studio two years ago. But in this instance, the best interests of Brittan Vineyards take precedence over continued tenancy.
That's part and parcel of an operation that may have done more to further the industry's growth than any other single entity in Oregon.
When Brittan took over the management of CWS, she sought out key people to fill the studio's two most crucial complementary operational roles.
Jeff Woodard's eight years in marketing and promotion with Archery Summit made him a perfect fit as wine director. In the position, he oversees all aspects of tasting room management, public outreach and direct sales.
When he came on board, the studio did not have a wine club. Now it has one of the most loyal followings any winery could boast, with more than 500 members. And they have access to wines from more than a dozen wineries.
In an operation where so many winemakers have to juggle the use of equipment, proper planning is imperative. Recognizing the extent of this challenge, Brittan brought in a winery logistics expert.
Cellarmaster Lance Paolazzi, a winery operations manager for 30 years, orchestrates the "back of the house," as Brittan calls it. And at harvest time, he needs every second of that experience to pull it off.
Woodard said, "Ellen made a lot of vital changes to the facility. It is with a sense of satisfaction that she feels the right people are now in place on all fronts."
Further affirmation that visiting Carlton Winemakers Studio is one of the most enjoyable and certainly the most diverse tasting experience in Yamhill Wine Country. After a decade, the crew there knows how to do it right.
CARLTON WINEMAKERS STUDIO
ADDRESS: 801 N. Scott St., Carlton
HOURS: Daily, 11 a.m. to 5 p.m.
PHONE: 503-852-6100
WEB: www.winemakersstudio.com