Message in a Bottle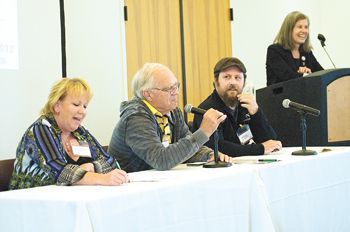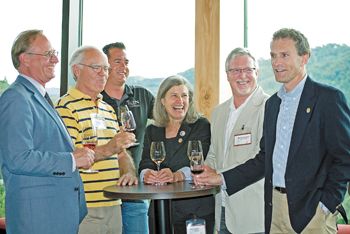 By M. Kim Lewis
It must be something in the water … the sunshine … the soil … and the diversity of incredible terroir that attracts superbly talented people to Southern Oregon. You could have gone anywhere else in the world to start your wineries; yet, you came, willing to take risks to unearth unique entrepreneurial rewards," said Tom Danowski, executive director of the Oregon Wine Board, while attending SoWine3, Southern Oregon Wine Institute's third marketing and sales conference.
Hosted at Umpqua Community College's Danny Lang Center in Roseburg on June 12, the annual summit featured more than a dozen professional speakers from the Pacific Northwest — including marketing and media gurus, winery owners and OWB's marketing director. They extolled Southern Oregon's defining attributes, but all had an important message to relay: Know your customer.
"Reach out to them regularly — whether with special events, social media, regular informative and inviting e-messages, direct mail brochures or just picking up the phone to converse," said Andrew Kamphuis, president of Vin65 (a division of Wines Direct) of Vancouver, B.C. "It is all about the Oregon wine experience that keeps them coming back again and again.
"In a down economy, having loyalty from your customers is an important goal to accomplish," Kamphuis continued. "There is an intensely personal nature in regard to selling Oregon's artisan wines. Those businesses that relate well with their customer data and act on the information stand the best chance of increasing sales and thriving in this challenging economy."
Several speakers encouraged reaching out to increasingly mobile consumers. Jeff Lorton, co-founder of LynkSnap Mobile Marketing Solutions in Portland, says that less than 20 percent of Oregon wineries have a site tailored for mobile users. He believes a reasonable start to a basic mobile presence is to piggyback another site that does mobile well — like Facebook.
"There are companies that will get it (mobile web applications lead to sales) first, and they'll have a huge advantage over other companies that get it last," Lorton said. But having a mobile outlet for consumers doesn't stand alone, Lorton explained. "You need to push constantly, to let people know that it's there for them."
The highlight of the day's conference was when keynote speaker Deb Hatcher, co-owner and marketing director of REX HILL/A to Z Wineworks in Newberg, spoke from her perspective on Oregon wine and its Southern Oregon contingent. You could hear a pin drop in the room when Hatcher targeted Southern Oregon's identity crisis at "being a well-known branded image."
"I have been one of the Willamette Valley's biggest supporters and sellers of Southern Oregon wines," Hatcher said. "We know you have a superb warmer climate for big reds and wonderful whites, yet there is a disconnect to what most of the world knows about your Oregon wine." She added, "I hope not to offend some people in this room, but have you considered linking with a similar wine region like Lodi in Northern California?"
Hatcher's talk was strategically followed by a panel of Southern Oregon winery owners, including Earl Jones of Abacela in Roseburg, Kim Kinderman of Agate Ridge Vineyard in Eagle Point, and Herb Quady of Quady North in Jacksonville and Troon Vineyards in Grants Pass.
The gloves came off and comments fired back in a stimulating dialogue of creative ideas. Kinderman stated clearly, "I would build a Southern Oregon wine category. It is what we have been working to do, and I personally hope to continue." Kinderman, as well as Jones, are part of the Southern Oregon Wine Association's board of directors.
Panelists discussed what makes wine from the region so distinct — with diversity as their strongest suit. They explored how to unify that diversity with Oregon's fame for Pinot Noir. Panelists and attendees agreed, "Great Pinot Noir grows at the edge of the coastal Oregon range; great bold reds grow at the edge of climate and geographical zones of the Umpqua, Rogue and Applegate valleys. Why not call it "Oregon Wines: Crafted on the Edge?'"
A hearty "Amen," and "Hey, I think we've got it!" bounced around the room. A new possible marketing phrase for Oregon wines was possibly underway.
Jones, one of Southern Oregon's most celebrated and successful winemakers, said he has been committed from the outset to growing different varietals of grapes that suit the terroir of the Umpqua region.
As a former medical professional on the East Coast, Jones could have started his winery anywhere in the U.S. that fit his desire to grow Tempranillo. Roseburg had the perfect terroir for his vision.
"We came here to plant Tempranillo and found early success," he said. "We stuck with the idea of planting things in the right climate that would make us the best wines."
Kinderman added, "I think we need to hang our hat on diversity. Our umbrella organization (SOWA) is going to continue to send a message out to the rest of the country that Oregon does produce other wines besides Pinot Noir."
Although variety is a selling point, Southern Oregon wineries face a difficult and uphill battle distinguishing themselves from all other wines produced domestically and abroad.
Jones stated people mistakenly believe his winery competes with other wineries, both in Southern Oregon and Oregon at large. "Our competition is Australia, Europe, California…" he said. "This region has a problem of not [communicating] a compelling story."
Kinderman concluded, "It has been very hard getting our story out on Southern Oregon wines. With limited resources, our biggest struggle is to get that message out."
Hoping to spread the word and continue the marketing march, several attendees walked away from the eight-hour conference with a bounce in their step and a reinvigorated mission to sell wine and Southern Oregon as a whole.
"We hit a 9 to 10 for conference exit poll ratings for content and inspiration," said Allison Priestley, co-organizer and assistant director of SOWI. "Now let's see what actions will transpire."
M. Kim Lewis is a Northwest writer/photographer who co-owns a wine tour adventure company, www.ashland-tours.com, with his wife, Ginny, in Southern Oregon.