Match Made in Oregon
Native truffles and Oregon wine, the focus and future of 10-year festival
Some things are just better together. Peanut butter and jelly. Batman and Robin. Macaroni and cheese.
Wine and truffles.
Now this is an exceptional pair, especially in the Willamette Valley, where Dr. Charles Lefevre and Leslie Scott, owners of New World Truffieres, have been betting on the culinary combination since launching the Oregon Truffle Festival 10 years ago.
Born and raised in Oregon, Lefevre's interest in forests and wild edible mushrooms led to both undergraduate and graduate degrees in biology and mycology. He received his Ph.D. in forest mycology at Oregon State University in 2002. Now, he inoculates trees for truffle orchards all over the country in his hometown of Eugene.
Twelve years ago, Lefevre and Scott — then the manager of the Oregon Country Fair in Veneta — were having dinner at The Joel Palmer House in Dayton when a conversation with their good friend and fellow truffle expert, chef Jack Czarnecki, intrigued the couple.
Scott recalled, "Jack mentioned that he believed the Willamette Valley could be the next Tuscany or Provence."
His thoughts struck a chord with both of them, who also understood the potential of a truffle industry, especially combined with Oregon wines and the state's culinary culture. During the entire ride back to Eugene, they discussed how to grow the state's truffle market; they both decided the only way to accomplish it would be a festival.
Two years later, Lefevre and Scott introduced the Oregon Truffle Festival in 2005.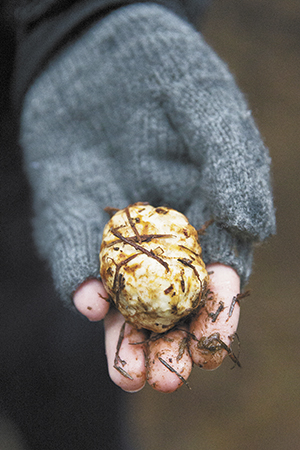 Since the beginning, the event's focus has been on Oregon's native black and white truffles, which, thanks to the festival, have grown in prominence over the years, from $50 to $60 a pound, to $400 to as high as $600 a pound wholesale.
"The value has gone up enormously, in part because of the experience of Oregon truffles at the height of the season during the festival," Scott said. "It has really raised their profile with a lot of the best chefs who were skeptical. These are not just Oregon chefs, but San Francisco chefs, Seattle chefs, the whole West Coast. Oregon truffles have become a valued season commodity for a lot of these restaurants that now don't have to import them from Europe."
The state's native truffles are attracting even more attention now because of the improved education around harvesting methods. Truffles had been traditionally raked in the past, "but a rake does not have a nose and can't know when truffles are ripe," Scott said. "So when you rake, you rake everything, mature or not."
As truffles mature, they give off a strong odor attractive to dogs and pigs, and also humans; their way of ensuring their survival is to have their spores eaten and spread by forest animals.
"They need to stay in the ground until they start ripening or they can't spread, they can't thrive," Scott continued. "When they were getting raked up, not only were they getting immature truffles — you might as well have a button mushroom — their survival was in jeopardy."
In the case of black truffles, they have multiple flushes in the ground, so if you rake the first, you won't have a second. Whites are less complicated because their truffle patches produce only one flush; once you rake them up, that is all you will get.
Enter the dogs.
"Dog training and harvesting with dogs has made a huge difference. Chefs will pay a completely different price for dog-harvested truffles vs. raked," Scott noted.
"You can open a box of [raked] truffles, and you will smell the wonderful smell, but it could be two or three truffles giving off that odor in an entire pound, and a chef has no way of knowing. You pay for a pound of 'field run' and you may get a quarter to a third to ripen, half a pound if you are really lucky."
Dogs and their keen sense of smell have become integral to Oregon's burgeoning industry; they are also currently a key component of the event. This year, the festival hosted its first North American Truffle Dog championship, The Joriad. Of the 27 that competed, five were named finalists; and one, the winner: a yellow Lab named Gucci.
Although the champion's owner is a recreational truffle hunter, she was eager to learn about the etiquette regarding trading with restaurants — for a dinner or two — and especially about the care of truffles, which is as intense as their aroma. For instance, black truffles have an extremely short shelf-life — about a week — are delicate to handle and have to be cared for every day; whites, on the other hand, are a little more durable than blacks and last a bit longer.
"You can get one tiny spot of 'funkiness' on a black truffle, and the whole thing can go south on you, so you have to carve that little piece out," Scott said. "If they start to sweat, they need to be used immediately. In addition, they need to be wiped off every day and have the paper towel underneath them changed. As you can see there are a lot of details to think about."
And that's just one chef and his box. Imagine harvesting and caring for the number of truffles it requires to satisfy, say, a festival.
"We handle hundreds and hundreds of truffles every year," Scott noted. "Our culinary director, Charles Ruff, and my husband handle almost every truffle that we present during the weekend and that we give to chefs for their dishes."
In order to acquire such a large number, Scott and Lefevre work all year to identify new patches, and dogs and handlers with whom they can work. They harvest their own and work with an already established network of dog harvesters throughout the Willamette Valley, yet they still have to source a few from people like Czarnecki, who have access to their own secret patches.
And just like winegrowing here in Oregon, harvesting truffles is subject to Mother Nature's mood swings. Nothing is guaranteed.
"This year the black truffles were really late, and there was something very funny about them, so we had a terrible time," Scott admitted.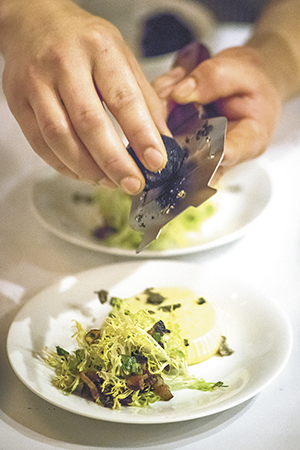 When the numbers look low, the festival staff simply adjusts, which often means more infusions of oil, cream and eggs used in the event's dishes. To ease the variability of harvests, Lefevre and Scott can contact reliable harvesters in southern Washington, but the goal is to keep it local.
"We like to keep everything in Oregon, including all the money circulating in Oregon," Scott said. "In a season when not a lot else is going on, this [truffle industry] is potentially so good for rural economies in Oregon."
Harvesting truffles can be a great opportunity as a winter food commodity, including winegrowers, who are starting to establish truffle orchards on unplantable parts of their vineyards. And the festival itself is proving an economic boon for wineries hosting attendees who want to experience wine country.
And now that the festival has expanded to two weekends, and north to Yamhill County and Portland, guests can enjoy an even richer, varied experience in the middle of January.
The 2015 festival kicked off its expanded format on Jan. 15 in Portland, where restaurants Irving Street Kitchen, The Imperial and Elder Hall hosted the inaugural dinners. The next evening, the festival moved to the World Forestry Center, where guests experienced a "Walk-Around Chef Showcase." Chefs shared two dishes: one with black truffles; the other, white.
Saturday, the event moved to wine country for "Forage & Feast," in which participants experienced a truffle hunt led by trained dogs and wine luncheons at local wineries Sokol Blosser, Youngberg Hill and Gran Moraine. The evening featured the "Better Together" dinner at the McMinnville Grand Ballroom, where Seattle's Spinasse was joined by McMinnville's Nick's Italian Café and Harvest Fresh Market to create a five-course feast paired with wines from Argyle, Willamette Valley Vineyards, Angela Estate and Brooks.
The next day, ticketholders arrived at the Truffle Marketplace, modeled after the Eugene version and held at the Chehalem Cultural Center in Newberg.
"We had people travel as far as BC to come to the marketplace, and it was because there were fresh truffles available," said Scott. In addition, local wineries, distillers, brewers, cheesemakers, bakers and chefs sampled their foods; there was even a truffle dog demonstration.
The next weekend, the festival returned to Eugene, with The Joriad on Jan. 21. Starting on Friday, the schedule included two days of Oregon truffle cooking classes at the Eugene Hilton, as well as the truffle growers' forum and dog-training classes. Friday evening, at the dining gala, "Walk on the Wild Side" held at the Emerald Valley Resort, top chefs offered black and white truffled hors d'oeuvres — some guests opted for the Villa Evening at Pfeiffer Vineyards, a four-course wine-paired dinner.
Saturday, Eugene guests had the opportunity to "Forage & Feast" followed by the Grand Truffle Dinner. Finally, just like in the north, the weekend ended with a marketplace offering fresh truffles for sale and other local, artisan goods and goodies.
Unlike up north, Eugene's weather was pleasant all weekend; not the case for festivalgoers on Saturday, Jan. 17, the day of the truffle hunt in Yamhill County, when the area experienced record rainfall.
"Like I said, truffles were really late this year, and the dogs were not finding them, so people got on their hands and knees in all that wet with gloves on their hands and sticks," said Scott. "When they started finding truffles, you would have thought it was a bright sunny day."
Although it was wetter than ever, nothing could dampen the momentum of the Oregon Truffle Festival and the state's growing affinity for the ultimate pairing: wine and truffles.