Müller- Thurgau Marvels
Meet one of Oregon's cult grapes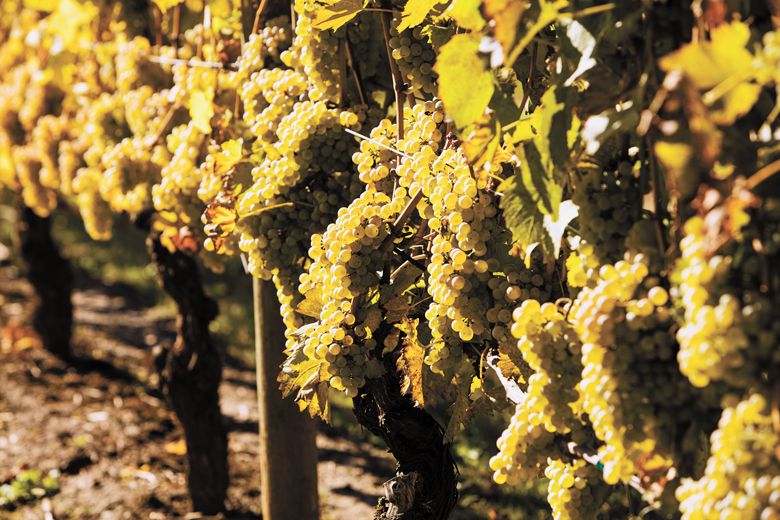 By Tamara Belgard Turner
"I don't get no respect." Like the trademark line from comedian Rodney Dangerfield, the Müller-Thurgau grape could say the same. That is, if grapes could talk.
In Germany, Müller-Thurgau was used as a bulk wine for over a century. Dare we remember the Blue Nun of the 1970s? But in Oregon, it's still uncommon. Producers who have invested in this grape, are developing an expanding fan base.
Making Sense of Müller
According to history, in 1882, Swiss botanist, oenologist and grape breeder Dr. Hermann Müller crossed the noble Riesling grape with a table grape called Madeleine Royale. This combination created Müller-Thurgau. German growers quickly embraced the new variety. It ripened early, before the fall rains, producing relatively high yields. Plants also thrived in a variety of soil types and climates. Unfortunately, the wines made from those high yields were low in acid with very little character. Germany's reputation for wine subsequently plunged, at least for a time.
Though still popular for production of wines like Liebfraumilch in the 1970s and 80s, German producers began to favor Riesling and Spätburgunder. Places like Alto Adige, Italy, however, proved Müller-Thurgau could create a compelling wine.
"Just because Müller-Thurgau isn't a popular grape to grow doesn't mean we should forget it's heritage," says Montinore Estate's head winemaker Stephen Webber. Montinore has its own 40-year history with Müller. Webber feels if Oregon were starting on its wine development now, it might well be deemed a very worthy grape to plant. "Times change, and Müller-Thurgau is becoming a lost varietal."
"Pinot Gris and Chardonnay have firmly established themselves as Oregon's top whites," says Webber. "I understand the evolution and firmly applaud these wines. But, is there a ray of light for the humble Müller-Thurgau grape to hold some stock going forward?"
We hope so.
New World Müller: Anything But Basic
Wikipedia states there are currently "54,860 acres cultivated worldwide, which makes Müller-Thurgau the most widely planted of the so-called 'new breeds' of grape."
Thumbing a nose at Germany's experience, Washington showed success with Müller-Thurgau over the years, creating wines with distinctive aromas and crisp acidity. The approximately 100 acres planted in the entire state of Oregon (according to Wine Business Monthly), changed its reputation from "bulk wine to cult wine" in the Pacific Northwest.
"Müller is a boring version of Riesling. That is the point," says Cyler Varnum, winemaker of Varnum Vintners. "It was developed to be a simpler version of Riesling. Why should we expect anything else from it? Considering Pinot Gris is one of the dullest— and most consumed— white wine in the world, Müller-Thurgau is far from uninteresting."
Webber doubts it will ever become a wonderfully aromatic, leap-out-of-the-glass, burgeoning-complexity kind of wine. But he values it for other reasons: Müller-Thurgau is simple, straightforward, yields well if desired and easy to handle. The variety is also particularly pretty, especially at the onset of fermentation. "It's versatile and ever becoming a unique grape that smaller operations clamor for," observes Webber. "What's not to enjoy about all that? Or maybe I'm just kinda boring myself."
"I think our Müller is an obvious 'New World' representation," explains Varnum. "Much like Riesling, I think the younger soils of the Willamette Valley make our Müller richer and more fruity."
Varnum Vintner mainly focuses on German wines, making Müller-Thurgau an obvious choice. It's also a heritage grape in the Willamette Valley. Varnum sources fruit from Kramer Vineyards near Gaston, and their high-elevation old vines. "When I was able to purchase Müller grapes, I knew right away that I wanted to make 'The beer of Champagnes,' and that it needed to have bubbles," declares Varnum.
He felt the branding and packaging should be iconic and raise awareness about the varietal, so he shirked tradition and put it in a beer bottle. Varnum has found great success with Müller-Thurgau. "We have been lucky to develop what I would cautiously call a cult following. The wine sells itself."
Saginaw Vineyards has slightly less than a half-acre planted, totaling a modest 325 Müller-Thurgau grapevines. Winemaker Ben Gilbert says the variety grows like a weed, even by grape standards. "Partly due to the fact it is own-rooted, and that the soil is an alluvial deposit, it's as nutrient-dense as you can get." This requires managing excess green growth, both on the plants and the vineyard floor. The property has a very high water table and the vines' "feet" are constantly wet. Yet, they don't seem to mind. "If properly cared for, it's my highest per-acre producer, with the shortest growing season of any of our varieties," he adds.
"I was seriously considering grafting over our Müller before I had made a single varietal wine from the stuff," says Gilbert. "That thinking ended when I tasted the 2022 vintage."
Owner Scott Byler originally planted the vineyard, experimenting with Cabernet Sauvignon, but discovered it wouldn't ripen fully in the Willamette Valley. "He decided to rip the Cab out and replace it with Müller cuttings in 1998," says Gilbert. "I can't say why he chose Müller over anything else, but I'm glad he did."
From Workhorse Grape to Luxe Grape
Kramer Vineyards discovered the grape accidentally. "In the 1980s, my dad Keith discovered Müller-Thurgau during a viticulture class at Erath," recalls second-generation winemaker Kim Kramer. "Inspired by a passionate classmate's enthusiasm for the grape (he wouldn't shut up about it, according to Dad), my folks decided to purchase fruit grown at Courting Hill Vineyard in Banks." The initial wine made from Müller-Thurgau exceeded their expectations, leading them to source grapevine starts from Sokol Blosser. "Since then, this grape contributes depth to our portfolio. It's funny how a random classmate's enthusiasm set us on this exciting journey with Müller-Thurgau'" says Kramer.
Kramer believes Müller has become the MVP of their vineyard. "It's one tough cookie, consistently giving us two to three times the yield compared to our Pinot Gris or Chardonnay grapes. Rain or shine, early or late harvest, this grape takes it all in stride, says Kramer. "We've come to rely on Müller-Thurgau's resilience and ability to consistently produce top-notch grapes. It may not sound like a lot, but those two acres pack quite a punch," continues Kramer.
Transforming what most considered an ordinary wine into a stellar sparkling wine, the winery has taken Müller-Thurgau to new heights. Kramer describes the birth of their sparkling Müller-Thurgau a story of pragmatism and serendipity, spearheaded by her parents, Trudy and Keith. In the early 2000s, faced with a surplus crop of Müller-Thurgau grapes, they happened to be visiting area wineries when they encountered a force-carbonated sparkling wine bottling line at Wasson Brothers. Intrigued, they decided to craft a sparkling Müller-Thurgau. "Much to their delight, the wine was an instant hit, prompting an investment in our own equipment. We've been producing this delightful bubbly ever since."
An Auspicious Future for Müller
Fred and Mary Benoit planted Müller-Thurgau at Anne Amie Vineyard in 1979. The Benoits hired a winemaker from Switzerland familiar with the grape and knew how to handle it.
"Since Müller-Thurgau lends itself to large production, it's proved a great choice for a new winery starting out in a relatively unknown wine region," says Anne Amie's National Sales and Marketing Manager, Boyd Pearson. "The variety helped the Germans get wine production back on track after WWII, and it helped Chateau Benoit have a good-sized lot as they started out as well."
Anne Amie includes nearly nine acres of Müller-Thurgau, including some of the original 1979 plantings. Stylistically, theirs is fermented dry, more akin to bottlings from Italy. "We find it more versatile. It drinks great on its own as an aperitif, but it also pairs with a wide variety of foods," says Pearson. In fact, New York's Gramercy Tavern once featured it by the glass.
When asked about those who regard Müller-Thurgau as a boring grape varietal only for making bulk wines, Pearson responded, "They're missing out. Yes, it's been used to make boring bulk wine, but so have many other grapes. I mean, there are uninteresting, lazy versions of virtually every grape out there."
"When taken seriously, Müller-Thurgau makes a fantastically expressive, versatile white wine," says Pearson. "With Riesling as a parent, it is anything but boring. I find it incredibly expressive, with great acidity and versatility. And if you learn a bit about Madeleine Royale, it's a fascinating grape, too. Drinking something delicious and learning at the same time. What beats that?"
Jay Somers, winemaker at Anne Amie, assumed the grape would resemble Riesling in the cellar. "I was wrong," admits Somers. Even at relatively high crop levels, Müller-Thurgau quickly loses its acidity while the sugar lags behind. Whereas Riesling holds its acid/pH very well. Last year marked Somers' first vintage with this grape. "Currently, I'm changing the farming of a very small block of the original old vines to make a small bottling of Müller-Thurgau different from our big blend," says Somer. "Stay tuned."
Seek out these Müller-Thurgau wines
Anne Amie Vineyards 2022 Müller-Thurgau
Aromas of honeysuckle practically jump out of the glass. On the palate, taste golden delicious apples, apricots, honey, and crushed gravel. Drink a glass with salty foods to truly make this wine sing, but also recommend pairing with paella, Pad Thai or ceviche. $25
Kramer Vineyards 2021 Müller-Thurgau Estate
Off-dry and fruity still wine with a kiss of acid. Bartlett pear, golden mango, gardenia flowers, and chamomile tea steal the show with a lovely hint of tarragon on the finish. Serve with spicy coconut milk curries. $20
Kramer Vineyards 2021 Celebrate Müller-Thurgau Sparkling
A party in a glass, it's an interesting alternative to traditional Champagne, but with all the fun. Key lime, orange blossom, and a hint of clove lead to a long ending of grapefruit pith. Pair with brunch foods or anything fried. $29
Montinore Estate 2021 Reserve Müller-Thurgau
A stunning nose of white tea leaves, orange blossom, and honeydew melon leads to a palate of honey, white peach, lemon shortbread and a spicy pop of ginger. A beautiful play of acid and structure creates a memorable wine. Enjoy with spicy Thai or Indian food. $35
Oak Knoll Winery 2020 Müller-Thurgau
On the sweeter side of medium-sweet, this wine is a pungent punch of golden kiwi, apricot, and a spicy conclusion of candied ginger. Pair it with a fresh pea and asparagus risotto to enhance the acid and cut through the dish's richness. $18
Saginaw Vineyard 2022 Estate Müller-Thurgau
Taste summer in a glass, slightly effervescent and completely refreshing. This semi-sweet wine has pleasing bright acidity to balance the sweetness. Golden delicious apples on the front end with a long finish of juicy peach. Enjoy it with mushroom tarts or a big bowl of mussels. $26 (sold out, new vintage available in Feb. 2024)
Varnum Vintners 2022 Müller-Thurgau
Your perfect patio pounder, it's "Made to drink. Not overthink." Expect Granny Smith apples, white peach, grapefruit pith and a wisp of diesel, reminding you of its Riesling parentage. This delightful sparkler has a touch of residual sugar. Pair with tacos or your favorite junk food. $12