Lucky Horseshoe
Winemakers prosper in Yamhill-Carlton AVA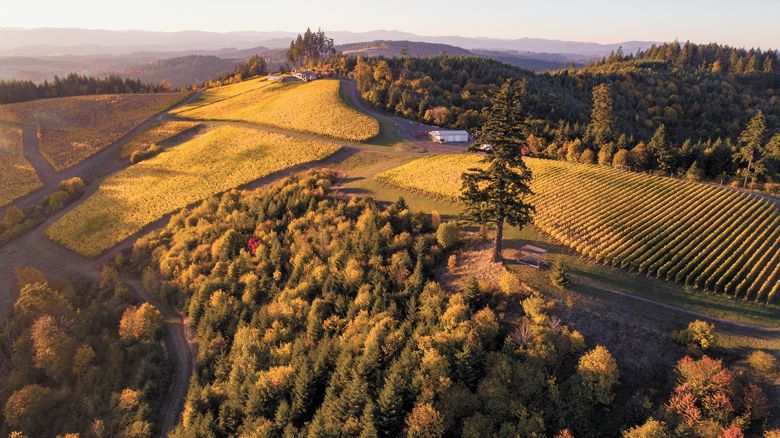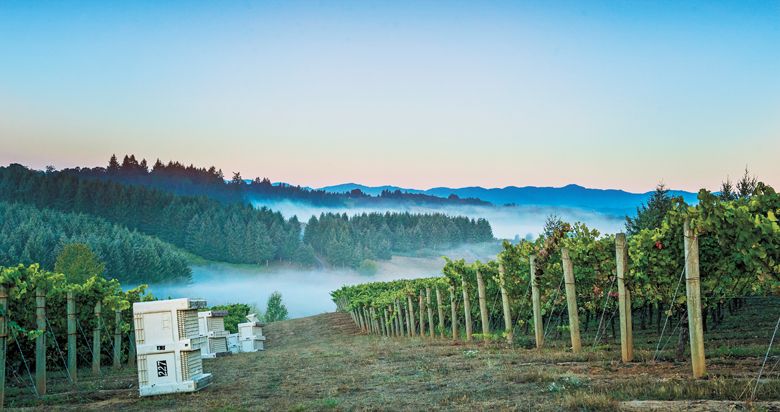 By Sophia McDonald
Near the heart of the Northern Willamette Valley's cluster of sub-appellations lies a true Oregon winemaking gem: the Yamhill-Carlton AVA. This wine region deserves a closer look for its noteworthy Pinot Noirs, spectacular setting and growing reputation as a dining destination.
Brian O'Donnell, winemaker and owner of Carlton's Belle Pente and president of the Yamhill-Carlton Winegrowers Association, describes the area as "a horseshoe-shaped series of hills that sit up in the northern corner of the Willamette Valley, against the Coast Range foothills. It's in a magnified rain shadow, making it slightly warmer and drier than the rest of the northern Willamette Valley." Marine sedimentary soils, including Willakenzie, are predominant, with some pockets of volcanic soil, primarily on the western side of the region.
Pinot Noir has a distinct and intriguing flavor profile, especially grown in marine sedimentary soil, O'Donnell said. These wines tend toward blue or black fruit, including blueberry, plum, black raspberry and currant, mixed with a bouquet of herbs, flowers and spices like cinnamon or clove. "The nose is a little deeper; you often have to coax it out of the glass," he said. (One distinct scent that will often arise is anise.) In the mouth, they have great structure, with firm but smooth tannins. Though mainly Pinot Noir, Chardonnay and Pinot Gris, there are also plantings of Gruner Veltliner, Chenin Blanc, Muller-Thurgau, and Chasselas, in small groupings.
Growers are attracted to the challenge of creating something more than red-fruited Dundee Hills or Eola-Amity Pinot Noir. O'Donnell considered his property as well as the current home of Archery Summit, both available for purchase. The peaceful landscape— with its sweeping views and scattered oak savannahs— was beautiful.
In addition, "There was this lingering perception that red dirt produced red wine, and the sandier, lighter-colored soils were good for white wines but not necessarily for reds." Pioneers Ken Wright, Michael Etzel at Beaux Frères and Dick Shea began upending that theory. O'Donnell became interested in being part of that movement.
Shea remembers the early days of winegrowing in the Yamhill-Carlton. When he bought his first plot of land in Oregon in the late 1980s, "everything was basically in the Dundee Hills and Eola-Amity," he recalled. A conversation with vineyard management consultant Mark Benoit, who believed the marine sedimentary soils in the Yamhill-Carlton and Ribbon Ridge would produce exceptional wines, attracted him toward the untested region.
While harvesting his first grapes in 1991, Shea encountered great skepticism. "It was almost impossible to sell the fruit because it was an untried area," he said. "The first few years, the grapes didn't get picked because I had no buyers."
Ken Wright, "who decided there was stuff going on in marine sedimentary soil," was the first to contract for Shea's fruit. Ron and Linda Kaplan, who purchased Panther Creek from Wright in 1994, also committed to purchasing from Shea. Both created a Shea Vineyard-designate Pinot Noir that year, and "Robert Parker rated those numbers one and three wines of the vintage from Oregon," Shea said. "Number one tied for the highest score ever for Oregon Pinot at that point.
After that, we never had to leave any fruit on the vine." Many Yamhill-Carlton winemakers still work with Shea's fruit.
Hirschy Vineyard is another major supplier of Pinot Noir and Chardonnay. Over the years, John Hirschy has enjoyed tasting what various winemakers have done with the grapes from throughout the region. "If the fruit is farmed well, it will be good quality," he said. "I appreciate seeing the different results from wineries on the hill, not just those working with our fruit."
This collaborative attitude predominates in Yamhill-Carlton. "Many of our clients have been with us since the first harvest," Hirschy said, who sells to a total of 11 winemakers. "Those are important relationships. Many of those folks aren't merely customers, they're friends."
Beyond wineries, the best place in the AVA remains the town of Carlton. Very walkable, it has several restaurants, including Park & Main, Cuvée, Earth & Sea and the Carlton Bakery. There are no fast food restaurants, Shea noted, simply plenty of charm. The fact that it's off the beaten path in wine country often keeps crowds to a minimum.
Those seeking other activities in the Yamhill-Carlton appellation should monitor the schedule at Abbey Road Farm, a winery with event space. Beginning in November, they will host numerous holiday-themed events, including reservable holiday photo sessions, a maker's market over Thanksgiving weekend and the Holiday Lights Wine Walk.