Lordy, Lordy, Look Who's 40
McMenamins celebrates Ruby (Ale) Anniversary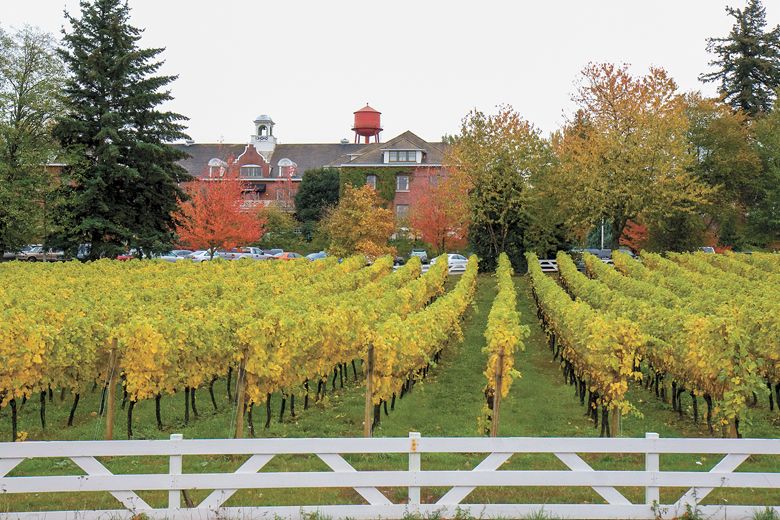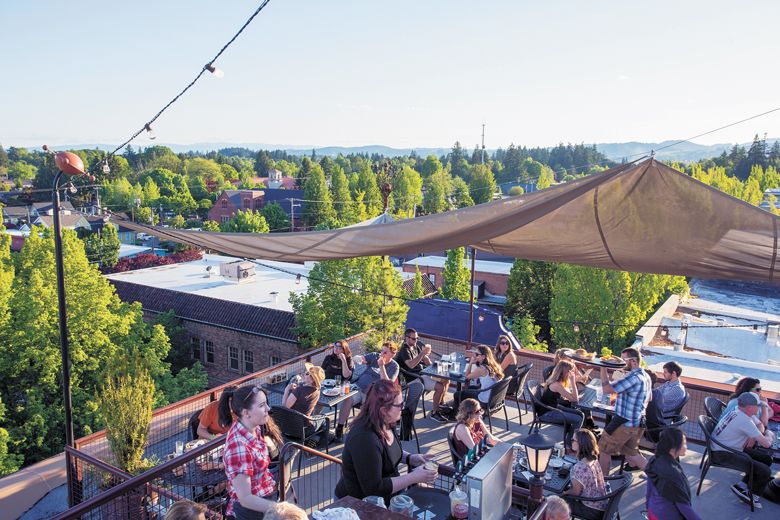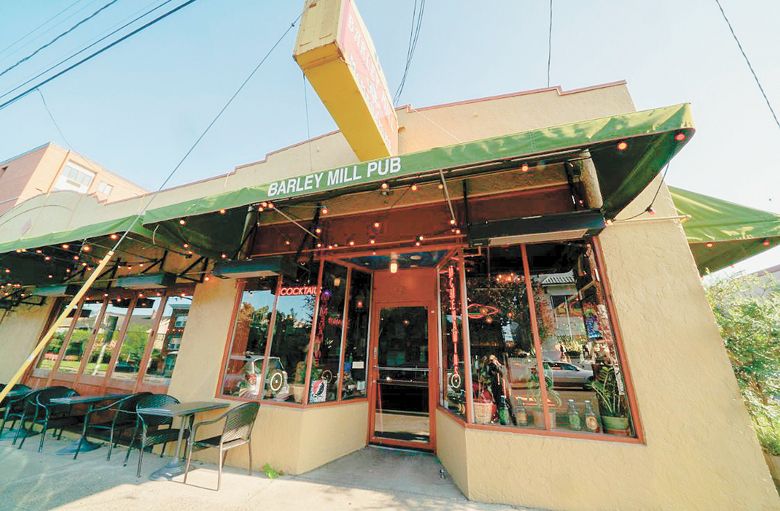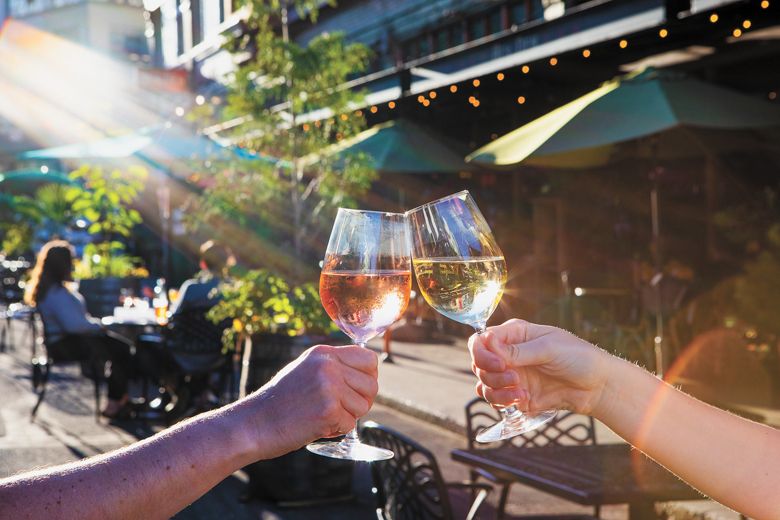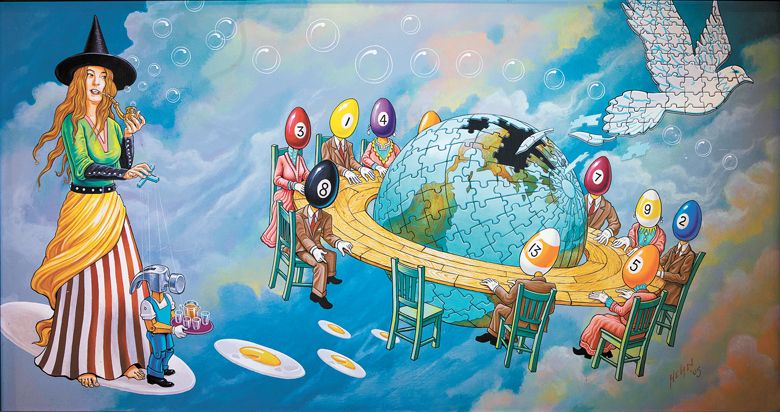 By Annelise Kelly
Four decades ago, a modest pub opened on Hawthorne Boulevard in Southeast Portland. Operated by two brothers, still young and sharpening their skills in the hospitality business. The Barley Mill Pub represents the foundational brick in the monument of hospitality known as the McMenamin empire. Inspired by the family-friendly pub culture they admired in Europe, Mike and Brian McMenamin scrubbed and decorated the 50-year-old watering hole to cater to a family clientele rather than its former dive-bar crowd.
Only two years after opening the Barley Mill, the McMenamin brothers joined forces with other visionaries (including the Widmer brothers, Bridgeport Brewing and Portland Brewing). The group successfully lobbied the state for a regulatory change permitting breweries and wineries to serve their products on-site. In 1985, McMenamins began brewing beer at the year-old Hillsdale Brewery and Public House. This timely act helped inspire a microbrewery revolution, placing Oregon on the beer-making map. The brothers soon made the leap to crafting their own wine, cider and spirits.
This year, McMenamins celebrates its 40-year anniversary, offering a vast array of options eclipsing the modest beer-and-burger fare of the 1980s. Today, the company operates 56 properties, ranging from neighborhood pubs to sprawling hotel complexes, all displaying a creative, whimsical and instantly identifiable style. Guests can groove to live music in venues from basement bars to a 6,500-capacity summer concert arena; watch a movie, beer in hand; sleep in a renovated school, workhouse or Masonic lodge; luxuriate in spa services and soaking pools; savor fine dining; and even play golf.
Contrasting to the typical cookie-cutter chain that perpetually duplicates one basic concept, McMenamins highlights the unique qualities of each property. Many are housed in repurposed buildings; 20 are listed on the National Register of Historic Places. The company entered the world of adaptive architectural reuse with Edgefield, formerly a county poor farm on 74 acres, dating from 1911. McMenamins preserved, accented and celebrated the property's history. The art and décor at Edgefield highlight the location's role as a final refuge for the poor and many of the individuals who lived there.
The same ethic is on display at all their historic properties. Much of the artwork depicts people and events significant to the property's history, from class pictures at the Kennedy School, to drag queens at the Elks Temple, to the artisan who crafted the elegant ironwork at the Chapel Pub in the 1930s.
The company not only rescues and restores beautiful old buildings, but also honors their historic place in the community.
"History is really powerful -- I remember Mike saying that," muses Renee Rank Ignacio, director of marketing at McMenamins for over 20 years. "It joins us to the community that was here before. It connects us to our community here, right now. Being those storytellers and continuing on with that history and building our own history, it's all important in the grand scheme of things."
When asked what makes McMenamins special, Ignacio believes that it's different for everyone. "Is it the music that really captivates you? Is it the beer? Is it the wine? Is it the spirits? We even roast our own coffee. We make our own shrubs (from wine and ale) through our fermentation chamber out at the Grand Lodge. I believe it's really about creativity— trying something new. Mike and Brian were always open to discovery and learning. They're like, sure, why not? Let's make beer. Why not? Let's make a winery. We can do it— in our own way."
As a family-run business operating in Oregon and Washington, the company has followed its own course and adhered to its vision. With creativity and innovation as core values, Ignacio emphasizes the "go ahead, give it a try" mentality. "Create what you would like to see, make something new, try something different."
In terms of hospitality, says Ignacio, the McMenamins philosophy is "be a warm and welcoming place. We're really fortunate, over all these years, to have customers that come in and enjoy our spaces, appreciate the look, the feel, the food, the beverage, everything that's involved, but especially to feel welcome. And they make it a part of their lives," where pivotal events happen or are celebrated: first dates, new babies, family gatherings. "I think that makes it a place people want to come. Hospitality-wise, all our staff exude that warmth."
BEER
It all began with beer.
When the Barley Mill opened, they served beer from other makers. The first beer crafted in-house was Hillsdale Ale, a bitter made with malt extract, brewed by Ron Wolf in 1985. By the following year, the company had developed three flagship brews that remain essential today: Terminator Stout, a dark, rich English-style brew with robust complexity; Ruby Ale, a crisp, light beer brewed with 42 pounds of Oregon raspberries in each batch; and Hammerhead, a classic chestnut-colored Northwest pale ale redolent with hops and whispers of caramel. Today's menu also includes a dry-hopped along with a fresh-hopped version of Hammerhead.
Two artful characters associated with the McMenamins brand, Ruby Witch and Hammerhead, created by artist Lyle Hehn, are connected with the corresponding beers. These recurring figures appear on the company's coasters, posters and murals. No doubt Hehn's style had a tremendous influence on the company-wide aesthetic. Hehn was one of the main artists at McMenamins from 1988 until his death in 2022.
Twenty-four breweries produce the 222 beer varieties currently available. An online menu describes extensive details about each one, including malt varieties, hop varieties, and most importantly, where to find them. Since that first lot in Hillsdale, McMenamins has brewed over 75,000 batches, equaling 5.8 million pints. The company embraces the subtle differences that result when different brewers add their personal style on a given recipe, and they also encourage brewers to be creative and experiment.
Some breweries offer tours to the public.
WINE
The Edgefield winery started crushing in 1990 while the surrounding property opened piecemeal the next year. It counted a brewery, and the Power Station pub, movie theater and McMenamins' first venture into lodging: eight rooms.
The wine selection remains concise, relative to the beer menu: 23 wines grace the list, including their Blanc de Noirs sparkling wine, a traditional Méthode Champenoise described as "lovely" by Willamette Valley sparkling wine authority Andrew Davis. One wine, the Estate Pinot Gris, is crafted from grapes grown at Edgefield.
CIDER
At press time, fifteen ciders quench your thirst at McMenamins. Cider has been produced in the winery since it opened, although demand and production have soared in recent years, says Ignacio. Try the 2022 Edgefield Estate Cider, crafted from quince and heirloom apple trees grown onsite, fermented dry, barrel aged for nine months and served unfiltered.
SPIRITS
The distillery began operations in 1997, in part to complete the circle and make good use of any surplus beer and wine. Today, two distilleries operate: one at Edgefield in Troutdale and another at the Cornelius Pass Roadhouse in Hillsboro. Currently, twenty-three spirits are available.
Several reflect a definite sense of place, such as Pear Brandy distilled from Hood River pears; Aval Pota apple-flavored whiskey, with Hood River apples; Phil Hazelnut Liqueur enhanced with filberts harvested just ten minutes from the Cornelius Pass Roadhouse; Herbal Liqueur No. 7, concocted with herbs from the Edgefield herb garden; and Three Rocks Spiced Rum, with Edgefield-grown mulberries and fragrant spices.
Like a fine wine, McMenamins exceeds the sum of its parts. Each property is far more than simply a brewpub, hotel or theater. It's a unique experience that draws visitors in with its unique vibe. Few hotels tempt guests to slowly wander their entire floor, glass in hand, admiring captivating friezes, painted doors, and tile mosaics, each one fancifully provoking the imagination. The huge volume of place-specific artwork lures guests through the halls and up and down the stairs, educating and inspiring them.
McMenamins: Part craft beverage maker, part art gallery, part hospitality, part historic preservation, and 100 percent a unique Northwest experience.