In Memoriam: Traute and Don Moore
Remembering the founders of Quail Run Vineyards and South Stage Cellars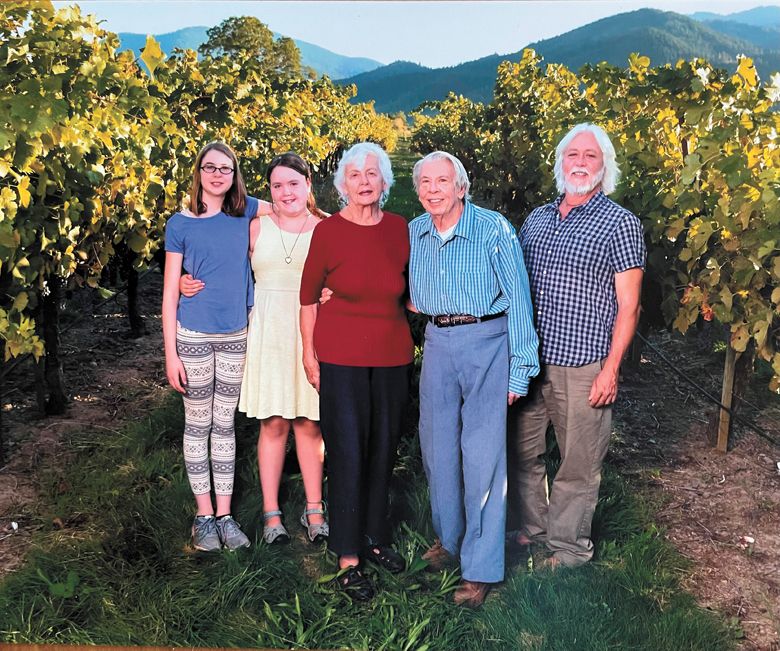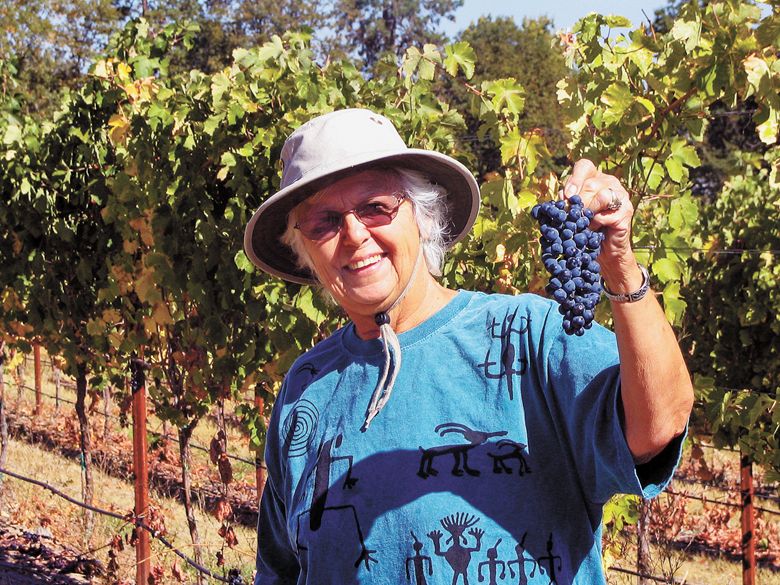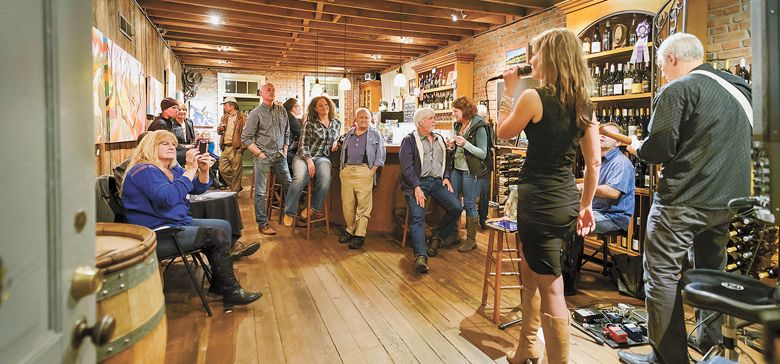 By Paula Bandy
In 1989, a petty thief changed the course of Rogue Valley wines when breaking a car window near the Klamath River. At the time, Traute and Don Moore, with their adult son, Michael, were kayaking near Crescent City. To have it repaired, the family drove to Ashland. While waiting for their car over the weekend, they decided to wander around the Rogue Valley for possible farmland or orchards.
Everything changed when a Realtor persuaded them to visit a little vineyard for sale. Traute told me the story in 2021: "He took us to this home on Quail Run. I fell in love with the view. As we walked into the house, sitting on 15 acres, there was this gorgeous view up the Valley. We got into grapes, by accident, not by design."
Michael says, "That [window repair] was the only reason my parents came here; they never would have otherwise." So, quite literally, a 'window of opportunity' opened for them, and what follows is part of Oregon wine history, and a story of grapes.
Traute Moore died in April, and Don in September 2021. Yet, their legacy continues with their son, now owner and general manager of Quail Run Vineyards and South Stage Cellars.
Pioneering Spirits Unite
At five years old, in 1938, Jewish, and Austrian-born Traute Fischl and her mother fled to England to escape the Nazis. The family's plan to reunite with her father, an engineer, was thwarted when he was conscripted into Hitler's service. Mother and daughter remained in the Isle of Wight refugee camp for two years before obtaining visas from her uncle and moving to St. Louis, Missouri. Seven years later, her father was finally able to join them.
During college, Traute met Don Moore in an anti-segregation meeting at Washington University (then a segregated school). Through their activism, along with others, the university desegregated in 1952. The couple married during the mid-'50s in St. Louis. After Don completed medical school, he took a position with the original Health Net group and the couple moved to Pasadena. While there, they raised three sons.
Never idle, Traute created large, commissioned stained glass windows, got her master's in Public Relations and was instrumental in forming carpooling lanes in Los Angeles. Together, they gardened and farmed, prompting Traute's involvement in the creation and promotion of local area farmers' markets. Pioneering was the Moore's modus operandi.
After purchasing the property in Oregon, Don continued his internal medicine practice in Pasadena for another year. Traute moved north and began learning all she could about viticulture, while also driving a tractor, trellising, working with crews and establishing Quail Run Vineyards.
During the early days, they sought help from other wine industry pioneers. The Moores also experimented with various trellis systems, introduced double cane pruning and installed drip irrigation to their vineyards. They tried grow tubes, not yet common in Oregon, finding them very useful in establishing vines and encouraging rapid growth. "Now," Michael says, "everybody uses them." Perhaps their most obvious legacy remains grapes - the quality, and sheer number of varietals they produced over 34 years. Even Michael is unsure of exactly how many different types of grapes his parents tried. He notes that in 13 vineyards, across 350 acres in the Talent and Jacksonville areas, there are currently 31 varietals, with more to follow. The many leased properties at various elevations, with varying soil and environmental conditions, provided the Moores with a unique opportunity to discover what worked best and where. After only seven years, their Merlot grapes, in the Griffin Creek label of Willamette Valley Vineyards, were awarded Best Red Wine of the Year by Wine Spectator.
Michael expresses it well: "My parents came from unique backgrounds without being complete farmers. Their farming approach was really driven by curiosity. They lived and embodied their values and ideals. I've always admired and loved that."
A Perfect Pairing
Don and Traute Moore were the inspired match for founding and developing a vineyard in the Rogue Valley. From the beginning, their farming was based on inquisitiveness and testing. The question, as Michael puts it, wasn't, "Why? but rather, "Why not?" and "Why limit ourselves?"
After purchasing the original property, they began leasing nearby land, allowing them to experiment with more grapes— and under different conditions. "My dad," Michael reflects, "was a real believer in science. That approach carried over into his second career with wine grapes. Everything was really about trials and documenting both successes and failures." Traute was innovative and accomplished at coming up with new ideas. "With her," Michael continues, "she didn't have the same foundation in science as my dad, yet shared his curiosity. My mom loved nothing more than to work with the crews and discover ways to do things better."
Together, they felt motivated by the area's potential. From the beginning, they sought to explore and test possibilities. If one technique didn't work, they'd learn and move to another.
Referring to a specific block in the Fort Miller Vineyard, Michael says, "There's like 16 different rows of Syrah. Every single row is a unique clone on different rootstock, and then," he chuckles, "they're trying all the individual clones on all the rootstocks. It's a big experiment, to see what worked best. I think what my dad brought to viticulture was a real curiosity and willingness to test every assumption he had. It carries throughout the vineyards."
Besides Syrah, Don and Traute also brought to Oregon Viognier, Pinotage, Carménère, Marsanne and Roussanne— all award-winning wines. "My parents, their vision, why they farmed the way they did by leasing lots of properties, it was because they wanted to explore the potential of this area. Nobody knew which varieties would grow best— you could look south to Napa and north to Willamette— but didn't really understood what was possible in this area because there's nothing quite like this [region] anywhere."
In 2010, the Oregon Wine Board honored Traute and Don Moore with the Founders Award, for helping to establish Southern Oregon as a wine region.
Bottling It
When Michael returned in 2008 to help open the South Stage Cellars tasting room, his parents were selling wines from many labels, all made with their grapes. He moved from a 25-year career of documentary filmmaking and writing with the likes of BBC, PBS, and National Geographic. He describes "living in San Francisco as just the most incredible life, a wonderful career. But I thought 'let's make a change,' and jumped in with both feet. Now, I'm fully engaged and never looked back. I've had no regrets."
Michael taught himself Spanish, quickly becoming vineyard manager. In 2011, he took over as general manager. Michael continues to experiment while maintaining the innovative vision of his parents. He states, "Why not have it be a world of wine region? That's what I picked up on early… that my parents envisioned. It's the legacy I've embraced."
In 2014, Traute initiated the Jacksonville Wine Association, including shuttle tours to local wineries. It continues, having expanded from six to 10 wineries.
South Stage Cellars' tasting room thrives. Located in historic downtown Jacksonville, visitors can choose over 30 varietals and 45 wines from Spain, South America, Italy, South Africa and Australia, all under their own label. This space also represents the Moores' generous support of the arts and community with live music three times a week, rotating art shows and local culinary offerings.
One Oregon
A few days before her death, Traute asked Michael to drive us through the vineyards around Talent. He showed us plantings of new varietals — Gamay and Chenin Blanc— along with other vineyard plans. His intent is to continue experimenting and contribute to the development of Oregon's wine industry. "It's an extension of my parents' vision, what they saw was possible in Southern Oregon. The area produces amazingly diverse fruit for an industry that's not necessarily centered here. But, it doesn't matter because we are all one Oregon together— that was their vision."