In Memoriam: Fletcher Birdwell
From harvest intern to assistant winemaker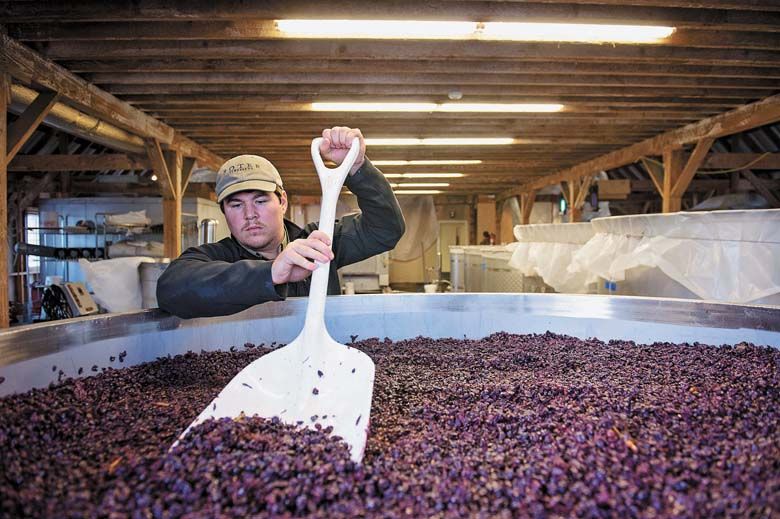 By Michele Francisco
The wine industry lost a good one with the sudden passing of Fletcher Birdwell on Sept. 8, 2023. Fletcher began as a harvest intern with Carlos & Julian Vineyard and Winery. After working harvest in California and New Zealand, he returned to Oregon, spending five years at Soter Vineyards and two at Ruby Vineyard & Winery.
Ruby Vineyard's winemaker, Andrew Kirkland, recounted, "I remember when I first met him in 2013 as an enthusiastic, rambunctious, passionate, hilarious, kind and witty troubadour. I remember thinking, 'who is this guy?'"
Born November 17, 1988 in Washington, D.C., Fletcher spent most of his childhood in Oklahoma. After graduating from Lawton High School, he enrolled in the town's Job Corps culinary school. His love of food developed into a deep passion for wine, swiftly leading him to Oregon.
Kirkland added, "He was a good worker and cared deeply about the wines he was involved with making. Yet, our fondest memories of Fletch are from time spent in the woods, hunting for mushrooms, cooking fine meals, along with his musical ability and knowledge. Best of all was his (mostly) well-timed commentary. The characters he would put on, the observations of the absurd… all just to get a laugh and make people smile. We can all still hear his belly laugh and see his grin from ear to ear. He cracked himself up as much as those around him. That humor came from a place of warmth and genuine love of people."
According to an online obituary, "Fletcher's was a big personality. He lit up the room with his wit and enthusiasm for life's pleasures. He was a great cook and loved bringing culinary magic to life for his friends and loved ones. Music might have been his favorite pastime and he dreamed of songwriting and performing. But the outdoors evoked his deepest passion. He hiked, bicycled, crabbed, and hunted mushrooms in the forests of Oregon. He thought of himself as a farmer and lived those values to the fullest in his short life on this earth."
Hallie Whyte, Soter Vineyards' managing director, recalled, "I will always remember Fletcher and his Jimmy Buffet Fridays, even in the busiest days of harvest he would be happily be playing Jimmy Buffet on the speaker and wearing a crazy shirt."
"Fletcher worked for us for two years as assistant winemaker, 2020 through May of 2022," said Kirkland. "Since we farm Ruby Vineyard organically in-house, Fletch's role was more than that of assistant winemaker. He worked in both the vineyard and winery– driving the tractor, pruning, racking, forklift operator, etc." Kirkland added, "He was much more than any of that. Fletch was someone who made impressions on those around him."
When asked to contribute any other sentiments about Fletcher, Kirkland said, "Fletch loved people. From those he just met, to those who knew him for much longer than we did, he truly cared for people and was genuinely interested in knowing them and their stories. When he was in a good place, he was the life of the party. His network of friends and acquaintances is large. He positively impacted people, and his genuine passion for whatever the topic at hand was translated into a shared connection with them. It was beautiful to see. As a mutual friend said when hearing of his passing, 'Fletch was a star that burned bright.' We all miss Fletch and wish he could see how much he was loved by his community here in Oregon."
"Fletcher was an autodidact, teaching himself much about history, culture and science," stated Fletcher's obituary. "He was also proficient in conversational Spanish, a skill acquired by taking an active interest in the lives of Latino and Latina farm workers he worked with on many grape harvests in Oregon and California. He was passionate about the struggles experienced by the people he encountered."
His family requests people honor Fletcher by contributing to the !Salud! Services Program, with donations to the "Health Hillsboro Medical Center" with !Salud! Services Program in the memo.