In Memoriam: Dick Erath
Remembering the founder of Erath Winery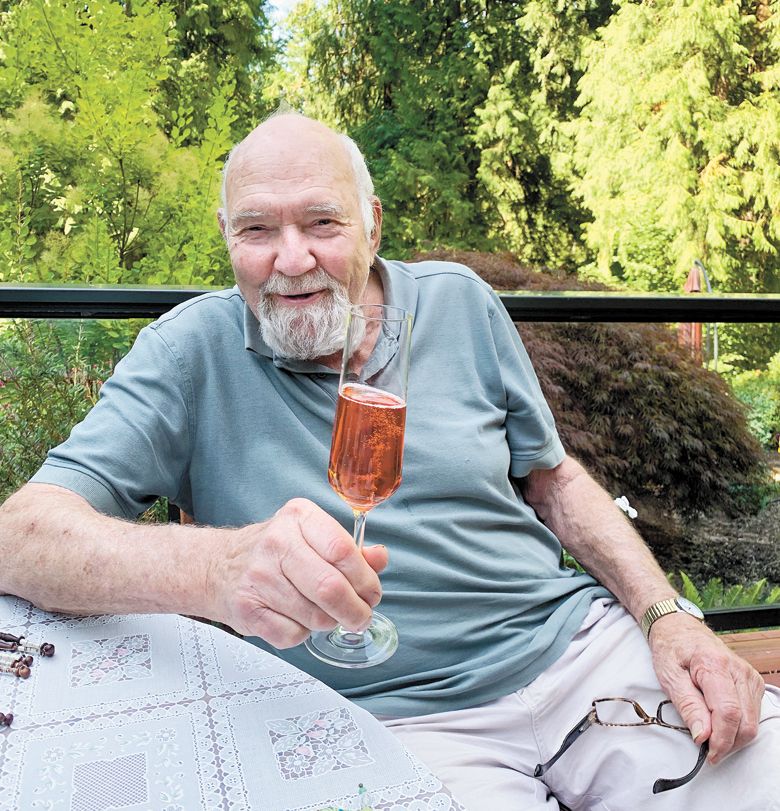 By STARLA POINTER
Oregon wine pioneer Dick Erath of Vancouver, Washington, a former longtime resident of Dundee, died March 29, following two weeks in the hospital. He was 87.
A former electrical engineer, Erath came to Oregon in 1967 with a dream of planting grapes in the Dundee hills and making wine. His first crush produced 216 cases of Pinot Noir, Gewurztraminer and Riesling, and set the stage for decades of winning accolades both for his wines and for his activities in the wine business.
In 2003, Erath was honored by industry peers with the Oregon Vintner Award in recognition of his lifetime of achievement in building the Oregon wine industry and its international prominence.
"A farmer at heart" who was always learning, according to stepdaughter Kristen David, he was the namesake for a Pinot Noir variety he developed, "Clone 95, the Dick Erath Clone."
"A friend brought him a vine from France in 1980, and Dick worked with it. He took it to U.C. Davis," David recalled. "Twenty years later, they contacted him and said 'your vines are ready.'"
Erath planted a test area of the new Clone 95 and propagated the vine on Grand Island. He harvested enough of the grapes to make a barrel of wine. "Absolutely outstanding," David said, noting that it's now one of the most sought-after clones.
He was invited to speak at a recent vertical tasting in Portland featuring wines made from Clone 95. "He was really looking forward to that," David said, but he fell ill and had to skip the event.
Carlton winemaker Ken Wright tasted Erath's wines before he moved to Yamhill County from California. He remembers one particular Pinot Noir he sampled in 1982 or '83 while it was still in the barrel. "Stunning," he recalled. "Ridiculously good."
After moving to the McMinnville area, Wright got to know the veteran winemaker. He learned a lot from Erath, he said; not just about growing grapes and making wines, but also about the growth of the Oregon wine industry.
Erath loved to share his knowledge and expertise, he said. He provided both scientific research and information about the organic side of winemaking, including fermentation and developing the vineyard.
"He was a fact-checker," as were fellow pioneers David Lett and others, Wright said. "It's a big loss … when we lose those who were present during those early times, the stories begin to change."
Erath, like Lett, was "motivated by quality, complexity and long-lived" varieties, Wright said. He said the two men brought in the varieties of grapes that created the base of the industry — Pommard, in Erath's case, which provided structure, intensity and a deeper complexity, and Wädenswil, in Lett's, which gave the blend higher notes and an ethereal complexity.
"They set the stage for all of us who came later," Wright said, adding that exposure to Erath's blends "convinced me this is where I wanted to be."
He said he is pleased that the senior winemaker had time to enjoy life after selling his winery to Ste. Michelle Estates. "He seemed very happy. He was very jovial," Wright said. "We'll miss him."
Mary Stern, former Yamhill County commissioner and director of McMinnville Habitat for Humanity, also recalled Erath's sense of humor as well as his pioneering work in the wine industry.
In addition, "Dick cared deeply about his community" and was supportive of her run for elective office. "Dick was so supportive and encouraging," she said. "I'm honored to have known him."
At 79, Erath married another veteran of the Oregon wine industry, winemaker and writer C.J. "Suzi" David. They had met decades earlier, in the 1970s, when she visited Dundee looking for vines for her Southern Oregon winery.
The couple had a great time together, David said.
They enjoyed good food, playing cribbage and sipping wine together. Erath continued to make a barrel of Pinot Noir and a barrel of sparkling wine for his family until he was 85. Then he turned to another science-based food product, taking careful notes as he developed his bread-baking skills.
They also traveled domestically and internationally, visiting Portugal, France and other countries. In New Zealand, local winemakers recognized Erath and treated him as an honored guest.
"He was such a great mentor," Kristen David said of her stepfather, yet "he thought of himself as not a big deal."
She added, "he was so down-to-earth," she said. "He wore jeans and a flannel shirt; he loved to garden or be in the kitchen or to play poker with his friends."
The couple recently returned from spending five weeks in Hawaii this winter.
"They loved traveling, good food, good wine and lots of cribbage," David said, recalling how they put Erath put a bottle of champagne into the refrigerator before going to the hospital.
He spent 14 days in intensive care, and never made it home. The family opened the champagne after his death for a special toast.
Dick Erath's Legacy: Thoughts shared by David Adelsheim
One thing I've realized is that he was really the first person in the Willamette Valley to consider making "a lot of wine." He had a couple of big vineyards he owned or managed and he bought quality grapes everywhere he could find them. Knudsen Erath and especially Erath Vineyards made Pinot noir for the normal consumer, not the collector. Don't misunderstand me. His wines were not dumbed down; they were delicious. He just made lots of cases. He crafted a few wines for collectors, too. But his real gift, first to Oregonians— and eventually to the whole country— was wonderful Willamette Valley Pinot noir. It was, in many ways, his brand that established Willamette Valley, Oregon and Pinot Noir as conjoined in the minds of many American wine lovers.
The second thing he demonstrated was that one could make money in the Willamette Valley wine business. He worked closely with the accountant Jack Irvine, who helped him understand what it would take to become a profitable business. And he was the first to sell his business, not because he had to but because he had built it as far as his capital could take it. He sold Erath Vineyards to Ste. Michelle Wine Estates, making a lot of money because it was such a viable brand. (He used some of that money to continue planting his Prince Hill Vineyard property in the Dundee Hills, eventually selling it to Silver Oak.)
Three, he used money from the winery sale to set up the Erath Family Foundation, which has funded 501(c)(3) charitable organizations associated with the industry, and beyond. No one else in Oregon has done anything like that.
And four, he was a great guy. He was, literally, the first person we met in the Oregon wine industry. Actually, in any wine industry. He was always friendly, curious, encouraging, mentoring (he probably wouldn't have used that word, though) and often visionary. He understood how important collaboration was to our industry. And, he was always ready to taste yet another wine.
I will personally miss knowing that I could always send an email with some arcane question about the industry in 1970s, and pretty quickly, Dick would get back to me.
Dick lived a long life and had a profound effect on many, in our industry and beyond. We've lost the third monumental figure in the founding of our industry. And, in many ways, the most successful.