Hit the Right Notes
Taste of wine influenced by wine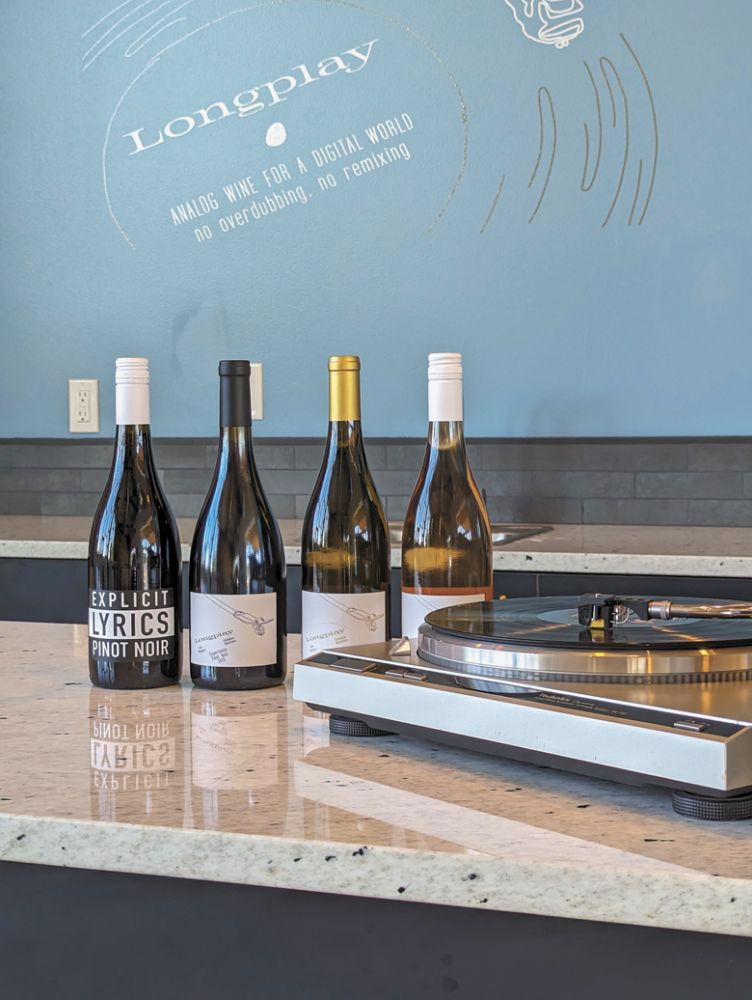 By Brooke Strickland
Consider how wine tasting feels completely sensory: the distinct bouquets, diverse flavors on the palate and the surrounding atmosphere result in a memorable tasting experience. The science behind wine– how it's created and cultivated into a unique product– is also important. Really innovative winemakers and marketing experts have recognized an additional layer: music.
"I think everything goes into our perceptions of taste. The overall feeling of the environment, including music, plays a huge role in that," said Kelsey Kuther, owner of Bar Fiori in Central Oregon. "If you're uncomfortable, wine may taste tight; if you're relaxed and calm, it will taste more open. I try to create a setting where you can let your guard down. An open mind is encouraged."
Todd Hansen, owner and winemaker of Newberg's Longplay Wines, also realizes how music impacts all our senses.
"Music and wine are a blend of art and science," he explained. "There are certain chords or notes that naturally complement each other, yet having a calibrated hint of dissonance in a piece of music adds intrigue and complexity. When crafting my wines, I seek to include an indication of unsettling conflict as well, because I don't want people to tire of my wines after the first glass."
Russ Hayworth of Coburg's Hayworth Estate Wines, recently collaborated with country music star Gary LeVox to unveil a new collection: LEVOX WINES. The result, which features Pinot Noir and Pinot Gris, encourages wine enthusiasts to fill their glasses with wine and soul with music.
Hayworth explains that because music and wine pair well together, it's important to choose the appropriate music. He aims to ensure everyone is comfortable and fully able to immerse themselves in the tasting experience– whether that be through live or background music.
"We like to think that different or powerful music has no impact on the taste of wine but it certainly can have an effect on the overall tasting experience," he said. "Normally, in the tasting room, we don't want our guests to feel overwhelmed by the outside influences of the music. We are very fortunate to be surrounded by a treasure of talented musicians. Whether a solo act or a multiple-piece band, we have plenty of choices. For a regular weekend, we choose musicians and bands that offer a wide array of styles and genres. Our clientele enjoys musicians that interact and play to them. It's also important that bands 'reads the venue and audience,' playing at a comfortable volume for folks engaged in conversation too. When we don't have live music, we play genres that deliver 'easy listening,' like jazz, instrumental and soft classic pop. For background ambiance, we want our visitors to hear it without 'hearing' it."
Further scientific studies are being conducted to prove how music affects the brain. California-based WineSmith winemaker Clark Smith has researched how music and wine connect and can enhance each other. In addition, Smith has conducted workshops focused on how lighting impacts perception. He discovered that, frequently, both music and wine mirror our emotions. When they match, everything improves. When they misalign or clash, the reaction can be negative.
Olga Tuttle, proprietor of Teutonic Wine Company supported this finding.
"In my opinion, I think to really appreciate wine and pick up on its subtle nuances, music is actually more of a distraction than enhancer," she said. "Music will add to the overall atmosphere of the mood, but too much music, if it's loud, will mute your senses. That's why I would rather drink beer at concerts."
And while wine tasting and music clearly conjoin, so does the art of winemaking.
Rachael Martin, owner and winemaker at Red Lily Vineyards in Jacksonville, said, "As a winemaker, when I create my blends or taste through my barrels, I turn off all music, allowing me to hyper-focus on the task at hand. For me, it can be a distraction when critically tasting the wines. However, when I am making wine, I play loud, lively music to create a high-energy environment. I even have a new wine coming out called 'The Song.' It makes perfect sense: the more powerful the music, the stronger the wine's taste. Music connects many sensory parts of the brain to create a flavor, feeling and sound."
Longplay Wines' Hansen agreed. "I don't make ringtone wines that have a catchy hook; I want to keep my customers coming back for more. No adult will name 'Mary Had a Little Lamb' as their favorite song. Why not? I strive to make complex, layered wines that take time to appreciate, but are worthy of repeat visits. When I hear a piece of music from my youth, I can be transported instantly to that time and place in my head; it's a special feeling. Flavors can have that effect as well. We can associate a great wine with a memorable event, and it can continue to remind us of that day each time we drink it."
In many ways, music is magic. When used properly, it captures the enchanted flavors of wines in the glass, creating robust and complex tasting experiences that leave lasting memories.