Fruits of his Labor
Moe Momtazi growing sought-after grapes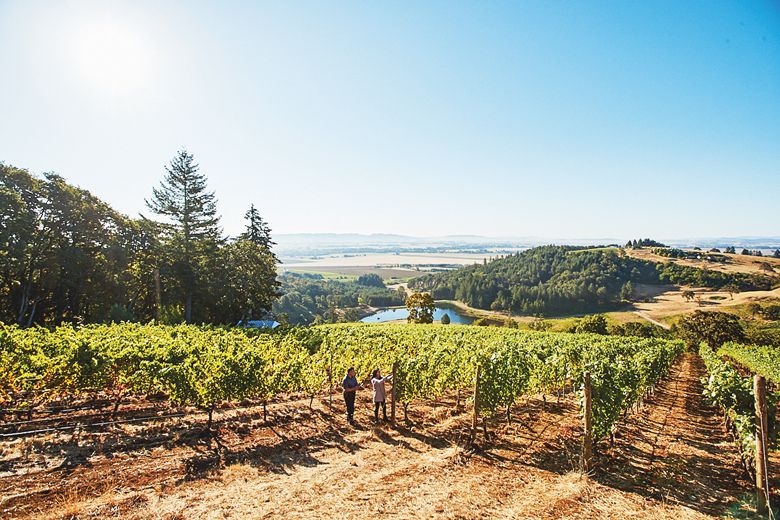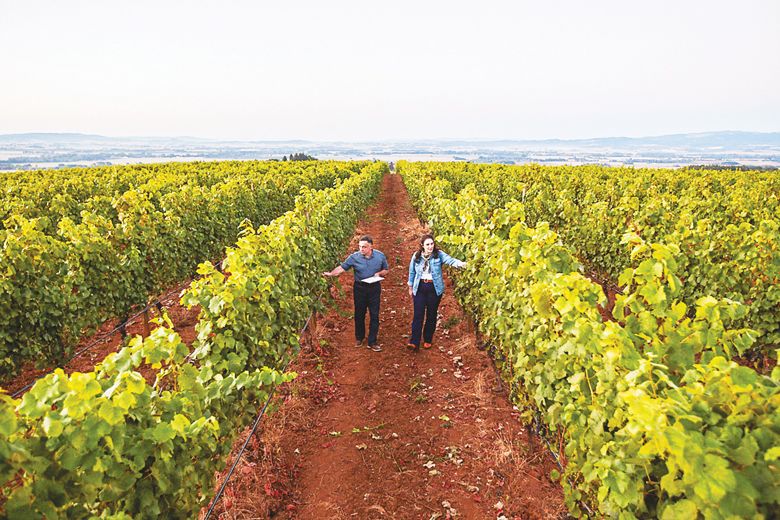 By Becky Garrison
In 1997, Moe Momtazi purchased a 532-acre abandoned wheat farm in what would eventually become the McMinnville American Viticultural Area, or AVA. Using the same holistic farming practices learned from his Persian grandfather, Momtazi transformed the property into Maysara Winery and Momtazi Vineyard.
He planted the initial 13 acres in 1998, and produced his first bottle in 2001, a Pinot Noir called Delara. Knowing the rules and regulations of organic farming didn't reflect his soul, he embraced biodynamic farming practices, achieving a Demeter biodynamic vineyard certification in 2005. The winery was certified two years later.
Currently, he maintains 260 acres of vines, the vast majority being Pinot Noir. The remaining 14 percent are planted with Pinot Gris, Pinot Blanc and Riesling. In addition to annually producing about 10,000 cases of wine, he sells Pinot Noir grapes to 21 other wineries.
Although some might question the efficiency of herbal teas, cow horns and other biodynamic principles, Momtazi's fellow winemakers will attest these farming methods produce wines that satisfy both planet and palate.
Corollary Wines (Dayton)
Corollary Wines focuses on producing traditional method sparkling wine from the Willamette Valley. They view site selection as the most critical factor in amazing wine and work exclusively with growers, like Momtazi, committed to farming sustainably. Corollary uses minimal intervention in the cellar to achieve the purest possible expression of each site.
The wine they produce with Momtazi grapes is a unique, carbonic Pinot Noir rosé made from a mixed-clone block they believe creates incredible texture and complexity. Fermented carbonically, the clusters are left whole for about ten days before pressing, allowing the juice to begin its fermentation within each intact berry. The wine explodes with juicy cranberry, tangerine, and savory herbs and pairs splendidly with rack of lamb or duck confit.
Day Wines (Dundee)
Day Wines produces natural wines in the Willamette Valley. Each year, they create 20,000 cases of 25 different wines, using fruit from 30 organic or biodynamically-farmed vineyards throughout the state.
They make a single vineyard, single varietal Pinot Noir from Momtazi's grapes, using three different blocks and clones to enhance the complexity. Day Wines describes the 2018 Momtazi Vineyard Pinot Noir, their current release, as "displaying hallmark Momtazi notes of black cherry and black raspberry, both on the nose and on the palate. It's a moody, broody teenager at present, which is no surprise given the vineyard's reputation for structure. The tannins are suave but sturdy, and the well-integrated acidity holds everything together seamlessly in an enchanting marriage of power and finesse."
Dobbes Family Estate (Dundee)
Located in the heart of Dundee, Dobbes Family Estate recently celebrated its twentieth anniversary. The winery crafts under 10,000 cases of wine annually with fruit sourced from the Willamette, Columbia, and Rogue Valley AVAs.
Pinot Noir grapes from Momtazi Vineyard go into either their Dobbes Family Estate single vineyard Momtazi bottling or a McMinnville cuvée. These grapes manifest dark fruit notes— a powerful example of Pinot Noir as age worthy, with big, structural tannins and bright acidity. Beyond the fruit qualities, the Dobbes winemaking team relishes working with such a dedicated grower and delightful human being.
Fullerton Wines (Portland)
Winemaker Alex Fullerton's mission is to explore various Oregon wine appellations while expressing in the bottle the distinct personality of each vineyard and vintage. He uses Momtazi's fruit in Fullerton Wines' Momtazi Vineyard designate wines and the Five FACES Pinot Noir. Fullerton finds this particular vineyard one of the most unique and instantly identifiable vineyards in the Willamette Valley. As he says, "Despite its fairly large size and diversity of soils, aspects, and elevations, there is a consistent through line and recognizable thumbprint in all of the wines produced from the vineyard. The piercing acidity, freshness of fruit, lifted herbaceous aromatics, and sheer intensity of flavor are unlike any other site in the Willamette Valley. This, coupled with Moe's impeccable farming, is why it is consistently one of the top wines in our cellar every year."
Domaine Nicolas-Jay (Newberg)
According to co-founder Jay Boberg, the Momtazi Vineyard is one of Nicolas-Jay's favorites, for its distinct, captivating and exotic fruit. "Nearing 25 years old, the vines are starting to really create wines of distinction," he observes.
Their block, at 740 feet elevation, lies adjacent to the unique Van Duzer gap in the Coast Range. This elevation, coupled with cool evenings and persistent ocean breezes, causes the fruit to ripen gradually, developing a striking combination of concentration, restraint, and earth-driven characteristics. Co-founder Jean-Nicolas Méo adds, "This is one of those vineyards where the biodynamic method is very impactful in terms of the final wine. It helps to slow the ripening in the vineyard, which results in a very elegant, distinctive wine."
St. Innocent Winery (Jefferson)
In 2006, founder and winemaker Mark Vlossak made the first Momtazi Vineyard designated Pinot Noir sold nationally. St. Innocent's 2013 Momtazi was awarded number one wine in Portland Monthly's 2016 "Top 50 Oregon Wines." During their 17-year working relationship, the men developed a bond of friendship. Vlossak describes their connection: "Moe's dedication to working biodynamically is exemplary. I appreciate his willingness to work in concert with me to increase the quality of the fruit. It creates the perfect partnership— producing a wine that reflects his unique site in every bottle."
Currently, St. Innocent Winery produces about 1,000 cases of wine from Momtazi's fruit. They pick their fruit from blocks at the highest elevations, exposed to long hours of sun and cold wind each evening. Vlossak notes his nickname for it is "umami" wine, an apt description for these textured wines radiating Far Eastern spices. The winery hosts food and wine pairings where, during the winter, cassoulet stars with their Momtazi Pinot Noir.