From Apples to ...
New world ciders pair with infinite foods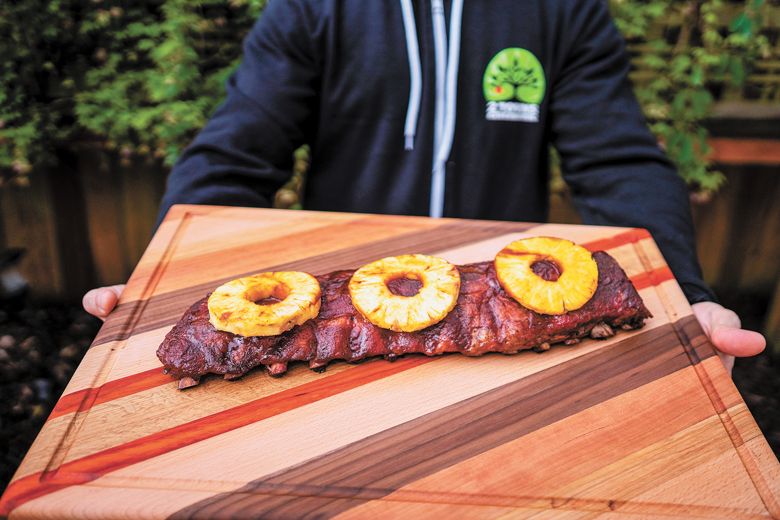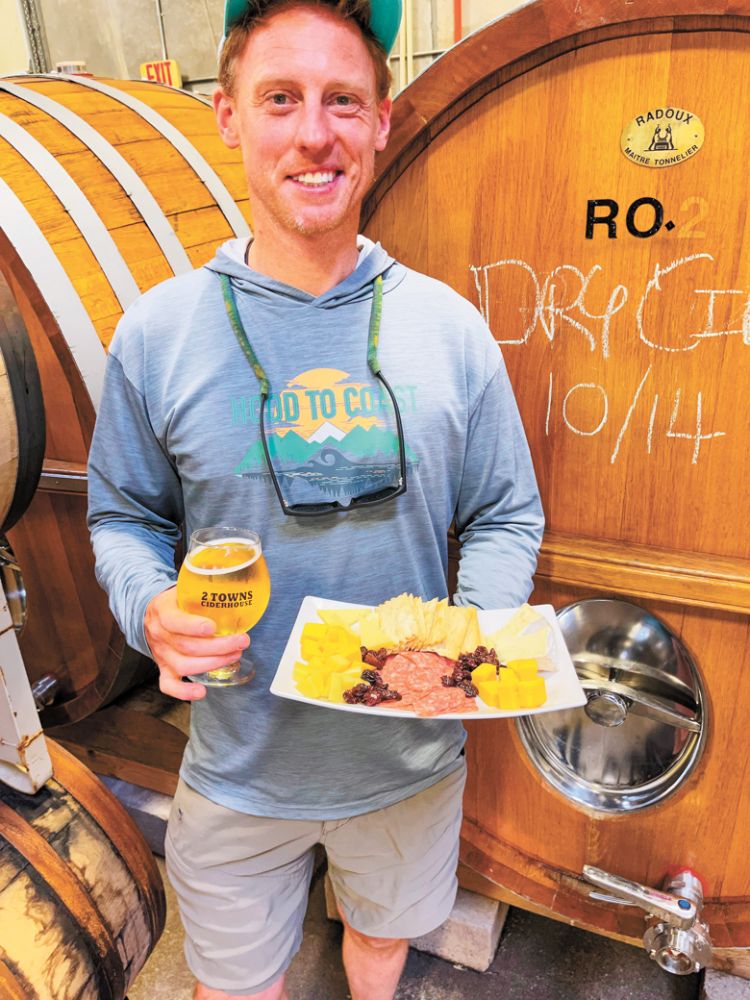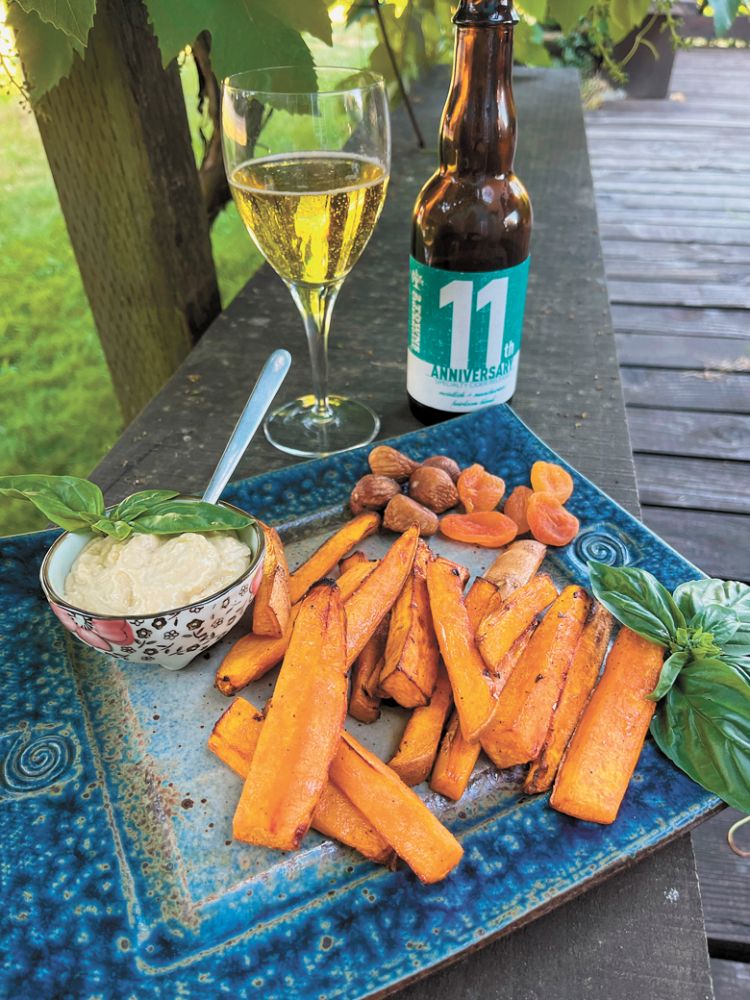 By Gail Oberst
Dave Takush, co-owner and head cider maker of Oregon's largest cidery, 2 Towns Ciderhouse, gets a dreamy look when recalling one of the best meals he ever ate accompanied by cider. He was in the English countryside in the summer. There was a farmhouse charcuterie board with a variety of local mustards, meats and sharp cheddar cheeses served with the funky-flavored traditional cider made with English bittersweet apples, bred for their tannins.
"I was in heaven," he recalls.
It's not surprising Takush would discover paradise in the countryside. A self-described foodie, he grew up on a small hobby farm near Corvallis to a family that traveled widely for work and pleasure. As a result, his love for rustic food and drink has an international flare. Ask him about food and cider and tuck in for a long homage. An OSU graduate in both fermentation and food sciences, he is a font of information about foods paired with ciders in the Old World's cider regions of England, Northern Spain, Normandy and Brittany.
Here's another excuse to justify a world cider tour: "Each region's traditions are reflected in their local fruit, fermentation, and food. As a result, ciders in those countries are best enjoyed where they are made, and paired with local foods," Takush suggested. Plus, Old World cider doesn't transport well to the U.S.
"It just doesn't stay fresh," he said.
Luckily, for those of us in the New World, area cider makers aren't restricted by traditional styles, only by the apples available. "Here, cider lovers can find European traditions reproduced, and sometimes well," Takush said, mentioning his favorite Basque-style cidery, Son of Man, in the Columbia Gorge.
New to cider?
Lesson one: Cider is not just one note. It is as varied as wine and beer.
"But don't be afraid," Takush said of pairing cider with foods. Despite the wide range of flavors, most New World ciders easily pair with simple foods – those eaten at a barbecue or snack board.
Among his favorite foods to pair with New World cider is sweet potato fries, with a touch of chipotle or aioli mayonnaise – a dish that graces Oregon grills in the summer, or your local pub. "The fat in the fries and the underlying kiss of sweetness in the sweet potato, contrasts beautifully with the clean, crisp flavor of a semi-sweet, slightly subtle apple flavors," Takush said.
High on his list of summer favorites is grilled pork loin, pork chops or barbecued pork made into pulled pork sandwiches.
"It's to die for," he said. Pairing cider with chops is like most apple and pork pairings… "they just go together. The fruity sweetness makes the smoky character pop in the barbecued meat or vegetable," he said. Similarly, skillet meals– baked chicken thighs with garlic, onions and carrots, fresh bread to mop up the juices and cider to wash it down– "It doesn't get any better than that. It's not fancy but rather as basic as it gets."
Although there are an infinite number of food pairings possible with New World ciders, Takush makes it simple … sort of. Generally, any foods you enjoy with Chardonnay will likely pair well with a cider, he said. Of course, Chardonnay lovers will argue that, due to the wide range of Chardonnays, this advice hardly simplifies matters. Never mind: Takush reverts to his love of rustic foods.
"Whatever you can put in your picnic basket or take on a hike, that's what you pair with cider," he said. "Don't worry about getting it wrong."
Gail's Sweet Potato Fries paired with 2 Towns 11th Anniversary Cider
This low-tannin sweet cider is made with Manchurian Crabapple and McIntosh apples, winning it a gold medal at the NW Cider Cup in June, and Best in Class accolades in May at the GLINT Cup, Great Lakes International Cider and Perry Festival.
INGREDIENTS/EQUIPTMENT
Air fryer, oven or barbecue
2 large sweet potatoes
Olive oil
Ponzu
Fresh Basil
Salt and pepper
DIRECTIONS
Cut sweet potatoes into carrot-stick- sized slices for air fryer or oven. Cut in larger wedges or round slices for BBQ.
Toss in bowl with just enough oil to coat (approx. ¼ cup), chopped fresh or dried basil, ponzu (or lemon juice and soy), dash salt and pepper.
Air fry or bake in oven at 400° F for 20 minutes (slightly less in air fryer) turning once after 10 minutes. To grill, put slices or wedges on top rack while grilling bottom rack meats, for additional smoky flavors!
Gail's suggested dessert pairing with 11th Anniversary: Pound cake with strawberry-rhubarb sauce and whipped cream.