Experience a Plus
Tasting rooms raise the bar on enhancing hospitality
When is a tasting room more than a room in which to stand around and taste wine? When a winery moves beyond the concept of a "tasting room" and creates an "experience" instead.
Ask wineries about their philosophy on tasting room experiences, and they all say hospitality is at the core. Ponzi Vineyards views its tasting room as its "home," treating guests accordingly. "DANCIN is an extension of our family room," says the owners of the Rogue Valley winery. And at Penner-Ash Cellars, its founders explain they've emphasized hospitality "since day one."
These wineries act like any good host. They make people feel relaxed by offering them a comfortable place to sit and something to sip, but it goes beyond the basics. They break bread, offer a number of options, and share their best wine, stories and more. Relationships are built, moments are shared — and remembered — and the experience is about more than just wine.
Here are a few of the many examples of excellent tasting room experiences across the state.
Note that some activities require payment and/or reservations. Visit winery websites for more information.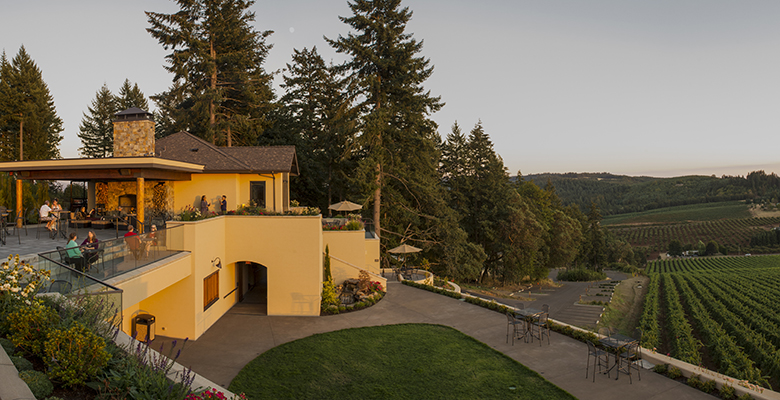 Willamette Valley Vineyards, Turner
Visitors to Willamette Valley Vineyards' estate tasting room will encounter beauty everywhere they turn and multiple seating options to relax and fully enjoy their surroundings.
Details of design, such as cozy fireplaces — inside and out — and repurposed wood floors made from pallets from the Port of Portland, add to the overall experience. Floor-to-ceiling windows afford views of the landscape, which are even better from the multi-level terrace.
With views and vinos come vittles and variations, too. Behind the Pairings Bar, the kitchen staff prepares dishes in front of guests to be served inside the Estate Tasting Room and on the terrace. The Daily Pairings menu includes items finished in the vine- and wood-fired oven — all dishes come with suggested wine pairings.
For those preferring an educational culinary experience, Winery Chef DJ MacIntyre executes the Pairings Wine & Food Experience every Friday and Saturday. The multi-course dinner accompanies mouthwatering creations with the winery's limited-production wines.
"The response and attendance to these weekly wine dinners has been remarkable," says Christine Collier, WVV's winery director.
Visitors also can take advantage of daily complimentary tours — includes tasting — to learn more about the winery, including the story of WVV and its founder, Jim Bernau. For an in-depth, behind-the-scenes look, a private tour, which includes tasting and cheese pairings, is available.
More information: www.wvv.com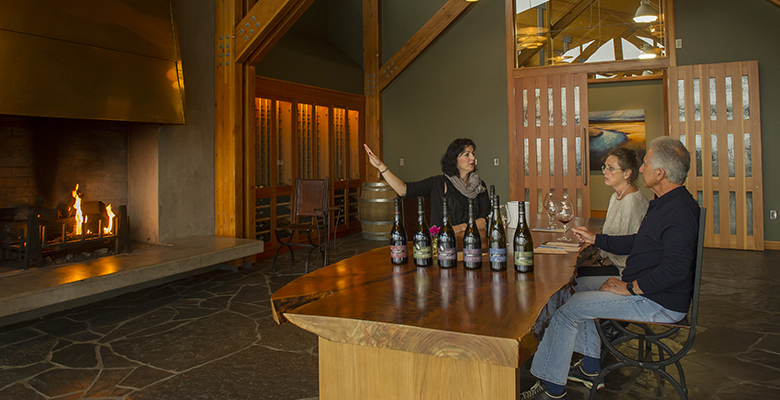 Penner-Ash Wine Cellars, Newberg
At Penner-Ash Wine Cellars, owners Ron and Lynn Penner-Ash enjoy sharing their stunning view of the Chehalem Valley with guests. In fact, they encourage visitors to take in the scenery by hosting tasting flights on the deck, with its charming Adirondack chairs and an impressive fireplace during cooler weather.
The land is further incorporated into the winery experience with guided hikes through the estate vineyard and gardens —fruit trees and vegetables — of which Lynn is especially proud. She recalls a winemaker's dinner with an unexpected number of vegetarians. "Thankfully, five steps away was a whole garden for creating a meal."
Food is a central part of the experience at Penner-Ash. Options range from a tasting and boxed lunch to the top-tier seven-course tasting menu by Chef Christopher Dahl, from the Art of Catering, paired with Penner-Ash Pas de Nom wines. Library tastings and winery tours are also available to interested guests.
Lynn explains, "Our belief is that a guest has gone out of their way to find us, drive the mile up the hill to visit, so we need to make sure they feel welcome and have a great experience."
More information: www.pennerash.com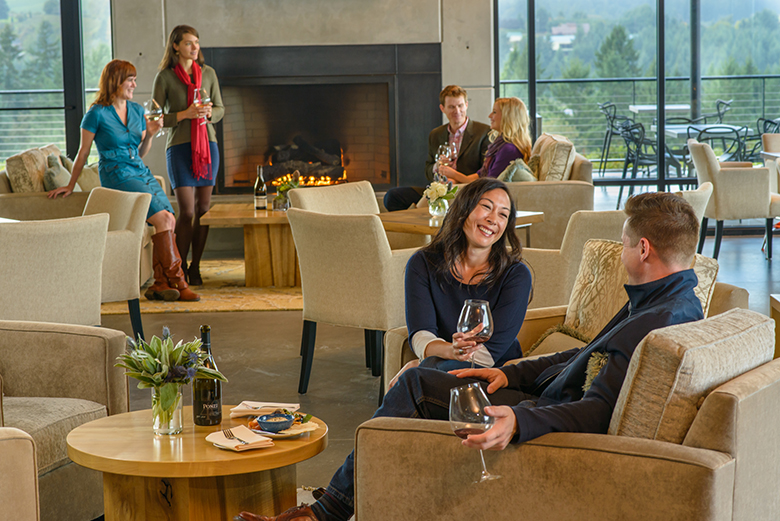 Ponzi Vineyards, Sherwood
Ponzi Vineyards combines location and history to enrich the tasting room experience for guests.
Having moved from the family's historic tasting room outside Beaverton to the state-of-the-art tasting room on the vineyard near Sherwood, the family commemorates the early days with archival displays tracing the humble beginnings of the Oregon wine industry, and Dick and Nancy Ponzi's vital place in it.
Ponzi's expertly designed estate tasting room — opened in spring of 2013 — showcases panoramic views of mountain ranges and vineyards while offering relaxed seating, fireplaces — indoors and out — and a covered, heated terrace ensuring comfort year round.
In fair weather, guests are encouraged to play bocce while sipping wine. And no matter the forecast, two winery tours are available daily: Ponzi's Progressive Tour and Tasting offers a peek at the impressive four-level, gravity-flow facility — the tour guide pours a current release at each stage of the tour — and the Vintner's Tour and Tasting elevates the experience with a seated tasting at its conclusion.
Small plates are available, and some seated tastings include pairings selected by Culinary Director Tom Ghinazzi, also a chef at the family's restaurant, The Dundee Bistro.
Ponzi Vineyards President Maria Ponzi explains the importance of hospitality in the tasting room. "It is where everything must come together for the guest to completely understand the Ponzi story, its wines, vineyards and the people behind it all."
More information: www.ponziwines.com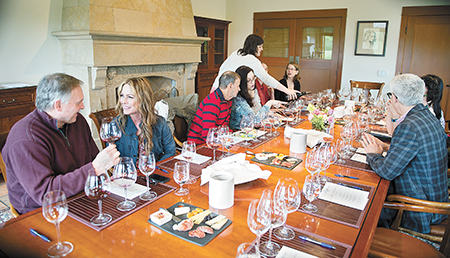 Adelsheim Vineyard, Newberg
Guests visiting Adelsheim Vineyard have the opportunity to sample small-production, single-vineyard and estate Pinot Noir offered only on site — in other words, you cannot find these wines outside the Newberg tasting room.
For those wanting a casual experience, guests can sample wines at the well-appointed bar with welcoming, knowledgeable tasting room staff.
But for the full experience, guests can choose private seated tastings hosted in one of three locations: the elegant dining room, barrel caves or alongside the chef's garden. Selections are tailored to wine interests, whether current releases, limited bottlings or library selections.
Visitors are also given the opportunity to learn about Adelsheim's vineyards, winemaking philosophy and, of course, its storied history, including founder David Adelsheim's contribution to today's industry.
For the hungry visitor, special food and wine pairing luncheons are available and presented with Adelsheim's most exclusive wines perfect with regional, seasonal cuisine.
More information: www.adelsheim.com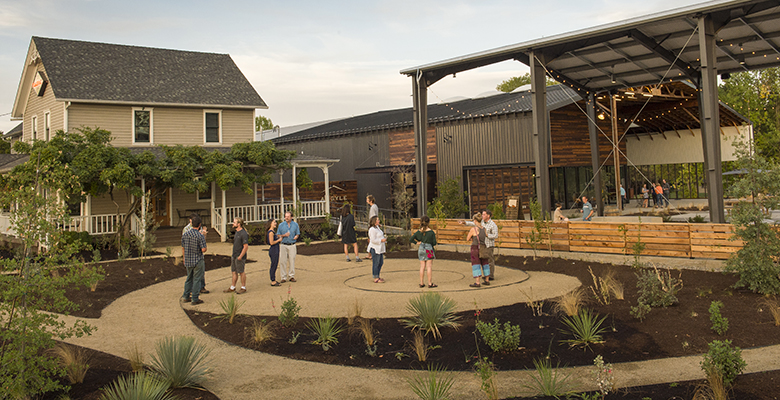 Argyle Winery, Dundee
Argyle Winery recently reinvented its tasting room experience. Directly behind the former tasting room, a Victorian farmhouse, the winery has opened a modern-looking version on the spot where the winery's former facility stood. The new space uses structural elements of the original winery, giving visitors a sense of place and Argyle's history.
Unlike the former tasting room, visitors now can choose to taste at the bar or outdoors under the large covered patio, near the native garden. Guided educational experiences are also available for groups.
Argyle's aim has always been crafting wine that captures place and wine that will age; the tasting house demonstrates the latter with a wine library showcasing more than 4,000 bottles from vintages dating back to Argyle's founding in 1987.
For those interested in the making of Champagne-style wine, the winery's main focus, the Tirage Room will display vintage sparkling wine still aging on the lees, an educational opportunity all lovers of bubbles will enjoy.
More information: www.argylewinery.com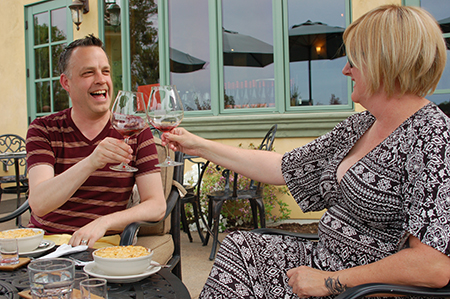 DANCIN Vineyards, Medford
Dan and Cindy Marca, owners of DANCIN Vineyards, make it easy for guests to relax.
Food is a major part of the tasting room's draw. Cindy, a talented chef, sources local ingredients for adult comfort food with various mac-n-cheese bowls and wood-fired artisan pizzas — that, of course, complement the wines. Patrons can choose from three tasting flights, which include culinary pairings.
DANCIN's food and wine can be enjoyed in any of four locations on the property, including the tasting room, the patio — filled with umbrellas and tables next to a koi pond — or the heated piazza, affording stunning views of the Rogue Valley and Medford city lights. Finally, visitors can choose a charming picnic area in the shade of a towering black walnut tree.
No matter the spot, they have created a memorable experience and a family-friendly atmosphere, too. Dan recalls making a friend of a bored young boy.
"His face lit up when he fed the koi," he said. "He still talks about it a year later and claims DANCIN is one of his favorite places to visit."
More information: www.dancinvineyards.com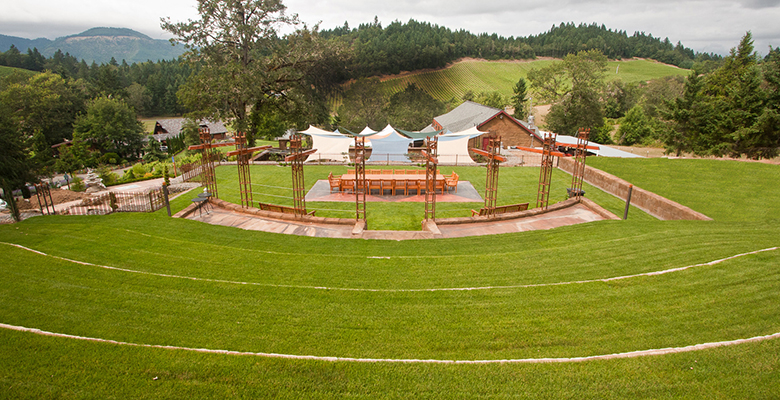 Reustle-Prayer Rock, Roseburg
The experience at Reustle-Prayer Rock Vineyards begins in the gardens, with a terraced amphitheater, paths bordered by grapevines and flowers in bloom, depending on the season.
Visitors are often greeted by co-owner Gloria Reustle, who founded the winery with husband Stephen in 2004. Surprisingly, there is no tasting bar on the ground floor; instead, guests are treated to tastings in the courtyard or underground cellar.
In fair weather, table-side service in the courtyard allows guests to enjoy the amazing Umpqua Valley views. Tasting underground in the elegantly adorned catacombs is like being transported to another world. Flights are accompanied by perfectly paired appetizers and a bit of wine education, an important part of the experience.
"People enjoy the wine more when they are empowered with knowledge," Stephen said. "We see guests' faces light up when we provide a little information they can apply to their tastings."
More information: www.reustlevineyards.com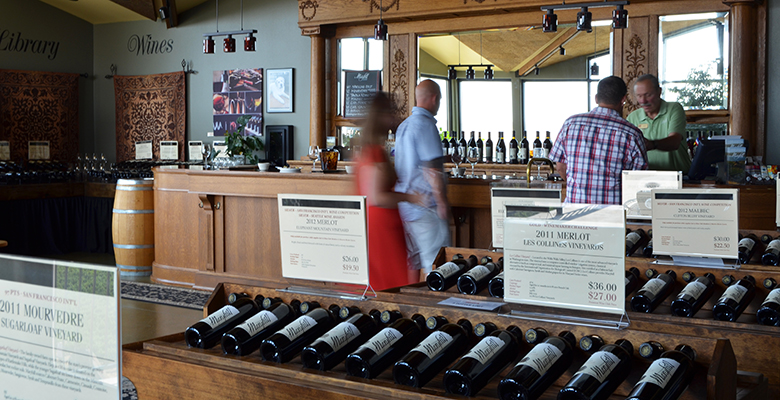 Maryhill Winery, Goldendale, WA
Maryhill Winery, truly a destination winery, takes full advantage of its beautiful Columbia Gorge surroundings overlooking the Big River.
Stepping through the doors, guests are immediately greeted by Mount Hood, framed in the west windows, and beckoning from the right is the tasting bar, a 20-foot long Brunswick dating to the early 1900s and made of tiger oak.
Tasting also takes place in the Reserve Room, where customers can sample library, award-winning, small-lot and limited-production wines while enjoying a private patio with views of the Gorge.
The popular gift shop offers fashion, art prints, books, cards and other souvenirs. Outside, families play bocce and stroll the dog-friendly, scenic grounds.
Visitors are invited to bring picnics to enjoy in the tasting room or on the expansive vine-covered terrace — artisan meats, cheeses and snacks are also available for purchase.
For music lovers, a combination of live music on the terrace and larger format concerts in the 4,000-seat amphitheater are scheduled seasonally. Complimentary tours are offered every Saturday and Sunday, and special tasting opportunities can be scheduled that include tours and customized flights.
More information: www.maryhillwinery.com
Jade Helm is the primary author of Tasting Pour, a blog about wine, cocktails and food. Her expertise is evidenced by credentials from the Society of Wine Educators (Certified Specialist in Wine) and the Wine and Spirits Education Trust (Diploma in Wine and Spirits) and from the Court of Master Sommeliers (Certified Sommelier).