Expand and Release
WVV adds sites and wines to growing portfolio
By OWP Staff
Establishing what Willamette Valley Vineyards (WVV) is calling "Oregon Estate Vineyards," the Turner winery is building an impressive portfolio of small estate wineries located on some of Oregon's most intriguing vineyard sites, including Elton Vineyard, located outside Salem.
Dick and Betty O'Brien, longtime Oregon growers and owners of Elton, are realizing a lifelong dream, as noted winemaker Isabelle Meunier has agreed to produce small lots of Pinot Noir and Chardonnay under WVV's new Elton label — production will take place at the Carlton Winemakers Studio until the Elton winery opens in a few years.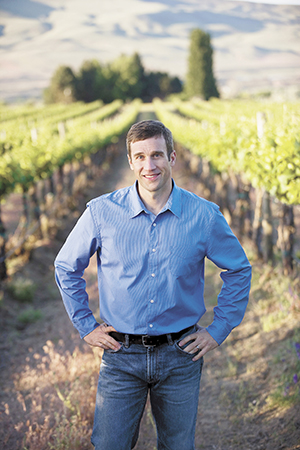 Christine Collier, WVV winery director and co-founder of the company's Oregon Estate Vineyards project, has organized the winemaking effort and is currently supervising additional planting and the establishment of the Elton facility.
"It is wonderful to see what these bright young winemakers are doing with the vineyard Dick and Betty planted so many years ago," says Jim Bernau, WVV founder. "It gives me great pleasure to assist them in achieving their dreams."
Bernau's long-standing friendship with the O'Briens has resulted in passing the management of their vineyard to Bernau upon retirement. The site of the future Elton winery lies on the very spot Betty O'Brien stood with her mother and Bernau in 1978 discussing its ideal location.
"While the Elton Vineyard name has been listed on a number of Oregon's highest rated wines, this will be the first time Elton will take center stage on a label," says Meunier.
After leaving Evening Land Vineyards, Meunier began sourcing fruit from Elton for her own label, Lavinea Wines.
"This singular place, on the east slope of the Eola Hills, has some of the most mature self-rooted Pommard vines in the valley, and I am confident that these wines will provide fruit for distinguished wines for many, many vintages to come," adds Meunier.
WVV has also purchased 42 acres in the Walla Walla Valley in the SeVein Vineyard Development, also a part of the Oregon Estate Vineyards project.
The high-elevation site — purchase price for the property was $736,250 — will be planted to Cabernet Sauvignon, and WVV soon will build a facility and appointment-only tasting room.
"The Walla Walla Valley and its winegrowers have distinguished themselves; these producers have made some of world's highest rated Bordeaux varieties — most recently receiving the top Decanter World Wine Award for the 2011 Ferguson Vineyard from L'Ecole," Bernau explains. "SeVein is one of the most unique, high quality vineyard developments in North America."
The vineyard and estate brand will be named after Pierre Pambrun, Walla Walla's first citizen who led the area's Hudson's Bay trading post and ancestor to Bernau.
SeVein is a collection of some of the most technologically advanced vineyard properties in the Walla Walla Valley. Situated on the southern border of the Walla Walla Valley AVA in Oregon, SeVein's cornerstone property, Seven Hills Vineyard, is one of the oldest and most prestigious vineyards in the Pacific Northwest.
"We are excited to work alongside some of Washington's most visionary wine leaders," says Collier.
The managing partners of SeVein include Norm McKibben of Pepper Bridge Winery, Marty Clubb of L'Ecole No. 41, Gary and Chris Figgins of Leonetti Cellars and Figgins Family Estates, and Bob Rupar of Nelson Irrigation Company. Each owns individual properties in SeVein as well as combined ownership of Seven Hills Vineyard. Their partnership forms the core of SeVein's vision to create a cluster of world-class vineyards.
The managing partners have established two companies: North Slope Management and SeVein Water Association. Both support each property owner's development. Pambrun Vineyard has been contracted by North Slope and will be managed by Sadie Drury. Planting will start in 2016.
Starting with the 2015 vintage, small lots of Cabernet Sauvignon, Merlot and Cabernet Franc will be made for the Pambrun brand from contracts with Seven Hills Vineyard and Summit View Vineyard, both part of SeVein. The wine will be made locally at a custom-crush facility by Jon Meuret of Maison Bleue Winery, the official consulting winemaker.
Meuret graduated from the University of Kansas with a bachelor's of science in biology and chemistry as well as a doctorate of dental surgery from the University of Iowa. While practicing in the Kansas City area, he helped establish a vineyard and winery dedicated to the growing and production of vinifera varieties. It was during this time that Meuret decided to make the transition from dentist to full-time vigneron.
After completing numerous viticulture and enology courses through U.C. Davis and Washington State University, he and his wife, Amy, made the move west. Maison Bleue was founded in 2007 and is located in Walla Walla, Washington.