Drink Beyond the Vine
Oregon's new Wine Country Whiskey Trail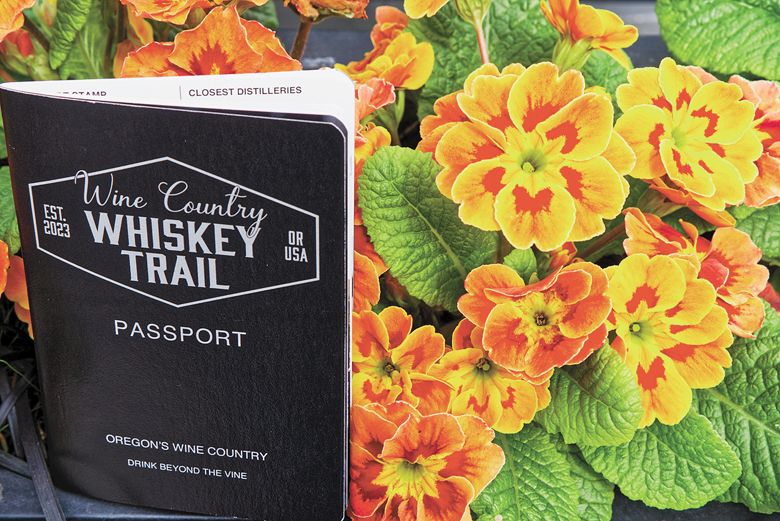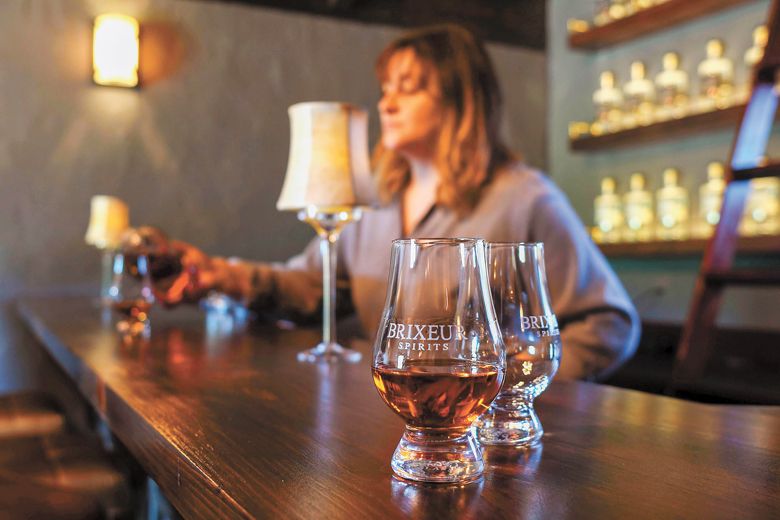 By Michele Francisco
While traversing idyllic rolling hills lined with neat rows of grapevines, whiskey is likely far from the first subject popping into your head. A small group of independent Willamette Valley craft distillers are working to change that. You might be surprised to learn handcrafted whiskey is as nuanced and unique as the distilleries producing them.
Earlier this spring, Oregon's Wine Country Whiskey Trail debuted. Clustered among the towns of Newberg, Dundee, Carlton and Dayton, six distilleries form the new route, complete with a passport to record your visits. Each produces distinctive whiskey, along with other types of spirits.
BFFs
"Bull Run has always had a connection with the Oregon wine industry," explains Lee Medoff, founder and head distiller at Bull Run Distillery. "Beginning with all our winemaker friends that enjoy whiskey, our very first barrel aging project used Chinato Vermouth barrels from Patrick Taylor at Cana's Feast. That was the start of our entire barrel finishing program. Our Oregon Pinot Noir Cask Finished whiskey quickly became a success and we have since worked with over two dozen local wineries to source barrels," continues Medoff.
Wondering how the trail idea began, I asked Mitch Graham, brand manager at Branch Point Distillery, to add more details. "The Wine Country Whiskey Trail started with a desire to showcase Oregon whiskeys. The Willamette Valley is known for wine, but what a lot of people don't yet realize is we have a growing craft distilling industry," says Graham.
The allure of oak
Aging alcohol in barrels has been a practice used since before the fall of the Roman Empire. Barrel-aging spirits likely started first with brandy during the 11th or 12th century. Similar to wine, unique characteristics begin to develop as whiskey rests in oak barrels. Couple that with barrels previously used to produce wine and, suddenly, things progress to a new level.
Graham says, "Being in Oregon's wine country, we have access to some amazing barrels for finishing. From Pinot Noir to Chardonnay to Riesling and Port-style barrels. As craft distilleries, we enjoy using what's around us and creating something unique for customers to taste and enjoy. From the trail distilleries, you can expect to find experimentation barrels being released."
"When we were looking to open a second tasting room location, it made sense to open in wine country, near our friends and sources for barrels," says Medoff. "Carlton proved to be an ideal location on a busy tourist route, adjacent to many wine tasting rooms. Local support has been keen and consistent from the start. We believe our wine barrel finished whiskeys are a surprising complement to anyone looking for something different, yet connected, to the local wineries," he continued.
Different beasts
Having made both wine and spirits, James Frey, Trisaetum's winemaker and proprietor of Brixeur Spirits, has an interesting perspective on how production differs. "When distilling spirits, you have more control during every step of the process and extra ingredients with which to play. And we can distill at any time we want. In winemaking, it's just grapes and harvest only happens once a year, so there's more pressure to get it right." Frey says, "Adding a spirits business has certainly given us a new set of challenges, but it's a blast."
Something special
"People following the trail can taste whiskeys not found on a store shelf and enjoy experiences you only get visiting a distillery in-person," says Graham. Tatum Frey, co-lead distiller at Brixeur Spirits, elaborates on this viewpoint. "Not only does the trail include great whiskeys but fantastic people as well. You will be amazed at the craft whiskeys being created in the heart of wine country. The added benefit is getting to meet the people who work hard to make it all possible." Tatum continues, "Each stop on the trail has great spirits to offer and people who enjoy explaining their approach to the craft…so bring your questions, along with a sense of curiosity."
Although the Wine Country Whiskey Trail is still comparatively young, feedback has been positive. Graham shares, "I have heard from those making their way through the passport how excited they are to have something in addition to all the winery options. We provide alternatives for anyone who doesn't enjoy wine, those that want to finish with a high-quality spirit or just want to be adventurous. We encourage everyone to "drink beyond the vine."
Looking ahead
The trail's initial success convinced Medoff to launch a whiskey club, the Bull Run Whiskey Society. Tatum is looking forward to bringing Brixeur Spirits to farmers markets in both McMinnville and West Linn during select weeks in August. Looking to the fall, Graham says, "We are hosting an event in November showcasing all six distilleries, matched with six local breweries. Our group has high hopes for what the trail can achieve for all involved and how it can draw more people to the area."
Trail visitors can expect innovative offerings from each distillery. Explains Graham, "We are constantly pushing boundaries and pioneering for future generations. That is reflected in our unique whiskeys. Every distillery takes a very different approach and style to their whiskeys that just can't be replicated anywhere else in the country." He continues, "With access to some of the world's best wine and beer barrels within 40 miles, to high-quality Oregon grain grown right around us, each distillery uses and focuses on different aspects of what makes whiskey great to enjoy."
Kinship
"A rising tide lifts all boats" is an aphorism commonly repeated within Oregon's wine industry. It might need to be extended to include spirits' producers, as well. Jackson Harloff, co-lead distiller at Brixeur Spirits, says, "Much like we find in the wine community of the Willamette Valley, the collaboration and connectedness of those making spirits is impressive. There's definitely a feeling of comradery and genuine friendship among this group. I think those that taste at all six distilleries on the trail will walk away with an understanding that, while we all have our unique twist on whiskey, we really respect each other's work."
The Wine Country Whiskey Trail currently comprises these distilleries: Branch Point Distillery, Brixeur Spirits (at Trisaetum Winery), Bull Run Distillery, Ewing Young Distillery, Killdeer Distilling and Ranson Spirits. To learn more, visit www.winecountrywhiskeytrail.com.