Divine Knowledge
Vineyard stewards benefit from learning why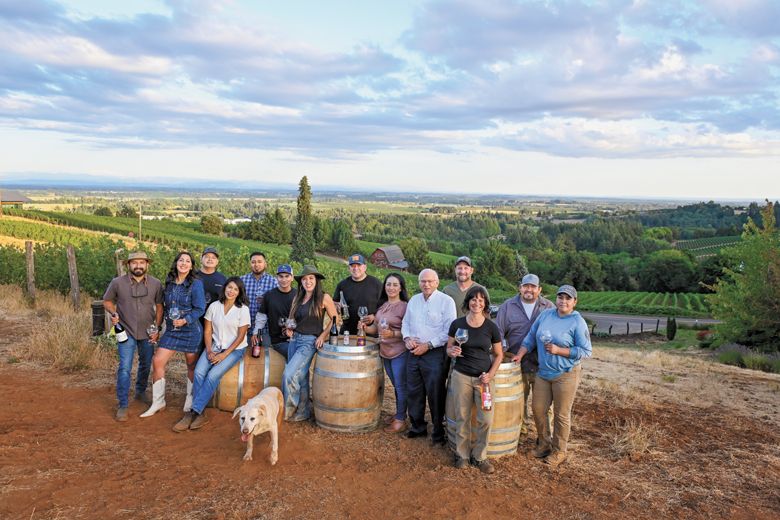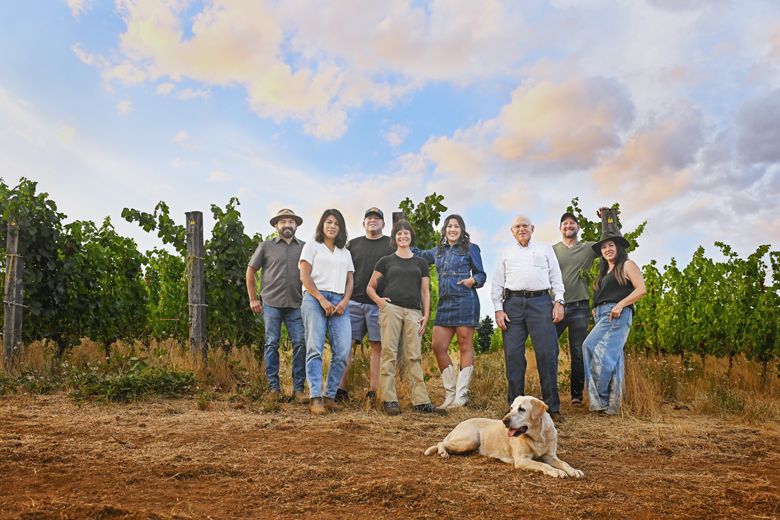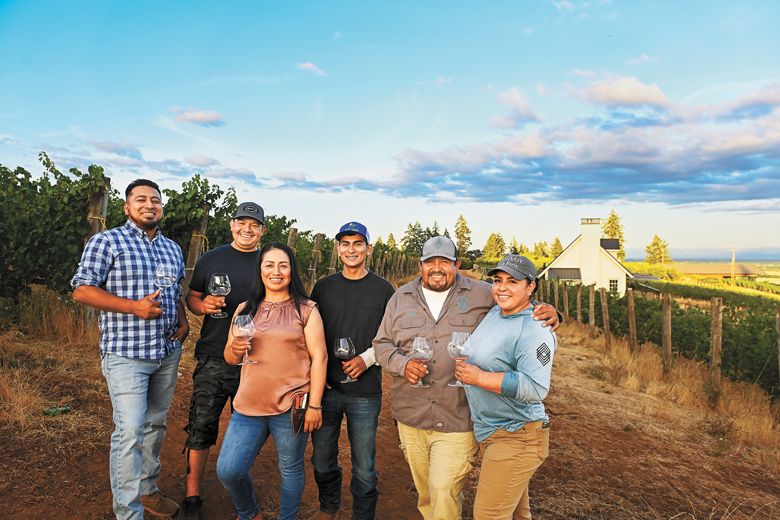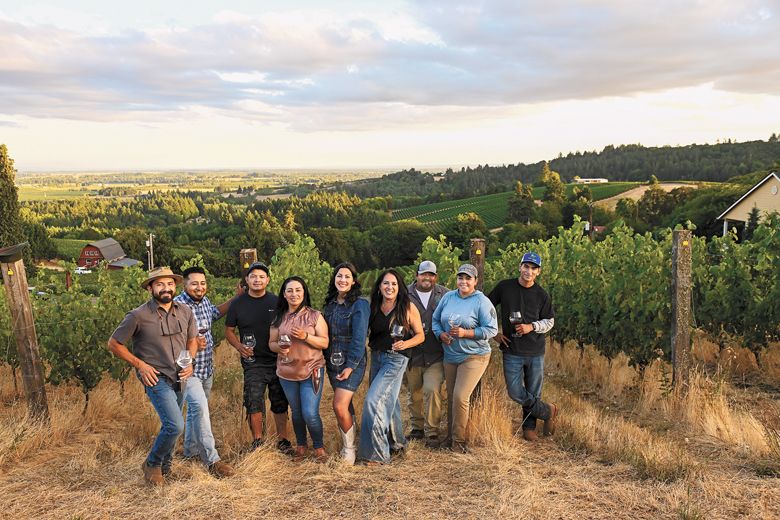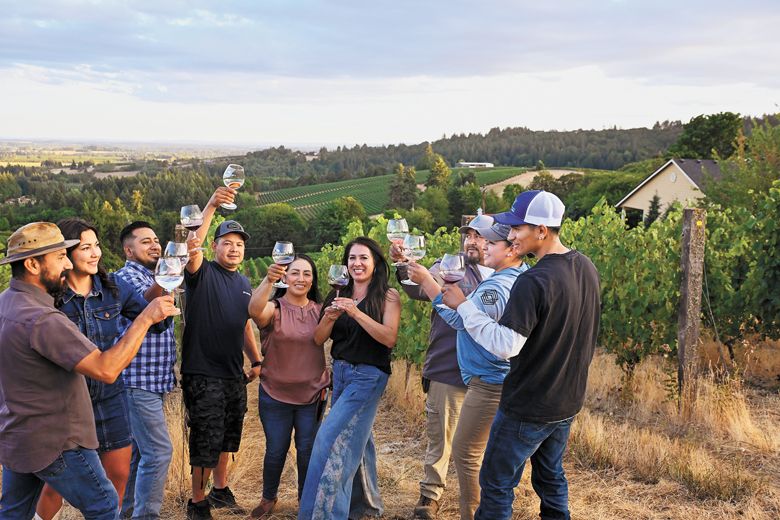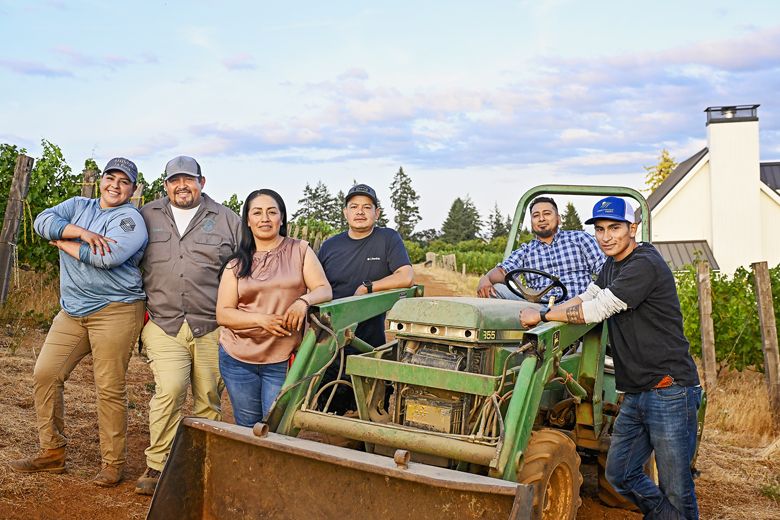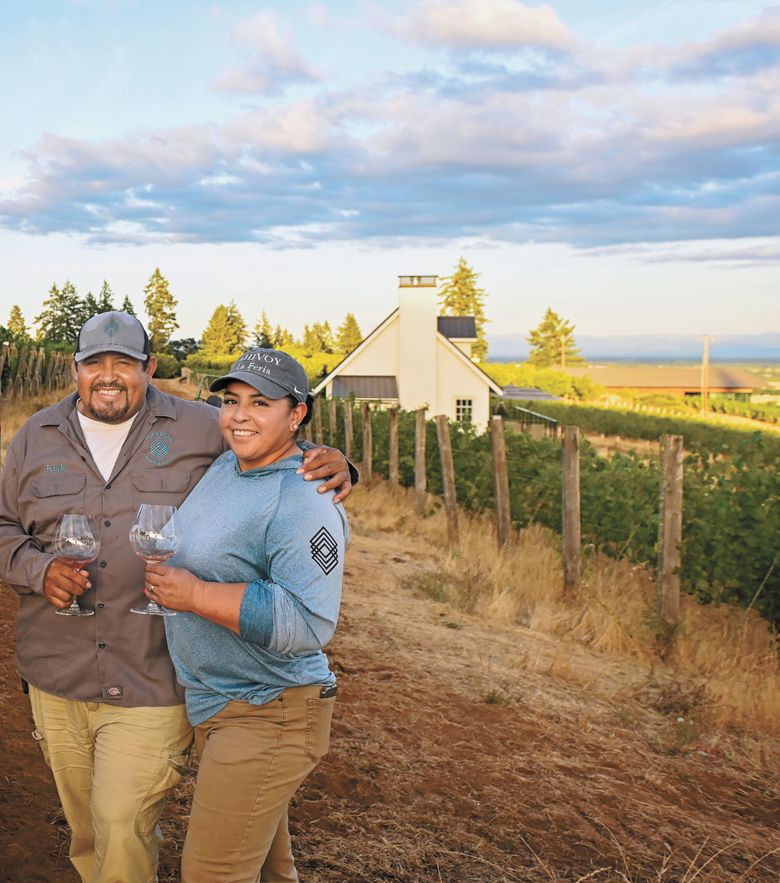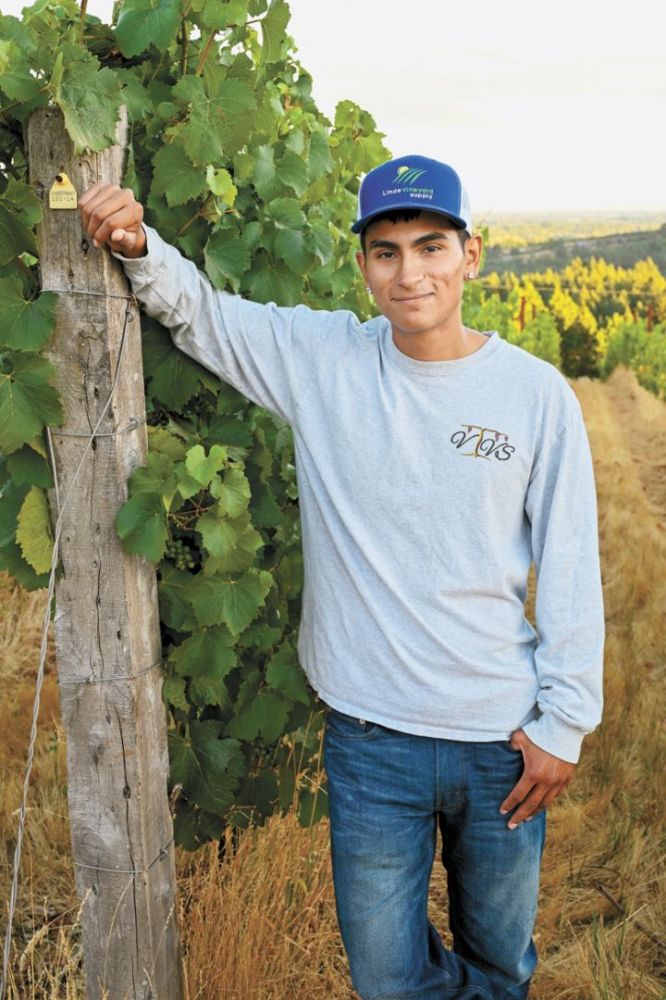 Story by GREG NORTON
Photo by CAROLYN WElLS-KRAMER
Sofía Torres McKay vividly recalls the moment well. She was making wine in the garage with next-door neighbor Dick Erath. Torres McKay mentioned the concept of Asociación Hispana de la Industria del Vino en Oregon y Comunidad - Hispanic Association of the Wine Industry in Oregon and Community, now commonly referred to as AHIVOY. She described the enthusiastic response from her mentor (and wine pioneer) to an education program for vineyard stewards. "He was so excited– his eyes were wide open!"
That conversation eventually led the Erath Family Foundation to contribute funds for the initial AHIVOY cohort in 2020.
Winderlea Vineyard and Winery, Foley Family Wines and Soter Vineyards are among other generous industry supporters. In total, over 40 vineyard stewards have participated in the 16-week curriculum. The program imparts a deeper knowledge of their work in the vineyards along with an introduction to winemaking, wine appreciation and business aspects of the industry.
As the fifth cohort forms this fall, let's celebrate the program's accomplishments and look toward the future.
BEING REAL ABOUT THE SITUATION
"It started as a meeting of the minds," said Miguel Lopez, owner of Red Dirt Vineyard Management and one of the three AHIVOY co-founders. "It was me, Sofía and [the late] Jesús [Guillén] meeting up at Red Hills Market for coffee… being real about the situation within our industry at that time. Too few of us bilingual people understood the winemaking process… from the vineyard all the way through bottling and into sales/distribution."
Speaking at a BIPOC (Black, Indigenous, People of Color) Symposium held at Linfield University in McMinnville earlier this year, Torres McKay explained the founders' motivation: "The only way that communities can advance is through education. By giving [them] an opportunity to grow… educating themselves and going to school or learning from other leaders and people in the community. That's the only way we can improve."
When starting Cramoisi Vineyard 17 years ago, Torres McKay remembers connecting with vineyard stewards maintaining her property. To her astonishment, many couldn't answer her questions about why they were doing things a specific way. Lopez observes that the vineyard stewards "know how to do the work because we tell them. But they don't know the 'whys.' And it's important that they learn… 'Here's why we're asking someone to do this particular job, at this time of year, for these reasons.'"
A truism among wine lovers is how great wine begins in the vineyard. It makes sense that teaching Oregon's vineyard stewards– the people closest to the vines– will positively affect the region's wine quality. Individuals gain knowledge and a community of colleagues while attending AHIVOY. Winegrowers and managers credit the program with raising the quality of work in the vineyards, leading to a better final product.
AWARENESS BEYOND THE VINEYARD
Jesse Lange, grower and winemaker at Lange Vineyards, has sent a staff member to the first four AHIVOY cohorts. Growing up in his family's vineyards, he worked "shoulder to shoulder" with Latino workers, but grew frustrated seeing them unrepresented in other parts of the industry. He says his vineyard stewards' continuing education has strengthened his team. "Everybody better understands where he's coming from," he said. This has led to a greater partnership and value of each one's input into decisions that affect crop quality. "Having a collaboration, I think, is the best way to succeed with most of the specific decisions," he said. "I think it's 'the only way to fly' for having the kind of attention to detail that we really need and want," he added. "There's no substitute for paying attention. There just isn't."
For Results Partners, the Pacific Northwest's largest vineyard management company, the program has been a resource in developing new leadership for the company. Five of their eight vineyard managers have completed the AHIVOY program, said Leigh Bartholomew, Results Partners' director of viticulture. These five have "risen up through the ranks" by showing an interest in plant science and a desire to attain higher positions within the company. "They've been able to do that, one: by being very eager, and two: by investing time and energy into education," she said. "I felt proud of that when looking at the list of program participants." Bartholomew values the organization's role in "closing the loop" between the vineyard, the winery, sales and wine tasting so they understand every vineyard decision affects the quality of the wine in the glass. "It's not anymore just: hey, we're pulling leaves, because somebody told me that's what we're supposed to do right now. Instead, we're pulling leaves because it's going to improve the wine."
Erica Miller, vineyard manager at Argyle Winery in Newberg, counts two AHIVOY graduates among her permanent staff of 18. "There are certain people… [who] have passion for the vines. And they want to take that extra step to learn– not just do work in the vineyard, but understand why we're doing it," she said. Miller is fostering a work environment where observations and suggestions are welcome and heard. The knowledge and skills acquired give her team "more tools on their tool belt." She feels these are assets to Argyle's vineyard program and the ongoing effort to produce fine wine. "I would love for every one of my employees to go through this program… that is the goal."
GOING THE DISTANCE
If miles driven to participate were a measure of commitment to the AHIVOY program, the prize would go to Elizabeth Sánchez and Fermín Valdovinos. Each week, the couple traveled over 500 miles round trip from their Medford home to McMinnville attending the 2023 AHIVOY classes.
Natives of the Mexican state of Guerrero, where they met, the couple have always farmed grapes. Their journey together included a stop in California before settling in Southern Oregon. After arriving 19 years ago, Sánchez and Valdovinos tended vines at several properties. About a year ago, they joined Four Diamonds Vineyard in the Applegate Valley where their supervisor, Lily Hedges, encouraged them to join this year's cohort.
For Sánchez, 41, and Valdovinos, 43, the classes provided a better understanding of what they have done for much of their lives. "I wanted to learn more about the vineyard," said Valdovinos. The couple was impressed by the differences their work makes in the health and longevity of the vines and, in turn, the quality of the wine. Echoing the observations of the program's founders, Sánchez recalled her experience at a previous employer. "They showed us only the basics," she said. "Other times, we were just working," said Valdovinos. "Nobody told us how to do it the right way. We learned a lot at AHIVOY."
That education has extended to the family dinner table as they discover new styles of wine. Their studies taught them how soils, climate and fruit ripeness affect the finished wine. "Before we used to drink sweet wine," said Sánchez. "Now, we drink all kinds."
AN ACTIVE MIND
Ivan George remembers preferring outdoor activities while growing up. A native of McMinnville, the self-described "very active kid" took his first steps into vineyard work during a high school summer break, when he tagged along with his cousins. While they later decided the work was not for them, George found himself drawn to it. "I just kind of found it fascinating," he said. "I like being outside, I like being in the warmth… and then I got a check every once in a while."
That very busy kid grew into a man with a very active mind. After considering several academic directions, George settled on a biology degree at Linfield University. Despite being limited to a single major, George's interests remained wide-ranging, especially in the STEM (Science, Technology, Engineering and Mathematics) subject areas. He still enjoyed vineyard stewardship and it supplied much-needed funds for college as he worked weekends and summer internships. His first summer job, with Results Partners, led to two more at A to Z Wineworks.
Since graduating, George, now 25, is assistant vineyard manager at Vitis Terra Vineyard Services, which manages 800 acres in Oregon. His role is focused on labor coordination but extends into many other aspects of vineyard stewardship.
As a member of AHIVOY's second cohort, held soon after his college graduation, George remembers sometimes feeling out of place as one who was comfortable being in the classroom and studying in English. Yet soon his background became an asset to his colleagues, even as their work experience positively influenced him. "They knew the answers," George said, "because, you know, they did this much longer than me."
He frequently appears with the organization's leadership in public presentations to increase awareness of the program.
EAGER TO LEARN MORE
The journey to the vineyards of Oregon led through the kitchens of fine dining restaurants for Adrian Mendoza, 34.
His parents worked in the agriculture industry after migrating from Mexico. The Fresno native remembers a childhood of being brought along as they traveled to harvest strawberries and cucumbers at farms in central California and Oregon. But his parents left the industry behind and found employment in childhood development and manufacturing. "They didn't want me to get involved in the agriculture industry," he said.
After graduating from high school, Mendoza attended Le Cordon Bleu College of Culinary Arts in Portland. That training led him to Lake Tahoe, where he worked in a fine dining restaurant at one of the area's casinos. There he met celebrity chefs, helped prepare wine dinners featuring Napa Valley wines and was exposed to a part of the wine culture he hadn't known existed.
But the Great Recession affected seasonal economies like Lake Tahoe especially hard. His work was suddenly one week on, one week off. During his downtime, he would return to Oregon in search of work. But the restaurants here weren't hiring either. "Everybody was struggling, especially the food industry," he said.
Mendoza was eventually hired by his uncle, a labor contractor, to help with seasonal vineyard work. He returned to Oregon and embraced his full-time commitment; first as a crew member, and, later as a supervisor. He saw the move as a chance to become familiar with a new industry, learn all aspects of farming and gain experience in a range of operations large and small.
While working for NW Wine Company, Mendoza saw an announcement about AHIVOY on Facebook. His supervisor encouraged him to attend, although the program then was new and unknown. "Give it a try… come back and let me know if it's something that we want to continue," Mendoza remembers the advice. While he felt he already knew much about vineyard operations, he was eager to learn more. Mendoza was a member of the first graduating class in 2020.
CULTIVATING COMMUNITY
While the sharing of knowledge remains crucial, a real value of the AHIVOY experience is building a supportive community among the vineyard stewards. Graduates spoke of feeling more confident because they can reach out to classmates for vineyard advice or help with repairs. "It was something that I had no idea was going to happen," said Miller. "But it's been such a blessing because– every one of them–have these allies and people they can consult." Lange described it as a second-order effect: "The program has, I think, facilitated more of that interconnectivity within the industry, which I think benefits everybody.
Approaching the challenges and problem-solving with more communication is a major plus."
Bryan Berenguer is faculty and program chair for the vineyard management program at Chemeketa Community College. Along with Linfield University, Chemeketa provides most of the instructors and meeting space for AHIVOY. Berenguer has organized continuing education events for those who have completed the initial 16-week curriculum. These intensives have focused on pruning techniques, pest identification, sprayer calibration and crop estimation. In addition to going deeper on single topics, they are opportunities for vineyard stewards to strengthen ties as they spend time together. Berenguer, who previously worked in international agricultural development, observed, "In anything– especially in farming– if you're an island, you're gonna starve. You need to have your community with you."
A BRIGHT FUTURE
As a fifth cohort of vineyard stewards convenes after this year's harvest, the future appears bright for AHIVOY. Earlier this year, Business Oregon awarded the organization a Workforce Development grant of over $195,000, one of only five projects funded in this category. AHIVOY demonstrated "a meaningful track record of delivering programs or resources to target populations," according to Business Oregon's website. Hopefully, other supporters will continue to contribute much-needed funding.
"I don't think there are many places in the world that are putting this much care and attention into the education and development of the people working hard in the vineyards every day," said Leigh Bartholomew of Results Partners. "I am grateful that it exists and we get to participate in it."
AHIVOY Online Auction October 26-28
Join AHIVOY in this noble cause by participating in their annual Online Auction for Education. Your generous donations and support will directly benefit hardworking stewards. The program provides training, knowledge and tools needed to become experts in the production of high quality grapes and wine of Oregon, all while creating a brighter future for themselves and their families.
Every donation, big or small, makes a significant impact. The organization also welcomes unique items, experiences, exquisite wine or great services. Your donation could be the key to unlocking someone's potential and igniting their passion for the world of wine.
Your generosity matters – thank you for being a part of this incredible journey with AHIVOY.
To donate, visit: www.ahivoyoregon.org or send a message to ahivoyoregon@gmail.com.