Deeply Rooted
Cliff Creek Cellars' family legacy firmly established in Oregon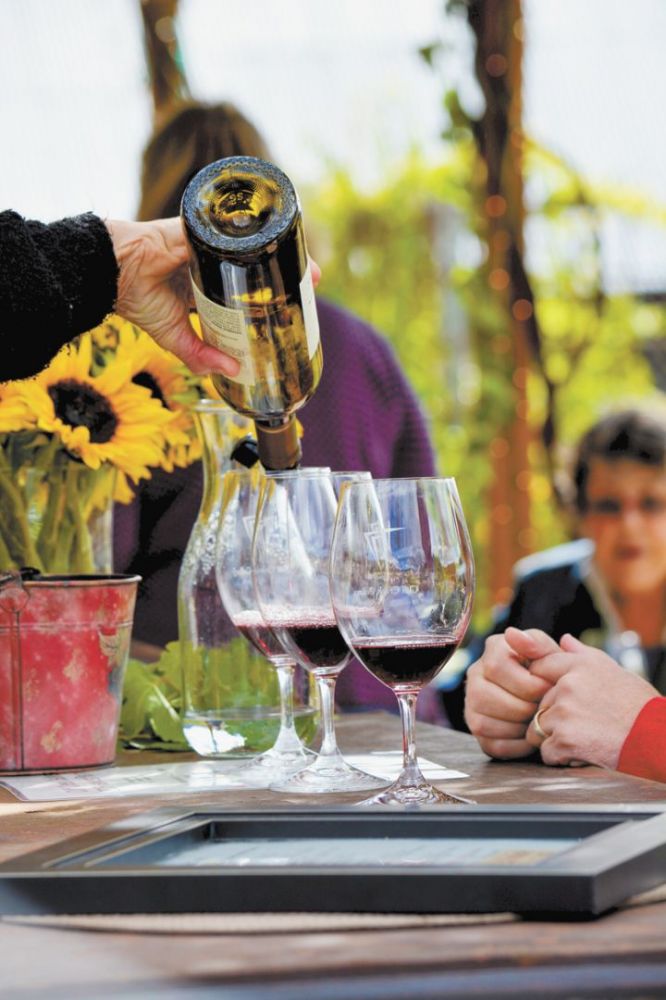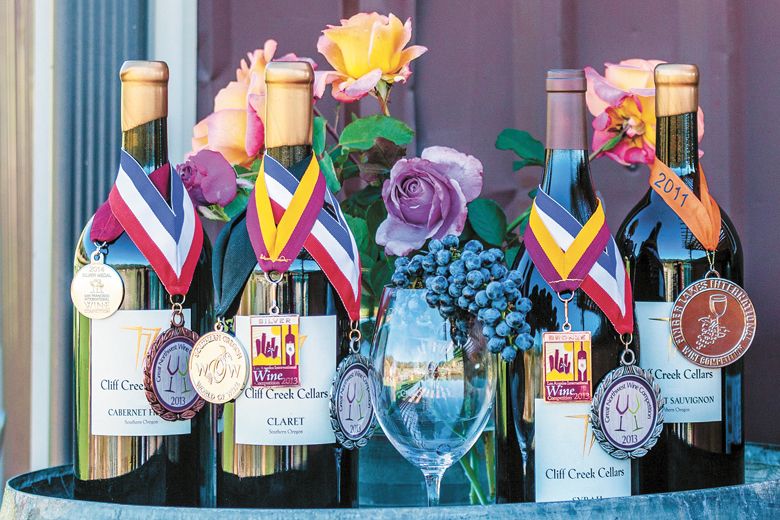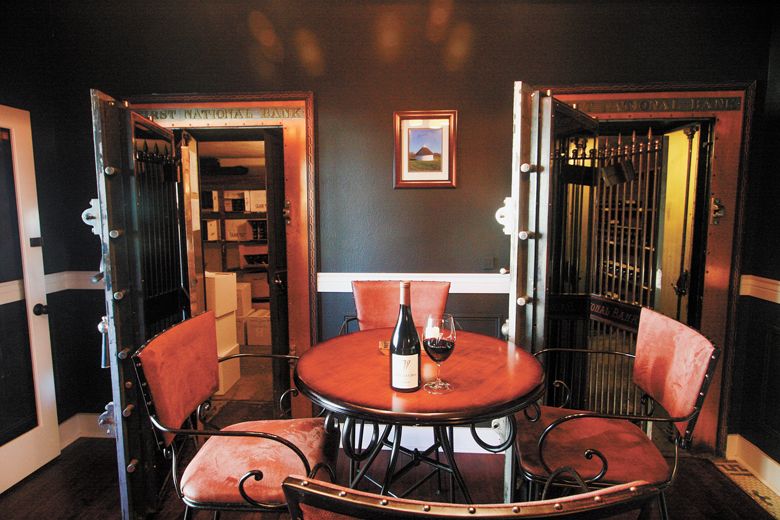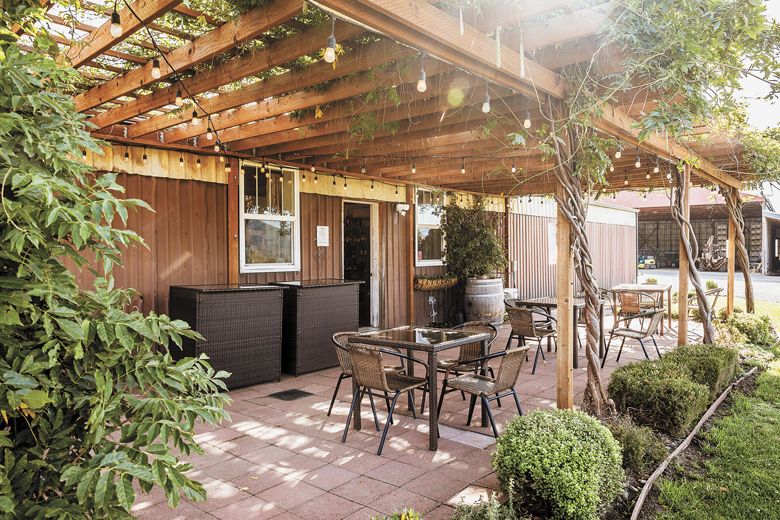 By Paula Bandy
"We want our label to represent what's in the bottle— an elegant, bold wine— but also our four generations, three children, three grandchildren. The brand represents our family," explains Ruth Garvin, co-owner of Cliff Creek Cellars, "Our roots run deep here in Southern Oregon. We're proud of what we've accomplished and want to continue our traditions."
That legacy began over a century ago when a family matriarch, traveling by boat to Seattle, found refuge in Brookings during a storm… and never left. Her paternal grandfather was a dairy farmer in Curry County, and her grandmother was in the first graduating class of Brookings-Harbor High School. She says, "Since then, a Garvin, or relative, has been part of that high school, either as a student or teacher."
Ruth's father, Vern Garvin, co-founder of Cliff Creek Cellars, grew up on the dairy farm, served in the Korean War, and attended what is now the Oregon Institute of Technology in Klamath Falls. He earned an associate degree in electrical engineering. Her mother, Dorothy, went to school with Vern after they were married, earning an associate degree in bookkeeping. In 1968, Ruth says, "My parents pulled the third franchise from the U.S. for cable television. They built five cable systems, and Ruth and her two brothers grew up in the family-owned two-way radio, answering service and cable TV business." She adds, "We all did our part." Her parents eventually sold the companies.
She continues, "They say you can take the boy off the farm, but can't take the farm out of the boy. He and his brothers bought farm property in Jackson County in the early 1990s." That property was part of the original late-1800s McDonough homestead in Sams Valley, farmed by the family for over one hundred years before the Garvin brothers purchased it. A few years later, Vern bought out his brothers.
While the Garvin family had farmed in Oregon for over a century, they ran some cattle and grew hay on the new property. Ruth suggested the idea of farming grapes. "Del Rio," she says, "had just finished their first planting, so she asked a friend who grew grapes in Healdsburg about it." She brought the idea to her dad, who she says, "wasn't a sit around kinda guy." He suggested they hire an advisor.
She and her brother worked with Joel Myers, a consultant based in the Willamette Valley. He suggested soil samples. In October 1999, they "dug holes and sent off samples," because, as Ruth says, "You know, the dirt and terroir tell you what to plant."
In 2000, they planted the first 15 acres. "At 70 years old, my dad planted his first vineyard," Ruth said, "He ran the crews— even volunteering to dig holes when needed— serving as foreman. He got it quickly and said 'Let's plant more.'" Another 60 acres were planted the following year. Subsequently, five were lost in 2002 during an early frost. The family has farmed the remaining 70 acres ever since.
Ruth laughs when she says, "And we were off. Everybody said you won't be able to just plant grapes, and we're like, no, we're just going to farm. In 2003, my dad realized "We better find a winemaker."
At the time, Dorothy and Vern didn't drink much wine, but Ruth says later, "My folks loved their own wine!" In the beginning, the siblings agreed they wanted to create age-worthy, European-style wines. Joe Dobbes agreed to make their wine as long as the land produced European-style fruit. Ruth recalls when he sampled the first grapes, "He chomped down on the grapes and said "No problem. Hop on the sorting line, Ruth, and let's get you educated in making wine.'"
They produced their first vintage in 2003, with their flagship wines, Claret and Syrah. Two years later, Cliff Creek's Syrah won Best of Show at World of Wine (now called the Oregon Wine Experience). Ruth says, "We were ecstatic. My dad was so proud and poured everyone half glasses of wine. We're like Dad, no, it's just a tasting, and he'd say 'They like it!' He always gave generous samples."
In 2006, Ruth's brother suggested making a wine "they didn't need to think hard about." Red Red Wine resulted. Ruth quickly realized they needed a white and pink to accompany it. To maintain simplicity, White White and Pink Pink were created, thus a new table wine series began. That same year, Dorothy was diagnosed with a rare form of cancer and received care, along with experimental treatments, from Knight Cancer Research Institute at OHSU in Portland. The family donates five percent of these wine sales to support their research.
"These wines," Ruth explains, "are made differently, and have a distinct character. They're not wines to age, although the Red Red can lay down in the cellar for a few years. The blend of grapes may change, but Tempranillo has become a part of the red." The Pink Pink received Double Gold at the 2022 Oregon Wine Experience, and Red Red was awarded 92 points in Wine Enthusiast.
In 2008, Cliff Creek opened a tasting room in the Willamette Valley. Now situated in Newberg, they carry the same wines and mirror wine education experiences, however, the two locations couldn't be more different.
The vineyard tasting room, opened in 2010, lies within the heart of the Garvin family's working farm. Nestled between green hills and cliffs, with Cliff Creek running through the property, there's a relaxing ambiance of front porch sitting. Most buildings are original and have been retrofitted for current use. A rarity, this tasting room is open Mondays.
Santos Peña, the knowledgeable and genial tasting room manager, says, "This beautiful valley is its own little niche. People from around here are like family, and we treat them so when they visit. It's like welcome home to your neighborhood tasting room." Cliff Creek Cellars is part of the Upper Rogue Wine Trail and Peña says he's seeing a lot more people come through from outside the area, especially from Bend and Washington.
Originally from Wisconsin, he moved to California to study engineering but ended up working at Domaine Carneros in Napa for 12 years. He moved to Southern Oregon "for love." Smiling, he says, "I enjoy this wine scene. It's family-oriented and very friendly. The smaller wineries, rather than corporate like Napa, display different nuances in the wines and the valley. It's a great experience here, more down-home, a beautiful, relaxed, fun business."
Find the Newberg tasting room on a corner in the first downtown bank building. The same vaults are still there, and the winery serves Club Vault and Library Vault selections. It has an urban feel, with a spacious tasting room. Both locations host events focused on learning about the sensory experience of wine, how to taste, and general wine education.
With the death of Vern in 2009, and Dorothy in 2015, two of the children, Lee and Ruth, with Lee's son, Cory, a commercial fisherman, continue the vineyard's legacy.
As a family who has farmed for over 100 years, on land that has been farmed for the same span, the second and third generations of Cliff Creek Cellars is preparing for its twenty-first vintage, and with no plans of slowing down. In 2014, Herb Quady and Barrel 42 took over as winemaker. "Herb and his team have added great nuances to our wine," Ruth says, "yet I feel we still carry the thread of the beginning of our wines, which is old world in the new world— ageable reds. We continue to grow. We still have another 30-40 acres we can plant. And we will continue to expand our brand."