Come Fly with Me
The continued popularity of Alaska Airlines' Wine Flies Free program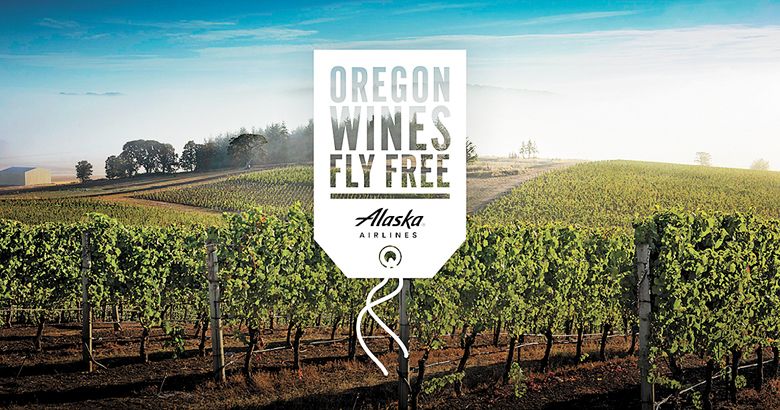 By Greg Norton
The phrase "a flight of wine" might suggest a row of glasses lined up in one of our state's many tasting rooms. But, for passengers on Alaska Airlines, a wine flight means they can bring home Oregon wine with no additional baggage fees.
Begun in 2013, Alaska's Wine Flies Free program is available on any of the airline's flights departing from 32 airports in Oregon and neighboring states of California, Washington and Idaho. Passengers, age 21 and older, may bring up to a case of wine (12 bottles, weighing 50 pounds or less), checking it through as they would any checked baggage. It is important that the wine be securely packaged in a sturdy case or box with cardboard or bubble-wrap material. Most winery tasting rooms stock these materials or shipping boxes.
Before flying, passengers using the service must be enrolled in Alaska's Mileage Plan (membership is free) and add their plan number to a flight reservation.
Wine Flies Free is a partnership between the airline, Travel Oregon and the Oregon Wine Board, or OWB, along with similar organizations in the other participating states. OWB adds support through various forms of print and online advertising to increase awareness of the popular program. Over 300 Oregon wineries extend complimentary tastings to Alaska's Mileage Plan members who present boarding passes from within the past 10 days. (View a directory of participating tasting rooms at: www.oregonwine.org/events-programs/oregon-wine-flies-free.)
By all accounts, Wine Flies Free is popular with wine lovers. The OWB webpage describing the program received over 3,000 views in the first six months of this year. Personnel at the airports Alaska Airlines serves mention how guests "love and take advantage of the program." Christopher Sawyer, a California-based sommelier and wine educator, is a fan: "To buy wines in Oregon and bring them back down here… it's an advantage that's hard to beat," he said.
The benefits are obvious for Oregon visitors wanting to bring wine home. Others find the service useful as well.
Wine Flies Free remains a boon for wineries because shipping wine is complicated and costly. Each state has its own legal requirements, and there is the chance of hot or cold weather damaging wine in transit. "We encourage customers to take wines back with them but realize that carrying wine can be difficult when getting through the airports," said Chris Loxton of Loxton Cellars in Glen Ellen, California. He points out that visitors to his Sonoma County tasting room can fill a shipping box by consolidating purchases made at his and neighboring wineries. "Customers are happier and, for small wineries trying to survive in challenging times, it makes us happy, too!"
Marlynn Schotland, a Portland-based food, wine and travel blogger of UrbanBlissLife, frequently uses the Wine Flies Free program. Because it extends beyond Oregon, the benefits are useful in both directions. "Anytime I travel to other West Coast wine destinations, especially for work, I bring back at least a case of wine," she said. "As a wine enthusiast and frequent flyer, I am so grateful Alaska Airlines continues to offer this service!"
Alaska Airlines and the Oregon Wine Board anticipate continuing the program into the foreseeable future. According to an airline spokesperson, no changes are planned as Alaska Airlines continues to "deepen our relationships with the wine growers, producers and consumers in the markets we serve."