Clash in the Pan
WVV's culinary competition judged by celebrity chef
"Go everywhere. Eat everything." A fitting mantra for English-born chef Simon Majumdar, who recently visited Willamette Valley Vineyards and acted as judge during the winery's four-chef cook-off on June 23.
Majumdar was also in Oregon promoting his latest book, "Fed, White, and Blue: Finding America with my Fork," a recount of his culinary journey across the U.S., an adventure he pursued in deciding whether to apply for citizenship. He signed books at Adam's Rib and Barrel & Keg in Salem as well as McMinnville's Third Street Oil & Vinegar.
In addition, Majumdar's friend, Salem resident, home chef and food blogger Kim Banick — the two met during the World Food Championship, in which she competed twice — had encouraged Majumdar to visit Oregon and witness for himself what Banick describes as "the most beautiful place on the planet."
He ate. He drank. He was impressed. "I'm a big fan of Oregon wines and the astounding breadth of local products, from berries to cheese," Majumdar said. "Plus, this is craft beer heaven."
As well as an author and chef, Majumdar is a Food Network star, playing the role of critic on shows like "Iron Chef America" and "Cutthroat Kitchen." Known by some of his fans as "villainous," he jokes, "I don't know why no one ever invites me for a home-cooked meal." Except for Banick, who invited him to her West Salem home, where she hosted Majumdar him and his wife, Sybil, before the contest, in which Banick would compete once more.
The battle began with Victor Panichkul­Ackermann, food and wine columnist for the Salem Statesman Journal, who prepared the first of four courses, Dungeness crab, mango and avocado salad, paired with Willamette Valley Vineyards 2014 Rosé of Pinot Noir. Majumdar admired the freshness of the dish. He said, "It was just the right amount of crab with the creaminess of the avocado." Panichkul­Ackermann explained to guests his quest to learn his ailing mother's recipes rooted in her Asian heritage.
Quentin Reavis, the winery's sous chef, prepared wine-marinated smoked beef carpaccio served with arugula, grilled apricots and creamy mustard green sauce. Majumdar acknowledged Reavis' obvious talent, but believed he needed to learn "when to sign the painting," implying too many flavors. He took it in stride, waving to the crowd with a bandaged hand — a battle wound inflicted by a slicer earlier in the day. Majumdar applauded the pairing of the lightly smoky dish with the 2011 Griffin Creek "Griffin," a Rogue Valley blend of Cabernet Sauvignon, Merlot and Cabernet Franc.
Upon tasting the cinnamon and sea salt-dusted duck breast prepared by Willamette Valley Vineyard's executive chef, Eric Nelson, Majumdar praised Nelson as an experienced, accomplished cook. The duck was met with universal commendation from the room, but diners were divided over his last-minute addition of a sous vide egg. The wine pairing, 2012 Fuller Pinot Noir, was named for Bill Fuller, a longtime Oregon winemaker who established Tualatin Estate in 1973.
Majumdar's critiques were received in good nature. He also kept the room entertained with stories of his life and travels. He called out Americans on their propensity to "whoop," claiming if there had been whooping at his citizenship ceremony, he may still be a Brit.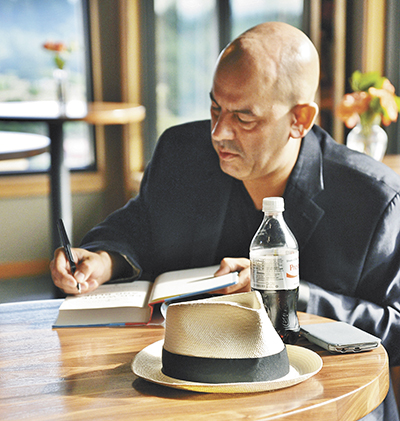 The book tour celebrates his newly acquired American status and love of American cuisine. He sincerely refers to friends whom he has met as his American family and then quips "albeit slightly dysfunctional." Majumdar also shared the story of a dinner date early in the courtship of his wife. "When I reached for the last piece of chicken, she grabbed my hand and said, 'If you take that chicken, I will cut you.'" He decided then and there he'd marry her.
The room was all aflutter when Banick presented the fourth and final course, a dark chocolate cherry "moon" paired with the 2011 Quinta Reserva Pinot Noir Port-style wine. Oohs and ahhs broken by comments of "It's too pretty to eat" fell to a hush as everyone lifted the lid on their chocolate moons to discover the treasures inside: spoons dipped into spicy chocolate mousse, oven-roasted vanilla balsamic and cardamom Northwest cherries, Kirsch-whipped cream and a hazelnut cheesecake truffle. The moon was placed at the end of a painted chocolate branch dotted with sweet blue cheese blossoms and cherry sauce drops. Majumdar commented, "You are all so quiet. That is a sign of a good dish."
Each guest also served as judge — votes were fairly evenly split. Despite any criticisms, plates were empty when they returned to the kitchen. In the end, Majumdar awarded Banick the top score. She left with a big smile and a bottle of wine, while everyone else left satiated and with signed copies of Majumdar's book, each including his handwritten motto, "Go everywhere. Eat everything."
For more information about events at Willamette Valley Vineyards, visit www.wvv.com. Willamette Valley Vineyards estate tasting room offers a daily food menu, from 11 a.m. to 6 p.m.
Jade Helm is the primary author of Tasting Pour, a blog about wine, cocktails and food. Her expertise is evidenced by credentials from the Society of Wine Educators (Certified Specialist in Wine) and the Wine and Spirits Education Trust (Diploma in Wine and Spirits).