Ciderhouse Rules
A Northwest Cider Cup Judge's perspective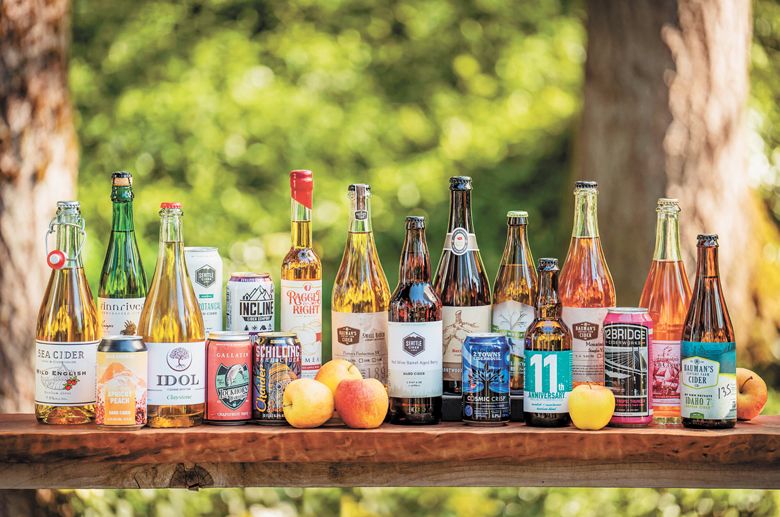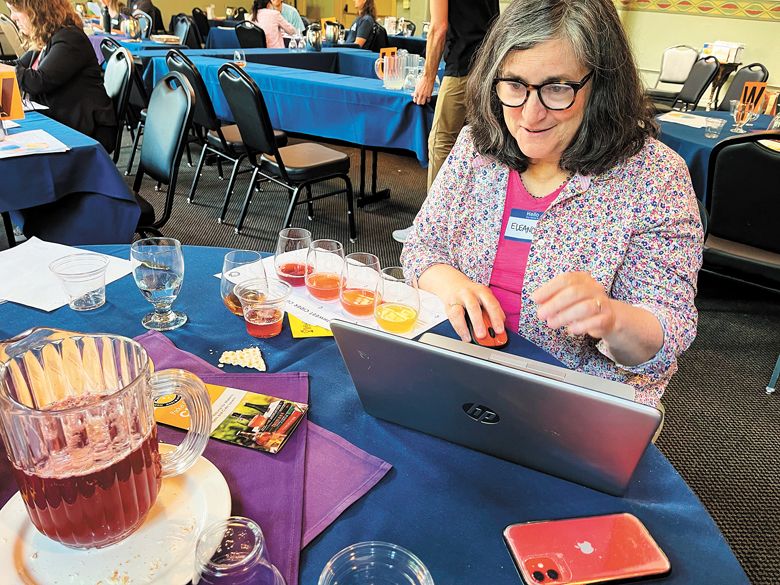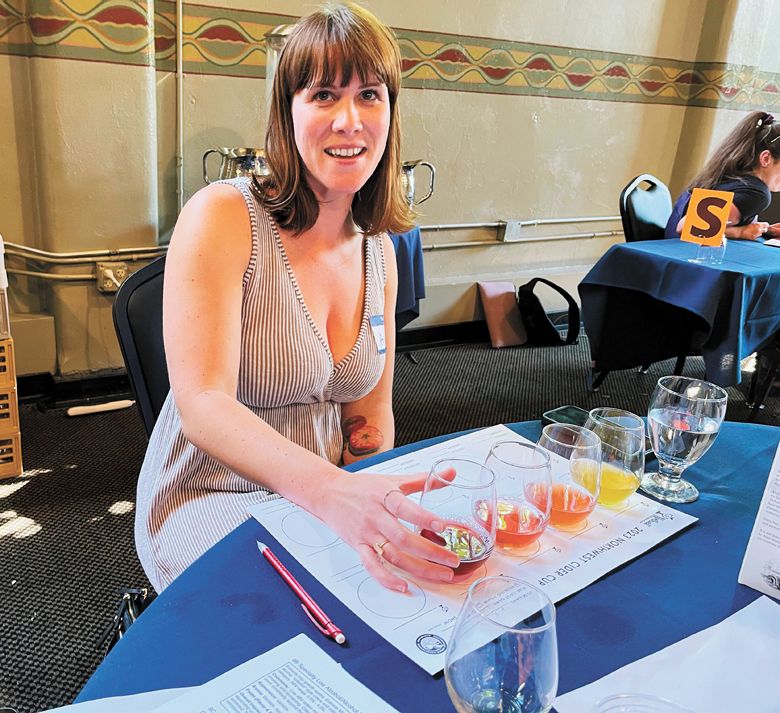 By Gail Oberst
We are more than 100 cider enthusiasts crowded into what was once a gymnasium at McMenamins Kennedy School in Portland. Volunteer judges and stewards, Northwest Cider Association staff and experts gather for the same purpose: to choose the best ciders in the Northwest. The former Portland International Cider Cup this year has morphed into the Northwest Cider Cup, reflecting the origins of 279 entries from commercial cider and perry makers in Oregon, Washington, Idaho, Montana and British Columbia.
I sit at a table with experts who far outrank me in cider judging chops, and I'm sure they are asking themselves: "Who let this person in?" Don't get me wrong: They are the nicest people and I love them even more after our 11th tasting round, but my scores in some categories, are for the most part, bonkers. Sheepishly, I sit back and listen to their comments, and learn.
Luckily, for those who've entered the contest in hopes of getting expert reviews, the final scores don't depend on the amateurish gyrations of Gail Oberst. Judges are a mix of professionals and newbies, but we all follow standards set by the American Cider Association. During one judging session, for example, I sat across from Eleanor Léger of Vermont, the current board president of the national association. Oregon's Dave Takush, owner of 2 Towns Ciderhouse in Corvallis and winner of the 2023 Best Large Cidery, sits on the national board, as is Christine Walter of the award-winning Bauman's Cider Company near Gervais. I'm name-dropping to confess: I faced a steep learning curve, but I had plenty of experts to push me up the hill.
I was not alone in my newbie-hood: Although many judges are cider makers, far more are pub owners, servers, distributors, retail managers and cider writers, like me. During meals and practice sessions, I sat with scientists and academics, many of whom work in agriculture, fermentation and even business organization projects related to cider.
First, however, a little history: This marks the tenth year of the Cider Cup– the first year attracted a mere 50 entries. For the past dozen years, the NW Cider Association, or NWCA, the nonprofit trade association that organizes the Cider Cup, has provided training and support to its members. Their work has paid dividends.
"The number of cideries in our region has increased from around 10 to 200 in a little over a decade- nearly a 2,000 percent increase. To say that we've seen some growth would be an understatement," said Emily Ritchie, Executive Director of the NWCA.
On January 19, 2024, the NWCA will host the American Cider Association's international conference in Portland. This year's conference in Chicago attracted nearly 1,000 attendees.
Meanwhile, back in the trenches: My training began the day I answered the call for volunteer judges. I received a 10-page guide to the categories and subcategories, along with general characteristics to look for in each. Six of the 19 categories are fermented apple ciders divided by tannin, dry or sweetness levels, with a separate category for red-fleshed apples. The rest are perries (pear-based), and specialty apple ciders that have been modified or fortified. Barrel aging, hops, herbs, spices, added fruit, additions and even non-apple fruit fermented drinks are judged as part of the NW Cider Cup.
My training continued online a week or so before the judging event. Remotely, Jana Daisy-Ensign, cheerleader for the Cider Cup and a certified Pommelier (think: Sommelier for cider), reviewed the new online judging score sheet, the judging process, and resources for those who want to dive deep. This year, there were some adjustments to the categories, including an entirely new one for ciders made from red-fleshed apples.
Although we don't know who we're judging, some of the information on each online score sheet is already provided. For example, the category, whether the entry is still, petillant (that word made me laugh!) or sparkling; dry or sweet. We are allowed 10 minutes per cider to judge— three minutes to evaluate color, clarity, tannins, dry and sweet, and a few other characteristics; three minutes to discuss the cider with our table group and three minutes to reach a consensus on score. We aren't spanked for going long, but the AI on our judging dashboard grows … petulant. Ha! Good word. Not related to petillant, I discover.
The afternoon before the judging event, we gathered in Northwest Portland at the Lucky Labrador Beer Hall to review the schedule and practice describing sensory details. There would be only one gold, silver, and bronze in each category— no participation awards based solely on scores. Each table of judges must agree on which cider to send to the medal round. This did not strike me as problematic. That is, until the day of the event, when passions upped the decibels; but I'm getting ahead of my story.
Back at Lucky Lab Hall, Darlene Hayes, a nationally renowned cider author and editor, led sensory training as we sampled three ciders and attempted to apply our perceptions of each to the score sheet. I especially like the emphasis on using descriptive words to explain the smell, look, taste and mouthfeel. After scoring the practice ciders and talking with my tablemates, we agreed on a final score. I was ready to judge for real.
At 8 a.m. the next morning, the big judging day in McMenamins Kennedy School gym began. Bleary-eyed (we were ordered not to drink coffee) I checked in, gobbled down a muffin, and found my assigned table with two other tasters– Jordyn Bunting, an OSU food scientist, and Maura Hardman, a marketer for Seattle Cider. After a brief introduction, we began judging the first of seven ciders assigned to us. I was relieved to find that my co-tasters' scores were close to mine— if they hadn't been, we would need to negotiate. The increasing noise around us indicated some friendly "negotiations" were already underway.
Seven ciders and a lunch break later, I took my place at the judging table headed by Léger. While the first category seemed easy, this new one was out of my league. Never mind. My tablemates were kind and informative. I shut up and learned that the brain can be trained to appreciate the craft that went into cider-making, but that my tongue loves what it loves. My apologies, and kudos, to the cider makers who read my comments. I didn't argue with the experts who overrode my outrageous scores. Instead, I expressed my impressions in the written comment section. Maybe nobody else loved the strawberry-jalapeño cider tongue fiesta, but I did. My comment? There's a market for this. Her name is Gail.
Two days later, many of the ciders I adored, and a few I didn't, received medals at the NW Cider Cup celebration in Portland. Hundreds showed up in fancy clothes to celebrate. I've been to many beer and wine celebrations in Oregon. Cider makers have more tattoos than winemakers, but fewer than brewers, in my expert opinion.
Here's my takeaway: The final judge is you, the cider taster. Thanks to the machinations of the NW Cider Association staff, you can be assured that countless expert and amateur tongues have tripped over the gold, silver and bronze medal winners. But the only tongue that matters is yours. Start your own foray into ciders at the NW Cider Association's website, where you can learn a bit before you venture out into the tasty world of cider.