Burgundy Bound
Domaine Serene founders buy Burgundy wine estate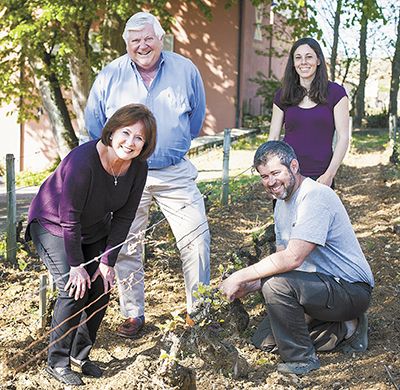 Ken and Grace Evenstad, founders of Oregon's Domaine Serene, have purchased Château de la Crée, a Burgundy wine estate featuring vineyard property spanning seven appellations in Côte d'Or: Pommard, Volnay, Meursault, Puligny-Montrachet, Chassagne-Montrachet, Santenay and Maranges. The vineyards are planted both to Pinot Noir and Chardonnay; several are designated Premier Cru; two are unique Monopoles.
The property is a fortuitous discovery for the Evenstads. The Château de la Crée estate includes a unique collection of preeminent vineyard sites, a state-of-the-art gravity-flow winery and a historic restored château in Santenay, a charming village nestled against the mountain and facing south.
Dating from the 15th century, the Château was originally owned by Nicolas Rolin, Chancellor of the Duke of Burgundy Philippe le Bon, and founder of the renowned Hospice de Beaune. Rolin established a tradition of charitable donation through wine — one that the Evenstads regard as a fundamental founding principle at Domaine Serene.
In addition to the collection of impressive vineyard assets, the Evenstads are becoming acquainted with the winery staff in France. The unique synergies between Château de la Crée and Domaine Serene include wines produced with minimal intervention winemaking to ensure the expression of terroir.
There is also a common focus on sustainability among the estates. Château de la Crée uses no pesticides or herbicides in the vineyards and incorporates organic and Biodynamic farming practices. At Domaine Serene, a comprehensive program of sustainable farming methods has been followed since its founding in 1989 — all of its 240 acres of estate vineyards in the Willamette Valley are dry farmed and LIVE (Low Impact Viticulture and Enology) certified.
Aline Beauné, the winemaker at Château de la Crée, will work collaboratively with Domaine Serene Winemaker Erik Kramer. Longtime viticulturist Nicolas Perrault will continue to oversee all the vines and estates.
The Evenstads will be highly immersed in their Burgundy project, with more than 25 years of luxury wine branding, viticulture and winemaking expertise. They plan to introduce the Château de la Crée brand to new markets, including an expanded presence in the U.S.
There are future plans in discussion to create a prestige label offering a curated collection of the Evenstads' most prized bottlings.