Beyond the Bottom Line
Oregon B Corps focus on continuous improvement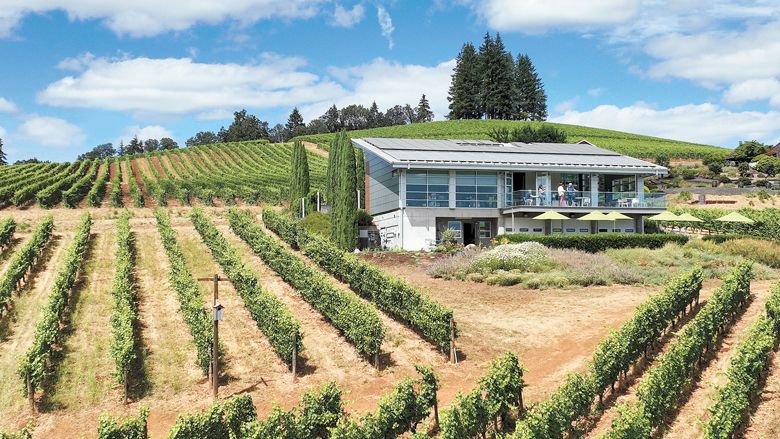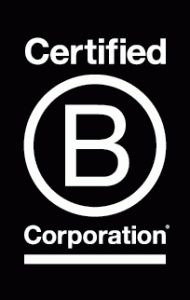 By Greg Norton
Oregon's 1,058 wineries and 82 grape varieties offer wine lovers abundant choices. Increasingly, consumers– particularly younger people– are choosing brands that reflect their values. Oregon wine labels are crowded with logos illustrating producers' commitments to sustainability. Only eight Oregon wineries' labels can display a simple, black letter "B" enclosed in a circle. These are certified B Corps.
"I find that people can be confused by the different certifications," said Jessica Mozeico, whose Et Fille Wines in Newberg is the most recent Oregon winery to achieve B Corp certification. "I think it's really important that consumers are aware of the leverage and power they wield by voting with their dollars."
Certified B Corps consist of for-profit companies demonstrating a commitment to making business a force for good by submitting to a rigorous, independent assessment by B Lab. The global nonprofit rates a corporation's impact on: 1.) its community, 2.) customers and 3.) environment. They also examine 4.) the company's governance structure and 5.) how it treats workers.
To qualify for certification, an organization must score a total of 80 points across all five areas. The process identifies both strengths and weaknesses.
"It's very affirming," said Bill Sweat, owner of Winderlea Vineyard and Winery in Dundee. Winderlea was one of the first certified Oregon wineries in 2015. "It always feels like the motivation is to get better, which I like an awful lot about their method," he said. "That does cause us to be constantly thinking about where we can improve our business."
There are currently over 6,500 B Corps of all sizes in 89 countries, engaged in 161 industries.
From Shareholder to Stakeholder
Stakeholder Capitalism and Environmental, Social and Governance, also known as ESG, are common buzzwords in corporate circles. Studies show that companies seeking long-term value by balancing the pursuit of profit with high standards of social and environmental performance, accountability and transparency, outperform others lacking that focus.
For Mozeico, that long view assumed a very personal dimension as her winery pursued B Corp certification. A few years ago, in quick succession, she gave birth to her daughter, and her father and winery co-founder died in an accident. "It became really important to me to consider the future, and focus on creating something sustainable for my daughter's generation," she said. The B Corp certification process helped Et Fille (French for "and daughter") establish its corporate ethics and an employee handbook. "For me, it offered a kind of a guideline for how we could grow and run the business in a way that was consistent with my values," she said. "So that's why we decided to do it."
A Seal of Approval
"It might be the next generation's Good Housekeeping seal of approval… people are going to know that it's authentic, and it has meaning," said Paul Snyder, stewardship executive vice president at Tillamook County Creamery Association, a B Corp since 2020. "Consumers want to have confidence in the citizenship of the products and services that they're purchasing."
Leadership After Certification
B Lab describes certified B Corps as "leaders in the global movement for an inclusive, equitable, and regenerative economy." Certification simply marks the beginning. B Lab's website further states, "B Corps are by definition also focused on continuous improvement, leading to their long-term resiliency."
Recertification is required every three years. A number of resources, including a network of regional organizations, are available. B Local PDX is one of the country's largest, supporting over 150 B Corps in Oregon and Southwest Washington. "Deepening connections and building relationships between B Corps and other impact-driven companies fosters the type of collaboration and partnership that eventually leads to larger collective or systemic impact," said Wesley Griffin, the group's Administrative Director. The nonprofit organization hosts lunches, webinars and annual events intended to help B Corps from different industries share ideas and best practices.
Snyder at Tillamook Creamery believes B Corp certification has led to a wider awareness of the brand's values and new partnerships with other corporations. He recounted, "Kroger came to us and said, 'You guys are a B Corp; would you like to join with us on a food waste initiative?'"
Oregon's certified wineries work jointly to offer reciprocal wine club benefits and on cooperative marketing efforts, according to Winderlea's Sweat. He also selects other B Corps for his winery's purchasing. "We'll look to see what certified B Corps make water bottles, travel coffee mugs– things like that. It definitely gives us an incentive to work with other B Corps when we're making purchasing decisions."
Oregon B Corps Wineries
A to Z WineWorks (May 2014)
Winderlea Vineyard and Winery (March 2015)
Sokol Blosser Winery (April 2015)
Stoller Family Estate (July 2017)
Chehalem Winery (July 2018)
Brooks Wines (January 2019)
David Hill Vineyards and Winery (October 2019)
Et Fille Wines (March 2022)