All Roads Lead To Wine
Discover the diversity found in the Rogue Valley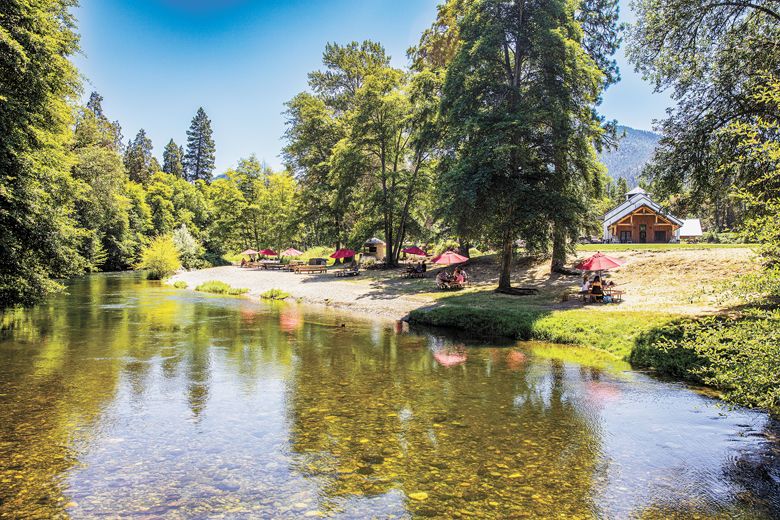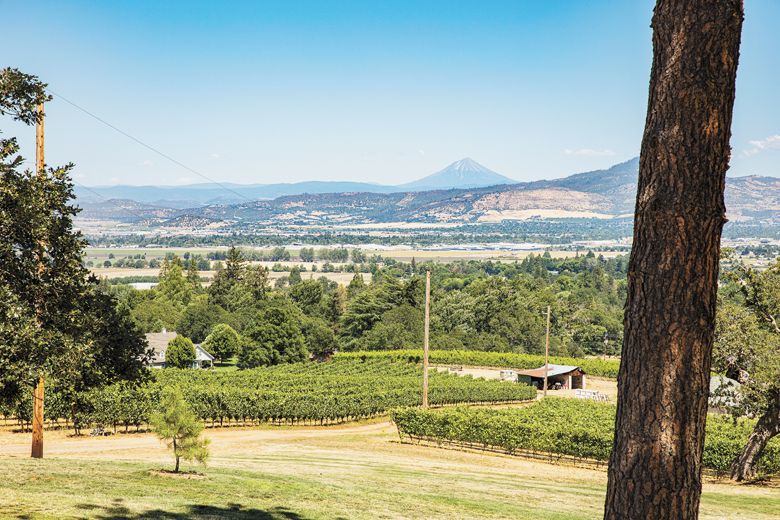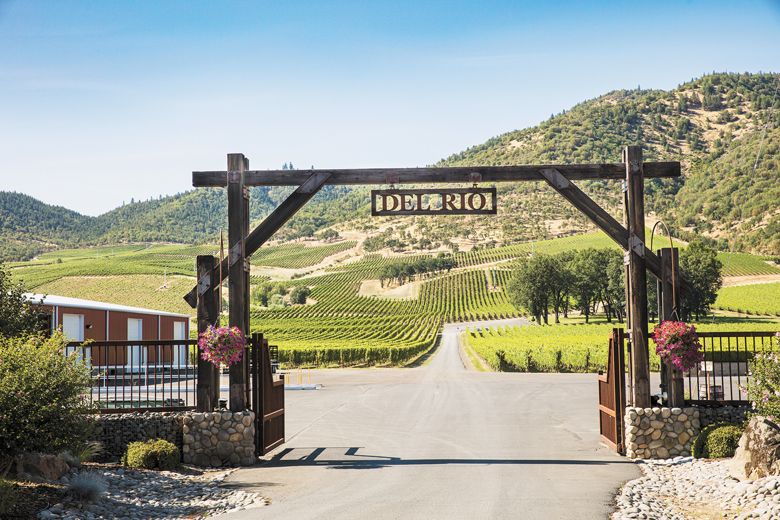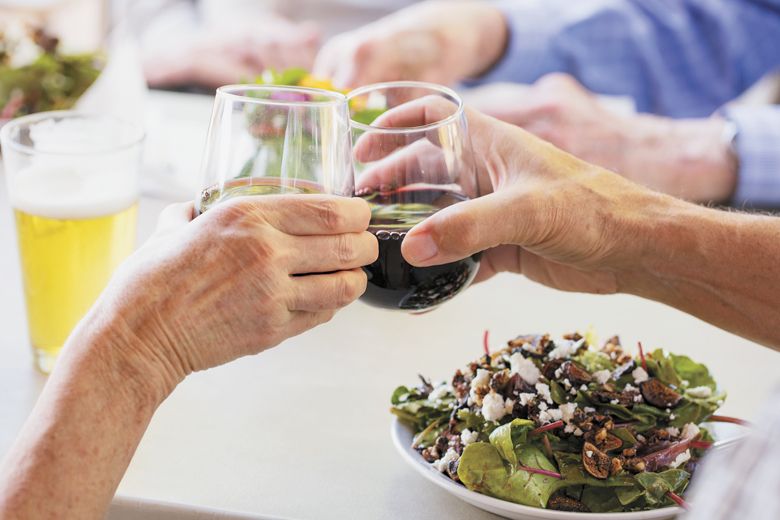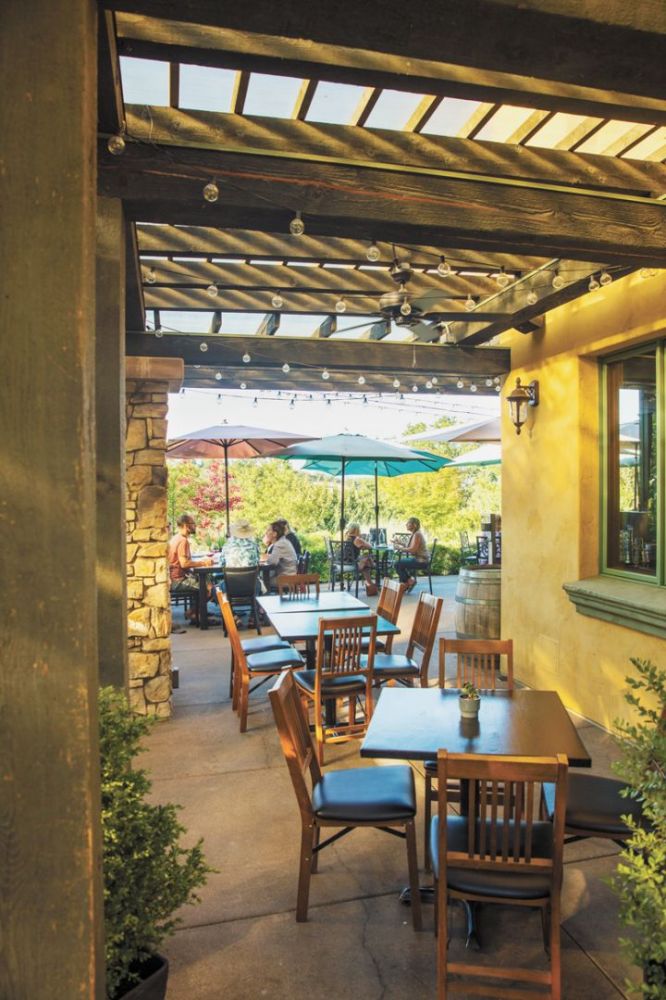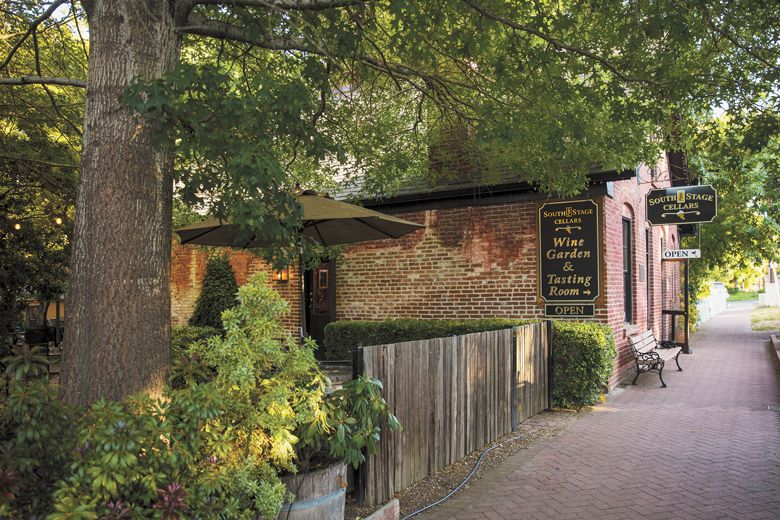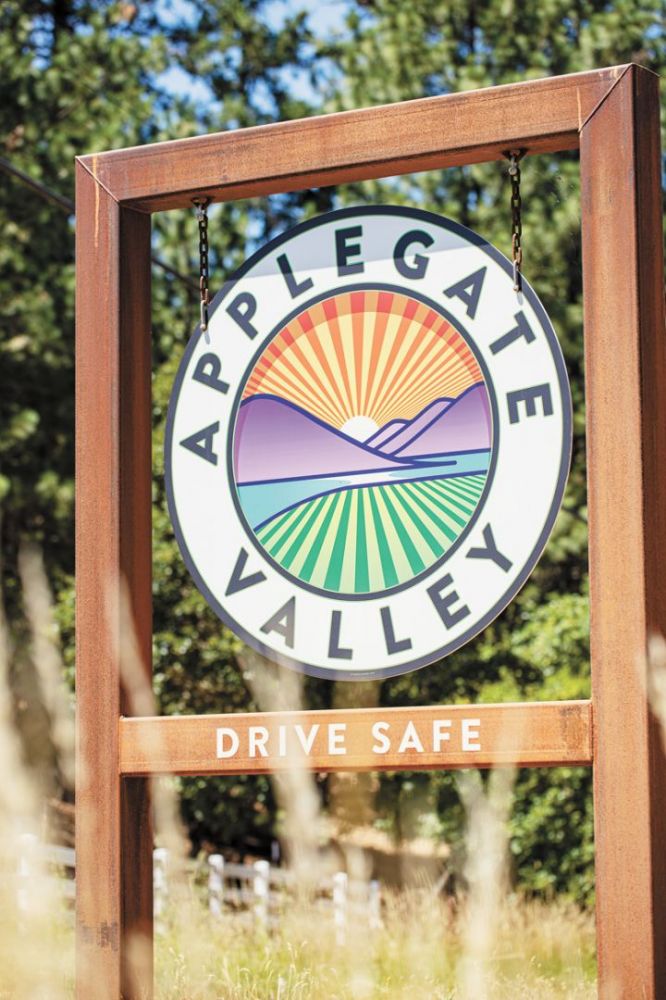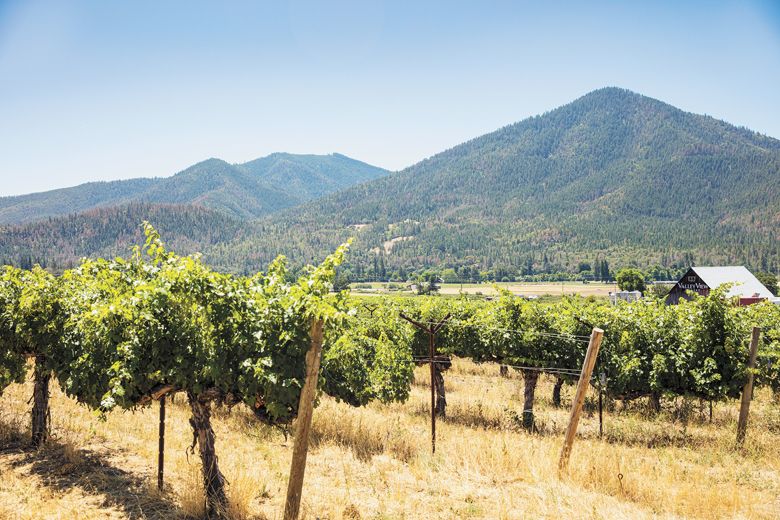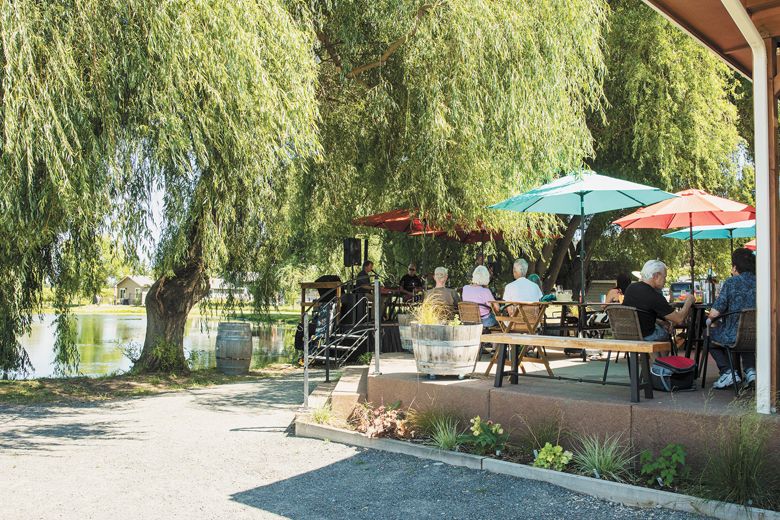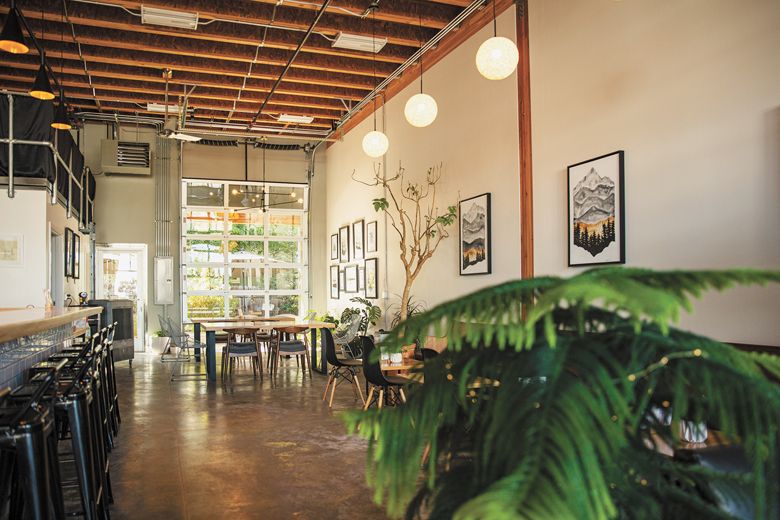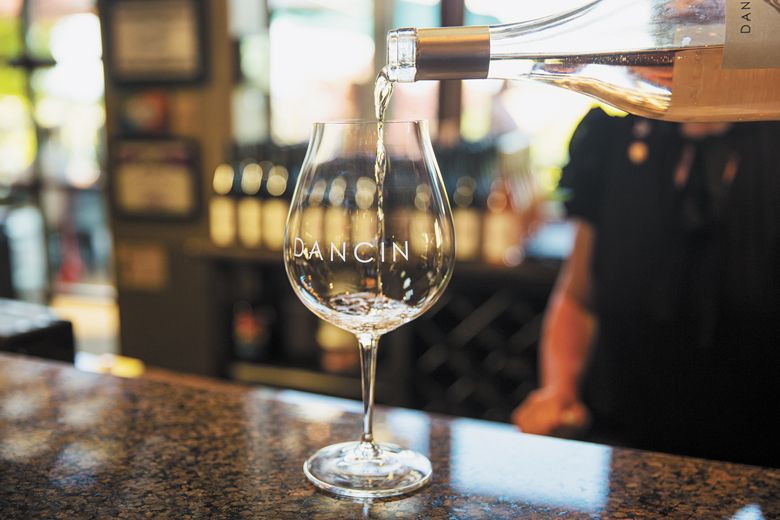 Story by Paula Bandy
Photos by Megan Steffen Camero
Within the Rogue Valley there exists a wide variance of landscapes, fundamentally distinctive microclimates, from easy to extreme outdoor recreation and, most recently, an increasing number of superb wines.
How did this storied land evolve? Geologically, this region formed hundreds of millions of years ago. A violent volcanic phase is still visible in many forms. East of the Valley, at Boundary Springs, the headwaters of the Rogue River gushes forth from a hole in the earth, traversing 215 miles to the Pacific Ocean. However, through the tales of the original occupants, we learn the ways of the Daldal. More commonly known as the Dragonfly Brothers, they prepared this Valley for the arrival of the Takelma people.
Daldal, a great dragonfly with two heads, initially resided at the coast. One day, he pierced the beak of a lark. As the arrow fell away, it split him in two— creating brothers, Elder and Younger Daldal. Younger was curious and mischievous, the trickster, often getting into trouble. Elder would rescue him. Together, they made the great journey up the mighty river, bringing culture and magic while readying the land for humans. When they reached a bend in the river, Younger Daldal stopped, but Elder Daldal continued. When one whistled like a lark, the brothers transformed into two flat-topped mountains. Younger is the lower one, downriver to the west, and Elder is upriver, farther east. Central to this Valley, we know them as the Upper and Lower Table Rocks, the backs of the Dragonfly Brothers.
Today, we recognize the Rogue Valley for its extensive selection of fine wines— over 70 varieties of grapes grow here. With its casual vibe and abundance of live music (often performed at wineries), it's quickly become a top wine destination. So, relax and pour yourself a glass of Rogue Valley wine as I lead you through a wine-focused odyssey, accompanied by food stops and unconventional excursions.
Whether you arrive by car or plane, your first night will likely be spent in Medford. Lady Geneva Bed & Breakfast is the ideal place to begin your journey. Centrally located near downtown, it allows quick access to restaurants and brunch spots. After a good night's rest, a delicious breakfast awaits you. Medford is the center of the hub with all roads leading to wine country!
For a sense of the deep spirit residing here, your wine odyssey begins with the true middle of the Valley, the Table Rocks.
Upper Rogue Wine Trail
The Artisan Corridor in Central Point represents the perfect place to begin your day. Here, you will discover four shops designed for the epicurean soul: Rogue Creamery (home of the world's number one cheese Rogue River Blue) houses a global cheese selection and gourmet food shop; Lillie Belle Handmade Chocolates– the birthplace of the infamous Voodoo bunnies, and chocolaterie; and Coquette Bakery, for pastries and picnic fare. These shops stock precisely what you need for a hike, wine excursion or souvenirs for home.
Speaking of hiking, trek both the Upper and Lower Table Rocks. As you climb on the backs of the Dragonfly Brothers, expect to see many dragonflies. If you're a hiker, Rogue Valley's wine country affords the opportunity for wonderful hikes and panoramic views. Recently published is Wine Hiking Oregon, by Jack Costa. He recommends hikes throughout Oregon and suggests a winery to visit afterward. His book details five hikes and wineries in the Rogue Valley, including Lower Table Rock and Kriselle Cellars.
Between Upper Table Rock and the Rogue River, Kriselle vines flourish in alluvial and volcanic deposits, creating rich and deep flavor profiles. These wines are truly from the soils, which their logo aptly illustrates.
Slightly north is Sam's Valley. This quiet area is named for the Takelma chief, Toquahear—known to the settlers as "Sam." Two family-run boutique wineries are nestled here. Previously orchards but now a 70 acre vineyard, Cliff Creek Cellars' tasting room is a wine hideaway. It is set among the vines on land farmed since the 1880s. Not far away, on a river bend, surrounded by hills lining the ancient flood plains of the Rogue River, is Sam's Creek Cellars.
Following the river west, you'll discover Del Rio Vineyard Estate, the largest winery in the Rogue Valley. The land here was originally called Titankh (Rock Point) by the Takelma People. Del Rio tasting room is located in the historic former Rock Point Hotel and Stage Stop. Outside, find grass seating for lazy, summer sipping afternoons.
For a delicious dinner both tastebud-tingling and palate-cleansing, visit El Tataki Sushi Fusion in North Medford. With a sleek, stylish atmosphere, they specialize in Japanese and Mexican sushi, along with specialty cocktails.
Medford
Enjoy your B&B breakfast, or choose one of the fabulous downtown brunch places. Looking for that home-cooked taste? Buttercloud Bakery & Café is a favorite spot with sweet treats. Over Easy is delightful with a retro vibe, famed mimosas, and an ever-changing eclectic menu. Feeling saucy? Tartine Brunch Club creates whimsical cocktails and food with a Mexican vibe.
Within seven minutes of Medford, in any direction, find country farms and wine lands. If time allows, there's another beautiful hike and winery opportunity. At the top of the Roxy Ann Peak Trail, you're rewarded with 360-degree panoramic views of the chiseled Rogue Valley landscape. Nearby is the family-owned, RoxyAnn Winery, adjacent to historic orchards. Relax in the elegantly rustic Honor Barn, on the National Register of Historic Places, now their tasting room.
Less than a mile away is another century-plus farm, Dunbar Farms & Rocky Knoll Vineyards. Dating from 1970s plantings, this farm-to-table wine-and-dine setting represents one of the earliest vineyards in the Rogue Valley. They also have delightful black and white Dutch-belted cows.
To access the final winery of the day, head out to Padigan Wines, named for its estate vineyard soils. The western-style log tasting room is lit with a stunning 32-wine bottle chandelier and constructed from reclaimed woods and rocks removed from estate vineyards. The building has a large porch, an idyllic place to sip and catch the sunset.
A quick three minutes away, back in Medford, enjoy dinner at Bambu, an award-winning restaurant specializing in Pan-Asian cuisine. Or, downtown, near the B & B, is Jefferson Spirits, an urban cocktail bar with great food. For heartier fare, Pomodori Osteria & Bar, next door, serves fine Italian food and, occasionally, as a special, an incomparable French onion soup.
Jacksonville
This small Gold Rush town was the original seat of Jackson County. The beautiful historic courthouse and first Jackson County jail still command attention on the green lawn. The former jail is now home to Art Presence Art Center, the only fine art gallery in town. Because of its history, it's not surprising that Jacksonville is designated a National Historic Landmark and listed as one of the Top Coolest Small Towns in America. In fact, it was originally called Table Rock City because of the views of the Dragonfly Brothers. Today, 10 wineries comprise the Historic Jacksonville Wine Trail. The main street is lined with boutiques and a bright green trolley offers narrated town tours, including a haunted one. New this summer is the Holly Trolley, shuttling visitors among nearby wineries.
Surrounded by hills and hikes, pick up a copy of The Emerald Necklace, a book by local author Larry Smith, to learn the history of the many nearby trails. Jacksonville is also home to the Britt Festival, Oregon's premiere summer music event.
There is no shortage of historic inns, hotels and B&Bs. Hummingbird Estate, a fine winery that also presents commanding views of the Valley, has several suites and room to wander. Light food and soups are available. Relax by the pond at Dos Mariposas Vineyards & Lavender, a Rogue Valley oasis with a New Mexico twist. Savor tamales and lavender specialties. Consider booking their guest house with views of the vineyards, lavender fields and pond. Numerous accommodations are within walking distance to the downtown: Magnolia Hotel, Touvelle House and McCully House Inn.
Check out C Street Bistro for fresh local ingredients with a French flair for lunch or dinner. The wine list includes many local bottles to pair with handmade organic pizza and a delicious Bolognese! It's eclecticism at its finest.
If you need a rest from "boutiqueing," follow the path to South Stage Cellars' restful, tree-covered patio. It's a perfect place to watch the sunlight filter through the leaves. Across the street, not to be missed on your wine odyssey, is Kimball's Artisan Wines. The proprietor, Josh Kimball, doesn't carry any local wines because he prefers you personally explore local wineries. He stocks an excellent selection of natural wines from around the world.
Perched on a hill, surrounded by vineyards, wining and dining at DANCIN Vineyards resembles the high life, literally. If views of the mountains and valleys don't sweep you away, the food and wine will. Here, sunsets are magical.
Applegate Valley Wine Trail
Slowly make your way on the winding roads into Applegate Valley, savoring new vistas and rural landscapes around each bend. Call ahead and have your room ready at the newly renovated Lindsay Lodge, perched along the beautiful Applegate River, a tributary of the mighty Rogue. It features balconies overlooking the river and Historical Pioneer Bridge. A huge river rock fireplace adds cozy comfort, and their exceptional restaurant draws from Applegate farms and wineries. Centered in wine country, all 18 Applegate wineries are within 18 minutes of the lodge.
During the drive, be sure to stop at Red Lily Vineyards. Cross the bridge over the Applegate River, order a lovely lunch and a bottle of fine Tempranillo, and relax on the river beach. Wine and water: the way life flows through this Valley.
So many wineries, so little time, is the slogan here because area tasting rooms are all about slowing down and enjoying the sip. Wooldridge Creek Winery is the state's first winery and creamery to carry in-house artisan cheeses. Plaisance Ranch, a working ranch since 1858, grows some unusual French varietals, along with raising organic, grass-fed beef. Schmidt Family Vineyards has delicious wine, food and pizza, in a setting of lush, flowering gardens. Within the Applegate Valley are two award-winning, world-renowned biodynamic wineries and farms—Cowhorn Vineyard & Garden and Troon Vineyard (which also has a Regenerative Organic Certification). Both have stunning landscapes for moseying, wine glass in hand.
There's even more. Grab your brochures, phone and maps. Explore!
Bear Creek Wine Trail and places in between
Dotted along this trail are the towns of Phoenix, Talent and Ashland. The first two are focused on rebuilding after the Almeda Fire in 2020 scorched land and homes along the Pacific Highway, also known as Hwy. 99. Many wineries and fine restaurants are positioned slightly off the main road. And don't drive on Hwy. 99 without stopping at the Oregon Cheese Cave. Owned by French-born Mélodie Picard, expect to be both tantalized and delighted with her selection of local and international cheeses.
South of Phoenix is Catalyst Wine Collective. Watch for the uniquely-shaped, two-story white building and turn left into the drive. If you miss it, turn around; it's worth the taste. Catalyst is home to two distinctively different winemaking styles, Goldback Wines and Sound & Vision. Spend some time here, lean back and linger.
Continuing south, look for signs for wineries on both sides of the road. Your choice, it is a wine odyssey after all! Great restaurants in Talent are Gather, global-inspired cuisine, the Vintage Cafe and Saké House, featuring Daddy Ramen food truck, and the 40+-year-old, family-owned Arbor House. All are neighbors and within walking distance of the inviting tasting room and patio of Trium Wines. Saunter through the quiet, small-town park mere steps away.
Farther south on Hwy. 99, is Ashland, along Bear Creek, another tributary that flows into the Rogue. Renowned for the globally acclaimed Oregon Shakespeare Festival, this town is filled with fine restaurants, cafés and all manner of bars and lounges. A menagerie of shops and galleries line the main streets, inspiring "let's go here" comments. Take a long stroll and discover many fine inns, B&Bs and the landmark Ashland Springs Hotel, home to Lark's Home Kitchen Cuisine, featuring local farm-to-table ingredients and wines. Breakfast in Ashland belongs to Brothers and Morning Glory.
On the south end of town, notice three distinguished wineries featuring majestic Rogue Valley views, exceptional wines and mouthwatering foods. Check Wine Hiking Oregon again for nearby trails
In 1978, John Weisinger planted Gewürztraminer, the first grapes in Ashland. One of those old vines is displayed on the wall of Weisinger Family Winery's tasting room. Their second-generation-made wines are earthy and layered. You'll taste the rich complexity of the Rogue Valley terroir in every sip. They also sell local honey and rent a vineyard cottage for secluded stays.
From the patio and tasting room of Irvine & Roberts Vineyards, see the convergence of the Siskiyou and Cascade Mountain ranges. Growing mainly Chardonnay and Pinot Noir, they offer appetizing food pairings. The alpenglow from there is breathtaking.
Belle Fiore features wine, creative food and art, along with estate and chateau tours. Their outside deck affords a bird's-eye view, where you can watch Red-tailed hawks and other raptors sail above the vineyards.
Other special places are the Schneider Museum of Art, Lithia Park and Japanese Gardens, Dobrá Tea, Martino's front balcony and the delicious Pie & Vine, with wood-fired Italian fare. Everything is cooked on an open fire and the restaurant features wine from their vineyards.
Long Walk Vineyard and Valley View Orchards, both on the edge of Ashland, near the freeway, focus on sustainability through their vineyard ecosystem with bat boxes, native plant cultivation, restored habitat and beehives. Expect more views and great wine.
Looking out from Paschal Winery and Vineyard, you might imagine you've slipped into Tuscany: cypress trees and a panoramic view of rolling hills, a pond, complete with swans. Delicious Mediterranean-style platters accompany a variety of wines.
Welcome to the Rogue Valley, where all roads lead to wine.