"O" What a Sight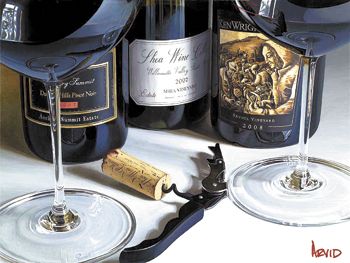 By Leah Jorgensen
Whether or not you are a collector of fine art, chances are, especially if you enjoy fine wine, you have likely seen a Thomas Arvid painting.
His signature composition includes a bottle of wine, perhaps a glass of wine, or even a cork and corkscrew. His style is recognizable, as he rarely paints an entire bottle on the canvas, but, rather, captures an angle of the bottle to create a more natural point of view, as if you have stumbled upon a moment.
"As an artist, I become very aware of my surroundings. When I'm around wine, things jump out at me, I'm not seeking it," Arvid said.
In his paintings, the bottles are always open to indicate something is being consumed, something is happening. According to Arvid, people slow down and take a moment to notice details when they are consuming wine.
"I tend to grab a beer when I'm running around the house, mowing the lawn, doing something. But, when I open a bottle of wine, I stop," Arvid said. "It brings people at ease. It turns up the volume on awareness that it's time to slow down and relax. That's when we notice the details around us."
On a typical day, Arvid paints early in the morning with coffee. By two or three o'clock in the afternoon, he enjoys a glass of wine with lunch, and as evening moves on, he'll move away from the studio and stop painting.
Arvid is passionate about art and wine, and, as a collector of both, he strives to capture the pleasure of a life well lived on each canvas. Drawn to wine by his focus on the color red, he knew he had discovered something when his paintings featuring red wine were being purchased before they were even finished.
"Wine is a great subject because people are familiar with it; they really connect to it. My paintings speak to the special moments that people share when they share wine. It's amazing that my collectors find a personal fulfillment in my work, especially when I am just doing what I love."
Not bad for a Detroit boy with no formal art training who never expected to make fine art a career. Arvid moved to Atlanta in 1986 and discovered alternatives to the industrial, blue-collar work ethic of his home. Growing up drawing, painting murals and doing illustrations, Arvid thought his only choices for a career in art were as a commercial artist, sign-painter or draftsman. His move to Atlanta also moved his art into painting with oils, and eventually his discovery of the beauty of wine as a vehicle for his artistic vision.
Arvid's talent has been embraced by the art world. Named one of the top "25 Artists You Should Know" by U.S. Art Magazine, Arvid's work receives critical acclaim for its ability to capture ancient traditions in a startling new style. Arvid was also featured in Wine Spectator, recognizing the overlap between the appreciation of fine art and fine wine.
The aura surrounding Arvid's work is palpable. His international appeal has created such demand that his work is represented by over 50 elite art galleries in the U.S., Canada, and Japan; collectors are willing to wait years for one of his originals. Influential wineries such as Silver Oak Cellars, Far Niente, and Diamond Creek Winery collect Arvids because he translates the craftsmanship of wine to canvas.
Doug Shafer, of Shafer Family Vineyards, likens Arvid's skill to that of a winemaker, "Arvid's style is big and bold, with enough selected detail and softness to create a sense of balance … this blend of elements is precisely what winemakers hope to bring to their top vintages."
Until now, Arvid had never painted Oregon wine. He was introduced to a selection of epic Oregon wines and three distinctive labels — Archery Summit, Shea Wine Cellars and Ken Wright Cellars — were selected for the first Oregon wine composition, titled "'O' What a Night."
"It is such a thrill Thomas chose to focus on us for his very first Oregon piece," said Arvid collector Dick Shea, of Shea Wine Cellars. "This painting is more than I could have hoped for."
To celebrate Arvid's painting, a live auction lot has been designed for ¡Salud! The Oregon Pinot Noir Auction on Nov. 12. The lot includes: a signed, framed print of Thomas Arvid's painting "O What A Night;" one bottle of each of the wines represented in the painting; a tour and tasting at Shea for three couples; dinner catered by Eric Ferguson and Carmen Peirano of Nick's Italian Café at Ken Wright's home for three couples and each of the winemakers and their spouses; accommodations at Carlton Lofts; limo service from the Lofts to Wright's home and back; and a tour and tasting at Archery Summit the next day.
Arvid will be visiting Portland in early November. There are two events planned around the artist and his work. First, a "Meet the Artist" show will take place at Shaffer Fine Art Gallery (308 S.W. First Ave., Suite 158, Portland) on Saturday, Nov. 5, from 6 to 9 p.m. The following day, a Willamette Valley wine tour with Arvid is planned from 10 a.m. to 6 p.m. For more information, contact Shaffer Fine Art Gallery at 503-295-4979.
"O What A Night," the 36-by-48 original oil painting, is now available at Shaffer Art Gallery. A limited edition 30-by-40 giclee on canvas is also available, with 175 signed and numbered, as well as 95 artist proofs that are hand embellished by the artist. Visit www.shafferfineart.com for more information.
Arvid's work and philosophy is perfectly embodied in his famous phrase, "Life without art is like dinner without wine. Why bother?"
Leah Jorgensen is a communications expert. She consults for wineries and writes about travel, wine and gluten-free living.
EVENT DETAILS
Meet the Artist: Thomas Arvid
Location: Shaffer Fine Art Gallery
Address: 308 SW First Ave., #158, Portland
Date/Time: Nov. 5, 6 to 9 p.m.
Phone: 503-295-4979
Website: www.shafferfineart.com
Note: Be sure to ask about the Willamette Valley wine tour with Thomas Arvid on Nov. 6.