Global Grasp on Grapes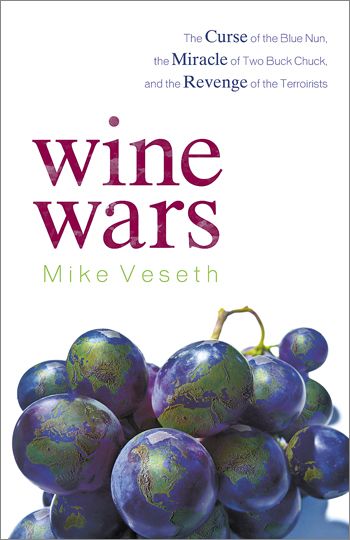 By Karl Klooster
On Sept. 29, author and University of Puget Sound economics professor Mike Veseth gave a lecture at Linfield College. His subject was "Wine Wars," which is also the title of his most recently published book.
What might have turned out to be a professorial drone on a scholarly tome actually proved to be an interesting, often amusing presentation by an avid wine appreciator and acknowledged expert on the global economy.
Over the course of 35 years, Veseth has built a lengthy and respected scholarly résumé. In recognition of his work, he was named the Tacoma school's Robert G. Albertson Professor of International Political Economy.
He served as an advisor on the PBS/WGBH-Boston television series, "The Commanding Heights: The Battle for the World Economy," and has written a blog called "The Wine Economist" (www.wineeconomist.com), since 2007.
Highlighting a career marked by such impressive credentials, he has written more than a dozen books on what is obviously a complex, challenging subject.
The most widely known, "Globaloney: Unraveling the Myths of Globalization," was named Best Business Book of 2005 by Library Journal. It was followed by "Globaloney 2.0: The Crash of 2008 and the Future of Globalization."
They aren't light reading but are understandable for the interested layman. If you're looking for conclusions, though, you're pretty much out of luck.
As one former student stated, in regard to both his books and classroom demeanor, "Mike presents a great overview and some amazingly interesting facts about both sides of the debate. But he plays devil's advocate."
In his lecture at Linfield, Veseth used several slides to illustrate "Wine Wars'" three main themes: Blue Nun, Two Buck Chuck and the Terroirists. Around them, he has woven a study of wine globalization.
To wrap his mind, and therefore the reader's, around the subject of wine, the author began with some basic background. Obviously unable to cover all the same ground in an hour, he briefly reiterated a bit to his audience.
The catalyst for delving into the depths of wine and its future in the world market began with a visit to a noted Napa Valley winery. He doesn't name it, but those in the know will recognize Chateau Montelena.
The same people will already have divined much of what this seriously sipping professor has to say. But the way he makes the connections, and leads people to what seem fairly clear conclusions, is insightful.
Perhaps the most interesting factoid this writer didn't know was that Blue Nun was introduced in 1923. Given the good and plenty 1921 vintage, German producers were looking for a way to sell considerably more than the normal volume.
They came up with the image of a Catholic nun on the label, along with multi-syllabic and excruciatingly difficult to pronounce German village and vineyard names. The nun in the vineyard was dressed in the typical brown habit of the time.
However, as fate would have it, when the labels were printed, the habit was made blue instead of brown. The frugal Germans didn't want to simply toss them out, so good wine at rock-bottom prices went to market with a blue nun as its silent and saintly spokeswoman.
Before you knew it, people were clamoring for more of that wine with the "Blue Nun" on the label, and the rest is history.
But Veseth's point was that to meet the huge resulting demand for what was originally a tasty Riesling, they tossed quality out the window. The disappointing result tainted public opinion about cheap wine for decades … until Two Buck Chuck came along.
I didn't want to interrupt the speaker by mentioning that here in Oregon, it's Three Buck Chuck. But the point remains the same.
Customers know they are buying a cheap wine, but they also know it is at least a reliably decent wine, because it is backed by Trader Joe's reputation. Incidentally, Joe's is owned by a German firm offering food and beverage bargains throughout Europe.
Finally, there are the terroirists, those who ballyhoo the quality of their wine, along with its uniqueness, based on differentiation of place. This fits Oregon to a T, of course, just as it suits fine wine-growing regions around the world.
But it's also the realm of pricier wine, which, as Veseth points out, leaves a big void in the middle between really good at really high prices and OK at low prices, as long as it carries a dependable name.
Anywhere in between is, at least for the average consumer, fraught with confusion, based on a glut of merchandise.
"How many different cereals are in your average supermarket," the professor asked. "20? 30? What are the price ranges? $3 to $6? How many different wines? 300, 400, or more? And the prices? $5 to $75, or more?"
The overabundance of unfamiliarity causes enough confusion and even intimidation that people tend to stick with just a few names they know and feel they can rely on and to stay within price ranges they feel comfortable with.
Veseth recommends being a bit more adventuresome. He encourages people who enjoy wine to step out of their comfort zone and to try new things from time to time.
He further notes the changing face of the marketplace. Different types and sizes of containers are perhaps the most innovative in recent times and definitely on the rise. Plastic bottles, bag in box and kegs are all destined to dramatically alter the wine scene.
Above all, he emphasizes that the most significant change in the wine industry is the fact that, unlike the 1960s, '70s, '80s and even into the '90s, seriously flawed wines at all price levels are far less common these days.
In other words, you may buy a wine you don't like, but that doesn't mean there's anything technically wrong with it. It's simply a style that doesn't please your palate, so move on to something you do like.
In conclusion, he wrote, "Globalization brings the world of wine to you and Two Buck Chuck gives you the confidence to buy. But we need terroirists so we don't forget that wine is a beautiful product of nature, not a commoditized manufactured good."
At the lecture, he said, "I was going to suggest you might make a bumper sticker here that said, "Oregon is for Terroirists," but I had second thoughts when realizing some people might misread it."