Big Reds to Remember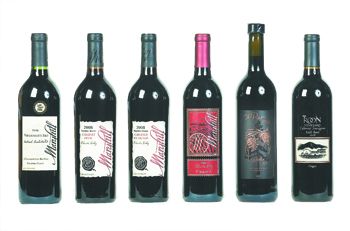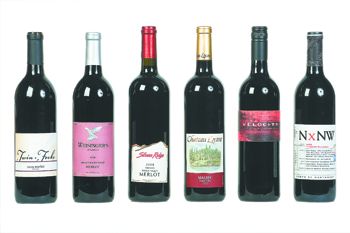 Bordeaux red wines are about blending. Over centuries, vignerons have learned which vitis vinifera grapes grow best in their particular locations (terroir), and which ones work best in combination with one another in various proportions.
By law, only six varieties are approved for use in wines that carry the Bordeaux appellation — Cabernet Sauvignon, Merlot, Cabernet Franc, Petit Verdot, Malbec and Carménère.
The French are convinced blending makes a better, more complex and well-balanced wine. However, the American approach of single-varietal wines has become so entrenched in the marketplace that the average consumer doesn't relate to blends, often considering them inferior.
In those areas of Southern Oregon and Eastern Washington, where Bordeaux varieties do well, producers are tending more and more toward this reliable technique with increasingly satisfying results.
If in blending one variety makes up at least 75 percent of the wine, the producer can still use the name of the predominant variety on the label. By doing this, they can have it both ways, making a better wine while retaining the single-varietal image.
Through education and experimentation, people may eventually rely on the producer's reputation rather than a grape name in making their purchase decisions. But until then, we have some excellent varietals to choose from as this group attests.
Maryhill 2009 Winemaker's Red, Columbia Valley • $12 (28,000 cases)
A blend of Cabernet Sauvignon, Merlot, Syrah and Cabernet Franc, the wine takes something from each and gives it back in a plump, silky-textured offering of flavorful seduction. Butter, chocolate, plum and cherry are all in evidence.
Maryhill Proprietor's Reserve Columbia Valley 2008 Cabernet Franc • $25 (200 cases)
Full-bodied and deeply pigmented. A weighty wine with smoky bacon and red berry in the nose followed by meatiness and plum preserves on the palate. Drying tannins, herbs and leather add interest to the overall flavor impression.
Maryhill Proprietor's Reserve 2008 Cabernet Sauvignon, Columbia Valley • $30 (600 cases)
Deep, dense purple. Perfumed aroma of dark fruit. Mouthfilling currant and chocolate roll over the tongue, flavor richness balancing assertive tannins. A big, expansive wine that will get even better over time.
Maryhill 2008 Merlot, Columbia Valley • $17 (1,835 cases)
A rich, dry, spicy style borders on the edge of elegance. Hints of oak, coffee and tobacco mingle with spice and berry fruit. A wine whose well-balanced impression is understated but undeniable.
Troon "Kubli Bench" 2008 Cabernet Sauvignon, Oregon • $25 (330 cases)
Juicy, very berry fruit, round, sweet and satisfying thoughout. A medium-weight, nicely balanced wine with enough tannin to give it backbone.
The Pines 1852 2009 Merlot, Columbia Gorge • $20 (200 cases)
A well-structured wine that delivers round, rich, mouthfilling flavors of berry, cedar and spice. The beautifully balanced components simultaneously convey dry and sweet impressions.
Twin Forks (Laurel Ridge) 2009 Merlot, Oregon • $15(97 cases)
A cornucopia of aromas and flavors draws one to this wine. The more you swirl and sip, the more it reveals. Dense black currant, as in cassis, plays nicely with bright fruit, as in red berry; coffee, green pepper and sarsaparilla add to the smooth, rich mix.
Weisinger's of Ashland 2006 Merlot, Rogue Valley • $25 (300 cases)
Amazingly youthful for five years in. Forward aromas of dark fruit and a hint of anise. Strawberry, leather and licorice make for an unusually delightful flavor impression. Long finish. Still developing in the glass. Let it sit awhile.
Silvan Ridge 2008 Merlot, Rogue Valley • $19 (500 cases)
Toasty oak, browned butter, wood smoke, lavender and dark berry are a combination that may sound a bit unusual, but in this case, it really seems to work.
Chateau Lorane 2006 Malbec, Rogue Valley • $25 (402 cases)
Rustic and grapey yet enticingly tasty. This wine needs a little airing so smoky tar can change from a slight stink to a pleasing burnt aroma, opening up compelling flavor interest, a soft mouthfeel and a lingering tang in the finish. Definitely pair with barbecue.
Velocity 2008 Malbec, Rogue Valley • $24 (420 cases)
Pleasingly approachable at the outset. A soft, round sipper combining raspberry, blackberry and dried cherry with a hint of green pepper. A charming wine that keeps you coming back for more.
NxNW (King Estate) 2008 Cabernet Sauvignon, Columbia Valley • $25 (3,500 cases)
A bit of blending — 90 percent Cabernet Sauvigon and 10 percent Merlot — brings a lot of layering. An enticing, tannin-laced flavor profile includes dark berry and cherry, cola, burnt sugar, cedar and tobacco.
The Oregon Wine Press tasting panel has selected the above wines based on overall quality and value within their respective categories. The wines have met the following criteria: Produced by an Oregon winery; retail price up to $30 per 750 ml bottle for all still table wines except Pinot Noir, which can be up to $35, $25 per 375 ml bottle for dessert and $35 for 750 ml sparkling wines. All wines must be currently available to consumers. Recommended wines were selected using a double-blind method and a 20-point ranking system for appearance, aroma, taste, balance and finish.