Oil Tutorial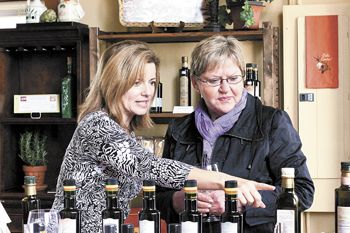 With the opening of Fanucchi Oils' tasting room in Newberg, locals and visitors have been savoring the company's passion for the Mediterranean. For those who share this same ardor for olive oil and want to learn more, founder Gina Fanucchi will soon be teaching non-credited classes at Portland Community College's Newberg campus.
Fanucchi Oils produces Italian-style extra virgin olive oils, infused-flavor olive oils, Balsamico Tradizionale, pasta and sauce, European gourmet olives, sea salts and artisan spreads.
The tasting room is located at 2401 E. Hancock St., Ste. B4, Newberg. It is open Wed.–Mon., 11 a.m. to 7 p.m.
Private food pairing classes will also be offered monthly, beginning Nov. 12. Find a class calendar at www.fanucchioils.com.
ABOVE: Gina Fanucchi (left) talks with a customer at her recently opened Newberg storefront. Photo by Vanessa Mortinso.