Busacca Digs New Space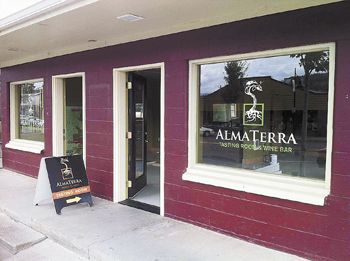 By Stuart Watson
Wine worth repeat sipping has fueled many a romance, so it's only logical that a romance has helped fuel three new — or newish — wine ventures for noted Northwest wine terroirist Alan Busacca: a second label, a vineyard and a new tasting room.
After more than two decades as a respected soil scientist at Washington State University, Busacca fell head over heels into the vat five years ago,. Under the Vinitas Consultants brand, Busacca has spent decade helping a "who's who" of Walla Walla and Yakima Valley labels — Gary Figgins of Leonetti and Rick Small of Woodward Canyon among them — when he and winemaker Robert Smasne of Smasne Cellars launched Busacca's Alma Terra label in 2006.
Two years later, Busacca firmed up a vineyard project that sprouted as he was helping research vineyard property for another client. That search led him to Underwood Mountain, northwest of Hood River, and an introduction to Oregon vineyard legend Lonnie Wright of The Dalles and The Pines 1852 label.
"I cold-called him, and we hit it off so beautifully," Busacca recalled. "He mentioned that he had about a 200-acre parcel he had been thinking of what to do with. It was up on the canyon side; it had no water or road."
They kept talking. Three years and a business plan later, Volcano Ridge Vineyard was flourishing. They harvested the initial five acres last fall and are expecting 2012 to mark the first harvest from the other 15 acres of Zinfandel, Merlot, Chardonnay and Pinot Noir vines.
Since one label in the wine business is never enough, Busacca took 1,200 pounds of Zinfandel from that first harvest, engaged Viento winemaker Rich Cushman, and bottled "a couple dozen cases" for his new Heart Catcher label. Busacca says, "It's about my love of land."
Well, there's a woman involved, too, Suzanne Burd. She's the romantic magnet that convinced him to move his mojo to the Gorge from shared space in Washington's marquee Woodinville ZIP code.
In late September, Busacca opened a tasting room across the Columbia River from Hood River, in the tiny mill town of Bingen, Wash. It's focused on his four-year-old Alma Terra wine label.
"The concept for Alma Terra wines was to highlight the beauty and unique personality of wines from the same grape variety but from different vineyards," Busacca said.
He and Smasne focused first on Syrah, from Minick (Yakima), Coyote Canyon (Horse Heaven Hills) and Ciel du Cheval (Red Mountain) Vineyards.
The next year, they started building Viognier — "Partly because we both love the wine and also because it represents grapes from the Rhone Valley" — sourcing fruit from the Upland Estates (Yakima), Coyote Canyon and Chukar Ridge (Dallesport, Columbia Valley AVA) vineyards.
After launching into the headwinds of the economic downturn, they've been adjusting the brand to hit more popular price points, including the addition of red and white Rhone blends.
"One of the gratifying things about launching this wine brand is that I love sharing these wines and the story behind them," Busacca said.
He'll be doing that a lot, from noon to 7 or 8 p.m., Wednesday through Sunday, as the sole tasting tour guide inside the laundromat-turned-tasting room at 208 W. Steuben in Bingen.
A veteran Northwest newspaper and magazine reporter and editor, Stu Watson owns Watsonx2 Communications in Hood River.