Farewell, Mr. Troon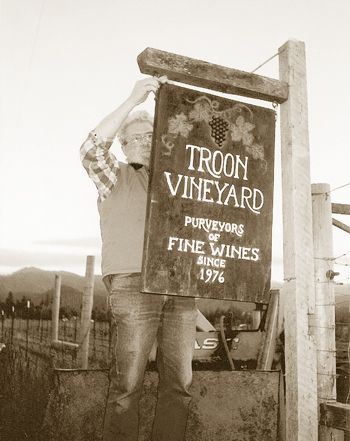 By Mark Stock
Scotsmen don't sit still for long. It's a blatant generalization, but one the late Dick Troon probably wouldn't argue with. Troon, the man hugely responsible for wine in the Applegate Valley, passed away just weeks ago, but not without leaving a long, meandering path of oversized and permanent footprints in Oregon wine country.
Troon, known since the early 1990s by his eponymous wine label, was one of the first to plant vines in Southern Oregon. He did so in 1972, almost a generation before the rest of the country would wake up to the promise of Pacific Northwest wine. Like Richard Sommer, Charles Coury, David Lett and Dick Erath before him, Troon received laughter when he made his case.
He pushed for Oregon Zinfandel and Cabernet Sauvignon, citing similar beneficial climatic conditions and plenty of fertile land. Little did the naysayers know, Troon would have the last laugh, thanks to tremendous foresight, relentless optimism and a slough of high scores and accolades.
A taste for farming came early in Troon's life, while toiling on a ranch in South Dakota. Whether it was the dire wishfulness of post-Depression America or the symbiotic relationship forged between man and land, it was on the Great Plains that Troon harvested a downright faith in Mother Nature. And, per the testimony of Oregon winemakers, there might not be a more valuable trait.
The rumor is that Druid's Fluid — the wine that put Troon on the map — was a mistake. Fact or fiction, it points to Dick Troon's courage. Not only was he blending like a mad-man, he was also using varietals most people thought couldn't survive north of California. But that's what separates pioneers from producers: the willingness to proudly go against the grain.
Today, Troon Vineyard is home to a handful of varietals, including the extremely rare Vermentino. Resting on about 100 acres just outside Grants Pass, the setting is pristinely dramatic. The ownership and acreage has changed, but the spirit of the winery remains. Troon continues to stand for crafting not what's expected, but precisely the opposite.
Better still, Troon worked to ensure the future of an industry he grew to care so deeply for. He persuaded Coury to enlighten the Southern Oregon community with his vast viticultural knowledge, knowing that the region's friendly terroir would foster wonderful wine for generations to come.
And while the adage rings, "...or die trying," Troon can rest peacefully. He died having done what so many thought impossible.